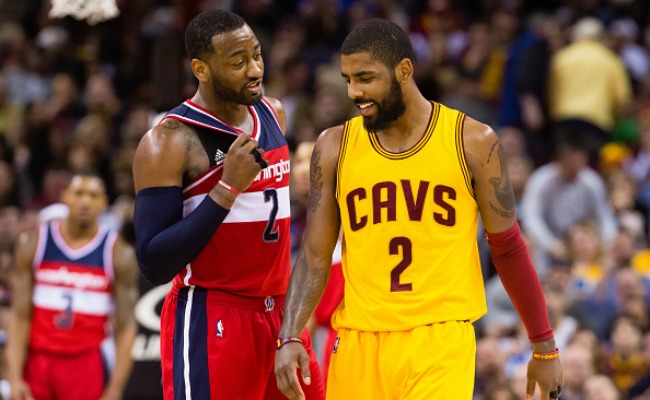 A few weeks have passed since news broke that Kyrie Irving reportedly requested a trade from the Cleveland Cavaliers. It sent shock waves around the league, causing almost every single team to make a call to the Cavs asking about Irving's availability. Even now, the news is still quite shocking. A fact that one of Irving's peers, Washington Wizards All-Star John Wall couldn't help but bring up in a recent interview.
Talking with CSNMidAtlantic.com's Chase Hughes, Wall called Irving's request "crazy," but he also can understand why the Cavs All-Star guard wants to be in a different situation than the one he's in currently in Cleveland.
From Hughes:
"That was crazy to me. I didn't know that was happening at all. Well, too bad," Wall said of the timing. "It's kinda tough. If I had been to three straight [NBA] Finals, I'd want to stay but you never know what type of relationship or what type of details they have going on the backside. Nobody knows what's going on behind closed doors.

"He's one of those guys who wants to be the main guy. It's a different situation when you're playing with a guy like LeBron James who is so dominant. Everyone is always going to be the second guy to him. It's kind of like what I tell all the young guys when they first come into the league. It's kind of tough to get the young guys to play as one on the floor because everybody is trying to build their name up and start their own foundation. It's kind of tough when you're always in the shadow of somebody else. That's something he probably got tired of."
Wall doesn't really provide anything for fodder here, but it is notable that he, too, is flummoxed by Irving's trade request, meaning that this is yet another example of how NBA stars are just like the rest of us.