The Washington Wizards are arguably the most disappointing team in the NBA to this point of the 2018-19 season, as they are 5-11 on the young season with only one win over a team currently projected to be in the playoffs — an overtime win against the Blazers in Portland.
The Blazers returned the favor in Washington on Sunday in a 119-109 loss for the Wizards that was more lopsided than the final score indicates. After the game, the quotes out of the Wizards locker room continue to paint the picture of a team in disarray, and on Monday reports came out from ESPN's Adrian Wojnarowski that the phone lines were open in Washington and they would, at the least, listen to overtures for anyone on the roster including John Wall and Bradley Beal.
That's a big deal because previously it was understood that Beal was off limits, but as things get more desperate in the nation's capital, it's becoming more and more clear they may need to simply blow it all up. However, that's a much easier thing to say than accomplish, particularly factoring in the difficulty of getting proper value in return for your star players.
Trading Beal is the most likely way to get significant value back, but it's also dealing the team's most valuable asset and the player on the most favorable contract. Wall is the most difficult to deal, given his supermax extension that's set to kick in next summer, making his value far less on the trade market because of what a team dealing for him has to assume with that contract. That doesn't mean it's not possible to deal him, using the Blake Griffin trade as a model, to a team that will otherwise have no chance at bringing in an All-Star caliber talent in the free agent market.
The Pistons aren't a desirable free agent destination, so on the market they typically have to overpay to bring in someone, but you can't overpay someone that's going to get a max deal from elsewhere. Instead, you pounce when that team is underachieving and in need of a reset, which has worked well for the Clippers. Washington is in a similar position and there are teams out there with serious point guard needs and the cap flexibility going forward to take on a deal like Wall's.
Phoenix has been a popular suggestion because of their clear need for a point guard, stated desire to begin competing now, and situation as one of those teams not likely to be a top destination in the near future. However, making money work is tricky, especially if the goal is to reset things for the immediate future in Washington and have the opportunity, should they so choose, to make a run at free agents this summer. Trevor Ariza can help make money work once his contract is allowed to be dealt, but considering the Wizards' roster is already filled with wings like Otto Porter and Kelly Oubre Jr., the Suns best assets they'd trade all being small forwards (Josh Jackson, Mikal Bridges, T.J. Warren, etc) doesn't make for a great trade fit.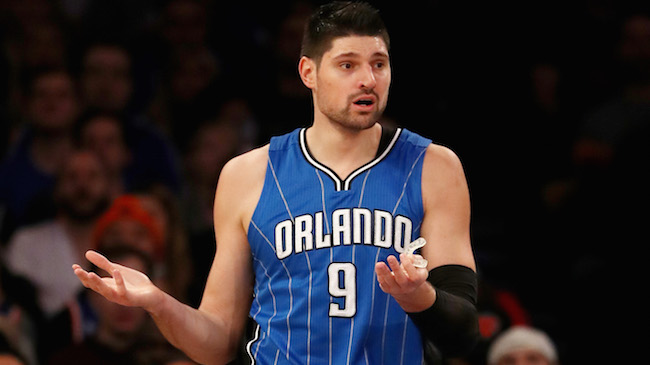 The Magic, however, might be the team best positioned to make a deal with the Wizards for Wall. Like Phoenix, there's a desperate need for a point guard in Orlando, and they can provide Washington with some much needed frontcourt help as Dwight Howard struggles with his buttocks injury — and get the Wizards immediate cap relief should they want it next summer.
A deal of Nikola Vucevic, D.J. Augustin, and a first-round pick works financially to land Wall. Orlando is already on pace to be a fringe playoff contender, so giving up their first-round pick this year isn't necessarily giving up a phenomenal asset, but there's no doubt Washington will demand a first in any Wall trade. Vucevic has been spectacular this season, but given the logjam of young bigs in Orlando it seems unlikely the Magic will be looking to re-sign him this summer. Washington can instead be the ones tasked with that decision, and if they choose not to and renounce his rights (and others) they could create significant cap room.
The Wizards also keep hope alive this season of scrapping back into the playoff race with Augustin and Austin Rivers sharing the point guard duties, handing Beal the keys to the offense as the clear leader, and letting Vucevic give them some much needed balance between the frontcourt and backcourt — and added spacing as he's become a very capable three-point shooter. It's certainly not the return for Wall the Wizards would have hoped to get a few years ago, but considering his contract situation, getting a pick, quality player, and financial flexibility, it might be worth it.
Orlando, on the other hand, gets an All-Star point guard to pair with Aaron Gordon in hopes of creating a lethal pick-and-roll combo. It clears the path for Mo Bamba to become their starting center of the future, even if that brings with it growing pains, and allows Evan Fournier to move back into a more comfortable role of being a secondary creator and spot-up shooter, which maximizes his talents.
It's certainly not perfect and there's not a guarantee either team would want to do this trade, but if we're looking for a way for the Wizards to not have to go into full fire sale mode, trading Wall is by far the best way to shake things up — along with some smaller moves — and hope that can reset the locker room discord. Orlando capitalizes on Vucevic's start to the season and, for the first time in a long time, takes an actual swing to be a contender in the East with a very interesting young core that could give Wall a bit of a needed energy boost from the stagnation occurring in Washington.