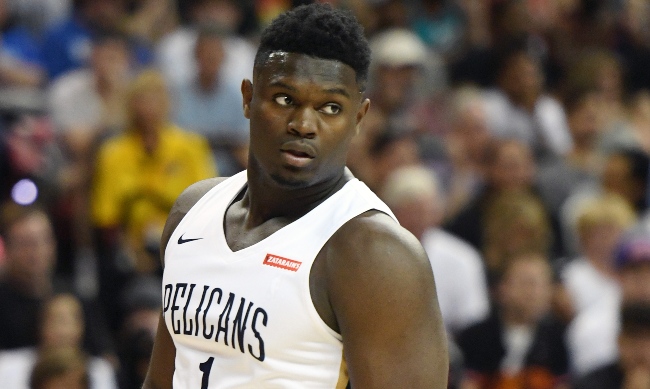 The most coveted rookie since LeBron James has finally inked a sneaker contract, as Zion Williamson announced he was joining Jordan Brand on Tuesday.
The Pelicans' rookie sensation played his lone Summer League half in the same Kyrie 5s he wore at Duke, offering little in the way of information regarding his future sneaker deal. Other than that, it has been weeks of silence regarding what sneaker and apparel deal the young star would sign. While official figures are not known, a report from Adam Zagoria of Forbes on Tuesday indicates Williamson's deal is for $75 million over seven years.

If that figure is correct, it makes it the second largest sneaker deal in history for a rookie, ahead of the 7-year, $60 million Kevin Durant got from Nike and behind the 7-year, $87 million first commanded by LeBron James at Nike. It's still a staggering figure, although not a surprising one, and there was plenty of speculation that Williamson's deal would top LeBron's. That possibly could've happened, as Darren Rovell of the Action Network reports Zion turned down more money to ink a deal with Jordan.
We don't know what that larger figure was, and whether it would've just been more money overall with more years or an actual higher annual salary. Also, we don't know what the actual money Zion will making will be — since sneaker contracts often have stipulations for games played, sales, etc. Still, it shows how badly Zion wanted to join Jordan and whatever companies were in pursuit simply couldn't match that, even by offering more money — not all that unlike the recruiting process for LeBron as a rookie sneaker free agent.
Eventually, we might learn what gaudy salaries were offered to Zion by other companies, but for now all we know is he'll be wearing the Jumpman logo for years to come.