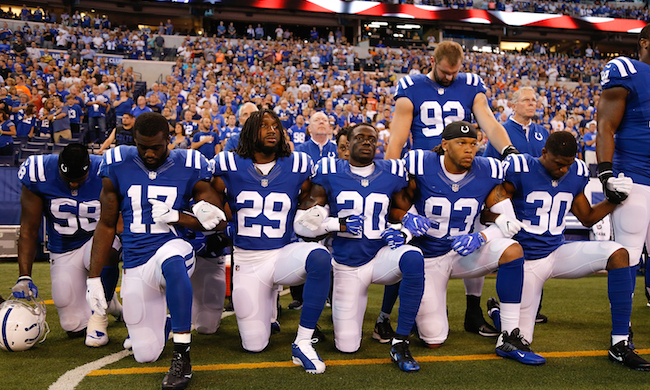 Week 3 of the 2017 NFL campaign has attracted more attention for what's gone on before kickoff than the action during the games. Of course, when we're discussing kneeling during the anthem as a form of political protest and the president of the United States getting more agitated by the second about the action taken, it's completely reasonable why the attention is where it is.
Visible displays of protest and disapproval have been on full display and other famous folk are weighing in on the protests. Unlike President Donald Trump's fire and brimstone comments, the bulk of celebrities addressing the matter are expressing their support for demonstrating players. Trump's recent fuming about the NFL and the Golden State Warriors have found themselves melted on top of Colin Kaepernick's original protesting purpose.
"As a football fan, I am proud of the NFL players today," tweeted daytime TV titan Ellen DeGeneres. "Nothing is more American than the right to peacefully protest."
"For me now, #TakeAKnee isn't a ceding of American symbol but a gesture of faith in true American principle," wrote Westworld star Jeffrey Wright.
"Protests are supposed to upset and challenge people," noted Andy Richter. "That's the whole f*cking point."
https://twitter.com/JohnLeguizamo/status/911951624129662976/photo/1
Don't count on this national conversation to be completely sorted out in time for Thursday Night Football.