Welcome to Comedy Now, a weekly column cataloging what comedy fans should know about what's available in the streaming world. Whether it's a brand new special, an old classic, or the oddball show that defies categorization, we'll list as many as we can for your enjoyment right here. Who knows? We may even throw in a few non-streamable bits on occasion, like tour announcements from our favorite comics. You can check out the previous column here.
What's Now
Comedians in Cars Getting Coffee (Netflix)
Aside from releasing September's Jerry Before Seinfeld, the comedian's massive Netflix deal also promised a second stand-up special and brand new episodes of the web series Comedians in Cars Getting Coffee. Next to nothing is known about Seinfeld's second special, but Comedians dropped early this morning on the streaming giant. All 59 existing episodes are all available for your viewing pleasure. As for new episodes, those are expected to drop sometime in mid 2018, though nothing else is known about an exact date (or who will be sitting in the passenger seat).
Dave Chappelle dominates Netflix in 2017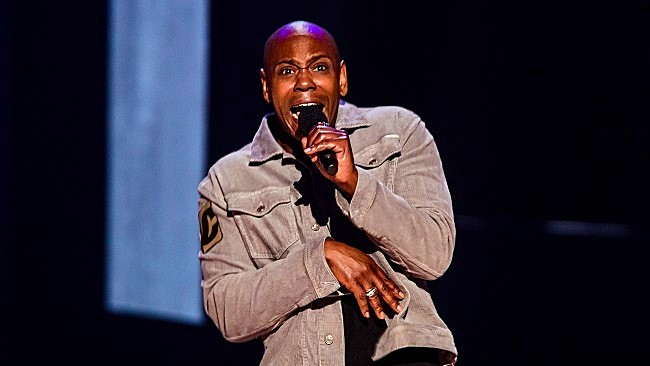 Whether you enjoyed Dave Chappelle's two latest Netflix specials or found additional faults with their content, Equanimity and The Bird Revelation offered further proof of something the streaming platform already knew — Chappelle dominated 2017. For along with March's double feature of Deep in the Heart of Texas and The Age of Spin, the 44-year-old comic's output on Netflix literally quadrupled his comedy influence in a single calendar year. All things being equal, Chappelle's mark this past year was not without its controversies, but this is to be expected from the co-creator of Chappelle's Show.

What's New(s)
2 Dope Queens will reign at HBO
Meanwhile, HBO's promising comedy offerings for 2018 is set to make its royal grand entrance with the first of four 2 Dope Queens specials on Friday, February 2nd at 11:30 p.m. ET/PT. Co-headlined by Jessica Williams and Phoebe Robinson, who also co-host the podcast of the same name, the themed specials are directed by Tig Notaro (One Mississippi) and feature guest appearances by Uzo Aduba (Orange Is the New Black), Tituss Burgess (Unbreakable Kimmy Schmidt), Sarah Jessica Parker (Divorce) and Jon Stewart (The Daily Show).
My Next Guest Needs No Introduction with David Letterman (Netflix)
David Letterman's Netflix talk show has a title and a premiere date. Beginning next Friday, January 12th, the first of six 60-minute episodes of My Next Guest Needs No Introduction will begin streaming. According to a press release issued today, the former Late Show host's guests will include George Clooney, Malala Yousafzai, Jay-Z, Tina Fey, Howard Stern, and President Barack Obama. Unlike original streaming content that dumps all episodes at once (Stranger Things) or on a weekly basis (The Handmaid's Tale), however, My Next Guest Needs No Introduction will drop new episodes on a monthly basis.
Tiffany Haddish's wonderful acceptance speech
Tiffany Haddish had a banner 2017 with her breakout performance in Girls Trip and one of the year's best stand-up comedy specials. When she accepted her Best Supporting Actress award from the New York Film Critics Circle this past Wednesday, however, the Carmichael Show alum signaled her 2018 would be even better. In a nearly 20 minute-long acceptance speech (above), Haddish delivered an off-the-cuff routine that included everything from her genuine appreciation of her critics to her divine thanks. "Without God," she quipped, "my mom and daddy wouldn't have put their two uglies together and made me."

The Daily Show and The Opposition tackle the State of the Union (Comedy Central)
Seeing as how Donald Trump is (as of this writing) still president, it will be business as usual over at The Daily Show and The Opposition following his "State of the Union" speech on Tuesday, January 30th. The Trevor Noah and Jordan Klepper-led programs will air live, back-to-back episodes reacting to Trump's congressional address at 11:00 and 11:30 p.m. ET/PT, respectively. Doing so continues a tradition of live-reaction Daily Show episodes, as well as entries from The Colbert Report and The Nightly Show, to previous State of the Union telecasts.
Ricky Gervais gets a second special with Netflix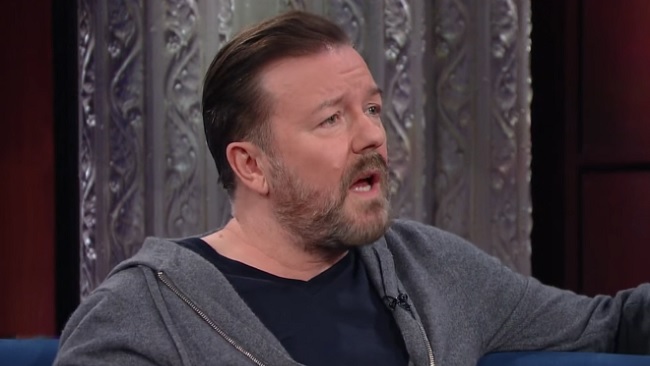 Late last year, Ricky Gervais revealed his new comedy special Humanity had been picked up by Netflix. The move wasn't all that surprising considering the British comedy actor's longstanding relationship with the platform. Nor was Tuesday's announcement that Gervais will write, produce, and perform a second special for Netflix sometime in the near future. According to The Hollywood Reporter, however, Gervais' original deal with Netflix for Humanity was actually a deal for two comedy specials. "I can't wait for Humanity to air so I can start all over again on a brand-new show," Gervais said in a statement.
What's Later
Tom Segura: Disgraceful (Netflix)
Two years after releasing his first Netflix special Mostly Stories, comedian and podcaster Tom Segura returns with Disgraceful. Set to stream Friday, January 12th, the new hour "gives voice to the sordid thoughts you'd never say out loud, with blunt musings on porn, parking lot power struggles, parenthood and more." The first line of Netflix's official description sounds like every other description written for a comedy special, but judging by the clip above (and Mostly Stories' more amusing bits), it's a sure bet Segura will deliver the goods to his fans.