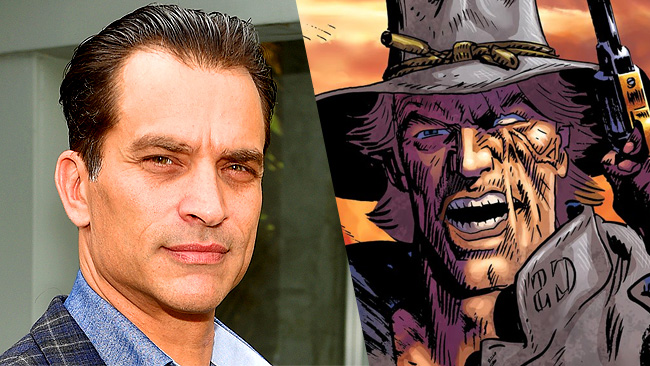 DC Comics' legendary western antihero Jonah Hex is a lot of things, but traditionally "crazy buff" hasn't been one of them. Well, that changes now.
Jonah Hex, last seen on screen in the terrible Josh Brolin movie, will be showing up for a guest appearance in Legends of Tomorrow, The CW's DC Comics team-up series. The show will feature a variety of guest stars, including some faces we've already seen, like Stephen Amell's Green Arrow and Grant Gustin's Flash and quirky, never seen before characters. Jonah Hex will be played by Johnathon Schaech (Hercules: The Legend Begins, Vice) and he recently shared a picture of himself in character on Instagram…

Unfortunately, Schaech's camera is covering Jonah Hex's trademark deformed face, although the fact that his makeup can be entirely covered with a phone indicates they're not going too over the top with it. In the comics, Jonah Hex is basically a less-attractive Two-Face, but you have to tone that kind of thing down for The CW, I suppose. Oh, and is Jonah Hex going shirtless now? Given how ripped Schaech is looking, I'm sure a lot of folks wouldn't object to that.
DC's Legends of Tomorrow debuted January 21. Jonah Hex is set to appear in the 11th and final episode of the season, and could become a regular if the series continues.
via Bleeding Cool