Between Superman and the President of the United States, The CW is adding a ton of new characters and talent to the second season of Supergirl. Among the names listed on the post-CBS show's roster? Floriana Lima, whose most recent work includes NBC's Allegiance and ABC's The Family, both of which were canceled by their respective networks after one season. But that shouldn't discourage or suggest anything about Lima's abilities as a performer, particularly since her new part in Greg Berlanti's DC Comics television empire is that of Maggie Sawyer — a popular supporting character with ties to none other than Batwoman.
Sawyer's inclusion in Supergirl is important for a number of reasons. Sure, her appearance means showrunners Allison Adler and Andrew Kreisberg's commitment to populating the popular series with as many examples of female characters as possible hasn't changed despite the network switch. But the most relevant part of it to comic book fans is that Sawyer, when she appeared in the 1987 Superman comics, was one of the first major lesbian characters in the medium. And during her pre-Rebirth run in 2011, the former Metropolis cop befriended and fell in love with Kate Kane/Batwoman and transferred to Gotham City.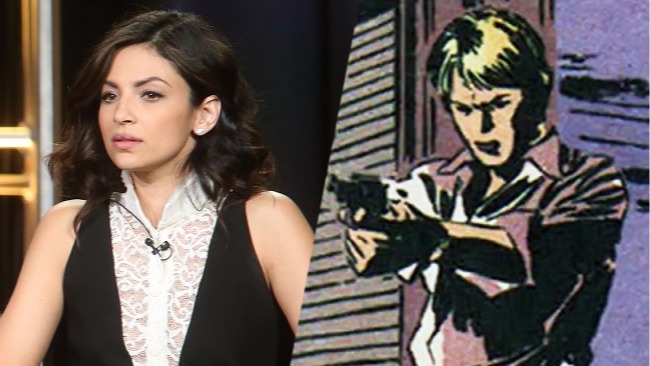 This doesn't mean Kane, Batwoman or any other derivation of either character will pop up in Supergirl. Yet a new rumor from Bleeding Cool (to be taken with a grain of salt) suggests otherwise, as both Kane's Batwoman and Barbara Gordon's Oracle will supposedly pop up at some point in the second season. Per the rumor, Kane would appear on occasion as Sawyer's ex, making occasional visits to National City to take care of business as Batwoman.
As for Gordon, whose first secret identity was that of Batgirl, the wheelchair-bound daughter of Gotham's famous police commissioner would adopt the mantle of Oracle — the brain behind an advanced communications network meant to help heroes like Kara Danvers' Supergirl. Apparently Barbara and Kara will somehow cross paths and "develop a strong friendship" a la the Birds of Prey comic book storyline.
Then again, none of this has been confirmed by The CW, so who knows? Maybe the Warner Bros. Television slot at the San Diego Comic-Con will offer fans some concrete news during its Supergirl panel, or maybe not. Either way, the outcome will still be better than Batman v Superman: Yawn of Justice.
(Via Bleeding Cool)