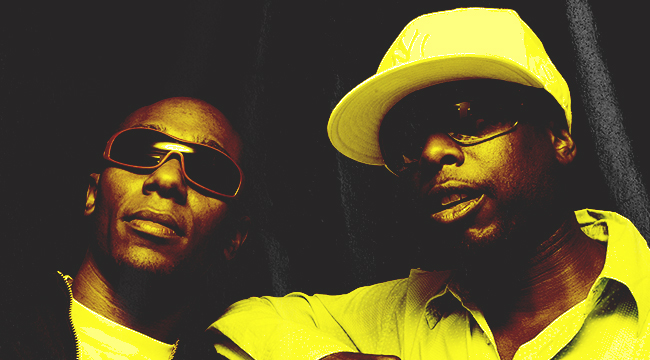 In 1998, hip-hop history was made. Mos Def, a recently-established associate of the former Native Tongues crew, and Talib Kweli, an underground battle rapper making waves on New York's indie rap scene, united to form Black Star, a duo who laid the blueprint for the next phase of Black power rap. With a combination of Afrocentric wisdom, esoteric literary references, and street-savvy wordplay, Black Star changed the direction of subterranean, socially-conscious rap, a precursor to the modern woke stylings of today's rap favorites like Kendrick Lamar and J. Cole.
Funded by legendary indie rap label Rawkus Records and fueled by the righteous indignation of educated, well-read Black collegiate idealism (the duo purchased Nkiru Bookstore, cited as the oldest African-American bookstore in Brooklyn, New York, in 1998), their debut album, Mos Def And Talib Kweli Are Black Star stood in stark contrast to the era's ultra-jiggy leanings. They rejected the "get money by any means" ethos of Puff Daddy (now better known as Sean "Diddy" Combs — aka Love), Jay-Z, and their ilk, to focus on the social — and socialist — teachings of James Baldwin, Richard Wright, and the Black Panthers. Clad in military jackets and cowrie shells, they brought their red, black, and green ethos to a hip-hop audience yearning for an alternative to shiny suits and blinged-out Rolexes.
While the group has not been active since their last tour in 2015, only making sparse special appearances, and hasn't released an album since their 1998 debut, they remain a favorite of fans of alternative, heady rap. Those fans have plenty of reason for excitement now, though, as group member Mos Def, now known as Yasiin Bey, made a surprise appearance at a Madlib DJ set at the Ogden Theater in Denver on Saturday, announcing that the pair has been working on a new project on the eve of their first album's 20th anniversary.
While the reason for excitement may be self-evident to some, for others, perhaps a refresher course is needed. So I've put together a list of ten of the best Black Star songs from across both artists' catalogs to remind listeners what they've been missing out on, and hopefully, the level of quality they have to look forward to when the Brooklyn duo reunites.
"History"
This gem from Bey's 2006 The Ecstatic — his last solo retail release — is a short, but sweet, introduction to the group's yin-yang chemistry over a lovingly chopped J Dilla instrumental. While it lacks some of the electricity of their earlier recordings, this latter-day offering illustrates their matched philosophy while highlighting their mixed approach to the subject matter. Despite coming along later in both of their respective catalogs, the rhymes remain razor sharp, and the observations every bit as incisive as their first outing almost 20 years ago.
"Know That"
"Know That" is a heavy hitter from Yasiin Bey's debut (as Mos Def), Black On Both Sides, which released just a year after Black Star's group premiere. Produced by Ayatollah, the beat is more representative of their early output as a group, only stripped of some of the jazzier elements that defined their work just a year before. Rather than ruminating on Black liberation, they served declarations of their lyrical supremacy, with Kweli especially lighting into the beat with one of his most incendiary performances: "It's like you gotta be disrespected and thrown out the exit to get the message," he snarls, letting any and all comers know that Black Star is not to be trifled with.
"Supreme Supreme"
A deep cut that can be found sprinkled throughout some of Kweli's lower-profile offerings, most notably, Right About Now: The Official Sucka Free Mix CD from 2005, this is a rumbling, Charlemagne-produced anthem that sounds more like a war chant than anything else the two have created. This song features Kweli most laid-back flow and a verse that Bey had previously spit on an appearance on Chappelle's Show, albeit slowed way down to fit the beat.
"What's Beef"
Speaking of Chappelle's Show, when the dynamic rap duo made their final appearance on the show, it was with a sparse, unreleased jam that never saw the light of day in its live incarnation again. By the time it was delivered for public consumption, it had been retitled simply "Beef" and stripped of its Kweli Verse. While that version is just fine, it doesn't compare to the original performance, where the pair's push-and-pull performance once again elevated both of their respective verses. Bey's verse remains especially poignant, as he efficiently summarizes everything beef isn't with a breathtakingly economical quatrain: "Some beef is big and some beef is small / But what ya'll call beef is not beef at all / Beef is real life happening every day / And it's realer than them songs you gave to Kay Slay."
"This Means You"
While the group's first outing post-Mos Def And Talib Kweli Are was a barrel-chested romp, this joint from Kweli's first group effort with DJ Hi-Tek as Reflection Eternal was more skeletal and intricate. Foregoing the bellicose battle rap of "Know That," "This Means You" finds the duo dancing on a razor's edge, illustrating just how cerebral they could be, more finesse than brute force. They pass the mic back and forth like an old school cipher, picking up each other's rhyme schemes, themes, and demonstrating a chemistry that borders on telepathy. It's the perfect symbiosis of their magnetic styles.
"Get By (Remix)"
The remix to Kweli's biggest hit, the "Get By" remix featured a murderer's row of mid-'00s rap favorites including Jay-Z, the first chip in the calcified wall that had grown up between "mainstream" or "commercial" rap and "underground" or "backpack" rap. The gap was bridged, unsurprisingly, by Kanye West; before he was an international superstar or a self-declared god, he was simply a groundbreaking hip-hop producer with a foot firmly planted in each world. By bringing them together, he was able to prove the commercial viability of Black Star's brand of socially aware, lyrically-dense commentary and highlight the hidden depth of Jay's catalog, proving that the two sides had more in common than in conflict. In just a few short years, Jay would sign Black Star's spiritual successor in J. Cole and become just as engaged in social outreach and community activism as his less-affluent new peers. Never forget, this was the joint that started it all.
"Just Begun"
It'd be impossible to back up that "spiritual successor" comment without this song, where Kweli and Bey anointed Cole by giving him the ultimate co-sign, putting him on this cut from Reflection Eternal's second album Revolutions Per Minute alongside fellow extra-woke newcomer Jay Electronica. As he'd done throughout his 2009 ascent, Cole seized the opportunity with both hands and damn near outshined his hosts with his verse, but just being able to hang on a song with Black Star would have been enough of a resume booster to make him an underground legend.
"Brown Sugar" (Raw)
Most notable for being the most danceable song in the group's collective catalog, the cut is one of three self-titled cuts from the Brown Sugar soundtrack, but it's the clear standout. It contains an undeniable, Kanye-crafted groove, featuring all their signatures: Witty punchlines, complex rhyme schemes, and intrinsic chemistry, but adds an element that the rest of their output could charitably be said to lack — sex appeal. This one proved that the group could fill up a dance floor if and when they chose — the only drawback being, of course, that they so rarely did so.
"Little Brother"
Featuring the J Dilla beat that The Roots' Questlove went absolutely ballistic over, this "Little Brother" is not to be confused with Mos and Kweli's appearance on Little Brother's And Justus For All cut "Let It Go," although that one's a monster itself. This track from The Hurricane soundtrack is a haunting tribute to inner-city lives lost too young. When Black Star appeared on The Tonight Show with house band The Roots, the impossibly-chopped Roy Ayers sample is transformed and elevated by the live instrumentation, giving Quest an opportunity to pay back Dilla for his amazingly fine-tuned production with a little extra love on the drums.
"Beautiful (Remix)"
A Pete Rock remix of a Mary J. Blige How Stella Got Her Groove Back soundtrack deep cut, this one might surprise some people, who might expect "Brown Skin Lady" to take a spot, but simply put, Black Star's "Beautiful" is just a better record from top to bottom. While "Brown Skin Lady" does provide some much-needed praise for oft-overlooked and derided Black women, "Beautiful" sounds less like a sermon delivered out of obligation and more like a love letter, direct from the heart. There's a genuine vulnerability here, unpracticed and unstaged, evident in the most heartfelt lines from Mos' verse: "I tried to practice my warlike tactics / But in the clutch of your touch, my armor just collapses." Even without the stronger emotional core, that back-and-forth flow on the third verse just can't be matched.
"Respiration"
There is no song that better encapsulates everything that Black Star is than "Respiration." Personifying the city of New York (and Chicago, in the case of guest MC Common) and painting a vivid picture of the everyday struggle represented by the eight million stories of the Big Apple, each delivers career-defining verses, bookended by one of the most captivating choruses in hip-hop. I thought about switching it up for the also rather excellent "Flying High Pete Rock Remix" with Black Thought, but that's a 99, and the original is a clean 100. There's just no improving on perfection.