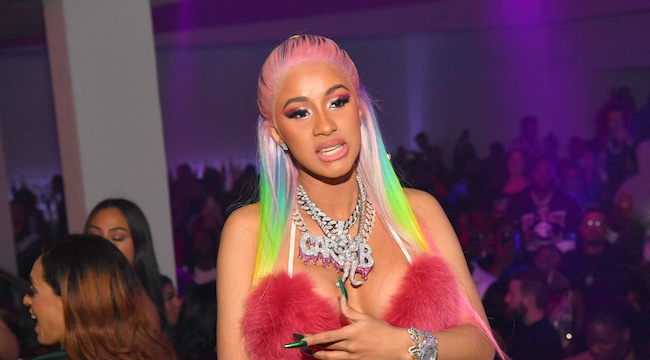 Cardi B was active on Instagram Live this weekend: In one session, she revealed that she plans to write a book about her life. Things got more controversial, though, when she addressed how she felt she was being unfairly targeted by her critics. Discussing how she got to where she is today by herself, she at one point said about her days as a stripper, "I had to go strip, I had to go, 'Oh yeah, you want to f*ck me? Yeah yeah yeah, let's go back to this hotel,' and I drugged n****s up and I robbed them. That's what I used to do."
Following that admission, a lot of Twitter users have shared their thoughts about the situation, and many reactions are being posted with the hashtag #SurvivingCardiB, which is modeled after the name of the recent Surviving R. Kelly documentary. Users have also brought up comparisons to Bill Cosby, have said that the response to this news would be more severe if Cardi was a man, and are calling for Cardi to be "canceled."
Despite the backlash, there are those who say that Cardi shouldn't be compared to "a serial abuser and pedophile" like Kelly:
Cardi also took to Instagram a few days ago to respond to criticisms of her "okurrr" trademark paperwork: She said, "While I'm still here, I'm gonna secure all the f*cking bags," although detractors believe Cardi shouldn't claim ownership over a word that she didn't initially popularize.
Cardi B is a Warner Music artist. Uproxx is an independent subsidiary of Warner Music.