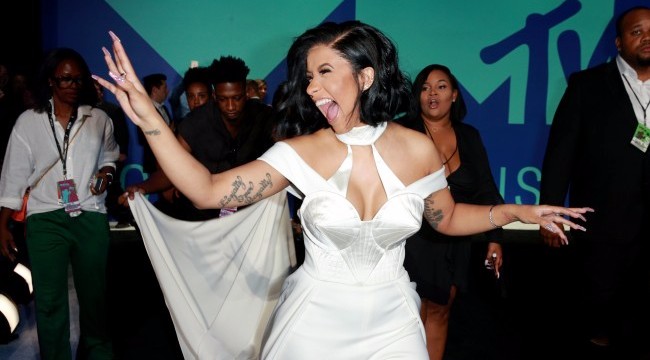 Despite a (now deleted) Facebook post that implied that Cardi B and Offset had gotten engaged, it turns out Cardi's priorities lie elsewhere, as they should. And while she danced around the subject on the VMA red carpet, today US Weekly reported that she definitively shut down the rumor for good.
"It is not true!" she insisted, adding that, "I'm not there." Having watched a few episodes of Bridezillas, I don't think this is a bad decision at all. After all, Cardi was only recently signed to Atlantic Records for her major label debut, and crafting her first album should be a labor-intensive, focused process. Your first impression is the one that lasts. Planning a wedding is time-consuming, expensive, and stressful, and would most likely take away from her musical endeavors, which is where her focus should be if she wants to build a career that lasts. As to why she posted the Facebook page that sparked all the speculation in the first place, who knows? She wouldn't be the first rapper to joke around about getting engaged to a peer (*takes a long look at Nicki Minaj and Drake*).
Besides, these fast-moving celebrity marriages never seem to last, and while heartbreak can motivate some sensational art, Cardi B's at her best when she's catching licks. I don't doubt she can make a few Drake-style confessionals, but while "Bodak Yellow" — and it's Spanish-language incarnation — are topping the charts, Cardi B looks a lot more at home stalking catwalks and stages than walking down the aisle.