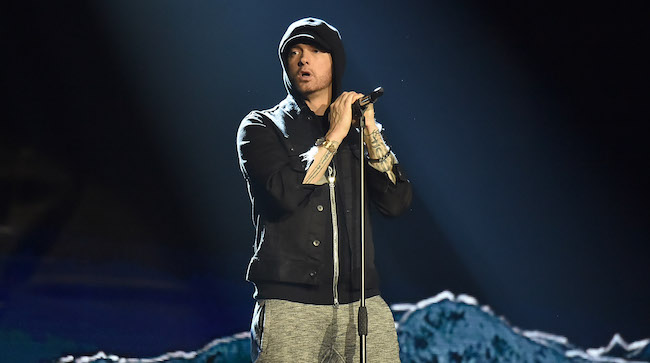 At one point, it seemed Eminem dropping his new album Revival on November 17 was a virtual certainty: The release had long been rumored, he returned with a scathing Donald Trump diss, a Beyonce-featured lead single and a much-ballyhooed about SNL appearance on the horizon the day after the rumored release date. Well, the 17th came and went without a new Eminem album, and while he reaffirmed that it is on the way and marveled at Beyonce's perfection in a rare interview on Shade 45, it's certainly starting to look like Em is going back to the drawing board to reassess the release of his what will be his ninth solo album.
The first step in that process appears to be be distancing himself from "Walk On Water," the album's supposed lead single with Beyonce, as Eminem has stopped promoting the song as his lead single. As pointed out by a Redditor named EndoveProduct, the single is no longer being hailed as Revival's lead single on Eminem's website, with no explanation. The track debuted at No. 14 this week on Billboard's Hot 100 chart, a high debut for sure, but a disappointing one on the heels of Beyonce's first musical appearance since Lemonade, an SNL performance, and a massive rollout.
It even looks a little curious now, in hindsight, that Em's SNL performance was a medley, rather than a standalone performance of his big new single. The responses to the track have been tepid, beyond the frenzy of the most diehard BeyHive members and Eminem Stans, as it served as a new direction for Em amidst all of the high expectations that have clearly weighed him down.
Where Eminem goes from here is anybody's guess, but apparently, he's going there without "Walk On Water" as his lead single.