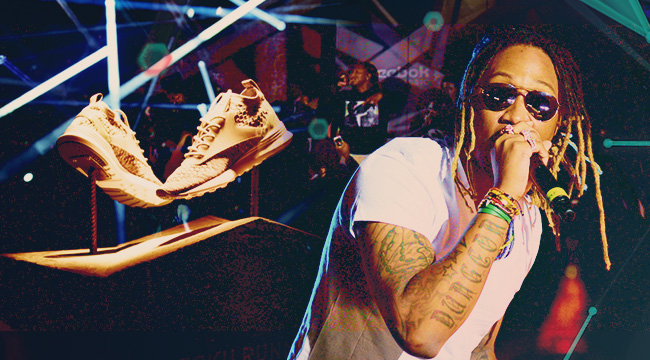 About a week ago, an invite for a trip to London with Future showed up in my inbox. Reebok would be taking a handful of journalists to the UK to spotlight the launch of their newest sneaker, the Zoku Runner, which is their first foray into knitwear, and Future's second collaborative launch with the brand. Since he was currently in the middle of releasing two back-to-back albums that put him on pace to set a historic precedent of achieving two No. 1 records in just two weeks, this trip was more than timely, it was newsworthy.
In 2017, the only rapper who could challenge Future's surging dominance is the guy who took him on tour for months at a time in an attempt to harness his glow — and that was before the world heard HNDRXX. Drake's next unrelenting smash record may be just around the corner, and respect to Chance and Kendrick, but Future is the reigning king of rap right now. HNDRXX has unquestionably cemented that. And this is coming from someone who struggled with his dominance, even during the height of his late 2014 through 2015 monster-making run of success.
What's more impressive than making a steely-eyed rap record is growing as an artist, so while Future picks up DS2's swirling light blue touch and walks further into menacing trap-rap gloom (see: "Mask Off" for the finest example of this), HNDRXX sheds light on a corner of Nayvadius Wilburn's heart that we knew was there, but haven't heard much from since the "Turn On The Lights" era.
On HNDRXX, the lights are blazing, and the view is spectacular. Future once rapped about looking for a jewel, a partner to restore his faith. Now, it sounds like he's recognized that gleaming within himself, and all the old self-discovery adages ring true; once you learn to love yourself, and articulate that to the world, the rest falls away, and into place. If HNDRXX is a love story, it's one directed toward himself and his own growth first, and the pleasure of being able to share that with someone else second.
Future's complicated past relationship with his ex-fiancé, R&B singer Ciara, has been a defining factor in the public perception of his work for the past few years since their split in early 2014. On the lead up to his latest album(s), the rapper even publicly requested media knock that lens out of their hand, and judge him on his own merit. Nearly three years later, that's finally happening, but in no small part because of the way he's changed, too. In the wake of DS2 Future expressed some of his own pain about custody battles with Ciara on Twitter. Recently, before Future and HNDRXX, he took a social media break. Maybe none of us learn the power of silence until we've said far too much.
https://www.instagram.com/p/BQgA-lFlxAX/
Plenty of rappers have a misogynistic lyric here or there, if you analyze their words closely enough, but the media storm around CiCi and Future's breakup, which occurred right around one of my own, meant a personal vigilance on my part. As she was slandered by his fans, as the two sparred in court, as DS2 received almost universal acclaim in the process, I lost my faith. I wasn't alone. Soon, the tide turned a bit, and his next slew releases, Purple Reign, EVOL, and a mixtape with DJ Esco called Project E.T. (Esco Terrestrial), flew under the radar or were even met with disappointment.
Even if commercially successful collaborations, with none other than fellow darkness dweller The Weeknd, began to roll in, opinions vacillated from praise to painful disappointment in just a year. Unfazed, Future joined Drake on the Summer Sixteen arena tour, and delivered a midsection of truncated hits that hinted at his greatness, but never matched Drake's cosmic pull. In the meantime, dropped nothing but a goodwill collab tape with his longtime friend, the newly-minted free and sober Gucci Mane.
***
Back in early 2013 I interviewed Future for the first time. He wasn't exceedingly well-known then, so I pitched and campaigned for his inclusion on the site. My editor at the time didn't care for his music — AutoTune and rap purists were still very much at odds back then — but I endured her scorn and she let me do the interview anyway. Future was the first rapper I ever interviewed, and though he didn't say much else, he did speak of a planned follow-up to his studio debut Pluto, which he said would be called Future Hendrix. Instead, in 2014, came Honest, engagement, breakup, and the rest of the saga described above. No Hendrix ever surfaced, save as a nickname and lyrical adlib.
So at first the news of a self-titled album didn't mean all that much to me, I still wasn't feeling connected as a fan the way I had originally. Future was by no means a dud, remember, it hit No. 1 on the Billboard charts, but it was an album that felt exceedingly similar to his past releases. There was no forward momentum, there was no major growth. It was only when rumors of another album, HNDRXX came on Future's heels, excitement began to build. Returning to the long-promised title felt like wiping the slate clean for Future, and perhaps it felt the same way for some of his fans, who felt he'd lost the thread.
https://www.instagram.com/p/BQzUHyUgbLQ/?taken-by=future&hl=en
When HNDRXX did hit, it was clear, this was yet another unprecedented return to form. His awareness of his own limitations during those nights on the arena tour hadn't gone unnoticed. So Future did what any savant does, he studied Drake's craft, then siphoned the best parts for himself and made them even better. One full weekend listening to HNDRXX was all I needed. This was not an album spewing pain outward as a force, but cycling through it internally, processing and pursuing growth. Plus, it sounded like nothing else he'd ever released; it was pop and R&B deftly wrapped around his signature warble, it illustrated his uncanny ability to pick irresistible beats and reshape them in his own image. In writing about the album, he said it was the record he'd always wanted to make, and pushed back against those who had doubted him along the way. I was one, but I agreed to go to London and hear what my old favorite rapper had to say about shoes and his own saga.
***
Sitting next to Future on a private jet on the way home from London is the first time I've ever looked into his eyes. His face is almost shockingly beautiful, clear skin, high cheekbones, but usually his eyes remain shaded behind sunglasses. They were on at the Q&A on Thursday and during the performance, they were back in 2013 when he came to my office. But last Friday morning, they were looking straight into mine, alert, attentive, and slightly quizzical. We had only a few minutes within a long queue of other journalists, but he treated our time with the utmost seriousness. What I wanted to know first: Was this the same Future Hendrix he'd envisioned all along?
"Yes, it's the same vision, and to be able to have that vision come together is a special time," he told me. "It's changed some, and we just adjusted it for the time, but everything came together well. Having it be two albums means the relationship between Future and HNDRXX is being able to separate a club or a club type of album, and one that's more personal."
https://www.instagram.com/p/BRPB3MVAsLv/?taken-by=future&hl=en
Given the past fallout from his private life, personal is one thing that Future rarely gets anymore. During a press conference interview the previous day, he'd requested no photos or videos, even going so far as to ask that the host of journalists assembled refrain from recording him voicing his thoughts on Reebok and his partnership with the company, which he described as a seamless, organic connection with a brand that's both classic and true to their roots.
The Zoku Runner is the company's first foray into knit shoes, a style that was widely popularized by Kanye's incredibly successful Yeezys, so it's literally a step into the future for the company. That makes Future's connection a no-brainer, and though he wasn't involved in the design process, Future remains a steadfast partner with the brand for the launch, performing later at a select event for London fans. Though it popped up on Ellen the day before, there's no sign of HNDRXX's most obvious hit, "Incredible," on the night's setlist. It matters little — hits as old as "Same Damn Time" still have the venue roaring.
https://www.instagram.com/p/BRPChDBAel8/?taken-by=future&hl=en
Partially because of my own struggles, I want to ask Future about the divisive reaction he elicits in people. It's hard to remember a rapper who has been subject to more fawning and lampooning — often from the same people, myself included — than Nayvadius. But when the subject of criticism or unbelievers comes up, Future was unfazed. He insists the source of this perspective is rooted in misunderstanding; these people couldn't see his vision, couldn't imagine the supernovas he inhabits.
"It's because my work is so special you can't put a hand on it," he responds without missing a beat. "You can't understand, you don't understand my creative process. So if you don't understand the creative process it just makes it seem super unbelievable, unimaginable, how an artist like Future could be able to step outside the 'Same Damn Time' kind of song, and then make a song like 'Incredible.'"
That song, "Incredible" is the first song in 2017 to fully live up to its name. A friend noted sounds like a Rihanna song with Future singing it, and it's already won accolades beyond Ellen's somewhat fickle rap cosign. Word of mouth has skyrocketed this track, it's so easy and intuitive to croon the strung out hook of "In-In-Incredddddiblllleeee" back and forth over the rubberband beat. The actual Rihanna song on HNDRXX, "Selfish," a smoldering duet about wrong turns transforming a dead end into flourishing love, is the lead off single for the album. It's a good song, and surely it will do well, but "Incredible" is on the lips of everyone I know. It's a song with plenty of pop elements that still sounds exactly like a Future song. It feels inevitable in the best way possible, it's a hopeful anthem from the king of glittering fatalist trap.
Multiple tracks off HNDRXX sound destined to help Future crossover to a more traditional pop audience — I can hear an entire arena chanting "Fresh Air" back to Future, the way they trilled "Just hold on we're going home" to Drake last summer. It's a huge step away from the Lean and Xanny breakup bitterness that marked his last crest of fame. Drugs show up, sure, and Lean is barely mentioned explicitly on HNDRXX. That could be a coincidence. It probably isn't. But beyond the strength of individual tracks, the sheer feat of replacing himself as the No. 1 selling album on the Billboard charts is groundbreaking. Yet, when I ask, Future says this kind of outside recognition matters little to him in contrast to the fan's connection with the music.
"To be a moment in music that's just historic, it's something that you always want to cherish forever and to be able to feed off the energy," he said. "But for the music to be really groundbreaking, you just want to be able to put out a complete project. You just want the fans to be able to love it, to accept it. So the project should be accepted, that's the first thing."
Since he's seen it both ways, the clamor over HNDRXX is clearly something that he's treasuring. Several early reviews of the record notice an undercurrent of healing in his second release, and I ask him about creating something this personal in the context of his painful romantic past.
"I was nervous to see how people would respond," he said. "HNDRXX is more personal, but at the same time Future has personal records on there. It's a healing process, and it's a process people can relate to, it's personal, it's touching. I feel I was able to work and capture every moment of my life. It's learning versatility constantly, and also recording a lot of music. Once you're allowed to be versatile you never know what happens and what you're able to create."
https://www.instagram.com/p/BQ67iLFASBA/?taken-by=future&hl=en
At this point, my brief time with him is up, and so is my skepticism. Yes, day one fans who ride and die with their favorites are the group artists treasure, praise, and build their empires upon. For Future, I am not that. I lost my faith in him, but with HNDRXX he's restored it, and I believe that especially for a critic, there's more beauty in earned skepticism, and subsequent redemption, than in blind, unwavering love. Future refuses to be written off, he keeps building faith up, both with those who believe in him and those who doubt. He isn't afraid to own the mistakes of his past and learn from them, but he's also not sacrificing or hiding any of the things that make him who he is in the first place.
On one of my favorite songs off HNDRXX, "I Thank U," Future sings to an unknown unbeliever. A recent Instagram post bears the song title as a caption, depicting a series of limited stamps and a handwritten thank you letter. "Day zero fans I love u," it reads. "My fans that's just now now getting hip to the vibes, I'm holding it against you." Yet, if you listen to "I Thank U," it's not day zero fans that Future is thanking — it's a hater. "Girl I thank you, I thank you, I thank you," he sings on the hook. "'Cause you made me hustle." A guitar chirps and wails in the background, turning an accusation into seduction. So I turn it up, and all the way home from London I listen to my favorite rapper — the one who won me back.
Future and HNDRXX are both out now via Epic Records. Get them here and here.