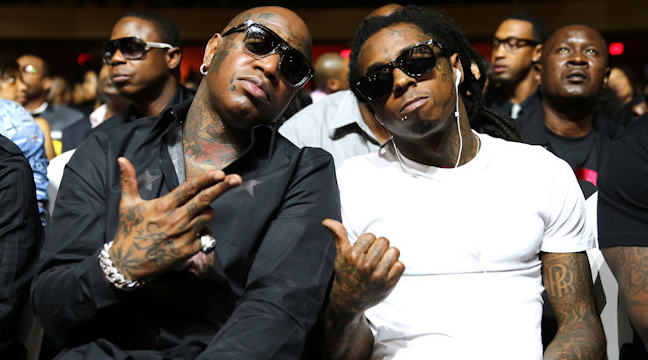 Lil Wayne just found his strongest ally in escaping his ongoing contractual dispute with Birdman and Cash Money Records. Infamous Rap-A-Lot label head honcho James Prince is now weighing in and giving his support to Weezy, which translates to Wayne's most likely going to get his freedom from Cash Money whether Birdman likes the terms of his exit or not.
Prince, known to most as J. Prince, decided to step in on Wayne's behalf once Wayne grew weary and started talking about retiring, per TMZ. "Where [Wayne] is weak, I am strong," he said. "He has gained an ally, and together we will get back all money owed to him and my son off the Drake albums."
There's the kicker right there.
Wayne, of course, owns Young Money and he signed Drake after Prince's son Jas brought the Canadian boy wonder to Wayne's attention years ago. Jas Prince has been stuck in a series of legal battles with Young Money and Cash Money over money he claims he's owed for discovering gold in Drizzy. His price started in the low millions before climbing to $11 million . In July, an eventual settlement was reached between Jas and Young Money, the terms of which were undisclosed. What it did was leave both sides to focus on getting paid from CMR.
Wayne's $51 million lawsuit against Cash Money includes profits he claims he's owed in relation to Drake and Nicki Minaj since they're Young Money artists. According to the elder Prince, he wants Wayne to have what he's owed for helping make Drake a big star and a big earner for everyone. He said, "I witnessed the hard work that went into Drake's career and for Cash Money to try and take something that isn't theirs to take, does not sit well with me and family around the world."
That's like the 2016 version of his old Geto Boys quotation: "If you wanna go to war, I'll take you to war." In his many years of doing business, not many have taken Prince up on the invite. In fact, he gently placed a halo over Drake's head a while back and nobody's physically tried the 6 God since. Meek Mill was forced to reconsider a plan to bumrush Drake's show and Puffy even decided to play nice, both because of J. Prince's affiliation.
The sooner Birdman coughs up what he owes Wayne, then Wayne can pay up to Jas Prince and walk away with his recording freedom. Chances are that's going to happen way sooner than later, thanks to J. Prince.