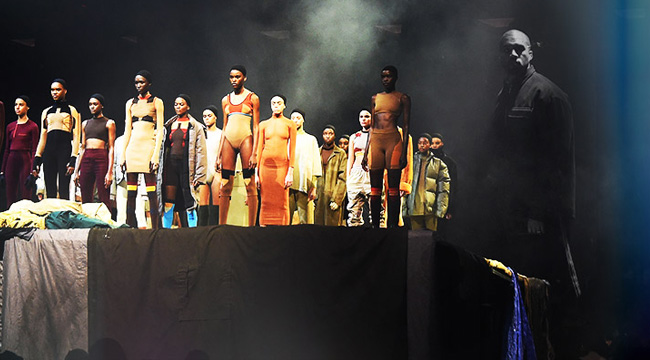 By now, no one will argue against the idea that Kanye West is one of the most influential people in the fashion industry. Considering the backlash to his Trump comments this morning, he's also one of the most influential people in any industry, period. But let's take a look at just how long he has been working to get where he's at now in the fashion world. Perhaps his fame and success are part of the reason he isn't focused on talking about and fighting racism as much as he used to be.
His shoes fly off the shelves, pretty much every major fashion media outlet obsessively covers his fashion shows, and his stamp of approval on any designer is bound to make that label hot in the streets. But in spite of Kanye's successes, it seems that the fashion establishment, and some die-hards are reluctant to give him the kind of adulation he believes he deserves. In spite of the pushback –- both from the rapper and his detractors -– Kanye has managed to build up relevance in the fashion industry against it all. And he's spent nearly his entire time working his way though the ranks fighting to be able to realize his full creative potential.
Let's see how Kanye has fought over the years to become the fashion influence he's always wanted to be.

January 2007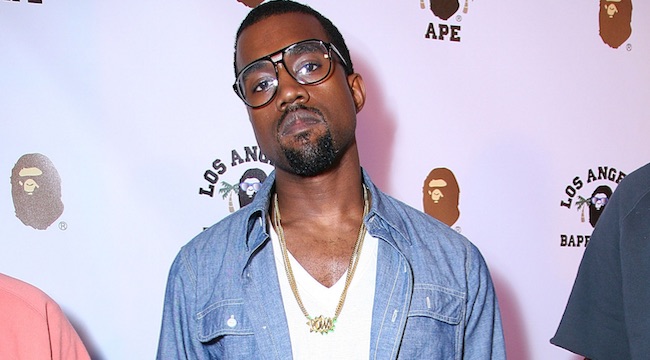 Kanye teams up with Bape to create the "Dropout Bear" Bapesta sneaker. The design was inspired by the bear mascot that appeared on his College Dropout, Late Registration and Graduation album covers. Years later, Kanye dished on Twitter that he asked Bape to do clothing as well, but never made any headway.
November 2008
Kanye West worked to bring his sartorial point of view to life with his own clothing line, Pastelle. He wore a varsity-style jacket from the then-developing label to the 2008 AMA's. The blue, red, and yellow color blocked number had the brand's name emblazoned at the left breast on the front and across the back. It was a look that was hard to miss, but by 2009 it would be another one for the Getty archives. Pastelle never got off the ground back then — though it looks like it might now with the help of Ian Connor — but it wouldn't be the last design effort from the rapper.
April 2009
Kanye and Nike announce the release of Air Yeezy 1. Kanye West paved the way for shoe supremacy among sneaker heads with this collaboration with the major athletic label.
July 2009
Kanye drops a 3 style (Jasper, Don, and Mr. Hudson), 10 colorway capsule sneaker collection with Louis Vuitton.
August 2009
Rumors of Kanye interning at The Gap were going around, but the retailer's then creative director Patrick Robinson says he wasn't actually officially working for them. "He's a friend of mine, and he just likes to see what we do. I tell him, if he wants people to take him seriously in fashion, they have to see blood first! They have to see the blood and the sweat, to see that he really wants it — but he definitely has the capability."
September 2009


After the now-iconic Taylor Swift interruption at the 2009 MTV VMAs in September, Kanye took a six-month break away from the spotlight, which included a four-month stint as an intern at Fendi. West also says he did a two-year apprenticeship for Giuseppe Zanotti, but kept it secret at the time because he was under contract with Louis Vuitton, working on a shoe collection. So Kanye did begin at the bottom, or as far down as a celebrity with a huge following and millions of dollars can go. From the start, he exhibited a desire to learn from the masters of the trade, to show his legitimate interest and how serious he was about becoming an actual force in the industry. It seems that he thought showing aligning himself with some of the most celebrated houses and designers would be enough for the fashion elite to take him seriously. But it wasn't so easy.

October 2010
Kanye adds another high-fashion collab to his belt, tapping Phillip Lim to work his magic on the wardrobe for his Runaway movie. The film reminded everyone of Kanye's incredible creative eye, and helped usher in a bit more of a grown-up Kanye sartorially. It seemed Kanye's momentum within the fashion industry was beginning to pick up.
Early 2011
According to one of many of Kanye's passionate Tweet storms, the rapper moved to Paris and opened a design studio to work on his creative projects. West name-dropped Azzedine Alaïa as one of the designers who visited the space.
January 2011
The Riccardo Tisci-designed artwork for Kanye and Jay Z's single "H.A.M." is unveiled. 2011 was the start of an extended creative collaboration between the Givenchy designer and Kanye West. Tisci also created the artwork for the Watch the Throne album, and designed looks and merch for the following tour. Kanye was building on his connections in the industry, and his designer buddies show that there is a continued interest from fashion elites to work with him.
September 2011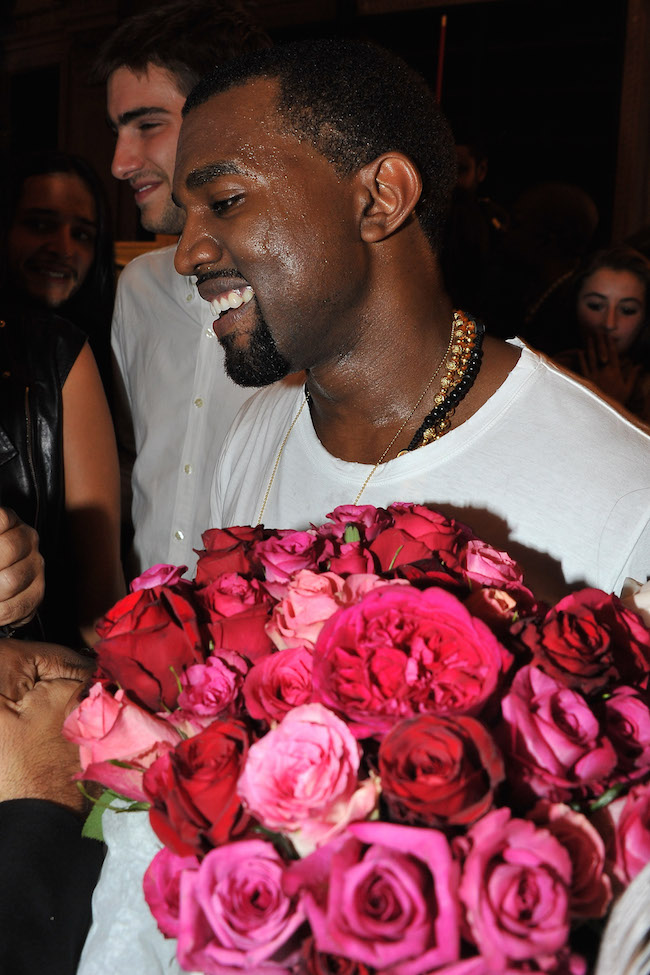 Kanye West shows his first collection for Spring 2012. The show is universally panned, with many critics citing fit problems and overall vision as some of the collection's biggest issues. The New York Times reported overhearing West at the Céline Show talking to Joe Zee about his collection. "He engaged Joe Zee, the creative director of Elle, in a lengthy dialogue, loud enough for everyone around them to hear, in which he noted, as one example, that he did not very much appreciate the criticism of his decision to show fur for summer." The Times also mentions West speaking of the loans he took out in order to put on the production.
It must have been extremely frustrating for the rapper to spend money trying to realize his creative dreams, only to be rejected by the people he was trying to prove himself to. But Kanye's detractors were not here for what they thought amounted to temper tantrums. "What was most confounding about Mr. West's behavior, after years of obsessive study of the industry, was that he demonstrated very little understanding of how he might actually be perceived by retailers and editors who have a vast amount of experience at detecting utter nonsense," Eric Wilson wrote.
The Giuseppe Zanotti shoe collaboration shown as part of the collection is the only part that actually did make it to shelves. West asked the media to go easy on him: "This is my first collection. Please be easy. Please give me a chance to grow. This is not some celebrity shit. I don't fuck with celebrities. I f*ck with the creatives in this room, the amazing people who spend every day of their life trying to make the world a more beautiful place." Still, there were members of the fashion set who supported Kanye's endeavor. Anna Dello Russo, Fashion editor-at-large and creative consultant for Vogue Japan, was photographed in pieces from the line soon after the collection hit the runway.
January 2012
Kanye goes on a late night Twitter rant about his experience in the fashion industry. In the tweets, he again mentions putting up his own money to fund his fashion show. He says that he had been working up through the ranks of the fashion industry for the past 8 years.

March 2012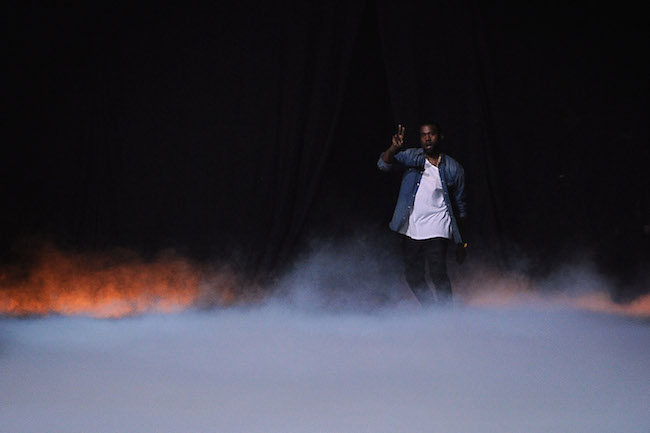 Kanye West shows his second collection for Fall 2012. He refuses to preview the collection with the editors, saying, "I got treated unfairly by the press last time. Why would I want to do this?" Reviews for the collection were tepid, though slightly better than the first season. The New York Times' Eric Wilson wrote, "It seemed as if Mr. West's approach to making a dress was like a cook wrapping leftover turkey." Model Jourdan Dunn famously ranted on Twitter pre-show about how uncomfortable the shoes were. "Don't get me wrong the shoes are sexy as fuck but you can't walk in them!"
June 2012
The Nike Air Yeezy 2 is released. Frenzy ensues with reports of a pre-order of the shoes selling on eBay for $90,300. The hubbub behind the sneaker was a re-confirmation that in spite of the fashion establishment's disapproval, Kanye has a knack for moving products and creating extreme demand. Whether or not people accept his clothing design, his influence is undeniable.
September 2012
Kanye West and Giuseppe Zanotti unveil "Cruel Summer" Sandals. Zanotti continues to be one of West's industry allies.
June 2013
Kanye sits down with Jon Caramanica to talk his latest album for The New York Times. In the interview, West discusses a certain "clothing guy" who asked why, in spite of his efforts and growing connections, he hasn't been able to get further in the fashion industry. Kanye said he told him he was learning, but brushed off the fellow's comments, suggesting they lack relevance. "But ultimately, this guy that was talking to me doesn't make Christmas presents, meaning that nobody was asking for his [stuff] as a Christmas present. If you don't make Christmas presents, meaning making something that's so emotionally connected to people, don't talk to me."

July 2013
Kanye and A.P.C. release their first collaboration of t-shirts, jeans, and minimalist sweatshirts. Critics pan the range — The Guardian wonders if the decidedly plain offering is "The New Boring." Creative director Jean Touitou is clearly another of Kanye's fashion allies, but given the reaction to the collection, it's obvious that Kanye still has plenty of naysayers, though it didn't stop him from working to get out his point of view from a fashion design standpoint.
September 2013
Kanye does the now-infamous Zane Lowe BBC Radio 1 interview in which he laments the limitations on his creativity by saying his "Truman Show boat has hit the painting." The interview represents a turning point in Kanye's fight with the fashion industry. Here, he lays his qualms out in greater detail, and reveals to the world that he wants to expand his creative options. "I have reached the glass ceiling as a creative person, at a celebrity. When I say that, it means I want to do product. I am a product person. Not just clothing, but water bottle design, architecture, everything that you could think about. I've been at it for 10 years, and then I look around and say "Wait a second, there is nobody in this space that looks like me. And if they are, they're quiet as fuck.'" West also famously claimed he and his creative right hand, Virgil Abloh, brought the concept of leather jogging pants to Fendi, which rejected it. Here, Kanye opens up to remind people that in spite of the success he has enjoyed, he feels largely unsupported by the fashion establishment.
October 2013
Maison Margiela and Kanye collaborate on tour costumes.
November 2013
Kanye continues his backlash tour against the fashion powers-that-be and people who "marginalize" his creativity. On Sway in the Morning, Kanye discusses the delay of the release his Red October shoe with Nike, amongst other issues when it comes to his endeavors in fashion.
"I'm standing up and I'm telling you I am Warhol. I am the number one most impactful artist of our generation. I am Shakespeare in the flesh. Walt Disney, Nike, Google. Now who's going to be the Medici family and stand up and let me create more?" When Sway suggested that West should use some of his own capital to empower himself, West blew up. "You ain't spend $13 million of your own money trying to empower yourself!" he said, revealing that many of his creative pursuits have been on his own dime. "I lost the money because I didn't have the knowledge to do it the right way."
In an interview the same week with then-Hot 97 DJ Angie Martinez, Kanye lets his partnership with Adidas slip. He also says that the fashion world is fearful of his influence. "Y'all saw what I did in those brief moments, and the fashion world saw it too — that's why they're afraid of it. You know the impact those Louis Vuittons had, you know the impact the Yeezys had." He also discussed how he felt limited by Nike, whom he claims said they couldn't give him royalties for his shoe designs. He also proclaims, "I am going to be the Tupac of product."

February 2014
Nike releases Air Yeezy Red Octobers by surprise. They sold out within the hour on the Nike website.
March 2014
Kim Kardashian and Kanye West appear on the cover of Vogue, a testament to the couple's fashion influence in spite of the pushback they've gotten from much of the industry.
July 2014
Kanye drops his second collaboration with A.P.C., and the high price point again draws attention.
November 2014
Anna Wintour explains her reasons for putting Kim and Kanye on the cover of Vogue, indicating that she knows their value, even if she may not think they're the classiest pair in the world. "I think if we just remain deeply tasteful and just put deeply tasteful people on the cover it would be a rather boring magazine," she said. "Nobody would talk about us. It's very important that people do talk about us."
December 2014
Kanye and Kim star in Balmain's Spring 2015 menswear campaign together, another declaration of approval from one of Kim and Kanye's closest fashion allies.
January 2015
Jean Touitou chooses "Last N****s in Paris" as the name for A.P.C.'s Fall 2015 menswear show, sparking criticism. Touitou uses his connection to West to justify the name. "I am friends with Kanye [West, who recorded "Ni**as in Paris" with Jay Z], and he and I presented a joint collection at the same place, one year ago, and that this thing is only a homage to our friendship. As a matter of fact, when I came up with this idea, I wrote to him, with the picture of the look and the name I was giving to it, and he wrote back immediately saying something like, 'I love this vibe.'" The collection featured a collaboration with Timberland, which backed away from A.P.C. after the debacle. Touitou apologizes.

February 2015


Finally, the world gets to see the much-hyped Yeezy x Adidas Season 1 show. There was a star-studded first and second row, Kanye unveiled a new single, and collaborated with artist Vanessa Beecroft (who would work on future Yeezy shows) on the presentation's staging. Still, the clothes weren't quite well received. The title for Refinery29's review: "The 5 Things That Worked About Kanye's Fashion Show (The Clothes Weren't One Of Them)" Bloomberg's Nic Screws wrote, "An impressive front row, sure. But the clothes? Eh. Let's just say the reviews, like all thoughts and feelings regarding Kanye, weren't kind. My review in a nutshell: I hated it."
People on social media dragged Kanye for the Hunger Games-esque offering, which they didn't feel was as groundbreaking as the rapper promised. 

There were publications that defended Kanye. Style.com was pretty even-handed in its criticism. "It was that suggestion of conflict that gave some spine to this collaboration with Adidas: A protective toughness, a body-conscious severity that made the clothes more than a simple accessory to the footwear that was the predictable focus of the whole event." Still, it was clear that many were unimpressed by the clothes put forth for Yeezy Season 1.
June 2015
The Yeezy boost 350 launches, the first of many Yeezy launches, furthering West's dominance in the footwear market.
September 2015
Kanye West shows Adidas Season 2 collection at NYFW. In a piece for The Cut, Cathy Horyn writes one of the most unfavorable reviews yet, says West is "fooling fashion." "This second round of drab, broken-down basics proved he can't be taken seriously as a designer," she wrote. "But nevertheless many people in fashion do seem to take West seriously — they keep showing up expectantly for his performances — and that makes them fools. Because they wouldn't bother with this stuff if it were offered by an unknown, and if it's the spectacle they seek, it changes as little as the clothes."
October 2015
Footwear News names the Yeezy Boost 2015's Shoe of the Year. The award is a reminder of West's success in the footwear sector, which has been far kinder to him.

December 2015
The high-top Yeezy Boost 750 in black drops.
January 2016
The Kanye West x Cruel Summer Giuseppe Zanotti Sneakers drop.
February 12, 2016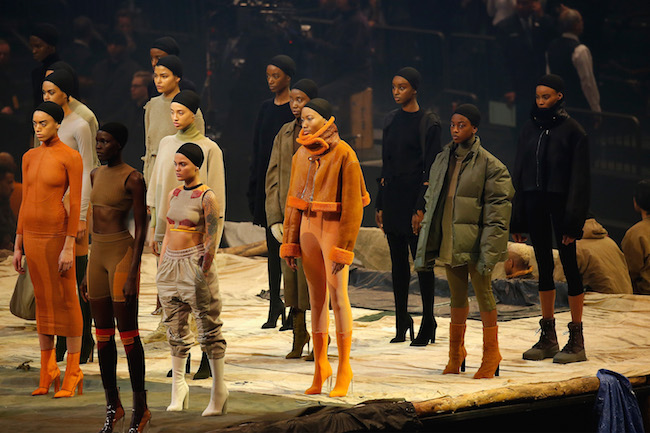 Kanye West shows Yeezy Season 3 at Madison Square Garden, which doubled as a listening party for his album The Life of Pablo. Reviews were a bit kinder than previous seasons, though the show felt more like a display of Kanye's cultural capital than of his achievement in design. Olivier Rousteing lent a hand and designed the clothes the Kardashian-Jenners wore to the event.
Feb 13, 2016
Kanye goes on Twitter and says he is $53 million in "personal debt," presumably from his creative projects. That's a lot considering 3 years before; he told Sway it was $13 million. He famously asks Mark Zuckerberg to invest 1 billion dollars in "Kanye ideas."
June 2016
Adidas and Kanye West deepen their partnership. West will work on sportswear as well as lifestyle. There will also be dedicated stores for Kanye's clothing collections. This deal seems to be bringing Kanye closer to becoming the "Tupac of product." Adidas is shaping up to be his Medici family.
July 2016
https://www.instagram.com/p/BIdL3GvBty_/?taken-by=kimkardashian
Kanye and Kim Kardashian shed a tear to star in Balmain's Fall 2016 campaign.
September 2016
Kanye West shows Yeezy Season 4. The reviews were largely unfavorable, in part because of the clothes, but mostly for making editors wait out in the hot sun. The show was riddled with controversy from the beginning, with the casting call for the show calling for "multiracial women only," which some thought was an explicit statement that non mixed-race women (particularly black women), weren't welcome.

Still, the show went on with plenty of black women cast, and plenty of complaints from editors, who were bussed to Franklin D. Roosevelt Four Freedoms Park on Roosevelt Island only to stand out in the sun for hours waiting for the show to begin. The Cut's editorial director Stella Bugbee was particularly vocal about her discontent with the show, noting that some editors started to leave before the show began. 

The Hollywood Reporter's Booth Moore described the scene: "Decent clothes aside, the presentation raised eyebrows — and concerns. It was late, as in nearly two hours late, leaving guests crowded behind barricades in the afternoon heat. After the presentation began, the models suffered even more; some passed out. Another hobbled so badly in her boots on the final walk, it was like watching someone being tortured."
Pulitzer Prize-winning fashion critic Robin Givhan called the collection "worse than bad. It was boring." She mentioned that West hasn't really seemed to grow too far beyond Yeezy Season 1 in terms of what he's been putting out clothing-wise. "West's collections have become static in their development," she wrote in The Washington Post. "And the show was neither a focused testament to the beauty and technique of the garments nor an expansive statement about the culture that produced them… Cult of fame? Fame is easy. Good clothes are hard."
In essence, it was a big mess. But Kanye's entire ascent in fashion has been messy from the beginning. Still, now that he's locked in with Adidas, he will likely still cause a stir at his next fashion show. All the editors who complained about the heat will still show up to the next one. Kanye may still have some hurdles in his path, but he will continue to be a powerhouse influence, especially in the footwear market. That is, if people get over his Trump comments. 2017 marks the tenth year he's officially been pursuing fashion, so let's hope a decade in, he's finally able to pay off some of those loans.