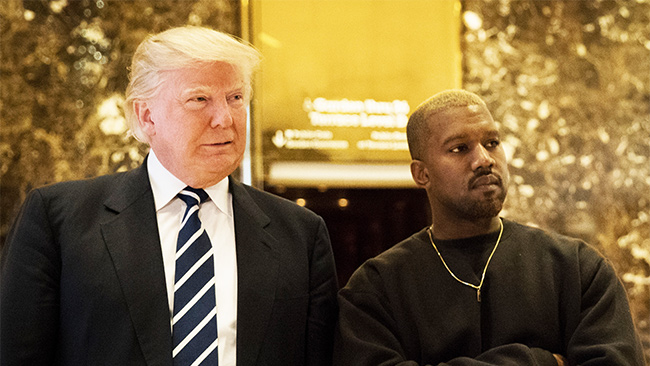 It's safe to say Kanye West is really back to business after being released from UCLA Medical Center following a mental breakdown. The blonde-haired rapping producer met with President-elect Donald Trump at Trump Tower in New York City early Tuesday morning to everyone's surprise. While Trump claimed he only spoke about "life" with his longtime friend and none of the politics Kanye ranted about at one of his concerts, everyone is chiming in with their opinions on two of the country's most polarizing figures meeting for a quick chat.
Obviously, you had your Watch The Throne references sneaked in since Kanye aired out Jay Z for not being a good friend following wife Kim Kardashian getting robbed in Paris. While others compared the "Narcissistic Asshole Summit" picture to the "worst Run The Jewels cosplay ever."
Many wondered if Kanye was at Trump Tower to nudge Trump into seeking psychiatric treatment since he was also placed on a 5150 hold last month. And the rest are just top notch tweets worth your lulz, including Kanye's possible inauguration setlist if he chooses to help his friend Trump. The President-elect is struggling with securing some big-name artists for his inauguration for obvious reasons. Kanye performing "Power" "New Slaves" and "Drunk and Hot Girls" is a strong possibility! About as strong as J. Cole hopping in the studio right now and crafting more fire in the vein of the Kanye introspective, "False Prophets."
https://twitter.com/OhNoSheTwitnt/status/808688713601519616
In all seriousness, this tweet pretty much sums it up.