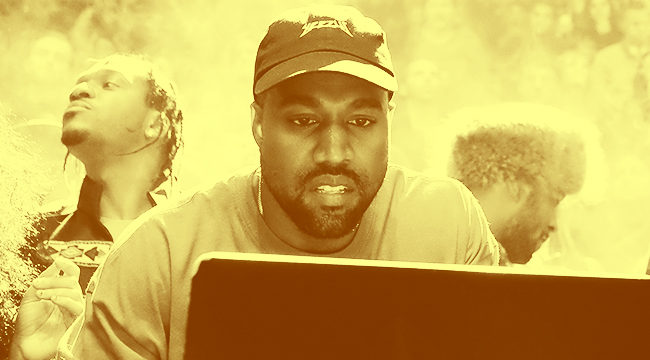 November 19, 2016. Kanye West is hovering 12-feet off the ground at the newly-created Golden 1 Center in Sacramento, California on a glowing, floating stage. Everyone below is losing their shit with blissful abandon. The show got off to a promising start thanks to a surprise cameo from one of his most prolific protégés Kid Cudi, but a mere five songs later, things begin to go off the rails. After starting and stopping the song "Famous" several times, West abandons it altogether and launches into a now-infamous rant, attacking radio, Hillary Clinton, Barack Obama, Mark Zuckerburg, and most notably his friend and collaborator, Jay-Z.
"Jay-Z, call me, bruh," he pleads. "You still ain't calling me. Jay-Z, call me. Aye, bruh, I know you got killers. Please don't send them at my head. Just call me. Talk to me like a man."
For 30 full-minutes Kanye raged, stringing together a nearly incomprehensible series of thoughts. The audience cheers at first, but as he continues to unravel, the praise turns to boos as they plead with Yeezy to play another song. It was not to be. "Get ready to have a field day, press," he warns. "Get ready, get ready. Because the show's over." With that, he drops his microphone and walks off into an uncertain future.
As the next several days bore out, West's lengthy diatribe and walk-off weren't your typical rock star posturing. Shortly after returning to LA West experienced a full-on mental breakdown. Paramedics, police, and firefighters were called to his home and he was taken to a nearby hospital and put under observation. All future plans and the remaining dates of his Saint Pablo tour were immediately canceled as West recuperated. Rumors of divorce loomed so large they felt true.
From the outside looking in, it appeared that Kanye's punishing work schedule had finally gotten the best of him. Between recording and releasing a new record, The Life Of Pablo, launching a tour, working on his fashion line, and then dealing with the trauma of almost losing his wife after she was robbed at gunpoint by masked assailants in Paris, all while parenting two small children had taken their toll. The man needed a break in the worst way.
When he finally semi-emerged in the public eye a little less than a month after his onstage meltdown, he stepped out with a shocking bleached blonde look. Then came one of the most inexplicable moments of a year that had been filled with inexplicable moments when West strode into Trump Tower in New York and posed, stone-faced, with the President-elect. For many fans who had followed his career from the days when he memorably chided another Republican leader, President George W. Bush, for not caring about black people in the wake of the poor response to Hurricane Katrina, this was a shocking betrayal.
And then that was pretty much it. For almost the entirety of 2017, Kanye West has remained persona non grata. Almost every public event, like his Yeezy Season fashion show — the one he held earlier in the year, after canceling another one set to take place at the most recent New York Fashion Week — has been notable for his absence. That's not to say his presence hasn't been felt. The paparazzi have continued to follow his every move, snapping pics of an increasingly healthy-looking Kanye. He's also popped up here and there in his wife Kim Kardashian's social media posts — yes, they kept it together.
Mostly however, he was felt in the feuds that he refused to engage with. First came his one-time best friend and Watch The Throne partner Jay-Z, who took dead aim at Yeezy on his most recent record 4:44. On the opening track "Killy Jay-Z" Hov revealed that he heard West's rant in Sacramento and didn't like it one bit.
"You dropped outta school, you lost your principles / I know people backstab you, I felt that too / But this f*ck everybody attitude ain't natural / But you ain't a Saint, this ain't KumbaYe / But you got hurt because you did cool by 'Ye / You give him $20 million without blinking / he gave you 20 minutes on stage, f*ck what was he thinking?"
Despite the blatant attack, Kanye remained silent. West also held his tongue after getting dragged by long-time nemesis Taylor Swift on a pair of Reputation tracks. The most blatant came on the song "This Is Why We Can't Have Nice Things," where she sang, "It was so nice being friends again / There I was giving you a second chance / But you stabbed me in the back while shaking my hand." For all intents and purposes, Jay and Taylor might as well have been punching at a ghost.
Even as he has remained out of the public eye, if reports are to be believed, Kanye has remained busy. According to G.O.O.D. Music associates like Pusha T and Cyhi The Prynce, he's actually been downright prolific, writing new beats and crafting new flows in far-flung locales like Wyoming and Japan. Yeezy's biggest fans have seen this move before.
Shortly after crashing Swift's acceptance speech at the MTV VMAs back in 2009 and becoming public enemy No. 1 — President Barack Obama even deigned to call him a "jackass" — Kanye dropped off the face of the earth. He canceled a planned tour with Lady Gaga and drank away the pain in Tokyo and Milan, then he got down to work. Assembling one of the greatest collections of rap talent ever seen, West retreated to Hawaii and crafted the sprawling masterpiece My Beautiful Dark Twisted Fantasy.
In West's mind, the album was his form of apology to a world that turned its back on him. "I showed people that I understand how to make perfect," he later told Zane Lowe in an infamous appearance on the BBC. "Dark Fantasy could be considered to be perfect. I know how to make perfect." While I would argue that Kanye hasn't produced a dud record yet, it seems as though he makes his best work when his back is up against the wall and with a definite target in mind. I'd hesitate to predict what his next project might sound like or guess as to its eventual quality, but it's hard to recall a time when more people wanted to watch him fall on his face. That feels like a very good thing if you're a Yeezy fan.
November 4, 2017. Kid Cudi is tearing into a packed Chicago crowd at the Aragon Ballroom. Rumors abound that a guest is waiting in the wings, but no one is really sure if he'll actually make an appearance. Then it happens. The lights in the room turn purple as the opening strains of "Father Stretch My Hands" break out through the speakers. 5,000 Chicagoans go ballistic as their city's favorite son strides into view. "Kanye West ladies and gentleman!" Cudi screams. Yeezus just rose again.