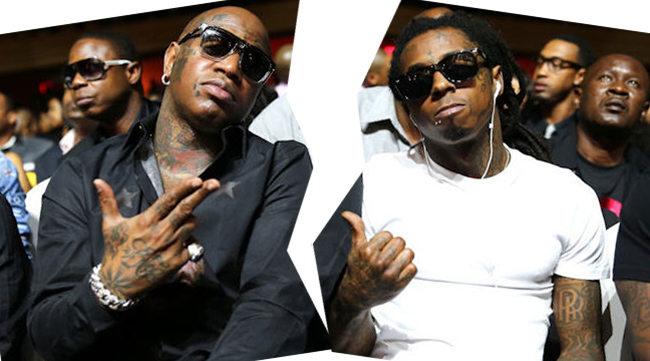 Throughout the Lil Wayne vs. Cash Money saga, the different sides of the relationship between the rapper and his father figure, Birdman, have been highlighted previously. Business aside, the two black entrepreneurs have shared a long, lucrative personal history together dating back to Weezy's formative years as a teen. Bonds that strong are hard to break, but it seems things are at that point with Wayne now.
While on his press run for his new book, Gone 'Til November, Weezy sat down for a promo interview with HipHollywood where he revealed his relationship with his former mentor has soured past the point of return. The host asked Wayne if there was any chance for a relationship between him and label boss. He replied, "I'm 34 baby, I'm too old for friends." The interviewer went on to ask if any family ties remained. "No, his last name isn't Carter, baby," Wayne replied. "He's not family."
Guess that means pics and accounts of the two partying earlier in the year were figments of our collective imagination. The fallout is to be expected with the prolonged nature of the legal battle that keeps Wayne from releasing any new music through official channels.
Still, he remains hopeful the saga will come to an end soon. When asked if he saw a light at the end of the tunnel, Wayne replied, "Even if I don't see a light at the end of the tunnel, if you're a fan of mine, go on and get behind me and know that if there's a wall at the end of the tunnel I'm gone bust that bitch down. Guess what? There's a lot of light on the other side."
For a measure of good news, it should be noted that Wayne once again tried to clear up the retirement rumors he started on social media a few weeks ago. According to him, he was referring to certain types of production and not the idea that he was leaving behind the rap game entirely. "I'm retiring from using certain beats," he said. "Certain beats we had been using, I'm retiring from using them b*tches. Them b*tches stank. Don't worry about hearing me on them beats no more. That's all it was."
Watch the full interview below.