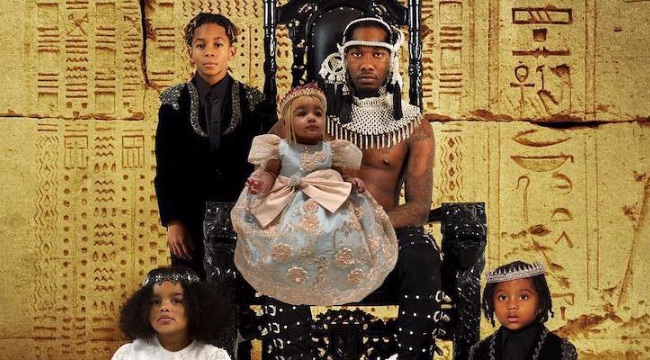 "Disposable" is one of the most frustrating terms music critics tend to overuse. It suggests that the music itself determines its worth to the listener, as if the listener doesn't have any agency in whether or not they like what they hear. It mischaracterizes the relationship between the creator, the product, and the consumer. Technically, all music is consumable if it doesn't add value to the listener's life experience, but what determines that? One man's trash is another man's treasure.
But that binary is false too. There's always the third option: The tchotchke. What about the thing that we don't necessarily use every day, but that we can't seem to get rid of? It's a curio, an object of temporary interest. It sits on the shelf, not really doing anything or meaning much to anybody, but occasionally you take it down and play with it a bit, or look at it for a reminder of a good time you had. It isn't timeless but it isn't worthless either.
Offset's debut album, Father Of 4, feels a lot like it's aiming for that third category. Much like most of Migos' music, it doesn't seem to reach much for that gold standard of a rap "classic," even as it tacks on some of the signifiers of one. It's middlingly appealing, a rap album that, to the uninitiated, won't look or sound like much more than a trinket that they can toss away without a second thought.
Quality Control is a company that knows what works for this marketplace and their target audience, and the thing keeping Migos and the other rappers on the label from achieving classic status isn't a lack of quality or even the use of a formula. The formula is how they've achieved everything they have so far; there's something comforting about knowing what you're going to get with each release, even with the small tweaks that Offset himself makes to the formula on his debut.
But even though it's the most emotional, vulnerable, personal project of the three Migos solo projects, it can still feel like nothing more than just another piece of Migos Phase 2. It has its moments; Offset's flow is the best a Migos-associated project has ever possessed on "Lick," "Father Of 4" and "Red Room" are passionate, autobiographical recollections of his proudest and most traumatic moments, showcasing some noteworthy songwriting, and he even gives a glimpse into the latest round of relationship drama with Cardi B on the defiant "Clout," which features one of Cardi's most snarling verses.
Offset manages to give off the sense that he wants to harken back to the glory days of standout Atlanta forebears like Outkast and Goodie Mob, as signified by the appearance of Dungeon Family standard bearer Big Rube on the intro and a soulful, borderline redemptive performance from CeeLo Green (not quite redemptive enough until he really addresses his no contest plea to the accusation of raping woman passed out on drugs and makes more than a token gesture at restitution). But unlike the pioneering of his Dirty South rap ancestors, Offset balks at the defying convention the way they did. The production provided by Metro Boomin and Southside, while catchy, uptempo, and of-the-moment, falls just short of truly inspiring or groundbreaking, and the majority of the subject matter is predictably staid.
You know what you're getting going in if you've heard any Migos-related project of the last two years — including the solos from Quavo and Takeoff, who both appear here, of course. If it feels like Offset is aiming for more rarified air than his brothers, it's all down to the cosmetics — call it a special edition. For all the added trimmings, this is a product we all know well by this point. For some, it'll be just another hunk of junk to throw on the pile. For others, there will be plenty of reasons to revisit it, if only for the collector's value that comes from being a long-established fan. For most, it'll be a novelty item whose novelty hasn't quite worn off enough to call it "disposable" — to quote a certain Netflix star, Father Of 4 sparks just enough joy to hold onto, if only for its sentimental moments.
Father Of 4 is out now via Quality Control Music/Motown Records. Get it here.