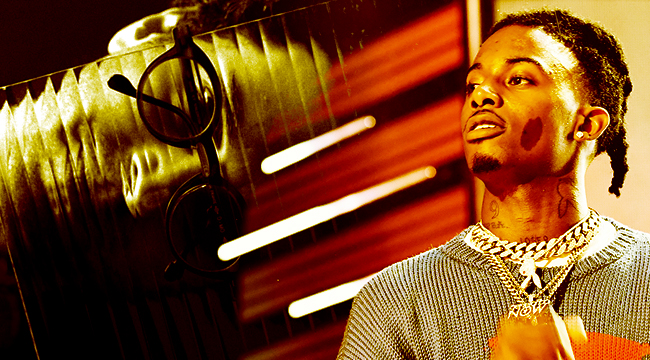 Last Friday two very different albums were released, both ostensibly falling under the hip-hop banner, but representing such opposite ends of the rap music spectrum that one of them may not even be rap anymore. The other has so tightly embraced an underground rap persona that even finding info about the rapper on his official pages proves to be a Herculean task. They're both "weird" rap albums, but they're almost exact opposites — yet they're probably the two albums that most exemplifies the dichotomy of the ever-shifting landscape of hip-hop music, and ultimately, the genre's ability to encompass both extremes and all the grey area in between.
While Playboi Carti received a significant publicity bump from his recent Saturday Night Live appearance alongside Nicki Minaj, MC Paul Barman, whose Echo Chamber album released the same day as Carti's Die Lit, remains enigmatic, to say the least. On the surface, these two rappers couldn't be any more different from each other short of moving to opposite ends of the solar system. However, they have a lot more in common than it appears at first glance.
After dropping the same day, Die Lit ended the week at No. 3 on the Billboard 200 while Echo Chamber barely made a splash. Both albums included all-star casts, with Carti relying on the talents of Nicki Minaj, Young Thug, Lil Uzi Vert, and Chief Keef, among others, to bring the rhymes and creating a stark contrast between his style and theirs. While Barman carries the majority of the lyrics on his project himself, he varies the production with contributions from Prince Paul, Doom, and Questlove — Carti chooses to do the opposite again, letting Pi'erre Bourne handle the sole production duties. Both operate out of a stream-of-consciousness, top-of-the-head thought process, and they end up at the same destination despite taking two wildly different paths to get there.
Carti, 21, embodies hip-hop's modern, youthful, devil-may-care outlook of "vibes over everything," eschewing traditional lyricism. In fact, he appears to dismiss any semblance of intelligible or coherent linear thought at all in favor of a dreamy, stream-of-consciousness ad-libbing. The unsettling effect rankles rap traditionalists while inciting his fanbase to loose-limbed, visceral reactions, resulting in a sort of out-of-body paroxysm of free-spirited gamboling. Just peep the response to "Poke It Out" as performed on the SNL stage; the crowd can't figure out exactly what the heck is going on, but Carti himself doesn't seem to give much of a f*ck, carefreely cavorting away. The point might be that he doesn't have a point — the beats hit, so he just does whatever comes to mind in the moment and leaves the listener to ponder while he simply enjoys.
Barman, on the other hand, would appear to be completely diametrically opposed to everything Carti is and stands for (if the young rapper stands for anything at all). He's twice Carti's age at 43, Jewish, and wordy, like if MF Doom was nerdy white guy who went to Hebrew school while retaining all of his lyrical gifts. Echo Chamber is as meticulously crafted as Die Lit is haphazard, carefully selecting its complementary guest spots from spitters who rhyme every bit as punctiliously as Barman himself, from Open Mike Eagle to the multisyllabic rap pioneer Masta Ace, with production from every all-star backpack rap producer from Prince Paul to the aforementioned MF Doom. Echo Chamber's primary message is an exhortation for fans to step outside their internet-generated bubbles to try to understand each other. His rhymes are sinuous, with each rhyming phrase falling into place with the established patterns like an expertly-played game of Tetris; his flow is hypnotic and awe-inspiring to watch (or listen to), but almost too precise.
Both Paul Barman and Carti break the rules in some respect. The truly inspiring thing about each of these disparate approaches though, is that they're both breaking the rules in a sense, and hip-hop is versatile that way. While Paul refuses to comply with the edict that rappers must be "cool," stuffing his verses with almost more rhymes than the average listener can comfortably process, Carti says "to hell with 'lyrics'" and snaps off disconnected snatches of what might have been complete bars with a little more thought and purpose. Together, they might seem to represent a continental drift within the culture, but there's another way to look at it: Whether you're a super-hip-hop, rappity-rap addict, or a funky freestyler hellbent on breaking every convention of the rap canon, there's a place for you in hip-hop. There's no one way to keep it real, but self-authenticity always shines through, in whatever form it takes.