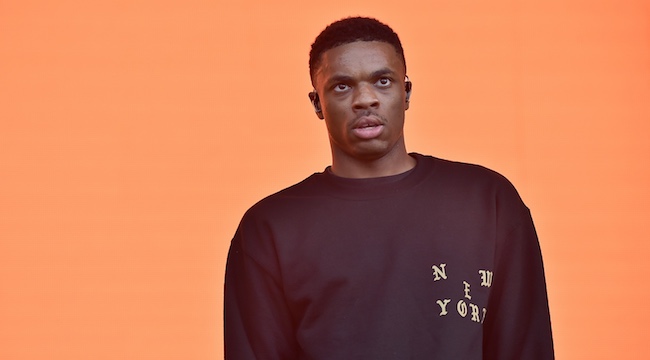 In recent years, Vince Staples has been a fascinating interview subject, but now the media and his critics are beginning to wear on him. Two days ago, he started a GoFundMe campaign, sarcastically seeking $2 million so he could "shut the f-ck up forever" and please his haters. It turns out the campaign was some clever, high-level marketing for a new song that he shared the single art for yesterday, "Get The F-ck Off My D-ck." Now the track has been released, and as expected, Staples is tired of a lot of things.


In one of the more telling lyrics, Staples laments his portrayal in the media, and how, in some circles, he's become more known for giving open and honest interviews than he is for his music. He suggests that he's considering ending his relationship with the media altogether:
"Yeah, I ain't taking no more calls, might think bout calling it quits
Press is trying to block my blessings, no more talking to Vince
NPR and XXL, man, I can't tell which is which
Missed the mark, I think my label need a marketing switch."
Elsewhere, he raps about a desire for some privacy — "Don't record me man, b-tch, you see me trying to board this plane" and "I don't f-ck with fame, you don't see me in no f-cking chains" — his commitment to his unique sound — "This the sound I made, won't nobody knock me off my wave" — and his award snubs — "VMA and Grammy snubbing, not walking through no clubs."
It's a fiery track, so listen to "Get The F-ck Off My D-ck" above.