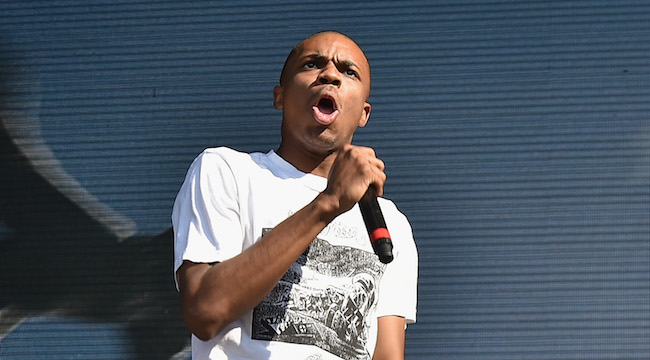 Vince Staples' latest prank was fun while it lasted, but all good things must come to an end eventually. In this case, his $2 million GoFundMe campaign to fund his early retirement from the rap game was probably some sort of terms of service violation, but it was also great promotion for his new single, "Get The F*ck Off My D*ck," which appears to be dropping at midnight in the US.
To be honest, the idea of Vince taunting his haters to bribe him into going away forever was kind of genius; Vince, ever the jokester, has taken the ban in stride. He took to Twitter to sarcastically voice his faux outrage at having the campaign suspended by GoFundMe, writing, "So can somebody at @gofundme tell me why they took my campaign down? Why must thy block my blessings !!"
He went on to call the suspension an "injustice" and joked about getting his sponsors and favorite talk show hosts, Ellen DeGeneres and Oprah Winfrey, involved. "I was already on Zillow.com trying to find a nice two bedroom in Palmdale… maybe even a garage and @gofundme decided to pull the rug from underneath my @Converse Smh. I almost spilled my @Sprite. This is unacceptable we need answers !!!" he wrote with all his usual smug irony. "Somebody call @TheEllenShow better get call @Oprah and the whole @TheView we gonna need everybody to fight this injustice. #GTFOMD will live."
While it's probably not likely to get his trollish campaign restored, he can rest assured his message was heard. If you don't like Vince Staples, that's cool, but he's not going anywhere anytime soon, so it's best to let him do his thing.
UPDATE [6:44 PM EST]: I was wrong. The campaign is back on. Vince Staples clearly has powerful friends in high places and isn't ready to let go of that dream house in Palmdale just yet.