The first teaser trailer for Avengers 4 has dropped. There's not only new footage, but the official title has also been revealed: Avengers Endgame.
The trailer begins with a solemn-looking Tony Stark sending a message to Pepper Potts. "If you find this recording," he says, "don't feel bad about this. Part of the journey is the end." The rest of the video doesn't get much happier from there, at least until Ant-Man shows up at the end. We also check in with Thanos (who did "exactly what he said he was going to do," as Black Widow notes); Steve Rogers, with a single tear running down his face; and Thor, Bruce Banner, Nebula, and (for the first time since Captain America: Civil War; except now he has a sword) Hawkeye, all looking various shades of concerned.
"This is going to work, Steve," Black Widow tells Captain America. "I know it is," he responds, "because I don't know what I'm going to do if it doesn't."
We do: leave the Marvel Cinematic Universe.
Avengers Endgame, which stars Robert Downey Jr., Chris Hemsworth, Brie Larson, Mark Ruffalo, Chris Evans, Scarlett Johansson, Benedict Cumberbatch, Don Cheadle, Tom Holland, Chadwick Boseman, Paul Bettany, Elizabeth Olsen, Anthony Mackie, Sebastian Stan, Danai Gurira, Letitia Wright, Dave Bautista, Josh Brolin, and Chris Pratt, among many others, opens in April 2019.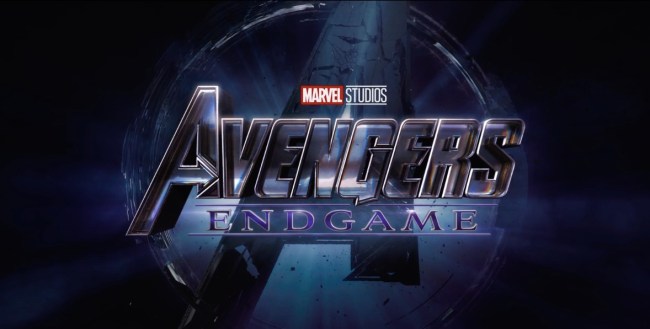 Also, the Russo brothers lied: the title is spoken in Infinity War.
Oh snap. Marvel also released the (subtle!) Endgame poster.