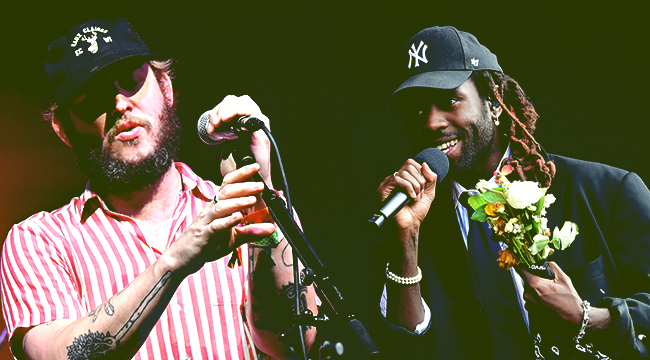 Indie music has grown to include so much. It's not just music that is released on independent labels, but speaks to an aesthetic that deviates from the norm and follows its own weirdo heart. It can come in the form of rock music, pop, or folk. In a sense, it says as much about the people that are drawn to it as it does about the people that make it.
Every week, Uproxx is rounding up the very best of the indie releases from the past seven days. This week brought us the announcement of a new Bon Iver album, a surprise new mixtape from Blood Orange, and a a new album from David Berman under the name Purple Mountains.
While we're at it, if you want more music recommendations curated by Steven Hyden delivered directly to your inbox every week, sign up for the Indie Mixtape newsletter.
Blood Orange — Angel's Pulse
[protected-iframe id="34961f3d68399f652f91f87799e9cc9b-60970621-76566046″ info="https://open.spotify.com/embed/album/3KLLRiCnqYvt78H52TeZ1k" width="650″ height="380″ frameborder="0″]
Blood Orange surprised us with this one — very sneaky! Comprised of songs that producer/frontman Dev Hynes put to tape shortly after the release of his latest official LP Negro Swan, Hynes is calling Angel's Pulse a mixtape that serves as "an epilogue to the thing I've made before." In a statement, he continued to explain the release: "I put as much work and care into it as I do with the albums I've released, but for some reason trained myself into not releasing things the rate at which I make them. I'm older now though, and life is unpredictable and terrifying… so here you go mates." I'm not sure why he felt he had so much explaining to do, because any Blood Orange is good Blood Orange in my book.
Purple Mountains — Purple Mountains
[protected-iframe id="6b82c71e9ebcbec100949a3d046f8f83-60970621-76566046″ info="https://open.spotify.com/embed/album/5NCdiiTgky5PbjmCtcgwtn" width="650″ height="380″ frameborder="0″]
More than a decade since dissolving the Silver Jews, David Berman is back with a new album, this time under the name Purple Mountains. With the debut self-titled effort, Berman made, according to Steven Hyden for Uproxx, "an album about whether it's possible to find redemption when you're aware that death lies at the end of every destination." Throughout the record's ten songs, Berman is asking the big questions, questions that he doesn't necessarily have the answers to right now. But figuring it out as we go along is what makes this whole thing exhilarating right? (This whole thing being life.)
Various Artists — Tiny Changes: A Celebration Of Frightened Rabbit's 'The Midnight Organ Fight'
[protected-iframe id="96a4be2db4052c1a071d37c7b08ea22e-60970621-76566046″ info="https://open.spotify.com/embed/album/3yfQOuiHChMEqk0SrS5Smr" width="650″ height="380″ frameborder="0″]
It's been a little over a year since the tragic loss of Scott Hutchison, frontman and songwriter of lauded indie band Frightened Rabbit. To celebrate Hutchison's life as well as the tenth anniversary of his band's album The Midnight Organ Fight, many of his peers — as well as artists whose careers he influenced — came together to put their spin on a song from the seminal album. With renditions of Hutchison's classic tracks through the voices of artists like Manchester Orchestra, Biffy Clyro, Julien Baker, Craig Finn, and more, Tiny Changes is overwhelming, touching, and devastating, all at the same time.
Joanna Sternberg — Then I Try Some More
[protected-iframe id="f418e99432b2649901c14117f41d3550-60970621-76566046″ info="https://open.spotify.com/embed/album/5BAoM2lFRqmdcPVJaZTHZ2″ width="650″ height="380″ frameborder="0″]
We've been excited about Joanna Sternberg's debut album since it was announced with the release of the single "This Is Not Who I Want To Be" earlier this year. "Every once in a while a voice will stop you in your tracks, and that's true about Joanna Sternberg," Philip Cosores wrote for Uproxx at the time. Now, Then I Try Some More is finally here, arriving via Conor Oberst's label Team Love (talk about indie cred), and it surpasses all expectations, a vastly satisfying folk release built around a guitar, piano, and a beautiful, unique voice.
Glitterer — Looking Through The Shades
[protected-iframe id="199dea335808144967586b09c8a5f05a-60970621-76566046″ info="https://open.spotify.com/embed/album/3sKBPdPT9GZhC3cHmaWEJC" width="650″ height="380″ frameborder="0″]
From the ashes of Title Fight rose Glitterer. You could hear Ned Russin's shift in focus from hardcore to something more indie influenced on Hyperview, the stellar effort that turned out to be Title Fight's swan song (for now). Looking Through The Shades finds Russin leaning fully into the garage rock and shoegaze influences that were starting to rear their head on Hyperview. It's a fun change of pace from an artist who made his name on raw aggression. Who knew that a hardcore dude could write such nice pop songs?
Bon Iver — "Faith"
Bon Iver is ready to welcome fall on their new album i, i (due August 30). After the two teaser tracks "Hey Ma" and "Man (U Like)", i, i was officially announced alongside the release of two more new tracks: "Faith" and "Jelmore." All of the tracks are strong tastes of what's to come from Justin Vernon and co. (his core band now includes Sean Carey, Andrew Fitzpatrick, Mike Lewis, Matt McCaughan, with a little help from James Blake, Brad and Phil Cook, Aaron and Bryce Dessner, Bruce Hornsby, and many others). Writing for Uproxx, Derrick Rossignol concludes: "'Faith' has a strong influences from Bon Iver's earlier epic indie-folk work, while 'Jelmore' incorporates more of the modern alternative electronic sound found in Vernon's recent output.
Strange Ranger — "Message To You"
One of the most underrated bands in the indie community, Strange Ranger has been quietly releasing lo-fi rock jams for years. With their new album Remembering The Rockets just around the corner, the band has already rolled out a handful of great tracks, but "Message To You" might be the strongest yet. Keyboardist Fiona Woodman steps into the spotlight on this song, which sounds like it was influenced more by The Cure than the band's DIY counterparts, especially in the last 45 seconds or so.
Anna Meredith — "Paramour"
I fell in love with Anna Meredith's glitchy, instrumental synth-pop via her soundtrack to Eighth Grade (my favorite movie of last year, but that's beside the point), which somehow managed to sonically convey the film's massive emotional peaks and valleys. Now, a year later, Meredith is getting ready to release her latest effort, Fibs, on October 25. "Paramour" is a mind-bending first taste of the record, and the visual, directed by Ewan Jones Morris, is one of the most unique videos I've seen since The White Stripes' "Fell In Love With A Girl." I can't even explain it. Just watch.
Jay Som — "Tenderness"
Melina Duterte is delivering big time on preview singles for her new album Anak Ko. "Superbike" was a bold step forward, and "Tenderness" follows in the path. Duterte describes the track as "a feel-good, funky, kind of sexy song," while Derrick Rossignol writes for Uproxx that "the song has a strong groove but also some ambient haze to it." It's my opinion that the reverb-soaked chorus will make you want to lie on the floor (you know, in a good way).
Oso Oso — "Impossible Game"
Oso Oso is very good at choruses. "Impossible Game" is no exception. For his new record Basking In The Glow, Jade Lilitri experimented with embracing a more optimistic outlook. "I got a glimpse of this feeling / I'm trying to stay in that lane," Lilitri sings, trying to embrace the good that's coming around lately because he knows it won't last. One thing I can say: if Oso Oso keeps writing songs as good as "Impossible Game", that "glow" will stick around a lot longer than he might think.
Infinity Crush — "Misbehaving"
It's been a while since Caroline White released Warmth Equation, the last effort under the Infinity Crush moniker. "Misbehaving" is a taste of White's first new music in three years, previewing the new album Virtual Heaven (due August 9). White's voice sounds a bit like the late Delores O'Riordan here, dancing around sparse instrumentals with introspective lyrics that contemplate the most human moments in a life revolving around screens and networks, and one's role in the digital world.
Some artists covered here are Warner Music artists. Uproxx is an independent subsidiary of Warner Music Group.