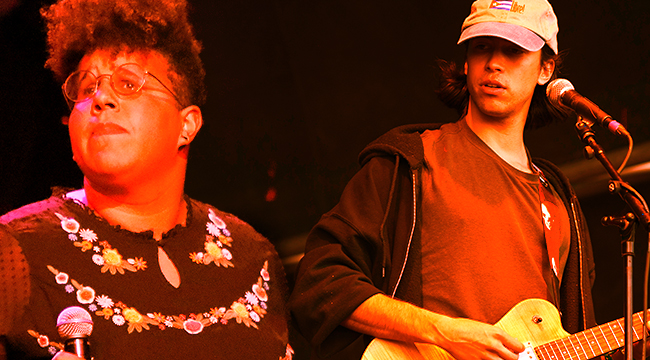 Indie music has grown to include so much. It's not just music that is released on independent labels, but speaks to an aesthetic that deviates from the norm and follows its own weirdo heart. It can come in the form of rock music, pop, or folk. In a sense, it says as much about the people that are drawn to it as it does about the people that make it.
Every week, Uproxx is rounding up the very best of the indie releases from the past seven days. This week brought us the return of Vivian Girls, new singles from Brittany Howard, Sleater-Kinney, (Sandy) Alex G, and the announcement of a new Menzingers album.
While we're at it, if you want more music recommendations curated by Steven Hyden delivered directly to your inbox every week, sign up for the Indie Mixtape newsletter.
Brittany Howard — "Stay High"
Brittany Howard has one of the most unique voices in modern rock. The sparse instrumentation of "Stay High" puts this special beauty on full display, with Howard making effortless vocal runs across her full range. It's also a supremely joyous track that's reminiscent of the lovestruck songs of yesteryear, and the latest in a strong series of singles in anticipation of Howard's debut solo album, Jaime.
Sleater-Kinney — "The Center Won't Hold"
The opening of "The Center Won't Hold" sounds like the strange industrial music that you would hear inexplicably bumping from the dorm room below you at three in the morning during your freshman year. At first, it's kind of jarring, then it becomes sort of hypnotizing, but it's certainly not for everyone (including, apparently, the drummer of Sleater-Kinney). St. Vincent's producer fingerprints are all over this track, starting as "a minimal industrial-style track before exploding into a kinetic rock catharsis for the final minute," Derrick Rossignol writes for Uproxx.
(Sandy) Alex G — "Hope"
While the first taste of (Sandy) Alex G's forthcoming effort House Of Sugar was more of a psychedelic affair, the latest offering is a nod back toward the sound that the prolific songwriter made his name upon in the first place. "Hope" is "a more straightforward indie folk track with nice melodies and a breezy energy," writes Derrick Rossignol for Uproxx. (Sandy) Alex G's songs have a unique air to them, and any time you get to experience or ingest it, it's quite often a net positive for all involved.
Menzingers — "Anna"
Two years ago, Philadelphia punk mainstays The Menzingers released After The Party, which Steven Hyden called an early frontrunner for one of the best albums of 2017. Now, the band is ready to unleash their latest collection of life-affirming tracks about adulthood, Hello Exile. Lead single Anna is an anthemic number that tells a story of a character reveling in the distance they feel from a loved one (who quite possible could be named Anna) that spends most of their time away from home. Produced by Will Yip, Hello Exile is sure to be one of the strongest punk efforts of the year.
Vivian Girls — "Sick"
Eight years since their last release, the fuzzy Brooklyn band Vivian Girls (now all based in Los Angeles, but that's beside the point) have announced a new full-length called Memory along with a string of reunion tour dates. "Sick" is a quick reverb-drenched indie punk number that marks a seamless return to form for a band that's been away for the better part of a decade. The track will easily get you on your feet and walking to the nearest record store to revisit their previous LPs.
Whitney — "Valleys (My Love)"
With the release of their new album Forever Turned Around just around the corner (set for an August 30 release), Whitney have shared another track from the record in the form of "Valleys (My Love)." The song was inspired by a particularly scenic drive through Montana whilst experiencing the peak of existential anxieties one feels when away from loved ones for an extended period of time. Built around beautiful vocal harmonies and twangy guitars, "Valleys (My Love)" has a feel to it that is reminiscent of the late '60s, with melodies recalling an early Crosby, Stills, Nash, And Young.
Frankie Cosmos — "Rings On A Tree"
We heard a bare-bones version of "Rings On A Tree" as part of Frankie Cosmos' Haunted Items EP project just a little earlier this year. Now, the track has been given the full-band treatment for the Brooklyn group's new LP, Close It Quietly, which is due September 6. It's a gorgeous if straightforward number, with Greta Kline's vocals taking precedence over dancing guitars. Frankie Cosmos is a fun summer band and Close It Quietly will be a fitting soundtrack to the final days of warmth.
Wilco — "Love Is Everywhere (Beware)"
After a couple of solo albums, Jeff Tweedy has returned to his band to prep the eleventh Wilco LP, Ode To Joy (someone get Beethoven on the phone). The record is prefaced by "Love Is Everywhere (Beware)," which sounds like it might be cynical, but the track is actually pretty optimistic, with breezy guitars and casual lyrical delivery about the beauty of nature, juxtaposed with the constant anxiety of living in the modern world.
Some artists covered here are Warner Music artists. Uproxx is an independent subsidiary of Warner Music Group.