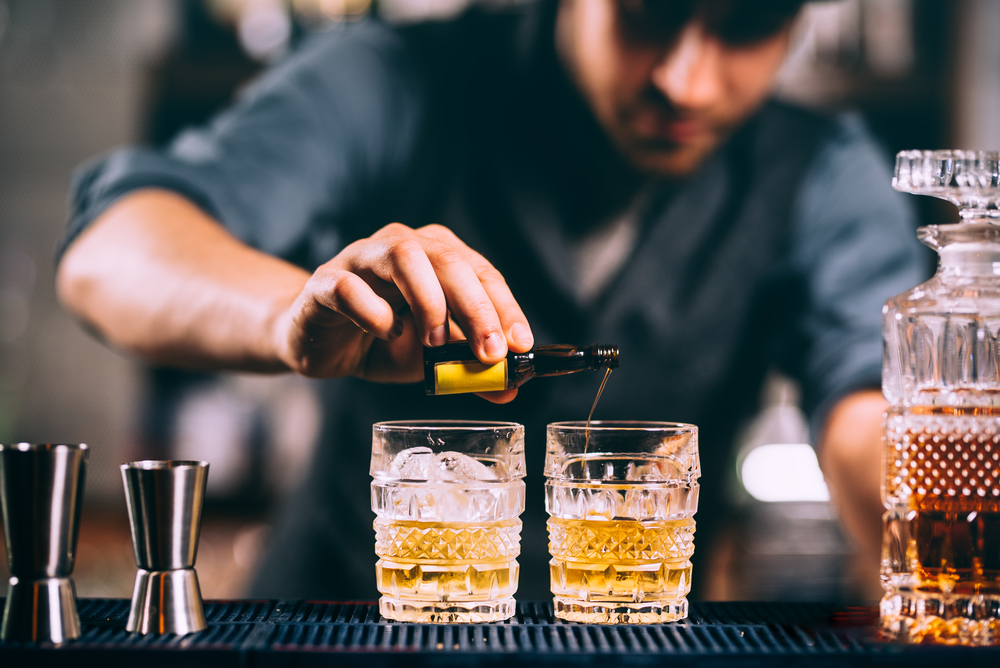 [The original version of this story included an entry about Haymarket Whiskey Bar, whose owner, Matthew Landan, has been accused of rape and sexual assault by multiple women. As Landan's name was not mentioned in the entry, we didn't make the connection (though we had covered the case before). It was an oversight that we deeply regret. We have removed the entry and we apologize for any hurt caused by this inclusion.]
Whiskey — like many spirits that rely on an element of craft — is experiencing a full-blown renaissance. As the number of small-batch distillers increases, it seems like whiskey-centric bars are popping up all over the country. This is a good thing for the drinking public. If your local saloon has an extensive whiskey collection, you'll obviously get to try some truly unique whiskeys (without spending a mortgage payment on a bottle of Pappy Van Winkle).
But not all whiskey bars are created equal. That's why we asked Michael Neff — a whiskey expert who has created bar programs for such notable spots as Holiday Cocktail Lounge, Ward III, and Rum House in NYC and Three Clubs in Hollywood — to tell us his choices for the most important whiskey bars in America.
It should be noted that Neff's choices aren't necessarily the bars that have the biggest whiskey lists or the most expensive selections. They're also not bars that you would necessarily see on every round up of "best whiskey bars." That's because Michael took the time to dig deeper. In some cases mere geography is what makes a bar important. In another, it's a well-known bar whose whiskey selection is often totally overshadowed by other elements that made it famous.
Far Bar (Los Angeles, CA)
"Far Bar is a gem. You would think that their location — in the heart of Little Tokyo on the outskirts of Downtown Los Angeles — would mean that they specialize in Japanese and other Pacific Riwhiskeyses, and you would be right. That said, they clearly have a healthy respect for whiskey in general, and their sprawling collection winds throughout the space."
Dead Rabbit Grog & Grocery (New York, NY)
"Whether or not this Downtown destination is the "Best Bar in the World" is a matter for debate. It is, however, a great joint and much celebrated for its cocktails. Their acclaim often overshadows the part that impresses me the most—their Irish whisky collection is unmatched. They clearly have a love of the spirit, and their international notoriety gives them access to bottles that normal humans can't hope to taste on this side of the Atlantic."

Blue Sky Bar (Denver, CO)
https://www.instagram.com/p/BRydixjg4qH/?taken-at=5317282
"We don't talk about context enough when we talk about whiskey. The environment in which we drink can have an outsized impact on how we feel about what it is we're drinking. Case in point. Blue Sky Bar is unusual in that it is a). attached to a Quizno's franchise and b). located on the second level of Terminal A in the Denver airport. Their whiskey collection, however, rivals that of much fancier joints bragging trendier addresses, and their staff is knowledgeable and informed (if a bit surly with it).
The experience of choice and discovery makes any whiskey bar a joy to experience. Having that experience on a layover makes it that much more memorable."
Delilah's (Chicago, IL)
"You almost can't create a bar that would be more perfect for me than Delilah's. Part punk rock. Part dive. Cheeky and irreverent. And it sports one of the country's most thorough and well-curated whiskey selections. Mike Miller is one of the great bar creators in the country, and I can't think of anywhere else I would rather drink whiskey than his fantastic bar."
Reserve 101 (Houston, TX)
"Reserve 101 is a study in picking something you love and doing that to the best of your ability. This unassuming little gem loves whiskey from top to bottom, and their commitment to the spirit is evident in everything they do. The collection of house-selected barrels is impressive, served by bartenders that are knowledgeable and hospitable in equal measures. Texas pride is the clear subplot—whiskey distilled in the Lone Star State is served with extra loving care."

Poison Girl (Houston, TX)
"If you're detecting a theme in this list, Poison Girl will confirm your suspicion—whiskey bars that masquerade as punky dives hold a special place in my heart. Dark wood, surly regulars, broken pinball machines. A back patio that looks like a sculpture garden created from a pop culture graveyard. None of that distracts from an American whiskey-focused program that rivals almost anything I've seen outside of Kentucky."
Mercury Bar (Omaha, NE)
"Part of opening a great spirits bar is curating your list with what you have available, and Mercury Bar is a great example of this. Nebraska doesn't always get every spirit the country has to offer, and bars there can only sell what's available in their state, which means that even their most thorough whiskey collections can't match those in larger markets in terms of bottles on offer. The folks at Mercury combat this dearth of availability with passion for what they can get. Education is a focus, and they've curated a wonderful spirits list with an impressive selection of whiskey from around the world."
Daddy-O (New York, NY)
"Daddy-O has been a staple in the West Village for over a decade, and it has quietly evolved into a legitimate whiskey destination. The back bar collection of bottles sprawls upward, with a surprising number of independent bottlings sprinkled throughout the stack seemingly at random. Whiskey features behind the bar, sure, but I've been to dinners there where every dish is modified to highlight a whiskey ingredient. A great experience that is past due for more attention."
Gardiner Liquid Mercantile (Gardiner, NY)
"Nestled in the picturesque Hudson Valley, Gardiner Liquid Mercantile is a bit of a dark horse when you're talking about whiskey bars. It operates under a very specific set of limitations—they can legally only serve spirits that are 100% produced in the state of New York. Aside from its very charming hand-made feel (it occupies the ground floor of a Victorian house), it has two things going for it: New York is starting to produce some very good and unique whiskeys, and the owner of this fine establishment is the great Gable Erenzo, of Hudson Whiskey fame.
"GLM is a great whiskey bar because it was built by a whiskey maker. The staff is incredibly well informed about what they like and what they sell, and if you're lucky, you might end up sitting next to Gable or one of his cohorts at the bar. Engage one of them in a discussion about whiskey, and you will learn more than a lifetime of tasting mats and marketing material can ever teach you. That possibility alone is enough to make Gardiner Liquid Mercantile one of my favorite whiskey bars not just in the country, but anywhere at all."