I love Christmas. Not nessasarily the religion part, though I'll gladly take a helping of peace on earth and goodwill toward men if you're offering. I love the traditions of Christmas. Cold weather, hot drinks, heavy foods, and recklessly spending money on my neice and nephew. That's what I'm after. I'm also a big supporter of any holiday where coziness is highly valued, whipped cream is applied liberally, and people roam the streets singing carols.
That's why I love Christmas in the Austrian alps. It's all your favorite Christmas traditions turned up to 11, plus a few weird ones added for good measure. The hot cocoa is richer, the people are cheerier, and it's perfectly acceptable to drink mulled wine by midday.
Then, at night, a giant wooly f*cking monster runs screaming through the streets. It's a real-live winter wonderland!
This year, you might be running a little late to make it to Austrian Tyrol (Tyrol, sometimes anglicized to Tirol, is the region; the alps are the mountains; Austria is the country), but you should definitely poach some of their holiday traditions for your own. Then, in 2017, when October rolls around and the weather starts to turn, book a ticket.
If you love Christmas, there's no better place on earth to spend the season — as a recent pre-holiday trip reminded me. Here's why:
FOOD & DRINK
Do you remember that scene in Inglourious Basterds in which Hans Landa (played by an Austrian) insists that Shosanna Dreyfus eat strudel, then makes her wait in petrified agony while the waitress rushes to get some cream? It's a truly harrowing moment in one of my favorite movies, but all I can remember thinking the first time I saw it was: "Have I ever tasted a really good strudel?"
The answer was "no." I feel like the apples aren't usually roasted down enough (so they stay too crisp and too tart), the dough gets dry, and the creme is boring. But, inspired by the Basterds scene, I decided to try one more strudel while I was in Tirol — a "When in Austria, do as the Austrians" moment. I got my chance at ICE Q — a restaurant literally on top of a mountain in Sölden — where Quantum of Solace was shot.
After one forkful, I knew it was the best strudel I'd had in my life. After the second forkful, I glared at any travel companion who might want to sample a bite. The dessert was served with a sweet cream filled with flecks of vanilla bean. The dough was delicate and crisp and the apples were sweet, paper thin, and cooked down until they melted on your tongue. It was bliss.
That's what Tyrol does: They make perfect versions of the wintry foods that other people screw up. Strudel, shnitzel, glhüwein were all executed flawlessly, everywhere I went. Where's the Christmas connection in all that? I'll tell you where: The holidays are the season for putting on excess weight without a huge degree of remorse and the food in Tyrol sticks to you like spackle.
Some other culinary hits:
Gröstl — This is a hash of potatoes and pork (often lardons) with a fried egg and some chives or flat leaf parsley on top. Does that sound revolutionary? No. But it's cooked in a giant cast iron pan and arrives steaming to your table and you feel like you're in some long lost era.*
Gröstl makes the ultimate case for experiencing cultural comfort foods in their respective countries of origin: they're better. I had this dish three times in a week and it was better each time. Sidenote: If you were an actor gaining weight for a movie role, the Austrian Alps would be a good place to put on a quick 50lbs.
*As if that wasn't enough, the same region also specializes in kaiserschmarrn — a similar one pan dish, but with shredded pancakes. The fact that everyone is slim and fit and lovely is a testament to just how much activity they get in those mountains.
Gluhwein — Look, I think if I really knew Europe, if I lived there, my childlike love for gluhwein would make me "basic." That's cool, I'm fine being basic. Wine with cinnamon and cloves, served hot? I would literally rather drink that between December and March than some 30-year-old French merlot that I'm not smart enough to properly appreciate.
Gluhwein is so warming, there's nothing on earth I can think of to compete… except for weihnachtspunsch — which is served in all the same stalls and is basically a mix of tea, gluhwein, and rum. Why don't we have rum punch stalls?
Spatzle — This is kind of a known entity in the U.S. now, because chefs are putting it on menus where they need a comfort food. It's basically mac and cheese but the noodles are kind of mini dumplings. For a pretty straightforward dish, you get a lot of iterations on this one. The old world places seem to make it far less cheesy, really focusing on the dumpling.
Considering the main ingredients — pasta, cheese — I took it upon myself to sample as many variations as possible. What can I say, I take my job seriously. Result: They were all really good.
CUSTOMS & CULTURE
Have you seen that video above? Krampus is the Tirolean counterpoint to Saint Nick — balancing the old man's bowl-full-of-jelly stomach with sharpened goat horns and inspiring abject terror in place of holiday cheer. It's hard to explain how truly bizarre it is to have furry, yellow-eyed beasts rampaging through town from the 6-10th of December. Remember when America was cool and weird like that, before our pagan rituals were banned and everything that made us strange was whittled down until it felt generic? I say: More holidays with monsters! More weirdness! More traditions that have rough edges and feel like they'd annoy the Christian Coalition!
Semi-side note: While I was watching the Krampus parade in the village of Saint Anton — in which multiple Krampus associations marauded through the streets — a motorized hay cart carrying a Krampus, a witch, and a giant cauldron caught fire. The wood planks of the cart started to burn and tongues of flame licked the Krampus's feet. His response? To stomp the flame out. That's it. The cart rumbled on, caught fire again, and the Krampus cooly smothered the flames a second time with his fur-covered goat-boots. A minute later, when the fire started a third time, someone came over and sprayed an extinguisher.
I was rivited by all this. It made me giddy. It was adults acting like adults and not over-stressing. There was no panic, no shrieking. I feel like in America, if a moving parade vehicle had caught fire, we would have had DRAMA. The fact that this was treated so non-chalantly seemed to capture something of the Tyrolean spirit.
More cultural highlights:
Christkindlsmarkt — The valleys of Austrian Tirol are literally teeming with Christkindlmarkts, and for good reason. What fool wouldn't have fun wandering between food and drink stalls, buying handmade ornaments or toys that feel like they'll last for a thousand years while listening to packs of old men sing ancient Christmas carols?
I feel like I can find common ground with most people, but I can't imagine handing with someone who doesn't like Christkindlsmarkts for a second. I just don't think we'd prove compatible.
Museums — I have written roughly 100 travel features in my life and never mentioned a museum once and I didn't expect Austrian Tyrol to be the place where that record fell. In general, I like markets and rich food and feeling buzzed on schnapps as I wander along ancient cobbled streets. So in Tirol is naturally my sweet spot. Getting me to enjoy a museum, when I had so much of what I love right in front of me was a big ask. Luckily, Austrian museums are weird as f*ck.
That's a compliment, mind you. There's no better museum than a weird museum, if you ask me. Forget ancient pottery and rugs, the museums I went to were full of armories and herky animatronics and torture implements. I saw tongue stretchers and brain implaers… and this wasn't at a place marketing itself to people who are intrigued by such things. This was just a standard issue cabinet of curiousities. There was a chair that looked absolutely midieval (it was) and locked you in place until you drank enough alcohol. Who wouldn't want to party with those guys?
There was also this painting, which of course came with a tragic story.
If George R.R. Martin is short on Game of Thrones inspiration, he should literally do one winter in the Austrian Alps. The museums are so macbre that the Red Wedding seems soft my comparison.
I also visited the Swarovski Crystal World — which I was certain I would hate (I know nothing about crystal and have always been pretty much okay with that). Then it turned out to be a trippy art museum that had thrown a ton of money at famous artists to create strange installations. It also had an entrance fit for Bond villian. (Considering that Austria is peppered with Bond shooting locations, I'm shocked that this hasn't actually been used.)
Weird, right? And weird is good.
TO DO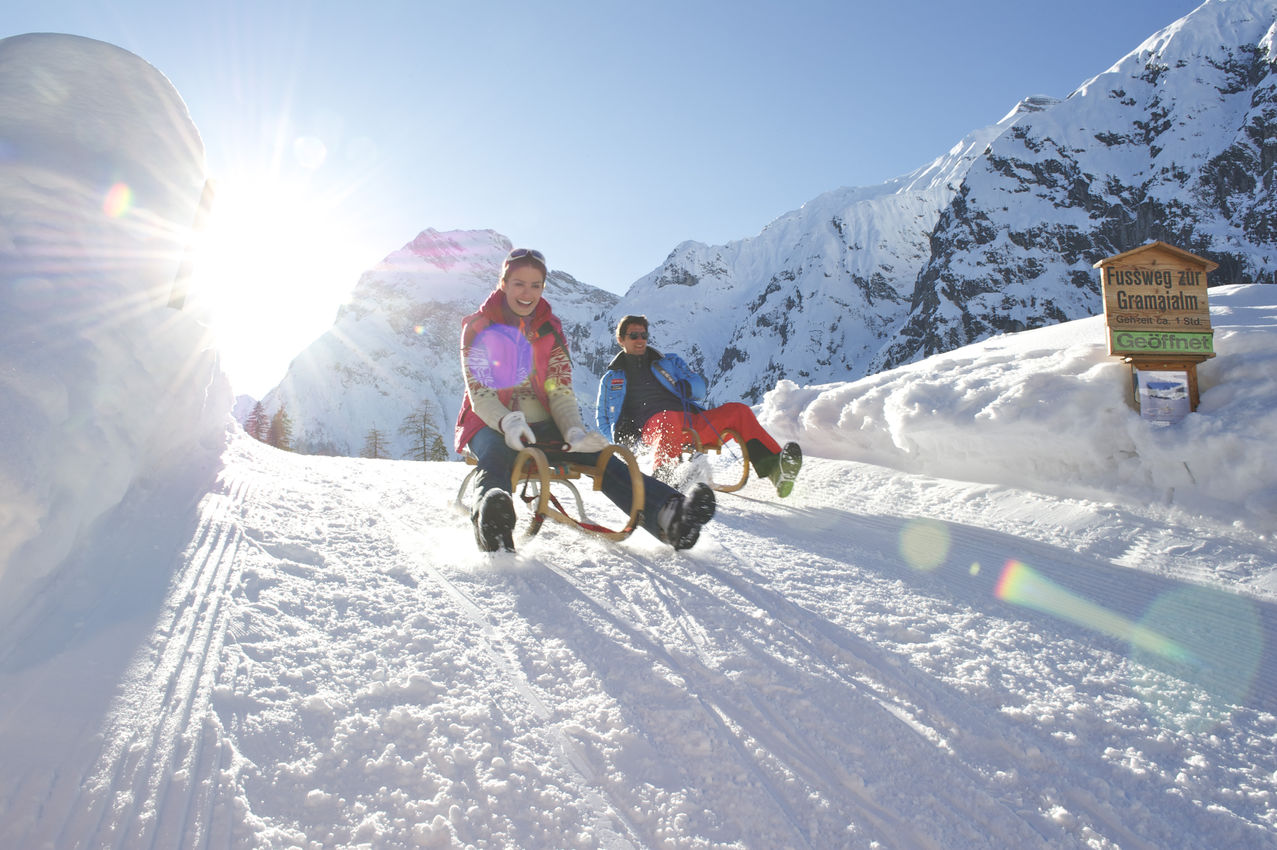 See that picture above? It's got Shutterstock's general cheesiness to it. The generic-looking beautiful people, the bright ski clothes, but here, for once, Shutterstock is reflecting reality. Because in the Austrian Alps, adults really do go sledding on old fashioned tobbagains and it really does make you as giddy as the photo indicates.
Schlittenfahren — which probably just means "sledding" — is so much better than our version. Here's what happens: you walk up a mountain, for hours, dragging sleds. Then, at the top, exhausted, you crash down onto a bench that was probably hewn in the 1400s and you eat all the heavy Tirolean classics I raved about above. Then you drink alcohol. Then you eat dessert. Then you have a glass of schnapps.
…
THEN you clamber onto your sled and go rocketing back down the hill like an absolute madman. You crash, you laugh, you crash again, you realize that it really is a long hill, and then you race back to your hotel or AirBnB and sit next to the fire. It is pure, unvarnished joy. I would do it every day if I could. I can't imagine a single thing that feels more like winter, more like holiday bliss on this planet.
A few other activities I love in the region:
Skiing — It's tough to compete with the Austrian sledding tradition, but snowboarding through the Austrian Alps is pretty damn amazing too. Plus you have to have a chairlift ticket to get that incredible strudel I raved about above, so you'd might as well make a day of it. Tirol is completely hemmed in by mountains, meaning there's no shortage of options. On my recent trip, I tried Sölden and Saint Anton and it was, not surprisingly, fantastic. People kept saying there wasn't enough snow yet, but I live in Southern California and the mountains were all white, so it seemed like plenty to me.
Since I am not some wonderful snowboarder, the highlight of my time boarding was carving a path right down to a mountain chalet for lunch and discovering that it just so happened to own the world's largest collection of magnum wine bottles. How great is that? $5 million in wine sitting in the basement of an inn in the tiny village of Saint Chritoph in the Austrian Alps. (I call dibs on using that setting for a heist movie!)
Not being boring prudes — I was really conflicted on what to call this entry. Technically, it would be "going to the spa" or "relaxing" but since I met multiple Americans who were uncomfortable with the strict "no clothes in the sauna" policy, I decided to file it under this heading.
The insane, trippy saunas at Aqua Dome, near Sölden are literally relaxation incarnate — unless you hate being nude. There are waterfall showers inside of giant crystals, and mineral baths, and so many saunas it would take you a day to tour them all. For me, it was pure bliss. My body felt like it was melting.
Most people use the spas after a day of skiing, but if I had to do it all over again I would have just used the spas after a day of spa-ing. There's plenty to explore and the attached hotel was hands down the best value-per-dollar I've ever experienced in Europe.
And then there were schnapps distilleries! And then there were farmers butchering and curing their own pork! And it all felt like winter. It felt like the holidays. Not the holidays I've always known, but some Hans Christian Andersen / Chris Van Allsburg dreamy rendition. Some idealized Polar Express for adults. For people like me, who love Christmas, there is no better place on earth to spend the season.
More photos from the Tyrolean Alps:
https://www.instagram.com/p/BODSLdjjHjx/?taken-by=an_angel_s

https://www.instagram.com/p/BOEZueYBuh9/?tagged=lovetirol&hl=en