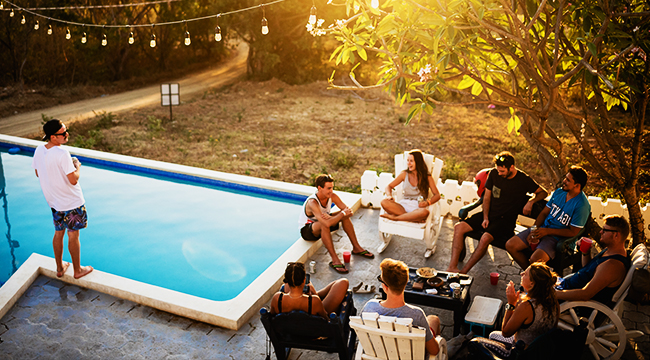 The end of summer is upon us. Sunday football has arrived and the weather is starting to ebb towards winter. We know, we know. It always ends way too soon. Next thing you know it'll be Thanksgiving, then Christmas, then… the chances that this society makes it to another summer seem roughly 50/50.
For now, this weekend might be the last chance to throw one last backyard BBQ bash before fall fully lands. If you're hosting a backyard party, you don't want to spend the day running around — filling drinks and standing over a hot fire. You need to chill, spin some records, fill your belly, and get lit with your friends. So we're suggesting easy-to-execute recipes and drinks. They aren't "5-minute dishes" like you'd get in Good Housekeeping, just surefire winners that'll wow an audience without an overwhelming amount of effort.
Master a few of these and friends will be dreaming of your party through all those cold winter days to come.
COOK A WHOLE SALMON
https://www.instagram.com/p/BP2pHUHlwkp/
Cooking a whole anything sounds super intimidating. Don't let it be. The best play to wow your crew is cooking a whole freakin' salmon. It's an opening act that'll set the pace for the whole rest of the day.
This is one of the easier fish to cook out there. The heavy flakes, high fat, and solid texture of the salmon give you a lot of leeway when it comes to getting it right. Basically, all you need in a firey grill (gas or coal, it's all good), a sheet of foil, a lot of acids like lemons or limes, plenty of coarse salt, and a bushel of aromatics.
Get your grill heated up to a medium temp (think 325F). Place the salmon on a foil sort of tray — so that the bottom is protected but the top is exposed. Generously salt the interior and outside — and, we mean, g-e-n-e-r-o-u-s-l-y. Stuff the cavity with whatever aromatics you have around. Cedar branches, rosemary, basil, mint, huckleberries, cilantro, green onion, wild garlic, sage … it's all good. Spread some acidic citrus around. Lastly, dash with some olive oil to help crisp up the skin. If you really want to be a baller, stuff cubes of butter in there to really turn up the "wow" factor. Throw it on the grill and cook it until it starts to flake (ideally, you want to take it off the grill with an internal temp of 130F and let it rest to reach 140F).
You put that on the grill and you'll have guests lining up to dig in. Maybe get some really nice Hawaiian buns to serve with a tartar sauce or just dish it out solo.
SIDES, SIDES, SIDES
This is a tough one. Do you go easy and simply open a few bags of Ruffles and Doritos and hope for the best? Maybe. We recommend you go a little deeper. There are two really easy sides you can execute here without too much fuss: Baked beans and corn on the cob.
Baked beans can be as fancy or easy as you want. Either grab a big ol' can from the supermarket, crack that sucker open, and heat it up. Or, you can score some dried beans, soak them, and then simmer them off with some bone broth, brown sugar, and spices. Maybe add some thick cut chunks of bacon or spicy sausage or both. That's about it really. You'll end up with a savory, sweet, and spicy side that shines.
Another super easy side is corn on the cob. It should be fairly easy to find fresh corn right now, as it's in season. You can really speed up the cook here by pre-boiling the corn and then finishing it off on the grill. Melt some butter with plenty of salt (and maybe a little garlic) and brush it on the corn as it browns over the fire. For one last easy flourish, liberally sprinkle the cobs with grated parmesan when they come off the grill to really make them pop. Done and delicious!