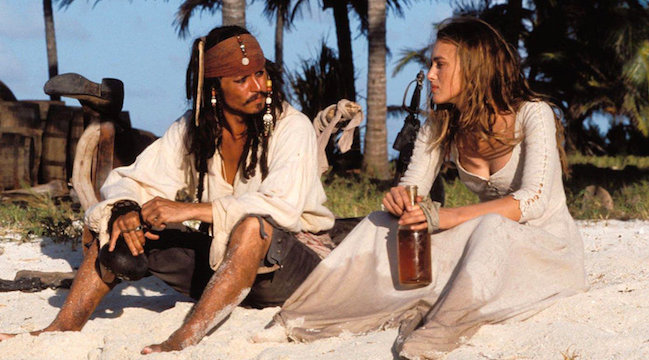 Last Updated: June 29th
Rum is poised for one of the biggest comebacks in American history. The sugar cane fueled drink is as versatile as any vodka, as nuanced as any whiskey, and as tasty as any brandy. White Rum works as a straightforward (and alcohol-forward) base for a wide array of cocktails, while dark or "aged" rums also fit nicely with all the classic cocktails you know and love but are often best sipped neat or on the rocks. Lastly, spiced rums offer a flavorful, tropical kick that is wholly unique to this spirit.
To help you get into rum, we've cobbled together a list of the best cheap rum bottles on the US market (although we've purposefully not included the bottom of the bottom shelf — those plastic jugs of cleaning liquid that they slap a rum label on). This is legit rum that's all under $20 a bottle.
WHALERS RUM ORIGINAL DARK
Okay, if you're going to buy a bottle of bottom shelf rum, let it be Whalers. This is a pretty rough place to start when it comes to rum but it is by no way the worst cheap bottle on the market. Basically, what you're getting here is a rum that has a slight sweetness and heavy alcohol taste.
Whalers works perfectly as a mixer with pretty much any soda or in a killer, fruity punch. And, sometimes, that's good enough — especially when you're paying a tenner a bottle.
Buy a bottle here for $11.29.
DON Q CRISTAL RUM
If you've ever been to Puerto Rico, you've surely sipped a lot of Don Q. This is the standard well rum of the island and… you know what? It isn't half bad. The white, or "Cristal" version, is a clear rum that's an excellent base for a nice highball with coke or lemonade and works great for a kickass Caribbean cocktail like a piña colada.
Buy a bottle here for $11.49.
KIRKLAND SIGNATURE SPICED RUM
Costco's booze tends to be a great baseline for cheap spirits that totally get the job done. Look, this isn't the best of the best but it is 100 percent drinkable and the price just can't be beaten.
The rum does have a bit of a burn — there's no denying that — but if you're mixing it into a punch or cocktail, you'll be fine. This one is also pretty good with Dr. Pepper or a decent root beer. It has a nice spiciness that works with the old-school sodas. Give it try!
Buy a 1.75l bottle here for $19.69.
CRUZAN AGED DARK RUM
Cruzan is another rum that sits in many bar wells across El Carib. With good reason — this is another great rum that works wonders with heavy fruits and milky coconut creams.
Use the silver Cruzan as a base spirit since it's largely neutral and then top your cocktail off with Cruzan Dark for a little extra boost. You can thank us later.
Buy a 1.75l bottle here for $19.99.

DON Q ANEJO RUM
Don Q Anejo makes a helluva rum and coke. It's got a slight aged oak sweetness that isn't overpowered by the alcohol burn that you usually get from a cheap rum. That's a win.
This one also works wonders as a topper for Caribbean cocktails. Throw a shot on pina colada, or any fruity rum slushie, and feel that warm Caribbean sunshine in every sip.
Buy a bottle here for $16.99.
BACARDI WHITE
https://www.instagram.com/p/BgxpEF4jBVh/
Every rum journey should start here. Bacardi White, or Bacardi Carta Blanca, is the standard white rum that most others are judged by. It's a simple spirit that carries hints of the molasses that birthed it, alongside a slightly stringent alcohol essence. It's not terrible by any stretch of the imagination. It's just more of a mixing spirit that a straight drinking one. This is your base for a lovely Cuba Libre or a splashy Mojito. It's more neutral and therefore a perfect mixer.
Buy it here for $12.99.
SAILOR JERRY SPICED NAVY
Sailor Jerry Spiced Navy is a great bargain. The rum isn't over the top with any of the elements. The spice, sweet, and alcohol all compliment each other. To be clear: this is still leaning more towards a mixing rum than a sipping rum. Spice up a rum and coke or a Christmas cake with this one.
Buy it here for $17.49.
CAPTAIN MORGAN SPICED RUM
It's hard not to love Captain Morgan. This is the standard spiced rum that is probably the easiest to find across America. At around 15 bucks a bottle, you can't beat it. It's super smooth, mellowly spicy, and has a nice sugar rum essence to it. While people do love taking shots of this stuff, we still lean more towards using it as a mellow mixer.
In fact, try it with tonic. We promise that you'll be pleasantly surprised.
Buy it here for $15.99.
KRAKEN BLACK SPICED RUM
Kraken Black is that little step up from the Captian. The edges have been sanded down on this one making it much more sippable on the rocks or neat. Mixing this one with coke, sprite, or tonic is always a win. Also, don't sleep on mixing it with some spicy ginger beer.
Bonus: It also comes in a cool bottle.
Buy it here for $16.99.

BACARDI OAKHEART SPICED RUM
Oakheart is your best bet for a cheap spiced rum these days. One, it's as refined as a Kraken. Two, it's a Bacardi product, so it's inexpensive. Under $14 a bottle is a great price point for any spiced rum. And this one is tasty. Try a sip over a couple ice cubes to get a sense of the spice and sweet matrix and add mixers from there.
Buy it here for $13.49.
FLOR DE CANA WHITE RUM
Flor de Cana is Nicaragua's premiere rum. Their white rum really carries the essence of the sugar cane field — it's grassy and bright. The edges of the alcohol are still there — it's a white rum after all — but there's a smoothness here that elevates this white rum to more than just a mixer (though, it shines in Cuba Libres and mojitos).
Buy it here for $14.99.
BACARDI HAVANA CLUB ANEJO WHITE
Bacardi's throwback Havana Club Anejo White is a bit of a dig at the actual Havana Club in Cuba. Politics aside, this is a very solid white rum with a distinct sugarcane field vibe to it. One sip and you're transported to the Caribbean — the beating sun, the steamy nights, the sea breeze off the ocean… it's all there in each bottle.
Havana Club White is also the perfect Coke mixer and our number one pick on the list if that's your focus.
Buy it here for $17.99.
FLOR DE CANA GOLD
Back in Central America, Flor de Cana's Gold is nudging closer and closer to a nice sipping rum. Pop some of this over ice and enjoy. The four years this one spends in a barrel puts it in the same arena as the vast majority of bourbons on the market when it comes to flavor and profile. Add in the subtle sweetness of the cane and you've got a nice slow tipple after a long, hot day.
Buy it here for $14.99.
GOSLING'S GOLD
Over in Bermuda, Gosling's has been killing the rum game for centuries. Their Gold is a great place to start exploring Gosling's in general — which is a great rum distillery that far too few know about. This one does come in at the higher end of the price bracket, but you can savor it neat or mix it into a great cocktail. It's diverse and delicious and still not particularly pricey.
Buy it here for $17.99.
BACARDI GOLD
Bacardi wins again for overall quality and price point. Their Gold is a perfectly good rum that can work well neat and will make serious magic when used as a base for a cocktail. Let this one shine and you won't be disappointed. Plus, it's also only 13 bucks. Huge win.
Buy it here for only $12.99.
MOUNT GAY ECLIPSE
Now we're getting into rums that you can legit sip like a fine whiskey or brandy. Mount Gay Eclipse has a real oak-aged dimension that leans into citrus rinds and sweet vanilla spiciness.
It's not overly complex, making this one very quaffable over a rock or two. That also means you can make a mean rum old fashioned or el presidente cocktail with this one. The subtle complexity will put a smile on your face.
Buy a bottle here for $18.49.
PYRAT XO RESERVE RUM
Pyrat XO feels like it should cost twice as much for as easily as it goes down. There are tropical citrus hints behind the molasses sweetness that really mellows any alcohol burn into almost an echo.
Add a few drops of water or an ice cube to let it open up and then enjoy. Also, don't sleep on mixing this one into a killer rum old fashioned or a refreshing rum collins.
Buy a bottle here for $19.99.
BACARDI ANEJO CUATRO
Bacardi has been upping their game recently and their Añejo Cuatro is a prime example of hitting the bullseye with a great bottle of hooch. This is the bottle that should be the mixing rum you always use. It's boldly fruity and sweet with a very low alcohol burn that makes it easy to shoot — if you have to take a shot that is.
Otherwise, mix this one into a refreshing mojito or maybe a nice navy grog or dark and stormy and enjoy!
Buy a bottle here for $19.99.
BRUGAL ANEJO SUPERIOR
Brugal is a great rum to have on hand. It works as a sipping rum over an ice cube or two and as a great base spirit for any cocktail. The aged oakiness is there and brings a little Christmas spice, molasses sweetness, and light orange to the mix with a very mellow alcohol edge.
Try this on its own first and then mix up a storm. It's especially good in rum versions of old fashioneds and Manhattans.
Buy a bottle here for $19.99.
PLANTATION BARBADOS RUM
Plantation Rum is a great rum for any occasion. You can easily sip this one with an ice cube. That water will let the nutty sweetness, vanilla, and orange rind bloom so much so that a field of spring flowers may come to mind. There's also a solid molasses essence that feels like you're in a rum distillery.
Seriously, you can sip this one if you dig that. Otherwise, don't hesitate to make your favorite brown spirit cocktails with this instead. You'll always be pleasantly surprised.
Buy a bottle here for $19.99.