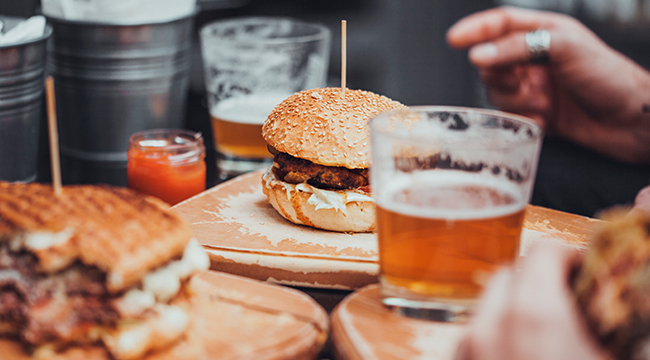 It's hard to beat a juicy, flame-grilled burger on a hot summer day. We'll even take a well-made veggie burger or an Impossible Burger, as long as we can sneak a few slices of aged sharp cheddar on there. The only thing that can make a flame-licked burger better is being paired with the right beer — something to contrast those umami notes and cut through all the dense fattiness.
The beer-burger combo is extremely important to the overall experience, but it's not always as easy as grabbing whatever's on top of the cooler. That's why we decided to ask some of our favorite brewers to pair their favorite beers with a juicy, greasy, rich, grilled burger. Check out their answers below and get grilling!
Sierra Nevada Pale Ale
Mark Safarik, brewmaster at Dogfish Head
Sierra Nevada Pale Ale. What could be more quintessentially American? This is my desert island beer. It's exceptionally crafted, well-balanced and just plain delicious.
Bell's Two-Hearted Ale
Shawn Steele, director of brewing operations at Coronado Brewing Company
I'd have to go with Bell's Two Hearted Ale. I'm from Detroit, and this is my favorite mid-west IPA. It's a great pairing for a cheeseburger because it's a little bit maltier than west coast IPAs and brings out the caramelization of the meat, while the hops help cut through the richness.

Budweiser
Scott Ungermann, brewmaster at Anchor Brewing
Budweiser. Straight up American lager with straight up American cheeseburger. Eat it fast, drink it fast. Done.
Deschutes Fresh Squeezed IPA
Rhett Dougherty, Head Brewer at Veza Sur Brewing Co.
My favorite beer to pair with a nice juicy burger has to be Deschutes Brewery's Fresh Squeezed. The key to this pairing is the how well the amazing citrus profile of the hops cut the fat of the burger, while the sweet caramel malt character matches the weight of the burger.
Three Weavers Expatriate
Joe Peach, head brewer at Kairoa Brewing Company
This crisp, clean, perfect example of a West Coast IPA is bursting with tropical fruit and citrus flavor that complements the slight sour character provided by pickles, which belong on all burgers. The negligible amount of bitterness is just enough to enhance the umami character provided by the meat to create a truly comforting experience.
Ballast Point Grunion
Doug Pominville Jr., head brewer at Thorn Brewing Co.
This might be cheating, but Ballast Point's Grunion pale ale. The tropical fruit flavors complement the savory flavor of the burger and cuts through the fat.
Ps. I created that beer when I worked for them.
Firestone Walker DBA
Phil Leinhart, brewmaster at Brewery Ommegang
Firestone Walker Brewing Company's DBA has a subtle sweetness from specialty malts and a slight oak character. This combination just blends well with the flavor of a juicy burger.
Guinness Extra Stout
Jim Richards, brewer at Blue Point Brewing Company
What's my favorite beer to pair with a burger (or cheeseburger) and why? I'll take a Guinness. Specifically, a Guinness Extra Stout and a blue cheese Cheeseburger. It's a classic.

Odell 5 Barrel
Carl Heinz, brewmaster at Breckenridge Brewery
5 Barrel Pale Ale – Odell Brewing Co complements a cheeseburger well because of its modest hoppy character that balances the rich nature of the cheesy, greasy goodness of a burger — while having enough flavor of its own that it still enhances the whole experience.
Jackalope Thunder Ann
Brian Morris, innovation brewer at Deep Ellum Brewing Company
You can't beat a pint of Thunder Ann from Jackalope Brewing and a cheeseburger. That balance between malt and bitterness between bites makes you come back enough times that you may need to order another before you finish your burger.
Odell Mountain Standard
Adam Curfew, chief operating officer at Wasatch Brewery
Odell Mountain Standard because it's delicious and not overly bitter but has a nice refreshing hop presence.

Pilsner Urquell
Mark Hellendrung, CEO of Narragansett Beer
I tend to stay with any of the macro domestic or European lagers for their crisp taste, and Pilsner Urquell is one of my favorites because of the unique hop profile.