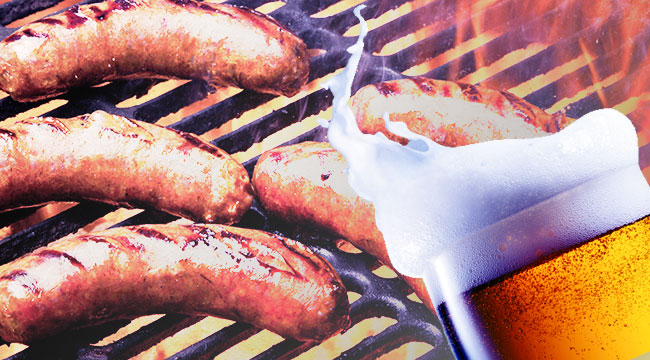 It's truly a sad state of affairs. If you live outside of California, Florida, and Hawaii, your grilling days are numbered. Soon enough, the weather is going to turn and you'll be coming home when it's already dark. Your trusty crockpot will be your best friend. Instead of grilled chicken and pork skewers, it'll be slow-cooked beef and broccoli.
All this can leave you feeling hopelessly bleak… or it can motivate you. Because while grilling season is indeed coming to a close, there are still a few weeks left to throw a few brats on the grill and stand in the yard, the porch, or out on the fire escape tending them while savoring a cold beer. Better still, this weekend is Labor Day — which is the closest thing to a grilling-mandatory holiday this side of Fourth of July.
So what brew should you pair with your end of the summer sausage party? It's no small decision. To help, we asked some of our favorite brewers to tell us their go-to beers for the end of brat season.
Cedar Springs Kusterer Original Weissbier
John Stewart, general manager and director of brewing operations at Perrin Brewing
Grilled brats and German heffe have been paired together for hundreds of years. Cedar Springs Brewing Kusterer Original Weissbier paired with a fresh hot grilled bratwurst covered in stone ground mustard is a match made in heaven. The heffe's aromatic spiciness can hold up to the boldest relish and mustard combo.

Yuengling Porter
Bryan Selders, brewing ambassador at Dogfish Head
Something about a bun full of grilled sausage smothered in spicy brown mustard and caramelized onions begs to be washed down with Yuengling Porter. Chocolate, caramel, and just the right amount of subtle smoke brings out all of the goodness of a well-prepared wurst.
Three Weavers Expatriate IPA
Brian Morris, innovation brewer at Deep Ellum Brewing
The hop profile of Three Weavers' Expatriate IPA cuts beautifully through the fattiness of a grilled brat. This beer also pairs well with grilling the brats or just standing around, waiting to eat.
Aecht Schlenkerla Rauchbier Märzen
Tim Matthews, head of brewing operations at Oskar Blues Brewery
Has to be Aecht Schlenkerla Rauchbier Märzen. Too many Franconian sausages and pints of this burned into my brain to say otherwise.
Deschutes Black Butte Porter
Jason Santamaria, beer architect at Second Self Beer
A good porter, like Deschutes Black Butte. The roasted notes of the beer bring out the smokiness from the grill. I normally have a lighter beer when grilling and switch to a porter when it's time to eat.
Jack's Abby Post-Shift Pilsner
Joe Mashburn, head brewer at Night Shift Brewing
Anything on the lighter side – Notch Session Pils, Jack's Abby Post-Shift Pilsner. The sausage is going to be such a heavy food that anything more intense than the above is going to result in a very heavy meal.

Weihenstephaner Festbier
John Walker, head brewer and co-founder Athletic Brewing Company
Weihenstephaner Festbier — malty, sweet but not cloying, and balances well with just about any sausage.
Bierstadt Slower Pour Pils
Kelly McKnight, pilot brewer at New Belgium Brewing
Bierstadt's Slow Pour Pils. This is one of the best German-style beers I've ever had. It's crisp and crushable which is everything you want when downing a delicious brat.
Ten Barrel Crush Lemon Sour
Rhett Dougherty, head brewer at Veza Sur Brewing
I'm a huge fan of cutting fat with acid, and a nice sour is wonderful to pair with a brat. Tonya at Ten Barrel is running the kettle sour game, and the Crush Lemon Sour is a perfect pairing to a juicy, grilled brat.
Eppig Zwickkelbier
https://www.instagram.com/p/BqWMQkbg1-n/
Mark Theisen, head brewer at Coronado Brewing
I usually boil my brats in Miller High Life beer before grilling—but to pair, I'd prefer to drink a crisp and refreshing Zwickkelbier from Eppig Brewing. This young, dry-hopped unfiltered lager comes out in spring, and it's the perfect beer to cut through a rich grilled sausage.
Schneider Weisse Original
Yiga Miyashiro, director of brewing operations at Saint Archer Brewing Company
Man, another question where I feel any beer is great with grilled sausage. However, I'd say getting a fresh really well-made Hefeweizen like Schneider Weisse Original is a real treat when paired with freshly grilled sausage. Especially if you have some good European style spicy mustard to go with it. Your best bet for finding a fresh Hefeweizen might be heading down to your local brewpub and seeing what they have on tap for a growler fill.
Samuel Adams Boston Lager
Matt McCall, brewmaster at Coney Island Brewing
Any Vienna-style Lager would do the trick but if I were to choose my favorite, I'd say Sam Adams Boston Lager.

Jack's Abby Copper Legend
Joe Connolly, director of Springdale Beer
Is there any other answer besides Jack's Abby Copper Legend? A cop-out, maybe… but it's my favorite American Marzen, and that touch of subtle sweetness from amber malts is such a slam-dunk sausage pairing.