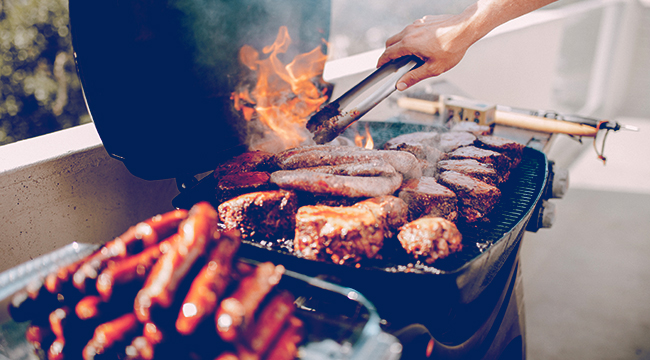 We're overdue for a cooking battle. Like way overdue. Not for a lack of trying, though. Your beloved food-burning/ friend-burning writer/chefs have actually been hanging out in person more than ever. We've cooked live twice in recent months, gotten together to screentest for a TV show based on this very concept, and even called a temporary truce to host an Uproxx Extended Family Barbecue.
I sh*t you not: Vince and Zach both complimented my plating of teriyaki ribs with toasted sesame seeds and cut chives. There was nary a comment about my profound and deep love of herbs to be heard.
Before I digress any further, let me just say that after three years of cooking challenges, we've realized what our favorite element is: all of you. The jokes, the microfictions, the thoughtful commentary-blended-with-deep-cuts-about-our-parentage — that's what makes this series so much fun.
So bring it for this entry, in honor of the 4th of July. Or… at the very least… in honor of the fact that you can get away with a lot of time-wasting at work today. As in recent months, we've included a few guest roasters to help put you in the burning spirit.
— Steve Bramucci, Editorial Director, Uproxx Life
BLT Showdown — 1) Vince 2) Zach 3) Steve
Mac & Cheese Showdown — 1) Vince 2) (tie) Zach, Steve
Taco Showdown — 1) Steve 2) Zach 3) Vince
Winter Stew Showdown — 1) Zach 2) Steve 3) Vince
Date Night Showdown — 1) Zach 2) Vince 3) Steve
Pasta Showdown — 1) Steve 2) Zach 3) Vince
Hot Beef Showdown — 1) Zach 2) Vince 3) Steve
Shellfish Showdown — 1) Vince 2) Zach 3) Steve
BBQ Showdown — 1) Steve 2) Zach 3) Vince
Pumpkin Spice Showdown — 1) (tie) Vince, Zach 2) Steve
Thanksgiving Side Dish Showdown — 1) Vince 2) Steve 3) Zach
Christmas Dessert Showdown — 1) Steve 2) Vince 3) Zach
Chili Cook-off Showdown — 1) Zach 2) Steve 3) Vince
Nacho Showdown — 1) Vince 2) Steve 3) Zach
Burger Showdown — 1) Zach 2) Vince 3) Steve
Breakfast Burrito Showdown — 1) Vince 2) Zach 3) Steve
Fried Noodle Showdown — 1) Steve 2) Zach 3) Vince
Fried Chicken Sandwich Showdown — 1) Vince 2) Steve 3) Zach
Christmas Dessert Showdown Rematch: 1) Zach 2) Steve 3) Vince
Italian Comfort Food Showdown: 1) Steve 2) (tie) Zach & Vince
Date Night Showdown Part II: 1) Vince 2) Zach 3) Steve
Party Food Showdown: 1) Zach 2) Steve 3) Vince
CURRENT SCORE:
We're giving three points to the winner and one to second place for each round. As it stands, the score is:
ZACH: 34
VINCE: 32
STEVE: 27
ZACH'S HONEY-GLAZED GRILLED SALMON WITH A SEAWEED ELOTE SUCCOTASH
I love grilling salmon. Whole salmon, steaks, filets, bellies … whatever. The fatty fish takes well to direct heat from a fire. The meatiness of the flaky fish is a great foundation to build flavors upon. It also cooks fairly fast and evenly over the fire. So, when I found out Steve had set up a cook for us in a city park in Culver City around picnic tables and built-in public grills, cooking up a piece of salmon felt like the right play.
My idea was simple: A well-seasoned and herb-forward grilled salmon with a funky succotash on the side covered in a chili-lime powder. I decided to make an elote grilled corn for the succotash, with a dash of Pacific Northwest funk in place of cheese, but more on that later.
In the end, I went for easy execution and crowd-pleasing flavors.
Ingredients:
The salmon is the star of the show here. I grabbed one pound from a grocery store. The salmon is covered in sea salt and honey alongside fresh sage and tarragon. I use butter for the grill.
The corn is a little more complicated. The base for the succotash is a play on the ingredients used in an elote street corn. I use mayo, lime juice, salt, and fresh tarragon. My twist is that instead of crumbly cheese, I'm using roasted seaweed to add an umami depth and tie this back to the sea.
Finally, there's the corn for the succotash. Four fresh ears, a stick of butter, salt, and fresh sage go into the mix there.
Prep:

The first step is to get the salmon marinating. I pat the fish dry and add an even layer of sea salt over the flesh side of the filet. Next, I layer honey over the salt. I even it out with a spoon so that it creates a single thin layer over the fish. Lastly, I add a layer of fresh sage and tarragon. I place the fish in a Ziploc bag and place it in the fridge for a few hours.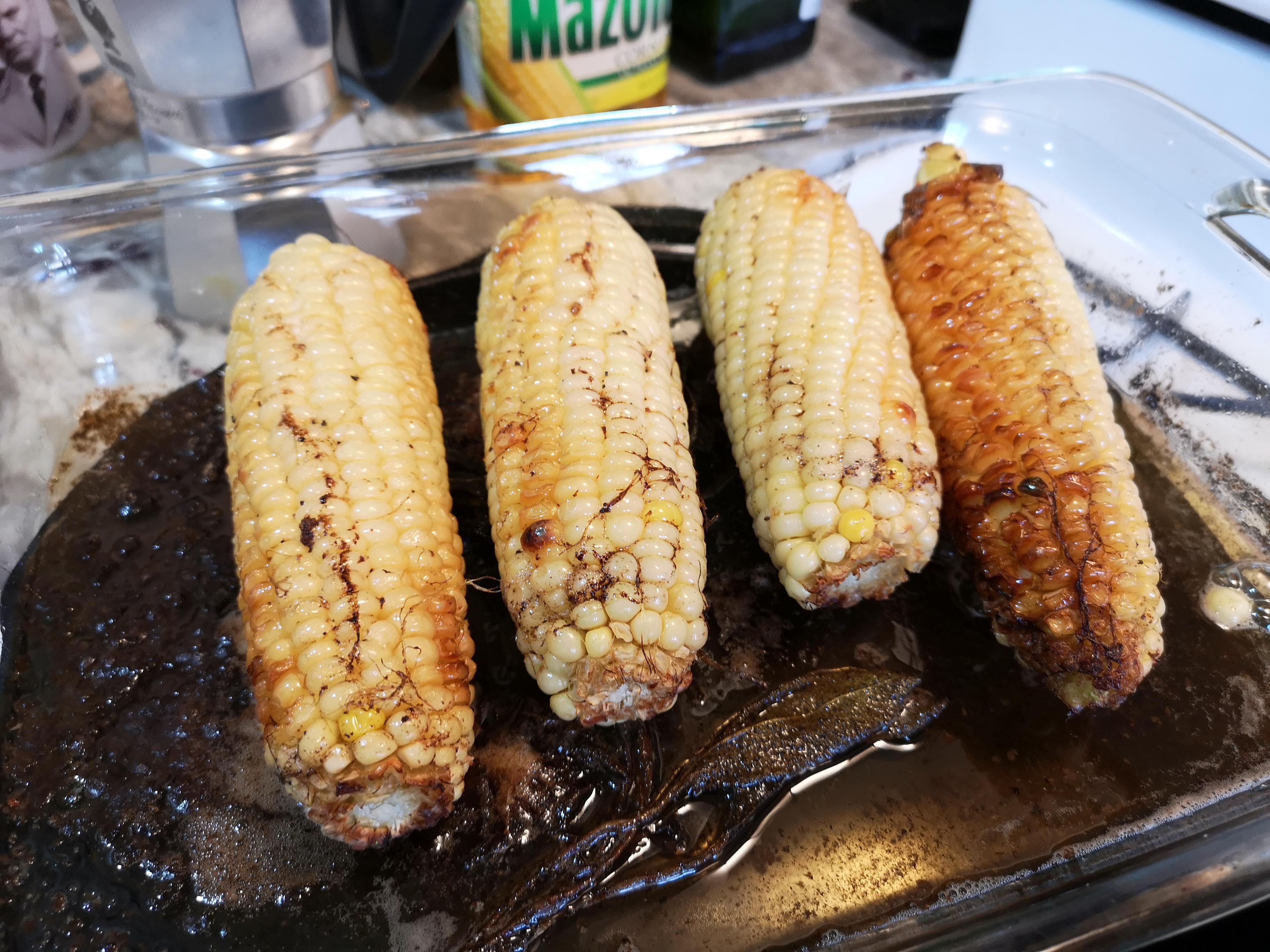 Next, I get my succotash going. I crank the oven to 400F and de-husk the corn cobs. I add them to a glass baking dish with plenty of salt and stick of butter chopped up over the ears. Fresh sage goes on last and the dish goes into the oven for an hour.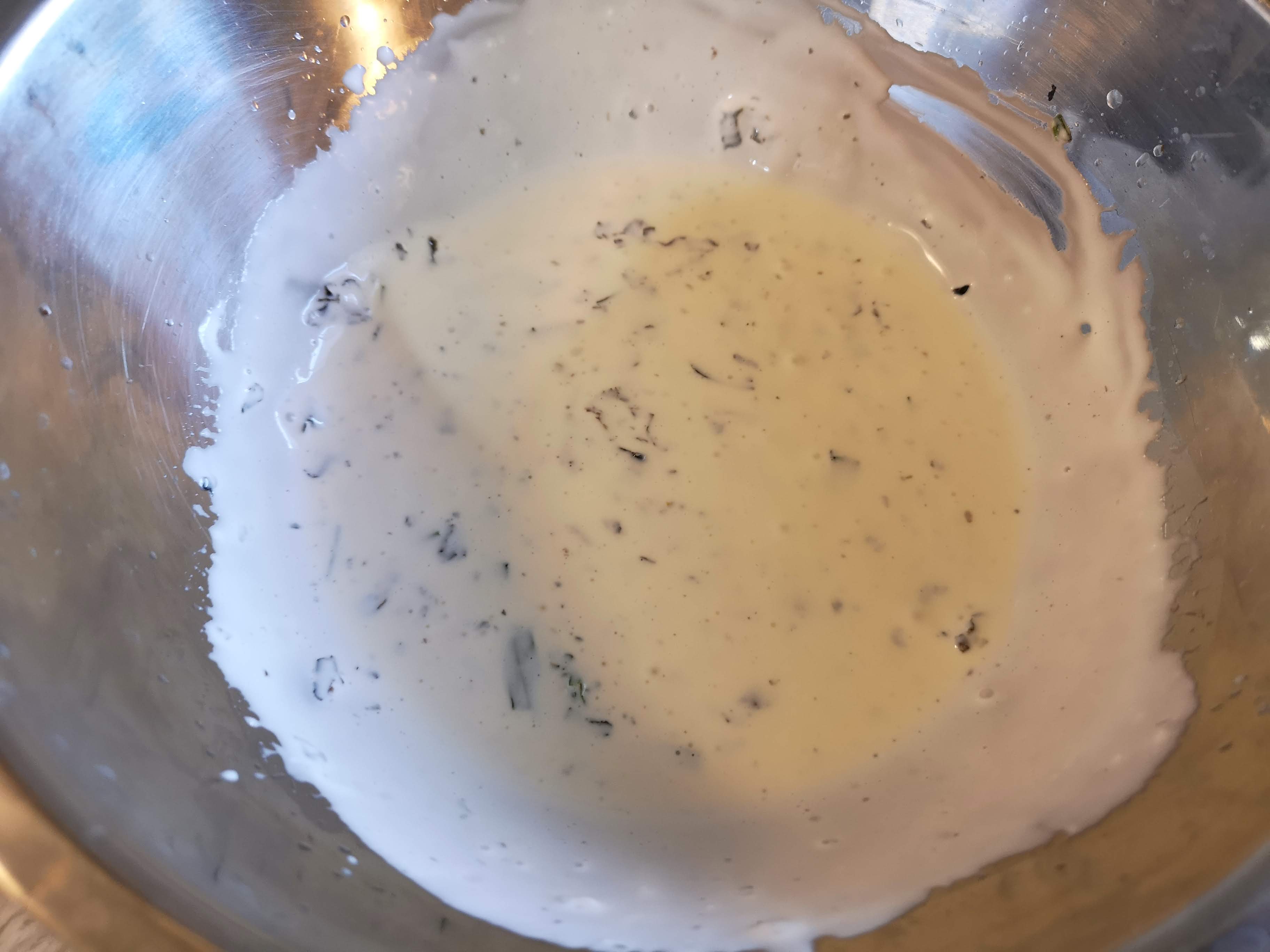 While that's baking, I ready the succotash elote seaweed dressing. I juice two limes into a bowl and add three or four heaping tablespoons of mayo. I whisk that with a fork until it's completely smooth. I add a pinch of salt, diced fresh tarragon, and four leaves of crushed seaweed. I stir thoroughly and set in the fridge.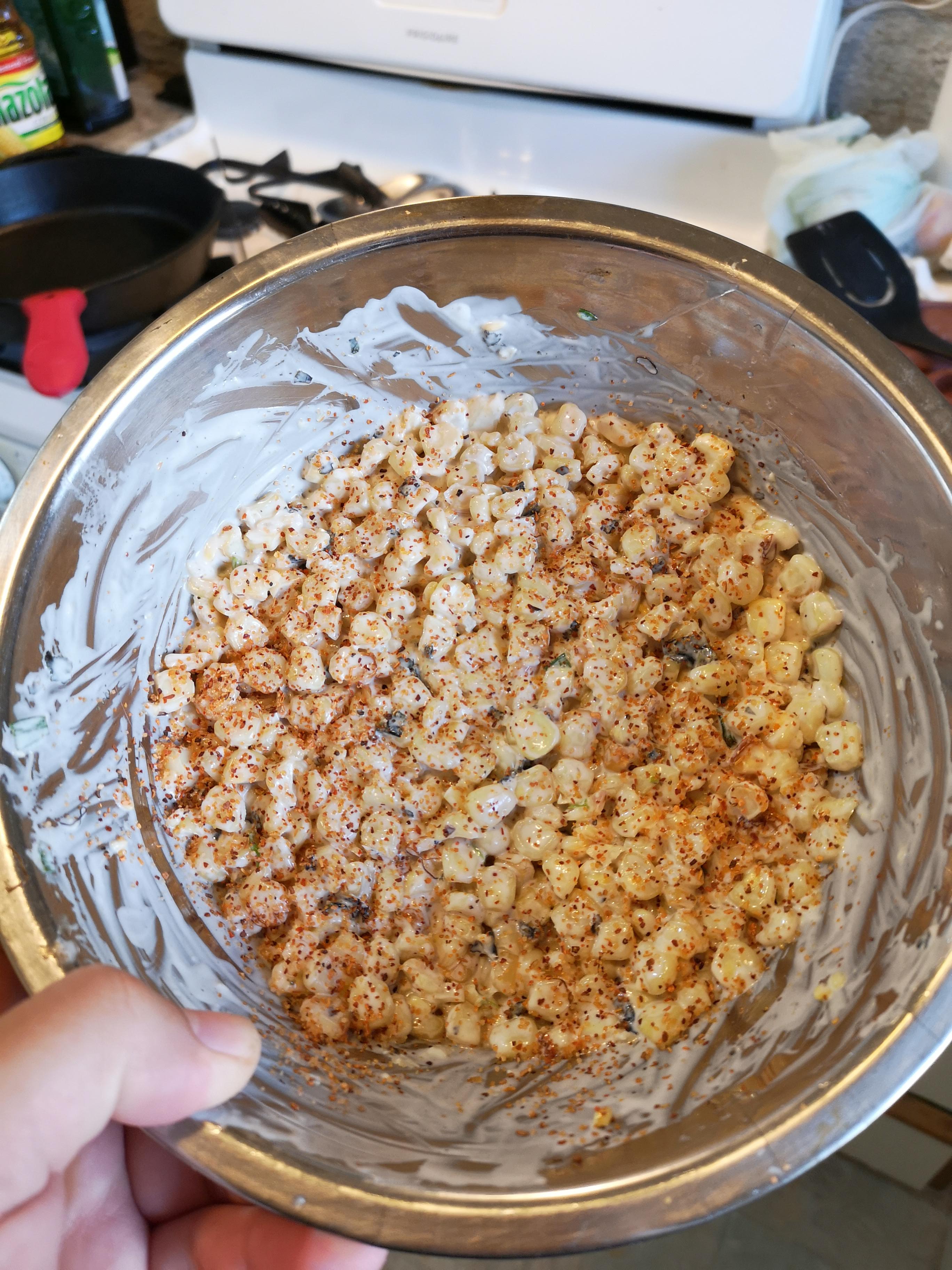 When the corn is done, it should have a nice Mallard Effect happening thanks to the butter. I let it cool for 15 or so minutes and then use a chef's knife to take the kernels off the husk. I add the corn into the succotash dressing and mix well. Lastly, I sprinkle some chili-lime spice over the top and cover. I place that in the fridge for an hour or so so that all those wonderful flavors can blend.
That's it. I'm ready to grill!
Cook:

Once we get the right park, we fire up the grills with a nice mesquite Steve was kind enough to provide. After a good ten minutes of fanning coals, they're finally on the way to being hot enough. In the meantime, I set up my salmon fillet. I couldn't find a wooden plank so I have to improvise with a small foil tray I make on the spot. I poke some holes in the bottom so the smoke and heat can do its job a little better. Before it goes on the grill, I cover the salmon in six pads of butter. This will keep the salmon balanced and create a nice char around the edges.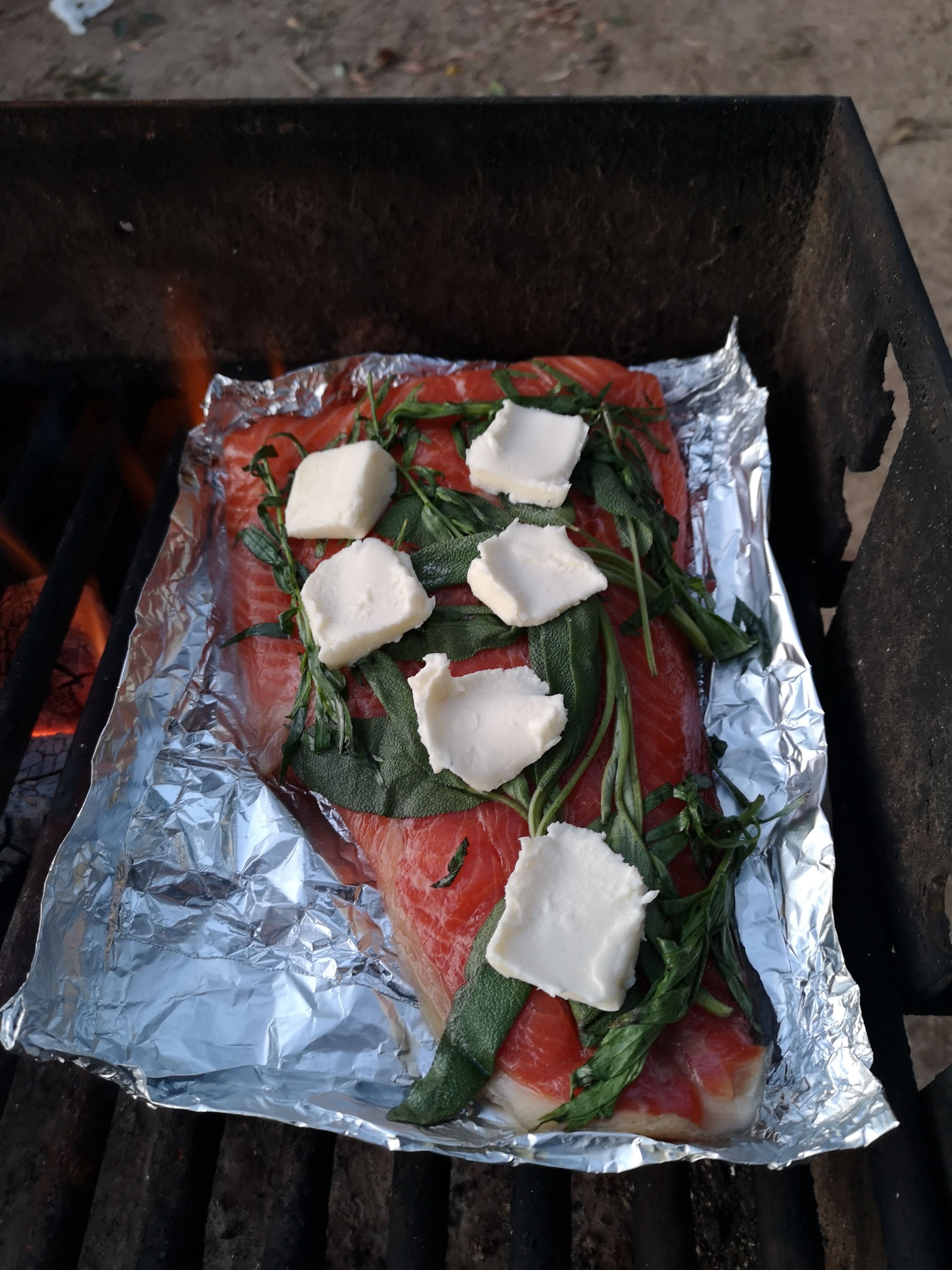 I place my salmon on the grill just as the sun starts to set. A make a small tent cover out of foil to keep the heat concentrated and catch some of the smoke rising from the mesquite. Then I let it be for a solid 15 minutes.
I turn the salmon once to help it cook evenly and let it be for about another ten minutes. By now, the sun is down but the street lights aren't on. I use a fork to feel for flakiness and its there so I pull my salmon off the grill.
Serve:

I have to work fast as it's getting cold and dark. I dish pieces of salmon onto my sustainable and biodegradable plates with a scoop of the succotash. I add a dusting of the chili-lime powder over the whole plate and serve.
The salmon is goddamn perfectly cooked. It's moist, fatty, umami, fresh, and a touch sweet. Hints of fresh herbs are present and accent the dish nicely. The succotash adds a tangy and funky umami counterpoint that gives way to sweet kernels of corn goodness. It's silky smooth and ties the seafood aspects together. People seemed pretty stoked eating this dish.
Steve On Zach's Dish:
Is it grilling if the fish never touches the grill? Because I spent twenty fucking bucks on mesquite charcoal and you created a makeshift pan out of tinfoil. That's pan-cooked salmon, not grilled. Unless the heat source is all that matters… but by that principle, I could have put a giant vat of oil over the grill and made fried chicken.
Your salmon was bomb— Christ sakes your food is so well balanced — but it left me wanting… more. More story. More starch. More sauce….. more Zach pontificating about a small village by the Pacific where you caught salmon in the moonlight. Ultimately, this is a dish that belongs on a plate in a restaurant but the flavors aren't big enough to hold up to the conditions tonight — outdoor cooking, darkness, a little chill.
Vince On Zach's Dish:
It was good and I don't even like salmon. Fuck you, Zach. Fuck you for correctly cooking everything but the easiest element before the bbq and correctly surmising that it would be pitch black before we got a fire going. Honestly, I don't know what to say other than that you played this one much better than I did and I'm pretty angry about it.
Writer Allison Sanchez On Zach's Dish:
Your salmon tasted like it had been pulled straight from the sea. Unfortunately, the corn looked like it was bathed in something that STARTED with a "C." It was too gooey and, ultimately, that's not the kind of consistency or … the intimacy I like in my corn.
Writer Mike Boticello On Zach's Dish:
This savory revelation makes up for my lack of being breastfed as an infant. I can curl up with this salmon and suckle till I nod off to deep slumber.
Comic Joe Sinclitico on Zach's Dish:
Was good but it was definitely just fucking salmon. Someone challenged you to a cook-off and then you hit them with plain as fuck salmon. But at least it was good and I didn't have to finger fuck a shellfish or almost choke to death on Rubik's cube sized tri-tip chunks.
"Call me Salmon man. King of steamed salmon. I'll wow you with my salmon. Fucking pussys tear apart like Chernobyl's uranium core when they tast my boring salmon!"
STEVE'S GRILLED PRAWNS WITH STICKY RICE AND AVO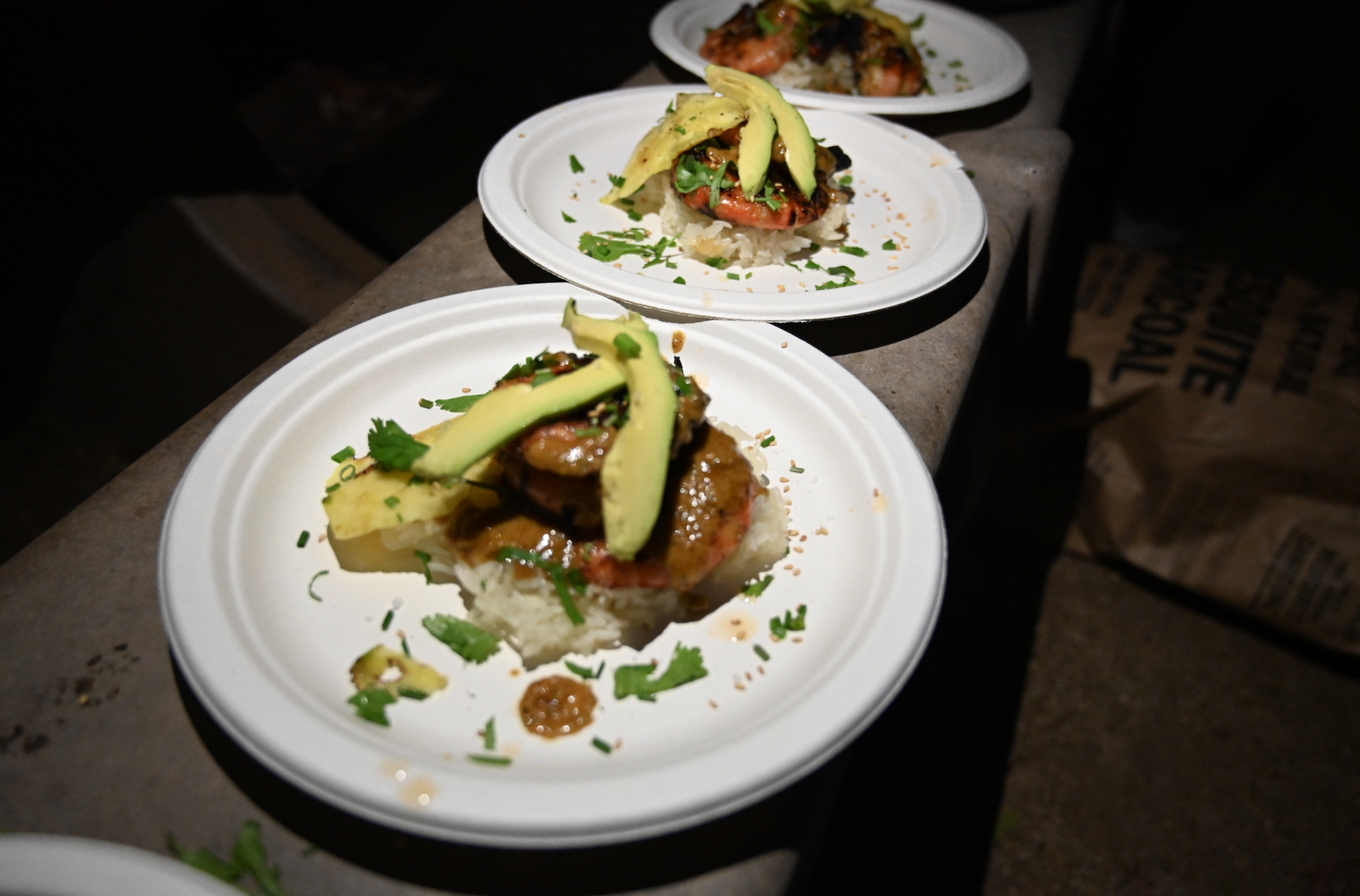 I don't think seafood has ever won one of these cooking competitions. This feels a little ridiculous to me, but then again, I live in a place with abundant access to seafood. If you're landlocked and Red Lobster's prawns are all you've ever tasted, then… actually, I don't know how to end this bit of corporate restaurant sniping. Are Red Lobster's prawns bad? I know nothing about their sourcing and haven't tasted their food. I've always just assumed they're bad because in order to offer people endless shrimp you have to be buying some pretty low-cost shrimp.
Red Lobster, let's clear your name by having you be the title sponsor for a new video-based food series focused on three feuding chefs on Uproxx!
Sorry for the tangent. The real point here is that I like seafood and if you don't, well… I'm kind of screwed. Except that Zach has been touting some absurd rule that whoever wins the live cook is locked as the winner, no matter what the commenters say. I disagree deeply, but if that's the case, I won hands down. Like, it wasn't even close.
Why? Because in a nighttime barbecue with no lights and an unseasonable SoCal chill, big flavors take the day. And my dish was always going to be about big flavors. It came to me in a fit of inspiration. The sort that comes when you're on a 23:1 absurd crash diet (as I am) and therefore spend most of every day hungry (as I do).
Hawaiian Style Shrimp with a habanero-teriyaki glaze over sticky rice with sesame seeds and thin-sliced avocado on top. That's what I made. It was inspired by the shrimp trucks of Oahu's North Shore and the idea of beating Vince and Zach in person.
The Setup: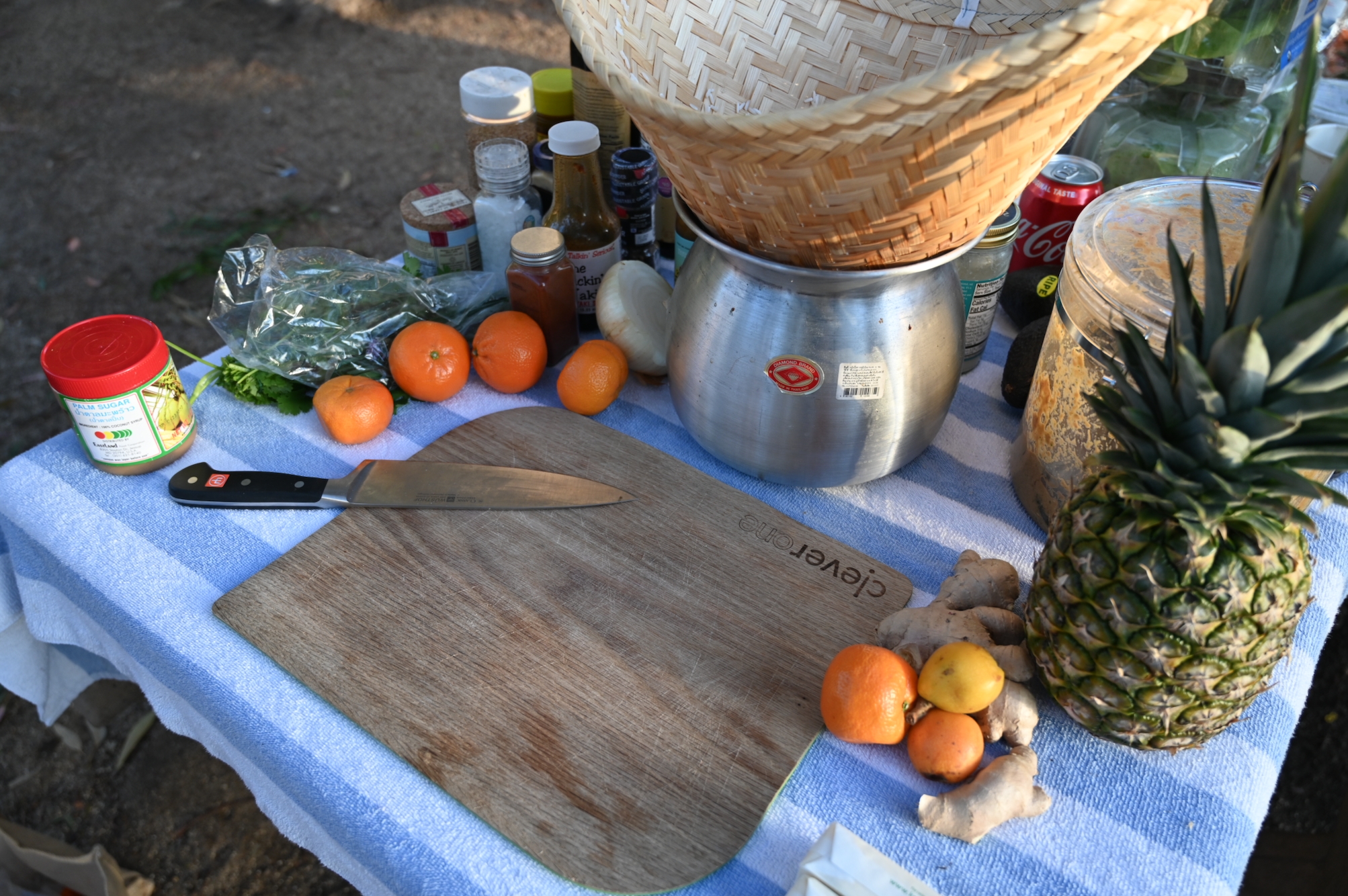 Vince and Zach love to make it sound like all my food is served straight from a hobo satchel, but that's not the case. This is my workstation at the park. Meanwhile, Vince was cutting raw meat nearby and Zach was building everything he needed with tinfoil.
Also, as per usual, I took the idea of "live cook" seriously and made my sticky rice at the venue rather than beforehand, which would have been roughly one zillion times easier.
Ingredients for marinade: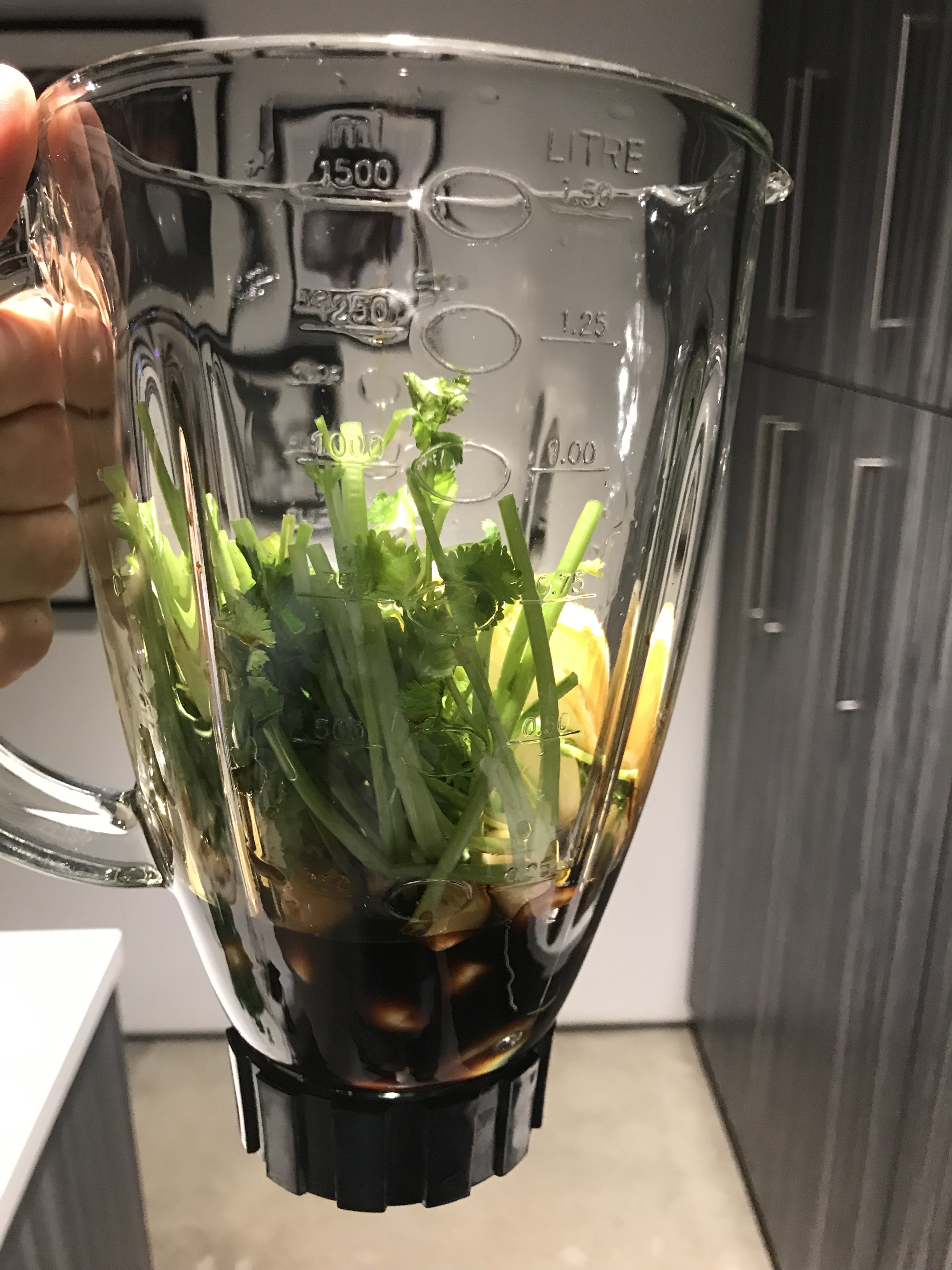 Cilantro stems
Soy sauce
Teriyaki sauce
MSG
20 cloves of garlic
3 habanero peppers
1/4 white onion
1 tablespoon of palm sugar
Ingredients for the grilling:

Two pounds of shrimp, deveined
Pre-made marinade
Sticky (glutinous) rice
Avocado
Pineapple
Cilantro leaves
Salt & pepper
I marinated the shrimp for three hours. I know that doesn't sound like long, but any longer and the proteins would start to degrade and get soggy.
Cook:

I chose to cook over mesquite charcoal because I like the flavor they impart. Vince and Zach complained ceaselessly about this. As you debate the merits of my decision, please note: neither of them has offered to Venmo me for the charcoal they hated so friggin' much.
As you can see, I kept the peels on my shrimp. This was, arguably, a mistake. They weren't tons of fun to peel. But I think that the chunky, residue-heavy iron grill would have torn up my delicate wild-caught shrimp. This way, when you got to the shrimp, they retained their crunch. You want that little bit of a snap with shrimp to know it's fresh.
Lastly, you see my sticky rice steaming there. I love sticky rice. It's just so sweet and dynamic and I love the texture. This is a really saucy dish and sticky rice is really good with saucy foods as an absorption tool, so the match felt on point. No matter what gripes my cohorts have, know this: I make sticky rice twice weekly. I know I got it right.
Not pictured: Me grilling pineapple to marry my dish together while Vince yelled at me to take photos of his meat.
Serve: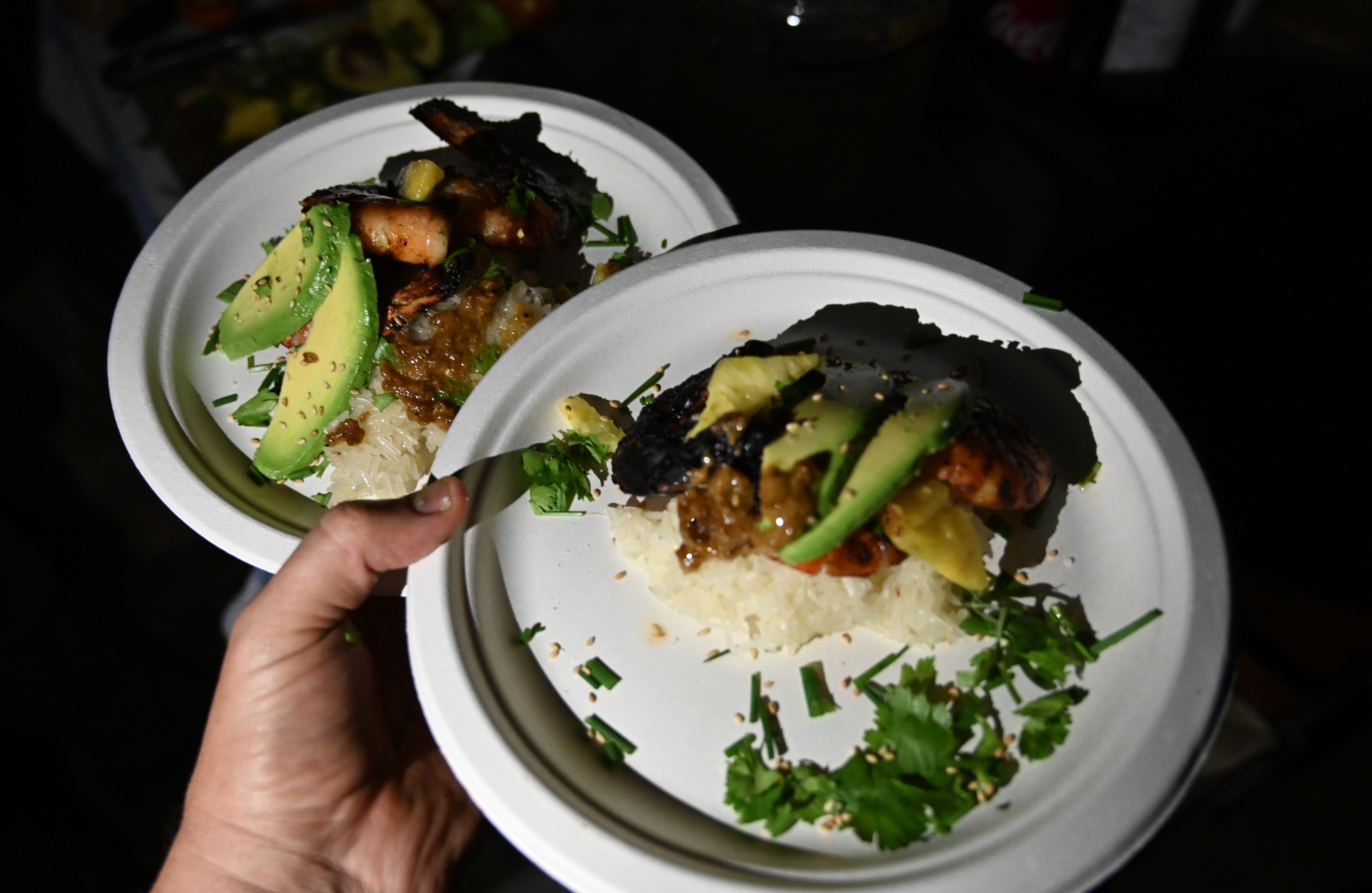 Some usual Steve Bramucci suspects here (no bone broth!). I layered the shrimp over the sticky rice with a little bit of grilled pineapple then doused it in the garlic-habanero sauce. Next, I sprinkled toasted sesame seeds, cilantro, and chives. Sea salt and cracked pepper and I'm done!
Here's another look:
So, who has big teeth, a crooked nose, and literally just knocked his meal out of the park?
…
..
This guy.
Zach On Steve's Dish:
Fuck, those shrimp took me back. So crisp, well seasoned, and full of shrimp goodness. I just ate them with the shell on like I was back in Jakarta. Yep, I'm dropping stories in burns now.
We need to talk about that rice though. It was dry like Vince's dog's asshole, which he constantly licks while I'm sleeping on the couch and — really, Vince, I think he needs to see a vet. The crunch was there but that silky smoothness of the starchy rice was missing and there was no sweet factor. Also, it was cold which didn't help.
Vince On Steve's Dish:
I don't know if I'm angrier at Steve for planning this badly, or myself for letting Steve plan this. I should have known that he'd bring giant chunks of mesquite and no lighter and incredibly not even tell me the correct park to go to. Seriously, look at the map.
As for his dish, I almost fed it to my dog because I'd rather do that than try to peel a whole shrimp, in the dark, with no place to wash my hands. Honestly, fuck shell-on-shrimp at a barbecue. That isn't a dish. It's a prank.
That being said, the shrimp was cooked well when I could actually get to it, and the sauce was good. No idea how the fuck you were supposed to get all of them in one bite, but they were great as separate elements, like Steve's parents in a perfect world.
Allison On Steve's Dish:
This was a spicy delight. I want to enter a hotel room where I realize a bath has been drawn, but then — when I look under the rose petals, it's not water, it's this sauce. And I don't need to bathe in it, I just get to lick it, for hours, until the entire bathtub is empty. I would spend days licking it out of a dirty tub and I'd feel like it was a productive use of my time.
Mike On Steve's Dish:
Blindfold me, cuff, whip, and serve me this dish as I moan in pure bliss. If I told you I was fully aroused as I disrobed each magically spiced and charred shrimp, you shouldn't be surprised. Daddy likey.
Joe On Steve's Dish:
The dish was not cohesive. It's like he took a bunch of stuff that tasted decent and combined it and it was actually worse together. Hey, I can't wait to scrape greasy shrimp shells over sticky rice with my dirty fingers.
VINCE'S CENTRAL VALLEY TRI-TIP TACOS WITH ELOTE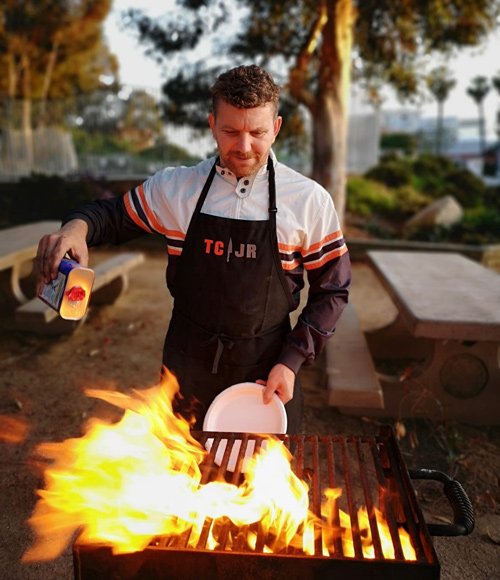 The inspiration was pretty obvious for this one. In the Central Valley, where I grew up, grilling basically means tri-tip. I love a tri-tip, which is surprisingly forgiving for meat that doesn't seem too fatty, and I generally have a fat tooth, especially when it comes to meat. But in my humble opinion, the average tri-tip beats the average brisket. Brisket, done perfectly, has a higher upside, but on average, if I'm not spending a bunch of money or waiting in a long ass line for "the best," I prefer the tri-tip.
To borrow a liquor analogy, tri-tip is to brisket as bourbon is to scotch.
That still left many options for plating and accompaniment. I went with elote for the side, because corn fit the grill thing, and because Mexican street corn is one of my favorite things ever. I could've just served the tri-tip sliced like steak with a chimichurri, but because I like to make things hard for myself and give you all more opportunity for criticism, I decided to do it rustic taco-style, over a flour tortilla with some salsa (actually that's just kind of the way I like to eat it).
Ingredients:

The Meat
I got a nice 5-pound trimmed tri-tip from my local butcher and marinated it overnight. I got two big handfuls of fresh garlic and put them in a blender with just enough water to cover. I pulsed that into a paste, then added two ancho chiles, onion powder, toasted ground cumin, and Maggi seasoning (I'd just gotten back from Guadalajara, where I saw street vendors putting Maggi on everything). That formed a kind of paste that I marinated the meat in overnight.
I dropped that into a sous vide at 95 degrees for a few hours just to get the meat up to room temperature before we left for the park to grill. I could've sworn I took pictures of this part but for the life of me, I cannot find them now.
The Tortillas
It's hard to beat a homemade flour tortilla. I hadn't attempted them before now, but I found a good recipe here and didn't alter it much (I did substitute chicken broth where it called for water) and they came out incredible. Just takes a lot of elbow grease — I had to roll these suckers until they were translucent and then cut them into a rough circle. You make a big ball of dough, then a bunch of little balls of dough, then roll them out and grill one by one (on a pan hot enough that you only need about 30-60 seconds on each side), and set aside in a tortilla warmer.
3 3/4 cups all-purpose flour
2 teaspoons baking powder
1 teaspoon salt
1/3 cup lard
1 1/3 cup hot water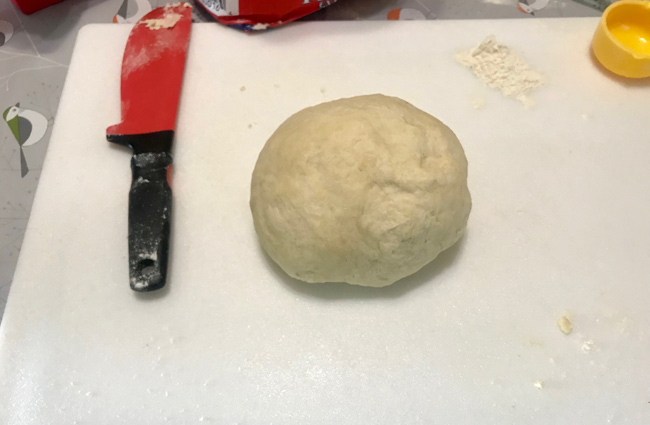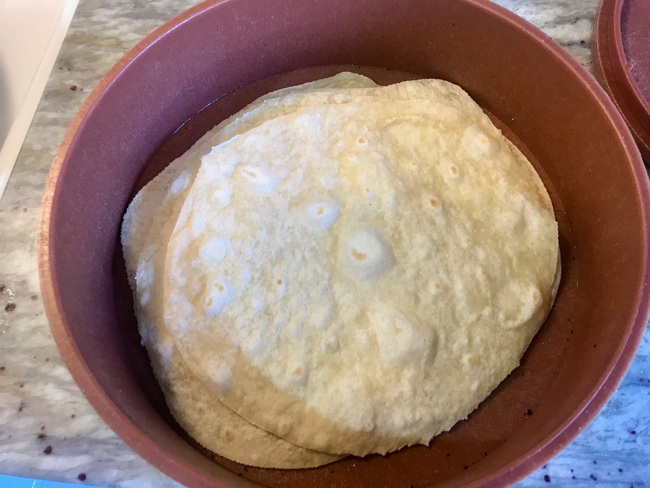 Heirloom Tomato Pico De Gallo

I originally was going to make this with avocado chimichurri, but I didn't love the way it turned out, so I went with an old standby, pico de gallo. The only difference between this and my usual pico recipe for salsa is that I put it in a food processor so it'd be less chunky and added slightly more lime and garlic.
Corn:
Again, I'm not sure why I don't have pictures of this. But suffice to say, it's just sweet corn, cooked on the grill and then rolled in a mixture of:
Queso fresco
Sour cream
Lime
…and then sprinkled liberally with a mixture of Tajín and my own blend of toasted ground chiles.
Service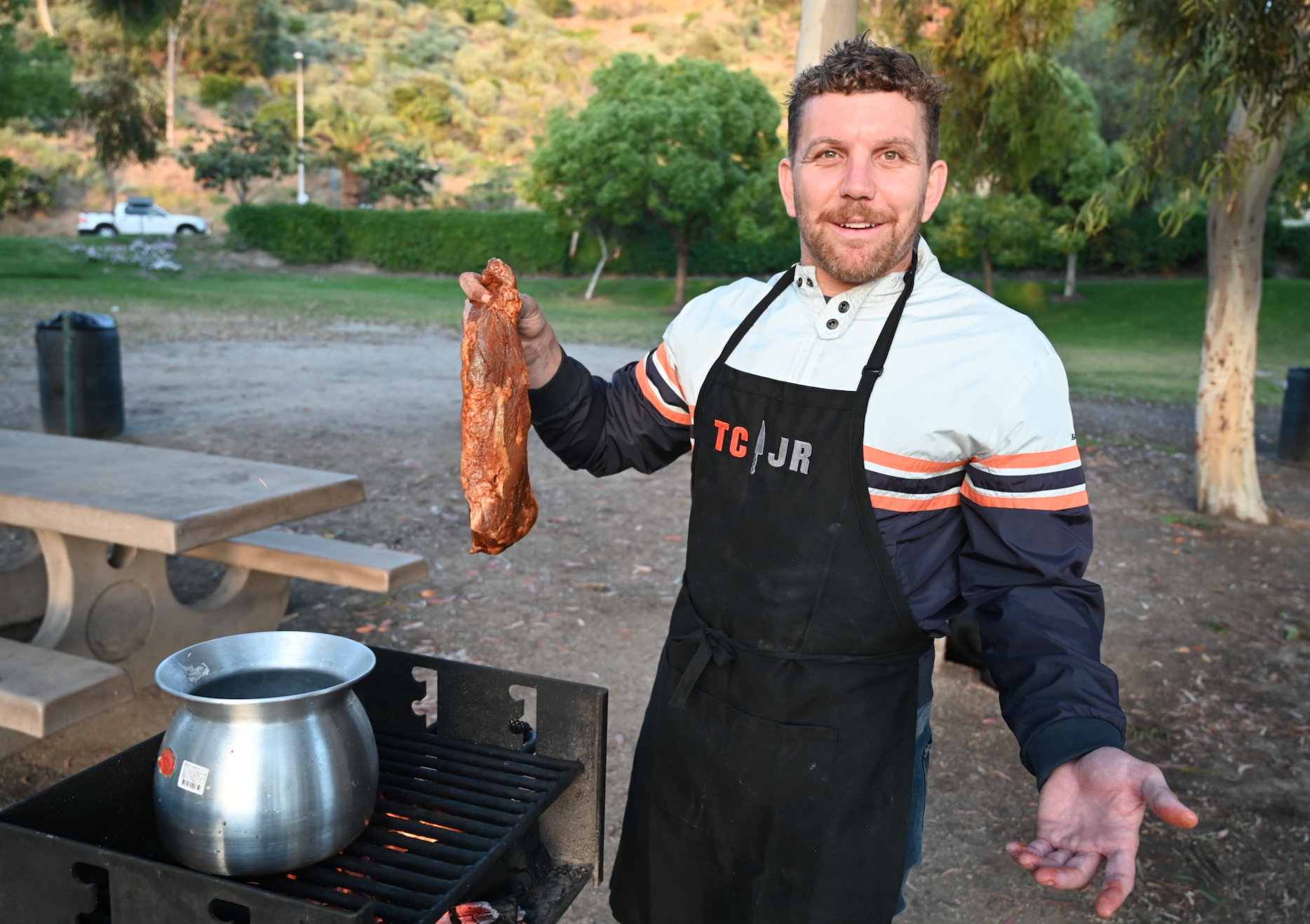 And here is where it all went wrong. I partly blame myself for relying on Steve to fill in some of the details for his barbecue plan, and I recognize that was my mistake. Steve is never very strong on the details. Steve is more of a "big picture" kind of guy. So when we allowed Steve to choose the time and venue for this barbecue, he chose a start time after dark at a park with no lights, a park whose name he actually managed to get wrong when giving directions to Zach and I. Meanwhile, earlier in the day I had asked Steve to grab some charcoal while he was at the store, since I had forgotten it and only remembered right as Zach and I were leaving. Steve said sure.
In perfect Steve fashion, he rolled up with his surfer's tan, brushing hair out of his face with chunkily ringed fingers, saying, breezily, "No worries, man, I got you covered," as he casually tossed over a bag of mesquite. Now, I'm sure mesquite adds a delicious flavor to many grills, and in fact probably works wonderfully for tri-tip. The downside is that mesquite is basically big chunks of wood, and we had…
Limited cook time (because, as I said, it was already nearing dark when we started)
A big hunk of meat that takes 30 minutes to cook under ideal circumstances
Public grills that were still wet from previous rains
I did my best to get that fire going (and I am from the country and have experience building bonfires at nearly all stages of sobriety) but basically failed and let Zach do it. Say what you will about Zach, the man can stoke a fire.
Long story short, before the cook had even started I broke one of the cardinal rules of grilling: never cook angry. In my defense, I had to try to cook this pampered, sous-vided, meticulously-marinated piece of beautiful meat over an incredibly uneven grill fire made of huge wood chunks, while guests whined about when it would be done, then try to cut it in the pitch dark. It was not an ideal situation.
I also forgot my meat thermometer, for which I also blame Steve.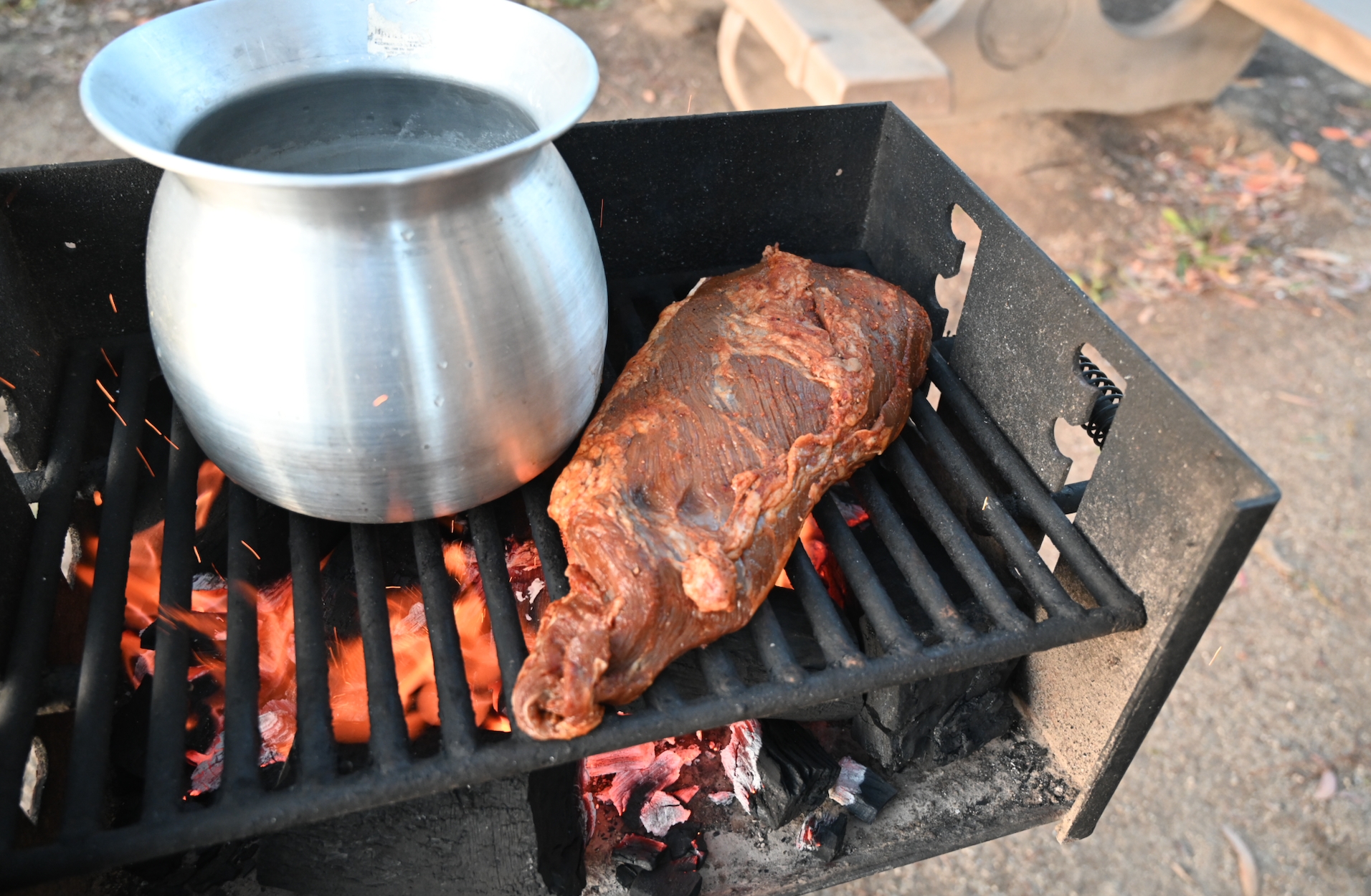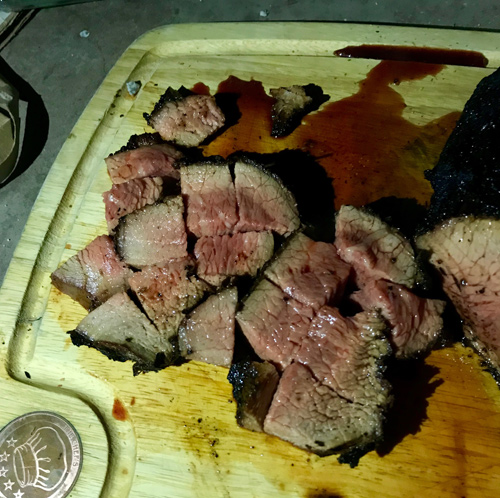 I ended up with beautiful meat cooked unevenly, rested in weather way too cold, and cut into giant, unchewable chunks, served over a beautiful tortilla that deserved so much better with a decent attempt at elote. Fuck.
Zach On Vince's Dish:
Sorry, bro. It wasn't your night. The good, the tortillas were fucking lit. The tri-tip was nice, though got so cold so fast. The pico was as watery as your mom after a long night in Tijuana. Feels like it should have been a chimi to tighten it all up.
Corn needed mayo to tie the elote together. Also, it was as cold as a three-day-old turd on the streets of Chicago in January.
Steve On Vince's Dish:
Those tortillas were perfect — light, airy, and perfectly toasted. Three qualities that were fucking impossible to appreciate when I was trying to grind my molars through a flap of meat so wet and raw that the "your mom" jokes wrote themselves.
Did I bring receipts? Indeed.
Cutting the meat from the tri-tip, the flavor was fantastic— a shame then that it was masked by that overbright, high-acid pico. A roasted jalapeño would have been the second best play here. Having actually cooked your meat would have been the first.
Corn was bomb. But that's a side dish — no credit, esè.
Allison On Vince's Dish:
I didn't realize this was a Star Wars movie character themed challenge, but good job, because I got that your tacos were an homage to Chewbacca. The steak was chewier than meat should be. Also, the pieces were so big that It made me feel like I had pulled the meat off a live cow with my mouth, got a little too much, and then was too embarrassed in front of the other zombies to spit any out.
That said, I loved the pico. Though it could have been spicier. Also, the tortillas were a light and fluffy delight. So …. the Chewbacca of tortillas?
Mike On Vince's Dish:
I can't think of a better pairing to devour in a poorly light park at night. Let the chimichurri sneak up and startle you as the corn let's you know all is right with the world. Good night.
Joe On Vince's Dish:
These are the tacos I'd expect to eat a person's house who'd never seen a Mexican. Like if I had a stepdad in North Dakota and we went to visit and he yelled "taco night!" Dice sized chunks of undercooked tri-tip and a tasteless salsa.