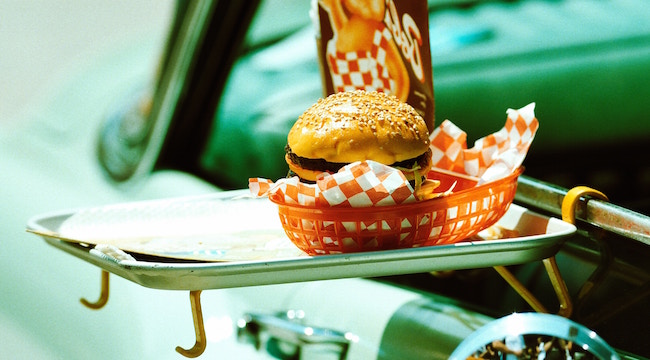 The Great American Road Trip is a right of passage. Families, van lifers, wanderlusters, vagabonds, tourists, and explorers all share the same road. The black asphalt veins pump people around the entire country, every minute of every day. Each bend hides a new wonder waiting to be discovered. There are trees to drive through, canyons to get lost in, amber waves of grain that stretch to the horizon, and seemingly endless chains of mountains. Oh, and there's thousands and thousands of miles of coast too. America is vast and full of wonder.
One of the great moments of a road trip is stopping for some grub. We've all been there — when those hunger pangs set in after the fourth or fifth hour on the open road. We see a billboard, standing alone in the vastness of the world, enticing us that only 30 miles away deliverance awaits. Then it's 20 miles away. 10 miles away. 5 more miles. 2 miles. Finally, we see the words: "Next Exit!" We take the off-ramp. Anticipation starts to boil over. We park, stretch the legs, and get ready to quell the rumbling in our stomachs.
Somehow, food always tastes better on the road. Even if we've eaten at the place a thousand times at home, there's just something more satisfying about the outpost you find yourself, along a lonely highway. Maybe it's the miles of road behind you. Maybe it's the miles ahead of you. Either way, a pit stop on a road trip is almost always a delight.
What is the best place to quell your hunger? Not all meals are equal after all. Some are a pure fuel that'll have you singing along at full volume to all of Tom Petty & The Heartbreaker's Greatest Hits. Others may induce a carb coma that'll have your eyes drooping no matter what you listen to. Over at Ranker, they wanted some answers, so they asked their users to vote on their favorite restaurants to stop at on a road trip. The results are a menagerie of sugary booster fuel, classic burgers, and coma-inducing diner experiences.
10. Dunkin' Donuts
Hells yeah! Dunkin' Donuts' combination of sugary fried dough and high-octane coffee means the next hundred miles or so will be pushing the higher end of the speed limits as you rap to every word to Nas's Illmatic.
Just make sure you have something for the inevitable sugar and caffeine crash. Maybe more sugar and caffeine? You do you.
Chances of going into a food coma: Close to nil. Dunk's coffee is rocket fuel.

9. IHOP
IHOP, huh? While the bottomless cups of filtered coffee are a draw here, the piles of carb-heavy pancakes can get you pretty drowsy. Though, it really depends on how much syrup you're soaking those cakes with. So maybe it all balances out in the end. Or, you can just order some eggs and bacon and avoid carbo-loading entirely.
Chance of going into a food coma: 50/50. Pancakes are basically "nap disks."