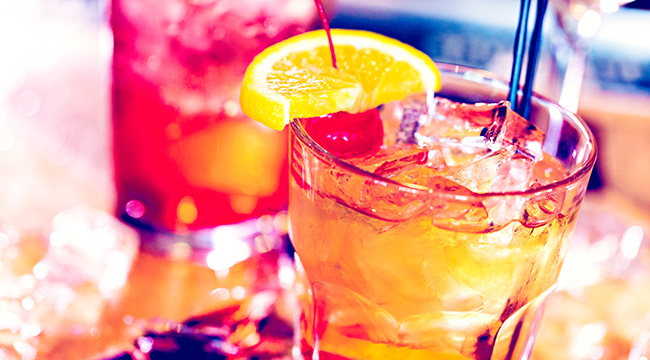 Summertime and the living is easy. Or easier. Because whatever shit you have flying at you is a little less shitty when the birds are chirping and the sky is blue and people duck out of work at 3pm on Fridays. Also, when you're buzzed.
Real talk: You might tease drinks with umbrellas in them in February, you can mock sipping out of coconuts in December but in June, July, and August those drinks bring joy. And only a fool argues against joy. What is fun to argue about are the varying degrees of joy. If we're all on the same giddy page — that summer cocktails are generally good — then we can bicker over them for hours while seeming to do work.
"Yes, Ted, I'm busy right now. I'm busy with a seven paragraph response to @Wordweary about why a daiquiri is the one true drink of summer. Also, it's almost three. So… probably gonna leave soon."
We asked our staff to make strong cases for their favorite summer drinks. They did not disappoint.
— Steve Bramucci, Life Editor
FROZEN DAIQUIRI
New Orleans is famous for many things and — if you believe popular cocktail legends and myths — it's the place where the modern cocktail was actually invented with the creation of the Sazerac in the 1830s or so. Over the years, countless other popular cocktails have been birthed by the city's bartenders — the Ramos gin fizz, the Vieux Carre, and the Hurricane, just to name a few. So it's undeniable that New Orleanians love their cocktails.
That being said, you may have heard that it gets a little hot in New Orleans during the summer. So it should probably come as no surprise that the most popular cocktails in New Orleans during the summer are the ice-cold kind — I'm talking about daiquiris — frozen cocktails that come streaming out of big, humming, swirling iron machines. We love daiquiris so much in Louisiana that we legalized drive-thru establishments that serve them, because God forbid you actually have to get out of a car and expose yourself to the oppressive heat just to obtain a frozen, sugary treat laced with rum and grain alcohol. The humanity! It's hot down here, y'all!!!
Daiquiris are so popular, in fact, that it's not uncommon to see a local drinking a daiquiri while wearing a t-shirt that in some way expresses that person's love for daiquiris.
With all that being said, here's where to find the best daiquiris in New Orleans.
St. Lawrence: This bar on the outskirts of the French Quarter is a stone's throw from the Mississippi River and their Pimm's Cup daiquiri will make you want to run home to tell your mama all about it.
Compere Lapin: One of the more celebrated newer restaurants in New Orleans, Compere Lapin is the baby of former Top Chef contestant Nina Compton and is housed inside the Old '77 hotel in the Warehouse District. The restaurant's bar is helmed by one of America's best bartenders, Abigail Gullo, whose rotating array of daiquiri flavors will keep you coming back to see what new, wonderful frozen concoction her brain has contrived. (FYI, Abigail also makes a fantastic punch.)
Lafitte's Blacksmith Shop: Housed in a building constructed in the late 1700s — making one of America's oldest bars — Lafitte's is one of the rare Bourbon Street bars beloved by locals and tourists alike. Their signature Voodoo daiquiri is known simply to locals as the "purple drink" and is a great accompaniment for a stroll or bike ride around the French Quarter. – Brett Michael Dykes
MOJITO
A mojito isn't just a summer drink… it's the summer drink. There is no summer without mojitos; however, while there can be mojitos without summer, it would look so weird ordering one in November that the drink remains firmly in the realm of "warm weather refresher," as it should. A mojito is a traditional Cuban drink, and one theory holds that it was invented by African slaves who worked the sugar cane fields on the tiny island in the 19th century. If that's true, salute to the ancestors. They took five ingredients: White rum, sugar, lime juice, soda water, and mint, and basically made an alcoholic nectar straight from heaven.
The sweetness of the sugar smoothes the kick of the rum, the tartness of the citrus gives edge to the sweetness of the sugar, and the mint provides a nice, refreshing finish on the whole thing, like the hint of sea breeze picking up off the ocean on a hot day at the beach. Which is exactly where this particular cocktail, long rumored to be a favorite of Ernest Hemingway, is best consumed. It may take a while to come over from the bar — that mint isn't going to muddle itself — but, like summertime, it will always be worth the wait. –Aaron Williams
MICHELADA
Summer days are meant for light refreshing drinks that will either the provoke the need for more alcohol (who hasn't spent a day just tottering on the edge of a glorious blackout?) or a nice nap that you can take outside in the middle of the afternoon.
No drink is more suited for either of these activities than the michelada — a salty, spicy combo of beer, a tomato-based mixer (Clamato is traditional), hot sauce (optional), and a salty rim that will replenish your electrolytes with every sip. And because the alcohol at the michelada's core goes down easy — and can help with nausea if you're hungover! — you won't be able to stop at just one. Or even five. When it comes to how many micheladas you can have in one day, the limit does not exist!
Nor does it exist when it comes to customizing the drink. Vary the type of beer you use! Switch it up and use mango juice instead of tomato! Add more heat! Try Sriracha! Give it Thai-inspired flavor! Add bacon! Turn it into a popsicle and lap up the alcohol as you wander through a park or relax on the beach. It's the drink your summer deserves, why mess with anything else? – Mark Shrayber
https://www.instagram.com/p/BVQiGRdg6bJ/

GIN AND TONIC
There is no cocktail more suitable for summer sipping than the G&T. The mixture of gin, lime, and tonic is like a symphony performing somewhere in middle America on a long summer's eve. I challenge anyone to find a better summer cocktail.
Putting taste aside, the cocktail also contains tonic. So, while you're getting your buzz on, you're also getting your quinine intake. Spend your summer drinking G&Ts and you'll never have to worry about malaria, leg cramps, and various other maladies. Plus, you can jazz it up by preparing it in a giant tulip glass and adding ingredients such as cucumber, cinnamon, nutmeg, lemon peel, pepper, or even curry powder, like the Spanish do. – Christopher Osburn
TEQUILA AND SODA
Last night I asked for a tequila soda, my hot summer day drink of choice, and the bartender wouldn't give me one. He wanted to make me a much more elaborate and elegant cocktail using Alto Plata tequila (which I love), in a display of his own skill as a mixologist. The drink he whipped up is called The Rollins Shuffle: A base of tequila, with some Montelobos mezcal for good measure, Ancho Reyes (read: chile liqueur), Liquid Alchemist ginger (read: ginger syrup), topped off with lime.
It was good. Great even. But that elaborate, elegant cocktail wasn't what I wanted! I craved the simplicity and freshness of straight-up, plain old tequila soda.
I wasn't always like this. My obsession with tequila and soda began when I went to a tequila tasting and dinner at Toca Madera in West Hollywood. Along with our modern, upscale Mexican food, we sipped on Altos' several varietals of tequila, and I fell in love. This tequila is one of the few that's made with 100% agave, it was was designed specifically by bartenders, who noticed a gap in the market and partnered with a family-run distillery down in Jalisco, Mexico at the Destilería Colonial de Jalisco in Los Altos. To say this tequila is made with love is an understatement.
Sticking with tradition, the brand created three tequilas: Plata, the clear, silvery and youngest tequila; Reposado, which is aged in whiskey barrels for 6-8 months; and the Añejo, which is aged in oak barrels for eighteen months. They are all delicious, but the one that stole my heart is the Plata.
Ever since I was a kid, I've always had a high-end palette, but as a journalist, I rarely have the wallet to support those rich tastes. To me, Altos was perfect, because it hit my love for luxury without breaking the bank, and the tequila itself was so crisp, tart, and silvery, I didn't even want fruit juice or other flavors in my drink. Just tequila, a little soda water (responsibility!), and lime. This has become my go-to staple over the summer, and I think it's due, in part, to tasting the tequila plain at the dinner and learning so much about the process behind it. Taking the time to learn about and understand what you're putting in your body can make the process of consuming it a lot more meaningful — even if it's something that seems as simple and lowkey as a tequila soda.
The next time your skin is sticky, the sun is out, and you need some refreshment, try this simple, smooth and sorta magic summer drink. You'll be in love before you know it. – Caitlin White
ENGLISH MILK PUNCH
All right friends, let me tell you about English Milk punch. It's the perfect summer cocktail and the most Steve Bramucci drink on earth. It takes days to make, it's smoother than the belly of a red-tailed salamander, and it's tons of fun for a cocktail nerd to geek out on.
Here's the deal: Boiling milk is added to a crazy alcohol/fruit/sugar slurry. Sounds gross, right? Well it stews for a few days (the rum punch concept) and then the milk solids are removed.
Here's the effect: The milk fat stays behind. This is some insane chemistry. The fat makes for a "rounded mouthfeel" — which is jarring and awesome. The drink feels specifically smooth on the palate — as if each molecule has been sanded down (the truth is that each molecule is surrounded by the littlest bit of milkfat).
You'll have knocked back a whole pitcher before you notice, but then… oh you will notice! If you don't want to experiment for a decade to get this right, you should visit Faith & Flower. They brought the drink back to the US in a big way and make the best rendition I've ever tasted. – Steve Bramucci
https://www.instagram.com/p/BBD2xVNgpMZ/?tagged=englishmilkpunch
BOURBON, NEAT
There is no bad time to drink bourbon. If it's 100 degrees or it's a single degree, it's going to do what you need it to. I'm a huge fan of summer drinks in general, and the more floral or refreshing the better, so you can throw me a Tom Collins, or a Pimm's cup, or a margarita, or a mojito, or a classic daiquiri, and I'll be happy. My issue always ends up being after the first one the sweetness or the tartness starts to get to me.
That never happens with bourbon to me. A pour in a glass, and then another, and another for good measure, and a summer day flies by. It's like a good pair of jeans or a worn-in travel bag: you always know what you're going to get, and it's always reliable. The disclaimer being I typically will drink at least one glass of water per beverage. It's important to stay hydrated, and it is the summer after all.
I'm not a snob about what gets poured into my glass (especially if someone else is pouring), but my old standby is Evan Williams Single Barrel. It's the sweet spot between being smooth and a bargain, and it never makes me feel overly pretentious. – Martin Rickman
BELLINI
Why should Bellini be voted the BEST summer cocktail? Because it's the most classic summer cocktail OF ALL TIME. Don't believe me? Well, maybe you'll be convinced by the KING JAMES BIBLE. That's right, the first reference to the Bellini is in the Old Testament just after Adam and Eve eat the forbidden fruit and doom humanity:
So he drove out the man; and he placed at the east of the garden of Eden Cherubims, and a flaming sword which turned every way, to keep the way of the tree of life. But forsake, his children completely, he could not. So he tapped them on the shoulder on the way out, and handed them the holy drink. 'Yo, what is this?' Adam asked of the sparking champagne glass in his hand. 'Behold,' the Lord sayeth. 'Tis a Bellini. Go forth and make of it the best summer drink in all the world.' And thus, Adam and Eve left that place, Bellinis in hand, to sow the land and bear children. Also, they created brunch. –Genesis 3:24
Some people claim that the Bellini was invented in Harry's bar in Venice in the 1930's or 40's. Those people are liars who believe fake news like "books" and "sources" and "experts" and "every historian and religious scholar who has ever existed." But I'm here to tell you: LIES. If you put a little peach juice on the back of the page in old bibles, it reveals the hidden Bellini recipe that was too controversial to be included originally. It's straight up Davinci Code/Nicholas Cagian history.
Truth bombs aside, the Bellini has prosecco and just a splash of delicious peach puree. WHAT MORE COULD YOU WANT???? – Allison Sanchez
WHISKEY & SODA WITH LIME
https://www.instagram.com/p/BVLi0PkFoWZ/
My love of whisk(e)y is known far and wide. So, yeah, I'm going with the classic, iconic, delicious highball Whiskey and Soda with a nice squeeze of lime. It really doesn't matter which whiskey you use here. I tend to go with a decent bourbon or blended Irish whiskey like Jameson. Some people love to use a 10 or 12 year old Scotch, but I find that to be a little heavy and this is a summer drink.
The recipe is one of the simplest out there. Fill a highball or collins glass with ice, add in two or three ounces of your favorite whiskey, top with a nice minerally and fizzy water then squeeze some fresh lime… Done. It's like a burst of sun on a rainy Irish day. The minerals in the water blend wonderfully with the fatty acids of the whiskey and then the citric acid of the lime ties the whole thing together in one perfect drink.
Plus, there's lots of water and no processed sugar involved. And that's just healthy. – Zach Johnston