Every year some of the wildest, most excessive, and downright absurd foods you'll ever hope to eat can be found at the state fair. Ingredients are fried that have never been fried before (rootbeer! cookies! cheese!) and meat is stuffed into other meat (and sometimes even other other meat) — as chefs take on a why-the-hell-not attitude. It's so much fun and perfectly encapsulates everything that makes going to the state fair such an unforgettable experience.
Texas throws a hell of a state fair. Iowa has a whopper. But there no state fair greater than the Minnesota State Fair. It's the largest state fair by attendance every year in the United States of America, and it's now fully open — with the fairgrounds welcoming guests starting on August 23rd.
This year the Minnesota State Fair is debuting 27 new food items to be served on their fairgrounds. We've selected the 10 that immediately caught our eye and where to find them. If the following isn't enough eye candy to satiate you, feel free to check out the full list here. One warning: Be sure to make sure you proceed through the list with your mouth closed. You can ruin a laptop with all that drool.
Bananas Foster French Toast – Hamline Church Dining Hall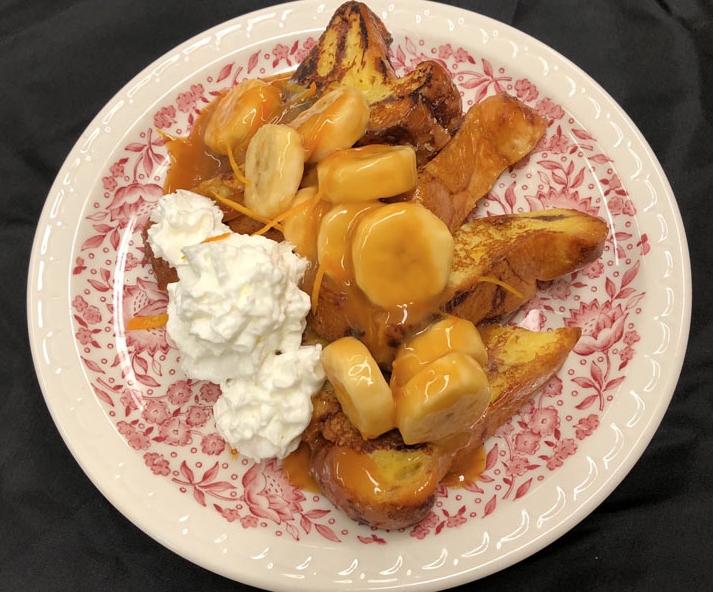 Located on the North side of Dan Patch Ave, the Hamline Church Dining Hall has a robust menu of breakfast favorites such as pancakes and sausage as well as some lunch and dinner food in the hamburgers and chicken and ham loaf, but this year theirs star is sure to be the Bananas Foster French Toast.
Available only for breakfast, the Bananas Foster French Toast consists of sliced bananas in an orange-rum-flavored caramel sauce atop cinnamon swirled pieces of French toast. It's the type of food that would normally make you feel guilty, but at the state fair it's just a quick carb-load to ready yourself for the extensive midway and attractions you'll be browsing.

Earth Wings – French Meadow Bakery Cafe
These vegan and gluten-free wings are made by the French Meadow Bakery Cafe, located on the North side of Carnes Ave. between Nelson and Underwood. Fresh cauliflower dipped in seasoned batter and then deep fried and smothered in an organic sesame BBQ sauce? Sure.
It's great to see the state fair branching out from meat stuffed in meat and adding some vegan and vegetarian options. The French Meadow Bakery is a local Minneapolis favorite that serves up a menu of all gluten-free, vegan, and kosher foods so if the brand new Earth Wings don't strike your fancy, there are sure to be croissants on croissants to choose from.
Firecracker Shrimp Stuffed Avocado – The Hideaway Speakeasy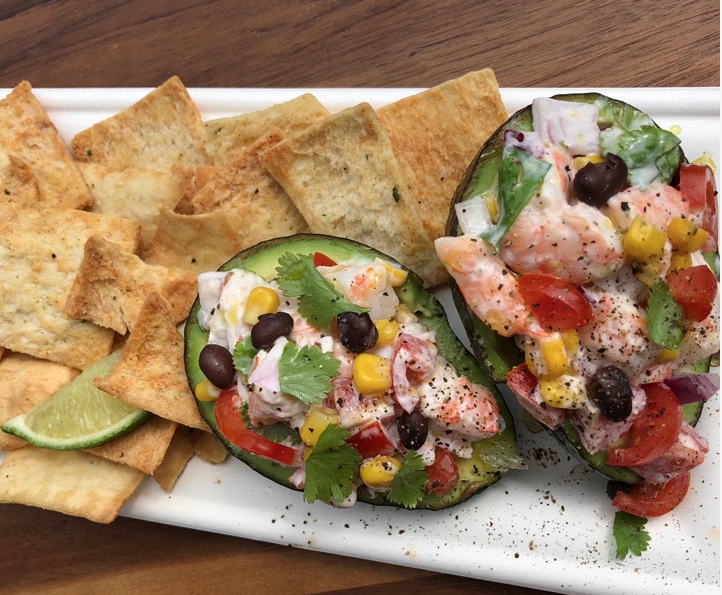 The Hideaway Speakeasy, located in the Veranda of the Grandstand's upper level in the northwest section is a great place to grab a beer or glass of wine. Until this year their menu was simple, just an assortment of paninis and breakfast ciabattas. But they're really stepping up their game this year with their newest addition: Firecracker Shrimp Stuffed Avocado. Gulf white shrimp marinated in lime with onion, black beans, tomato and corn served with a garlic aioli and topped with cilantro, served in the hollows of an avocado. State fairs really need to make more use of the avocado! T
he Firecracker Shrimp Stuffed Avocado very foolishly comes with flatbread — why they didn't opt for fried tortilla? We may never know, but regardless it's sure to be a hit this year.
General Tso's Chicken Taco Midtown Global Market's Taco Cat
Only available for a short window of time at this year's fair, Midtown Global Market's Taco Cat is bringing the brand new General Tso Chicken Taco along with other favorites such as cold press horchata and Nacho Fries to a booth at the International Bazaar from Aug 23rd to the 28th. The General Tso Chicken Taco consists of chicken deep fried and tossed with ginger, garlic, and soy sauce served on a flour tortilla with wonton crisps and green onion. With just one look at this Chinese food fusion taco, and you're bound to be salivating at the thought of sweet and spicy flavors dancing on your palate.
The lines for this one are sure to be long, so if you're lucky enough to be attending the Minnesota State Fair this year, remember that the General Tso's Chicken Taco is only available for a short window of time, just two days left!

Honey Cream Soda Float – Minnesota Honey Producers
There is something irresistible about the soothing fizz of carbonated beverages combined with ice cream. And the Honey Cream Soda Float by the Minnesota Honey Producers is no exception. Sugarless Honey cream soda poured over Minnesota grown honey ice cream combine to create a honey on honey float that is as delicious as it is natural.
Located on the north side in the Agriculture Horticulture Building, the Honey Cream Soda Float is sure to have honey lovers hyped this year.
Mangonada Shave Ice – Minnesnowii Shave Ice
Okay, to be honest at first glance we thought the little translucent orange balls atop the Minnesnowii Mangonada shaved ice were smelt eggs. Thankfully, they're popping mango boba! Located in the south section at the West End Market, Minnesnowii Shave Ice's Mango-flavored ice is drizzled with chamoy sauce, and dusted with taijin powder and served with a tamarind candy straw. This small shaved ice stand at the Minnesota State Fair is serving up some seriously multicultural fusion dessert food. Mango Boba, traditional Mexican flavors, and shaved ice? It's a melting pot of flavors that is sure to turn into a classic.
Nordic Waffles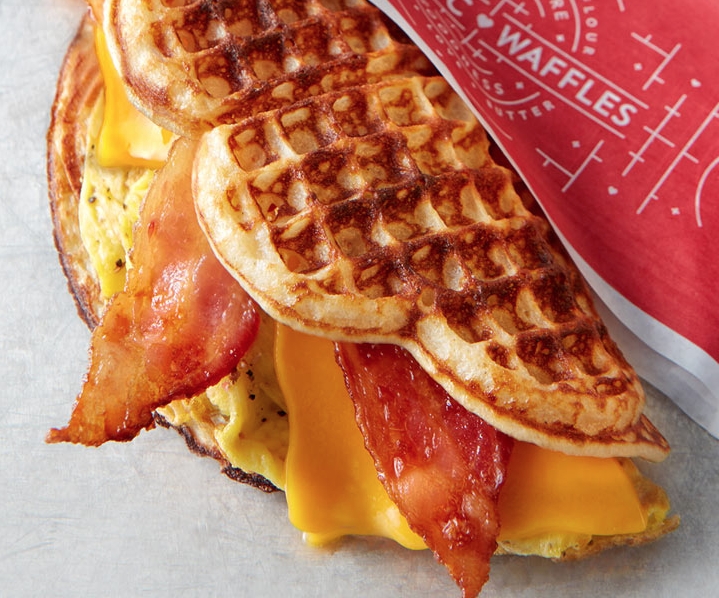 This! This is what state fairs are all about. Nordic Waffles, located in the West End Market serves up freshly made waffle wraps that manage to look delicious and deadly at the same time. Coming in seven varieties with kitschy names like Slammin' Salmon On-A-Stick, Vegetarian Viking, and All-Day Breakfast, Nordic Waffles bring the type of food that looks just right being eaten standing up, with Ferris wheels and glowing midways as the perfect backdrop.
It's the type of food that reflects fair culture perfectly: unhinged, decadent, and delicious!
Rainbow Cloud Roll – Rainbow Ice Cream
Okay, yes, the Rainbow Cloud Roll looks very very unappetizing, unless you're a child who still thinks colors are flavors. But we have to hand it to Rainbow Ice Cream, a small stand in the upper level of the Grandstand who managed to make a dessert that perfectly encapsulates the insanity of state fair food. Extra points to them for finding a totally fresh way of using cotton candy. The Rainbow Cloud Roll is three scoops of ice cream sprinkled with fruity pebbles and hand-wrapped on site in cotton candy. Choose from flavors such as the standard vanilla, strawberry, or chocolate, or go freaking HAM and just get the Superman flavor — it matches with this weird rainbow Frankenstein creation!
If you look at the Rainbow Cloud Roll and aren't down to try it, you should ask yourself if you're even truly down for the state fair.

Slider Flights – The Hangar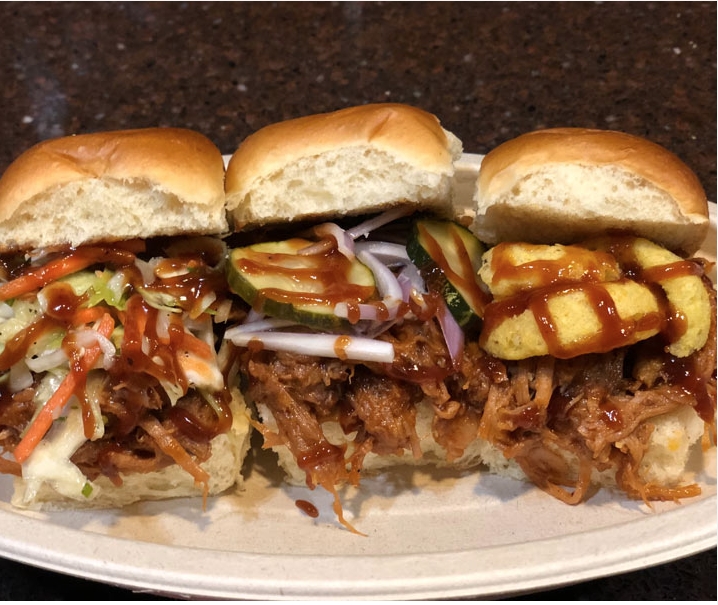 The Hangar building, located on the northeast corner of Murphy Ave. and Underwood street is serving up slider flights. Three flights of mouthwatering Brisket, Pulled Pork, and Bacon Burger sliders are a meat lovers dream. The Brisket Flight immediately catches our eye, offering three sliders topped with coleslaw, pickles and onions, and fried onions that you'll no doubt enjoy while watching all the free performances that take place in the Hangar.
Swedish Meatball Smörgås – The Blue Barn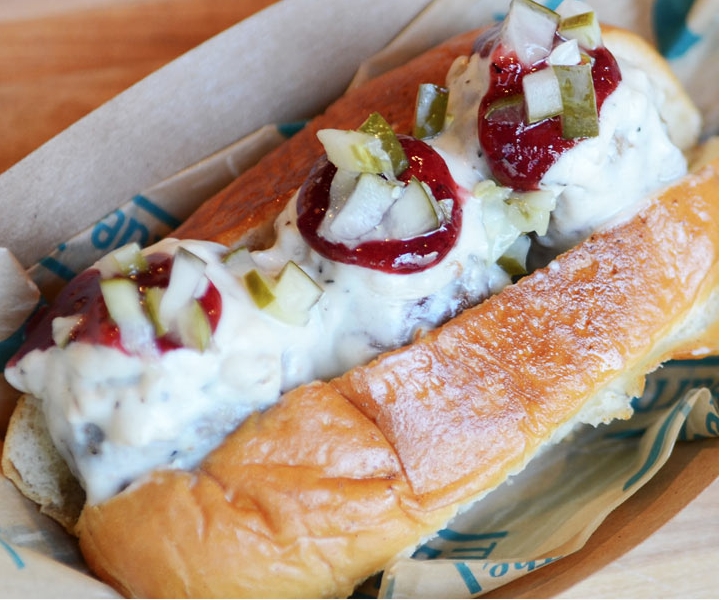 The Blue Barn located in the West End Market resembles, well, a big blue barn so chances are you won't miss it. Here you can grab some beers and hard ciders or a blueberry basil lemonade to go along with the new Swedish Meatball Smörgås. The Smörgås is just a meatball sandwich consisting of traditional Swedish pork and beef meatballs. This Swedish sandwich is drenched in white gravy and topped with dill pickles and lightly painted with lingonberry sauce. It's sure to be packed with savory goodness in every bite and is probably our #1 pick for fair eating.