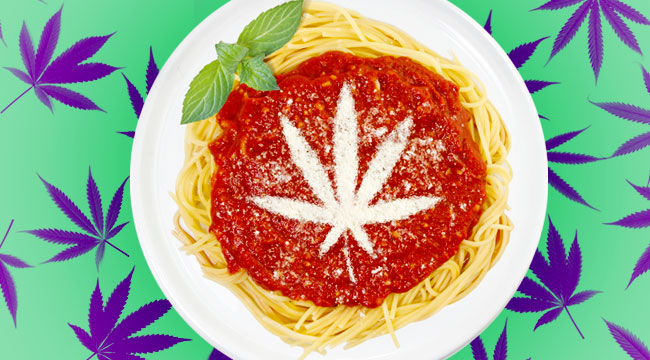 For the longest time, cooking with cannabis meant spending too long making cannabutter on your stove or in a crockpot so that it could be thrown into some brownies or Rice Krispies treats. It wasn't fancy but it got you baked and — let's be real — that was the goal. But increased legalization has led to refined cultivation that places quality kush in the hands of culinarians who see it as another ingredient to be explored in the context of their craft.
We gathered a list of ten people combining food and cannabis in creative ways that are heavy on quality ingredients and technique. These people have scads of knowledge to drop. Every single one of them would say that working with cannabis has sharpened their skills in the kitchen, too — because keeping dosages consistent requires hard science and strict measurements. At home, you can toss your THC-infused ingredients around willy-nilly and spend the night lying on the kitchen floor waiting for the dizziness to pass. But when people spend hundreds of dollars a plate they aren't looking to ride the linoleum.
Some of the chefs included have edibles lines, there are a few cookbook authors, and a ton of them host fancy ass dinners straight out of the best kitchens in the nation. This is a great primer for who to follow on social media (and whose events to attend) when you like your food to be capable of giving you a solid buzz.
Andrea Drummer
A legit luminary in cannabis cuisine, Chef Drummer established herself in the field in much the same way that most top chefs do: education and impressive employment. She attended Le Cordon Bleu College of Culinary Arts in Pasadena and went on to cook at the Ritz-Carlton in L.A. as well as under renowned chef Neal Fraser at Redbird and Vibiana. Her take on food is definitely creative and French-inspired, with a hefty dose of technique and a focus on locally sourced organic and seasonal ingredients. If you haven't tasted her food in LA, you may know her from Netflix's Cooking on High — she was in three episodes.
In 2012, Drummer's culinary life was forever changed when she was introduced to cannabis butter. After making her own, she continued experimenting and never lost her focus on creating high-end dining with weed. Eventually launching Elevation VIP Cooperative, Inc., the chef creates individualized catered meals for prescriptive clients, pairing cannabis strains with gourmet dishes. Think Blue Dream infused poached beet salad with goat cheese and pine nuts, seared duck with cauliflower and chanterelles and a blueberry gastrique infused with Blue Dream, and jerk-seasoned rib eye infused with God's Gift.
Stephany Gocobachi
Another San Francisco treat, Stephany Gocobachi is the founder of Flour Child Collective — an edible and topical company founded with Akhil Khadse of the famous Bi-Rite Market. She is committed to approaching edibles with the same high standards one would approach fine dining. Certainly, her mindset owes something to her education at New York University, where she majored in food sustainability and social entrepreneurship. Baffled that edibles in San Francisco, a city that otherwise takes artisan food culture quite seriously, weren't being made with the highest quality ingredients, Gocobachi made one of her main goals to only use the best fruit and cannabis flowers in her products.