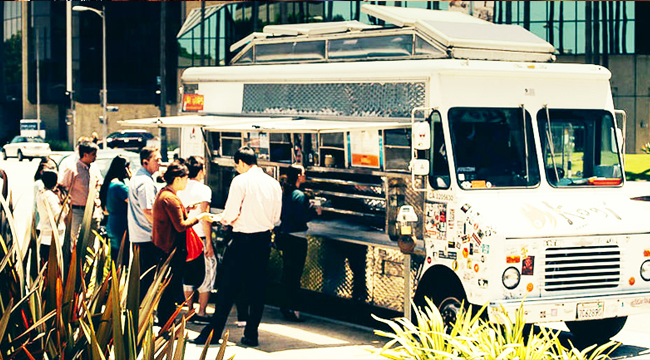 Food trucks and food carts are the gateway drug of the restaurant world. Their menus are designed to be laser focused and brash. We visit because we want something that surprises us and we want it fast. If it's good, we'll go back over and over. If not, there's always another truck around the block. There's no loyalty in this game.
A good mobile eatery can be an attention-grabbing revelation. And if that revelation is seasoned with a good dose of media savvy and drive, it can lead to a culinary empire. Celebrity chef Ludo Lefebvre put it this way, "You have the truck to 'master' a concept and build a loyal clientele. Being patient will pay off in the long run." For the chefs and entrepreneurs below, that patience and hard work paid off.
Taking that ethos to heart, we scoured some of our favorite food trucks and carts from around the country and found the ones that grew into something bigger. These mobile food concepts became mini culinary empires, beloved from coast to coast. If getting into the culinary scene, let these stories of success serve as a roadmap to taking that plunge. If you just love good food, then enjoy some great food porn. Either way, let's dive in.
KOGI KOREAN BBQ– Mark Manguera, Caroline Shin, and Roy Choi
Kogi started off with a simple idea — blend Korean BBQ with pan-Mexican foodways and add in a big dollop of social media savvy. Kogi's Kimchi Quesadillas and Short Rib sliders are the street foods of legends. Within two years of its launch, Kogi had five trucks spread across the LA sprawl and their social media presence was lauded by food critics and lusted after by newbies entering the scene.
In 2010, Kogi's collaborators opened up two brick and mortar spots in LA: Chego and A-Frame. The latter was opened in a retro-fitted IHOP for maximum LA kitsch value. Kogi installed a permanent truck at the Alibi Room in LA in 2011. And last year Kogi Taqueria opened up Palms in LA, giving the food truck its first proper brick and mortar locale. A second location opened shortly thereafter, inside El Segundo's Whole Foods.
There's no denying the cultural impact of Kogi on the food scene of Los Angeles and the wider food truck revolution that it spawned across America in the early teens. Then there's the star Kogi made of LA's own Roy Choi. Choi went from being a competent hotel chef to being one of the most lauded celebrity chefs of the past decade. He rolled his celebrity and success into several projects that supported his hometown, including the community-driven LocoL.
https://www.instagram.com/p/BXE-SqgAL4x/

LUDOTRUCK — Ludo Lefebvre
Ludo Lefebvre was a chef on the rise well before his breakthrough in the food truck world. He cut his teeth in the belly of high-end French bistros, then made his way to America to find gold and glory. Once the chef struck out on his own he redefined the idea of the "pop-up" with his transcendent LudoBites experience in Los Angeles.
In 2010, Chef Lefebvre took his hard-earned knowledge of the food world and rolled the dice with a fried chicken and biscuit truck called LudoTruck. His French take on fried chicken and his mind-boggling southern biscuit was a resounding success that led to two brick and mortar joints — called LudoBird — opening up in Staples Center and Universal Studios' City Walk by 2013.
Chef Lefebvre also embraced the celebrity chef path and has been featured on a long list of cooking shows around the world. He opened Trois Mec in 2013, and basically won all the awards and accolades a chef could ever dream of. A year later he opened Petit Trois next door to Trois Mec — a love letter to the food from around the world that Chef Lefebvre loves. It too was lauded as an essential dining experience in the LA food scene.
EGGSLUT — Alvin Cailan and Jeff Vales
Alvin Cailan started cooking eggs as a latchkey kid when he was tall enough to reach the stove top. At 15, he started washing dishes in restaurants to sate his love of being in the kitchen. After a stint at the Oregon Culinary Institute and Spago's Manhattan Beach spot, Chef Cailan found his inspiration at 30, when he ate a shitty breakfast sandwich at an LA diner one morning.
Chef Cailan sold his car, bought a food truck, and set out to make the best f*cking breakfast sandwich anyone has ever tasted. Eggslut was born. Chef Cailan and Jeff Vales had an ethos when they parked their truck in LA's hipper-than-thou Silver Lake neighborhood, "If people buy $7 coffee, they're going to buy $6 breakfast sandwiches." They were right.
The risk quickly led to nationwide acclaim, as people flocked to eat Chef Cailan's perfectly executed eggs in luscious breakfast sammies. Then came their coddled egg on potato puree and Eggslut entered legendary status. Now, the food truck has three brick and mortar locales across LA and one in Las Vegas. All of them have lines out the door, for good reason. You'll be hard-pressed to find a better egg anywhere.
SALT & STRAW — Kim Malek and Tyler Malek
Cousins Kim and Tyler Malek's story is one of pure Portlandia kismet. Kim Malek was looking for an out, after working for Fortune 500 companies; her young cousin was just starting out in culinary school up in Seattle. Both had a deep love of ice cream and their paths come together in Portland in 2011, when they brought the Salt & Straw food cart to the streets. The Instagram generation took note and Salt & Straw's ice cream became the internet's equivalent of a supernova.
Salt & Straw is famed for taking chances with flavors that ice cream lovers had only previously found in far away gelaterias on the streets of Italy. Pear and blue cheese, strawberry balsamic and pepper, and olive oil flavors grabbed hold of the Portland psyche so quickly that a Salt & Straw opened up a brick and mortar shop only three months after their humble cart debuted.
Today, Salt & Straw has expanded to nine shops in Portland, San Francisco, and Los Angeles and ships their ice cream all over the world every day in dry ice, allowing everyone a chance to partake. The Malek cousins most recent expansion is the Wiz Bang Bar in Portland which trades out the classic scoops of ice cream for soft serve and sundaes. It too is a hit.
HALAL GUYS — Mohamed Abouelenein
Back in 1990, Mohamed Abouelenein along with Ahmed Elsaka and Abdelbaset Elsayed opened a small hot dog stand at the corner of 53rd and 6th in Manhattan. Abouelenein toiled for two years, slinging hot dogs on that corner but never broke big the way he'd envisioned. In 1992, Abouelenein decided to shed his hot dog ways and embrace his heritage. Halal Guys was born and chicken and rice takeaway and gyros/schwarmas became a cornerstone of Manhattan street food.
Halal Guys still gets long lines at lunch time and stays open late enough to quench that dirty street meat craving we all have at 3 AM after a night of too many four-dollar shots of brown liquor. In the early 2000s, carts started expanding across New York as the popularity of the food surged. Then, in 2014, Halal Guys franchised.
Today, you can find Halal Guys in dozens of brick and mortar locations from coast to coast and in Eastern Canada. As of now, there are over 200 locations under development from the US to Canada to Indonesia, Malaysia, and the Philippines. It's a testament to the world of culinary carts that a hot dog stand can go from one corner in Manhattan to 200 locales worldwide based on some tasty chicken, rice, and yogurt sauce.
SKILLET DINER — Josh Henderson
Back in 2007, Chef Josh Henderson set out to make a lunch spot for chef-forward foods that hit on the abundance of Seattle's seasonal ingredients. He bought an old Airstream trailer and went to work. Chef Henderson shares an advantage with Kogi's founders: Hitting the right spot at the right moment. 2007 was a different time when social media was just starting to take its first breaths. Henderson's innovative and delicious food along with some social media savvy made his Airstream the place in Seattle to get lunch.
Skillet's burgers became the signature meal to order. Chef Henderson's bacon jam (focused on bacon fat, vinegar, and onion) became a nationwide hit and solidified Skillet's place in the food truck pantheon.
Over the course of the last decade, Henderson's operation went from his small Airstream to four diners across Seattle, a well-respected catering business, and a national product line based around the famous bacon jam. Each of Chef Henderson's diners keeps innovating while embracing the best foods Seattle has to offer with a decidedly pan-American flare. It's become an institution on the Seattle food scene — one that can't be missed.
MS. CHEEZIOUS — Brian and Fatima Mullins and M. Christian Dickens
Brian Mullins spent years opening restaurants all over the world, while M. Christian Dickens toiled in kitchens for big-hitting hotel chains like the Ritz-Carlton, and Fatima Mullins worked for nonprofits. While the three were on vacation in Las Vegas one year they decided it was time to pool their collective experiences and do something they all love and open up a food truck based around a nostalgic favorite — the grilled cheese.
In 2010, Ms. Cheezious opened in Miami and quickly became the busiest and most lauded truck in the city. Lines stretched down the streets and beaches as patrons waited for grilled cheese sandwich amped up to eleven. Brisket, pulled pork, pastrami and kraut, and mac 'n cheese layer grilled cheese sandwiches flew out of the truck.
Today, Ms. Cheezious has two food trucks on the streets of Miami and have expanded to two brick and mortar spots to sling their grilled cheese to a wider audience. The only question that remains is when these grilled cheese affcianados are going national.
TATANKA TRUCK — Sean Sherman and Dana Thompson
Chef Sean Sherman and his partner Dana Thompson found a wholly unique take on not only the food truck movement, but on the entire American culinary scene. Chef Sherman came up in classic kitchens across Minnesota, South Dakota, and Montana while Thompson worked in marketing, management, and media relations before deciding to take that massive plunge and go all in on their own concept.
In 2015, Sherman and Thompson worked with the Little Earth Community of United Tribes in Minneapolis to open the Tatanka Truck. Their aim was to fight obesity and severe medical issues plaguing the urban Indigenous population of Minneapolis, with Native food that reached back to pre-colonial times. Their concept was a smashing success and Chef Sherman's deft hand and creativity bore dishes Americans hadn't seen in a century or more if ever.
Chef Sherman and Thompson took the next step in the process and set up a Kickstarter to fund their first brick and mortar Indigenous kitchen, in what ended up being the most successful Kickstarter for a restaurant in the crowd-funding site's history. With a restaurant forthcoming and a new cookbook fresh off the presses, pre-Columbian Indigenous cuisine is set to take the American culinary world by storm.