A bowl of fried rice is one of my death row meals. I pretty much lived on the stuff back when I spent a year in Jakarta. The spicy fried rice wrapped in green-brown paper and made to order from pushcarts is a dish I still dream about to this day. And since I'm a world away from Indonesia, I end up making it on my stovetop far more often than I probably should — this isn't exactly health food.
There's really only one rule when making fried rice at home — use leftovers. That makes this a great late-night meal. Especially if you've had a drink or two.
First, you need day-old white rice that's cooled in a fridge. This is an unavoidable truth of great fried rice. From there, it's all about building umami, funk, spice, and texture. My ethos for what kind of fried rice I'm making comes down to what's leftover and how rich I want it to be.
In this case, I had some skirt steak and steamed broccoli — so I'm making steak and broccoli fried rice. Do you have some leftover rotisserie chicken? Use that. A little ham left after a Sunday roast? That's perfect with eggs. Are there leftover steamed clams and mussels in the fridge from last night's take-out? Throw it in there! It's really that simple.
Beyond the main protein and veg in your fried rice, I like to keep the base pretty simple, work fast, and build a funky and umami base. Let's get into it.
Fried Rice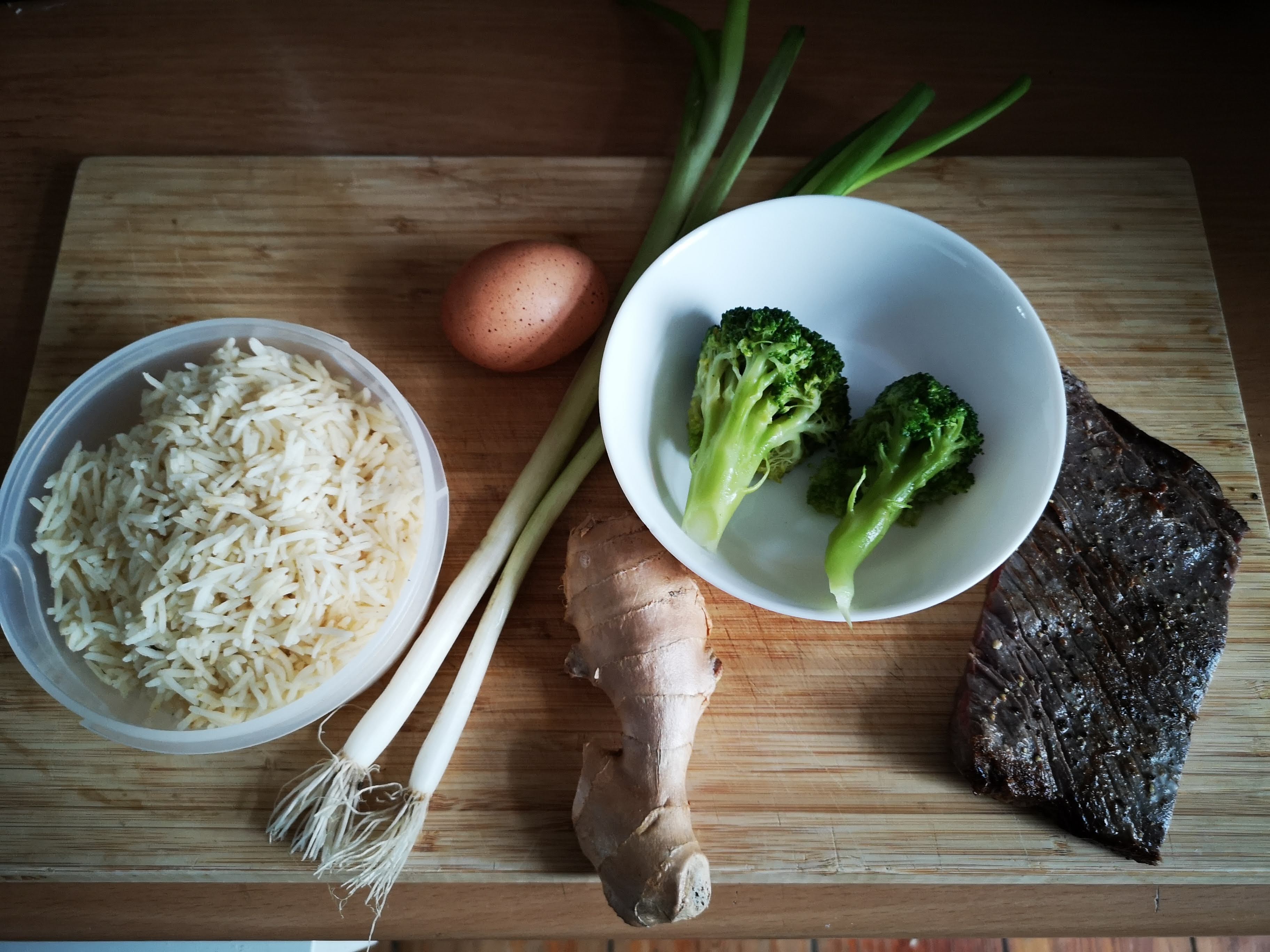 Ingredients (for two servings):
1.5 cups cooked white rice
2 green onions
1/2-inch fresh ginger
2 florets of steamed broccoli
3-oz. skirt steak (cooked)
1 large egg
1 tbsp. sambal olek
1 tbsp. soy sauce
1 tsp. fish sauce
1 tsp. oyster sauce
1 tbsp. unsalted butter
White Pepper
MSG
Chili oil
White sesame seeds
Neutral oil
First, I'm putting measurements for the sauces above but I've never measured them out. I use a few dashes of fish sauce, a glug of soy, a dollop of sambal olek, etc. You need to dial in these measurements for your palate. The overall point is to build umami while adding in a little funk.
I had leftover jasmine rice, so that's what I'll. I cooked my rice in a pot on the stove in veg stock so that it has a little more savory depth. Cook your rice how you want but make sure it's well-seasoned before it's put into the fridge overnight.
The rest is pretty straightforward. I'm using a light onion for the base with fresh ginger. You can 100 percent add garlic if you want. Do you have some galangal lying around? Put it in. The point of fried rice is that it's your recipe. I like mine more on the nasi goreng side of the fried rice spectrum and that's why I'm using sambal olek and chili oil to keep things spicy.
This is simply a roadmap of sorts to a good bowl of fried rice. The exact specs are yours alone (my editor insists on Thai basil).
What You'll Need:
Nonstick pan
Kitchen knife
Cutting board
Wooden spoon
Bowl
Fine grater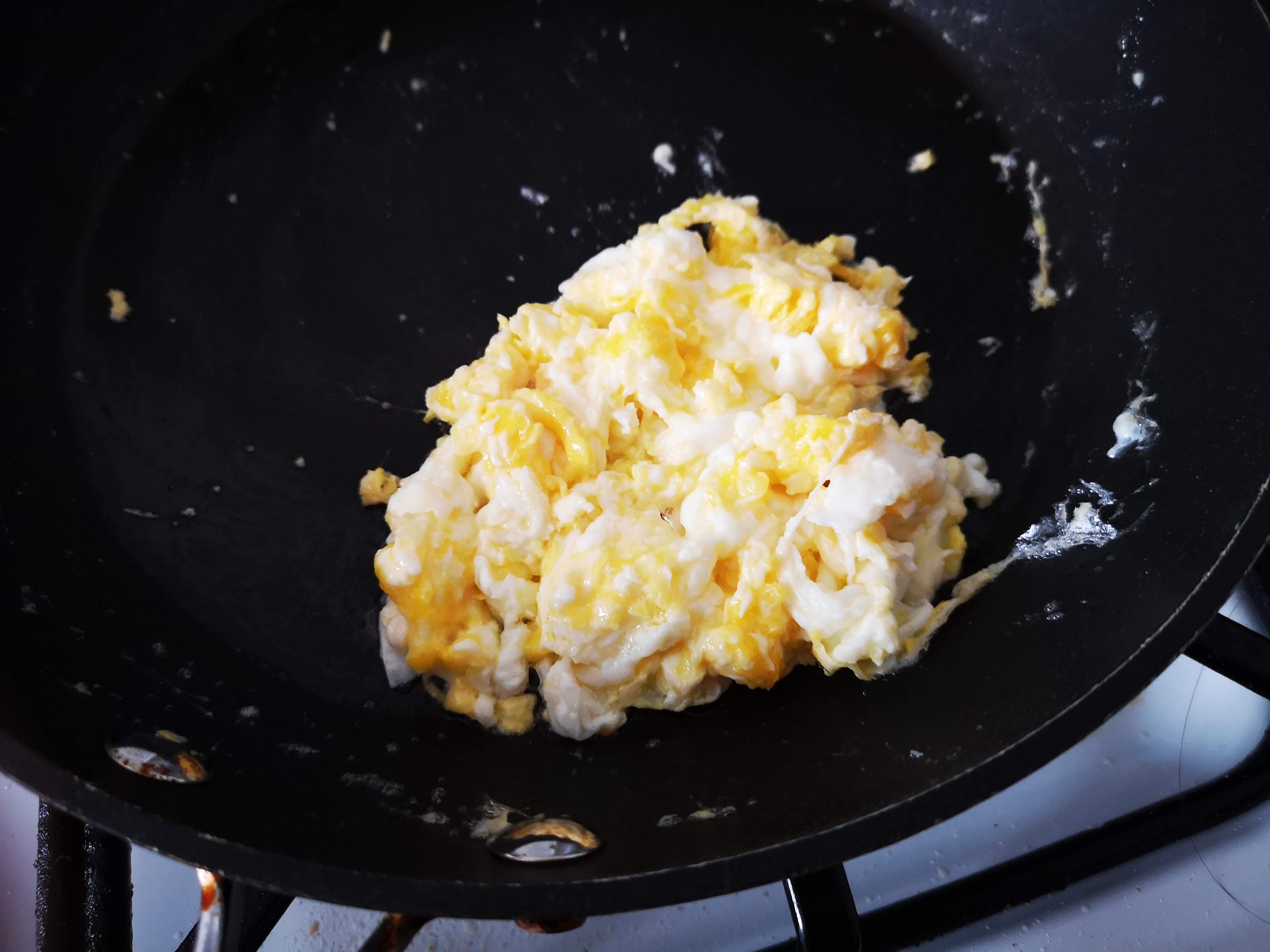 Method:
Prep your ingredients: Thinly chop the whites of the green onion, grate the ginger, cube the beef, and roughly chop the broccoli.
Chop the greens of the green onion and set aside for later.
Heat a small glug of neutral oil (I used sunflower) in the pan.
Crack the egg into the hot pan and immediately use the wooden spoon to scramble the egg. As soon as it sets, remove it to a waiting bowl.
Add another glug of oil to the pan. Turn up the heat to high and drop in the green onion whites, ginger, beef, and broccoli.
Add the fish sauce and use the wooden spoon to move everything around so it heats through evenly.
As soon as the onions turn translucent (about a minute or so), add the rice, soy sauce, oyster sauce, sambal olek, a few shakes of white pepper, and a pinch of MSG. Use the wooden spoon to integrate everything.
After cooking for about another minute, lower the heat to medium-low or low and add in the butter and scrambled eggs. Stir until the butter is completely melted into the rice.
Use the wooden spoon to pat the rice down gently.
Let the rice cook, untouched, for a few minutes to create a lightly browned bottom to the rice.
Kill the heat and stir the crunchy bottom into the rest of the rice.
Scoop the rice into two waiting bowls, drizzle with chili oil, sprinkle with sesame seeds, and garnish with the green onion tops.
Serve.
Bottom Line:
Let's start with the texture, using butter (which is Roy Choi approved) to help the bottom of the rice brown really adds the x-factor. You get the softness of the fried rice juxtaposed with crunchy and buttery kernels of rice here and there. It's a nice touch.
The steak was medium rare when it went into the pan. Since the cooking time is pretty short, it's still tender and juicy but just above medium now. It's beefy, soft, and provides another nice textural element.
The broccoli, onion, and ginger add color, sweetness, and heat in that order. The eggs are soft with an edge of butteriness.
The dish really shines in that it's mildly spicy with soft warmth at the top that slowly builds to a mild buzz by the end of the bowl. This marries really well with the layers of savory soy, almost-sweet oyster sauce, and the funk of that fish sauce at the base.
I'm not gonna lie, I ate both servings of this without any hesitation. It's freakin' delicious, took under ten minutes to make from fridge to plate, and left me wanting more.