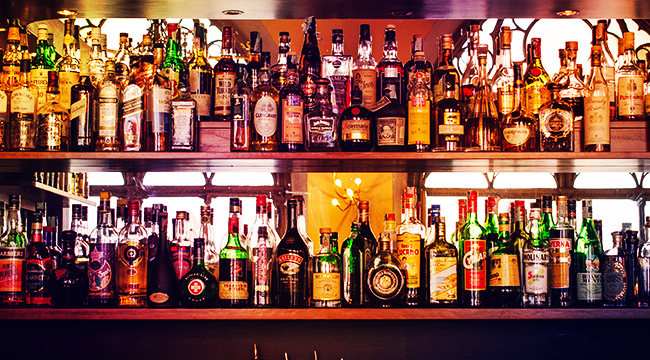 In the cocktail world, the spirit is king (or queen). That's because when we're perusing drinks menus our eyes are usually drawn to the spirits we enjoy before any of the other ingredients. If we like whiskey, we'll definitely opt for that take on the classic Manhattan featuring walnut bitters. If we enjoy tequila, we'll look for a playful alternative to the usual Margarita or Paloma. If we favor vodka, we'll look for pretty much anything with "mule" in its name.
But if we only look towards any given cocktail's main spirit (or spirits) we'll overlook some of the other key ingredients that give our favorite mixed drinks the unique flavors we think about on Friday afternoon as we watch the clock slowly tick towards quitting time. These ingredients include various herbs, shrubs, bitters, and, most importantly, liqueurs.
Bartenders swear by liqueurs, whether in the recipe of a new, seasonal cocktail or as an after-work team-building shot. That's why we asked them to tell us their favorites. From Fernet, to St. Germaine, these are the liqueurs that bartenders swear by.
Cherry Heering
Alli Torres, Bartender at Refinery Rooftop in New York City
"Cherry Heering has always been a go-to for me. I love the deep flavor without compromising the integrity of a cocktail or making it overly sweet. Splitting a Manhattan or a Blood & Sand with it has been a crowd pleaser move I've used in a handful of menus. Stirring in a spoonful can go a long with adding flavor and a dash of viscosity."

Green Chartreuse
Nahm Kim, beverage director at Sunda in Chicago
"Green Chartreuse. It isn't just a liqueur. It tastes more like an elixir — a potion from a different era. Distilled by French monks utilizing a secret recipe which is known by only two individuals in the world at any given time, it's known to contain over 130 different types of plants and seeds in each bottle. A sip of it neat presents peppery bites of savory green herbs buoyed by warm flashes of cinnamon and a soothing, honeyed mouthfeel. Pure magic and mystery in a glass."
Benedictine
Jack Keane, general manager at Sundry and Vice in Cincinnati
"What's my favorite liqueur why? No question, Benedictine. It's the most versatile and the classic cocktails it makes are the most satisfying."
Licor 43
Kevin Zadoyan, owner of of Te'Kila in Los Angeles
"Licor 43 is quickly becoming my favorite due to its versatility. My favorite application so far is pairing it with our house-made horchata."
Elisir Novasalus
Evan Danielson, beverage director at City Winery in Nashville
"Elisir Novasalus. While technically an amaro, this falls into the same family as Malort, and holds a similar purpose. It's great for brutalizing the palate and wrecking the uninitiated. I'm a fan."

Firelit Coffee Liqueur
Gavin Koehn, bar manager at Otoño in Los Angeles
"My good friend Jeff Kessinger makes a coffee liqueur called Firelit that I can't get enough of. I've never seen someone put so much attention to detail in a coffee liqueur and it really shows. I drink it over ice after dinner, or in an espresso martini if I need something to wake me up."
Fernet-Branca Menta
Andrew Holmes, director of food & beverage at 8UP in Louisville
"What's my go-to liqueur brand? Fernet- Branca Menta is easier to approach than Fernet — with a strong presence of mint and a sweeter profile. Great straight or with cola. Refreshing and easy."
Campari
Shawn Stanton, bartender at Public House in New York City
"My favorite liqueur has to be Campari. You can drink a lot of it, it's bitter, and it makes a great addition to most cocktails."
Kahlua
Lacy Hawkins, brand ambassador for Monkey 47 Gin
"I really like sipping on espresso martinis and Kahlúa is a must have for that cocktail. I also have a soft spot in my heart for White Russians (sometimes you just need to have one) and I love the delicious coffee, vanilla and subtle chocolate notes of Kahlúa, making it one of my all-time favorite liqueurs."
St. Germaine
Crystal Pavlas, head bartender at Bywater American Bistro in New Orleans
"That's a tough one but I think I'm going to go with St. Germain. It's always a crowd pleaser especially in a spritz and is an excellent representation of what my neighborhood in New Orleans smells like in the summer."

Giffard's Abricot du Roussillon
Felipe Ojeda, beverage director at The ScapeGoat in Miami
"Lately, I've been using Giffard's Abricot du Roussillon — an apricot liqueur that is just out of this world! It has a rich viscosity and complex flavor that is beyond just a sweet liqueur. It drinks almost like a brandy by itself but makes for quite the mixer in rich flavor cocktails."
Zabov Zabaglione
Bryson Downham, beverage director at Toups South in New Orleans
"Right now I'm loving Zabov Zabaglione, an egg-yolk and brandy liquor from Italy. It's sweet and rich, with a super thick texture. It can be difficult to emulsify in cocktails, but it morphs the flavors of a drink in unique and unexpected ways. It's more transformative than it is additive, which makes it a lot of fun to play around with."
Don Ciccio & Figli Limoncello
Benjamin Rouse, bar lead at Henley in Nashville
"Don Ciccio & Figli Limoncello. This is the perfect spring and summer addition to any cocktail to brighten it up without making it overly sweet. Try it on the rocks, you'll thank me later."

Aperol
Kia Tilmon, head bartender at The Roof in New York City
"The liqueur that is a versatile favorite of mine is Aperol because you can use it in a variety of cocktails. I use Aperol in Paloma's, Aperol Spritz, Boulevardiers just to name a few."