Like any other industry, the world of travel is shaped by trends. This is particularly true in the Instagram era — when a few photos by prominent personalities can lead to entire islands shutting down. Backpacking tastemakers quickly turn sleepy towns into hippie havens then tourist hot spots, we've seen it in Tulum, Bali, Palawan… the list is long.
To a certain degree, it's all of our responsibility, as travelers, to fight against this. To seek out the less-Instagrammed corners of the world. And to be constantly aware that our adventures have an impact — positive or negative — on the local residents of the places we visit. But none of that precludes the desire to know what's next. Everyone's naturally eager to be keyed into the most hype-worthy destinations.
With the 2019 Uproxx Travel Hot List launching next month, we reached out to some of our all-time favorite travel personalities, influencers, and photographers (plus our own team of writers) and asked them about their favorite adventures of 2018. This is a sort of litmus test — a sampling of where the boldest vagabonds we know ventured off to this year. The answers we got back are sure to offer plenty of motivation for your next trip.
–Steve Bramucci, Travel Editor
Chelsea Yamase — Photographer, Influencer, and Writer
Moab, Utah
My first time highlining in Moab, Utah was definitely the most memorable and emotional adventure I had this year. It's something I've been working towards both mentally and physically for a while now, but I couldn't have ever anticipated how much it would make me FEEL. Four hundred feet up in the air, dangling between canyons on a piece of webbing the width of two of my fingers —with my friends singing and cheering and encouraging me through my fear — it was exquisite.
Jordan
There's something so magical and surreal about the landscapes in Jordan, particularly the Dead Sea area and the Wadi Rum desert, that I consistently consider it my favorite trip I've done this year. It was the kind of place that made me not only pause but stop in my tracks and lay down to look at the stars. It's the most creative I've felt this year and I think what they say is true – certain places just naturally inspire art.
Check out more of Chelsea's adventures here.

Travis Burke — Photographer
Under the stars
The Super Blue Blood Moon that happened on January 31 was definitely the most meaningful adventure of my year. We put in over 50 hours of work to scout the location and plan out all the logistics to get this one shot that we only had a few seconds to capture. This project was about more than taking a unique photo — I really wanted to feature a father and daughter to represent the passing of his appreciation for the environment and the next generation's responsibility to protect it.
This astronomical event hadn't happened in over 150 years which is why it was such a once-in-a-lifetime opportunity. After all the hard work, everything lined up in those final seconds to make a moment that I will remember forever.
Indonesia
This August, I had the opportunity to spend four weeks traveling throughout Indonesia to super remote places that I had never been before. There were a number of reasons this trip was so inspiring. First, the people we got to meet and spend time with left a lasting impression on us all. It was incredible to see a culture so disconnected from modern technology and get to share an afternoon together on the slackline and hanging out on the beach.
In addition, the diversity of the landscapes in Indonesia never ceases to amaze me. There were so many different types of beauty — from the Raja Ampat Islands to beneath the surface of the ocean. This leads to my final reason: The underwater experiences we had were some of my favorite of all time. Everything from freediving with whale sharks to visiting a lake filled with stingless jellyfish to exploring a place called Mirror Lake, where fresh and saltwater mix to create some of the clearest water conditions I have ever been in. It was an incredible trip.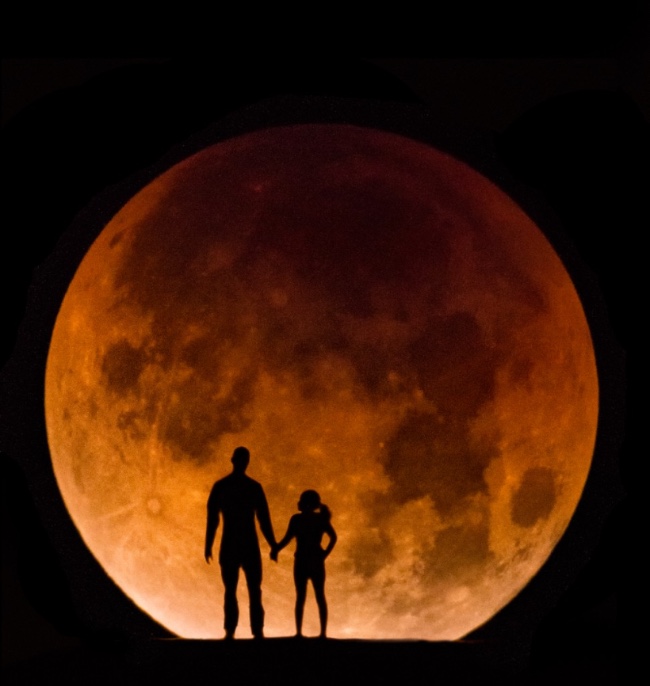 Check out more of Travis's adventures here.
Ciara Johnson — Travel Writer and Influencer
Iceland
This year I had the opportunity to road trip through Iceland with my best friend and it was one of the most magical travel experiences I've had to date. We rented a camper-van — which acted as our transportation, accommodation, and kitchen — for five days. The scenery got better and better as each day passed and there were moments where I couldn't believe my eyes. We've all seen many pictures of Iceland on social media, but the reality of this place far exceeded my expectations. A photo could never capture the sheer magnitude of the mountains, waterfalls, glaciers, and otherworldly landscapes that we witnessed.
La Paz, Mexico
To be honest, I'd never heard of the city of La Paz, Mexico, but I'm so glad that I gave it a try. La Paz is located in Baja California Sur, and it's extremely low-key. I got the chance to swim with whale sharks and sea lions in the most crystal clear water I've ever seen. I was impressed with the contrast of desert, sea, and mountains in this small region. I've visited Mexico many times, but this place definitely stood out to me!
Check out more of Ciara's adventures here.
Don Wildman — Host of Mysteries at the Museum on The Travel Channel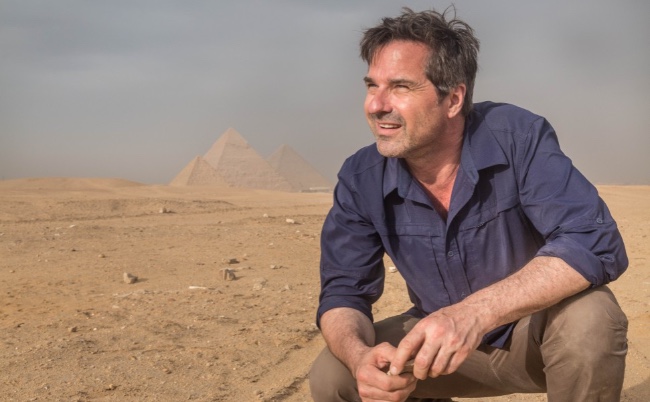 Space… in a simulator
Coolest adventure of 2018? My inner ears! Back in April, we shot a Space Race special for Mysteries at the Museum, tracking the 1960's superpower sprint to the moon. To demonstrate Neil Armstrong's remarkable cool-under-pressure during his infamous Apollo 8 crisis, I climbed into a Texas-sized centrifuge in San Antonio to experience what multiple G-forces do to the human body. Here to testify: it's not pleasant, but, oh, is it memorable. Though strapped securely into my cockpit seat while rotating on a single plane, I could have sworn that I'd climbed steadily into the atmosphere on a 30-degree angle as my body grew heavier at every moment, then suddenly plummeted head-over-heels through the air as we finally slowed to a stop.
This created a sensory illusion — thanks to my trusty inner ears and utterly confused brain. I was still flipping inwardly (and thus retching into a sick-bag!) when the kind technician calmly opened the hatch and inquired if I wanted another go-round. I could see my producer behind him begging me with his eyes so I indulged, just to be able to hold it over him for the rest of his life.
Major takeaway? Neil Armstrong was a far bigger stud than I'll ever dream to be—and that goes for every other astronaut, male or female, who has left Planet Earth.
Egypt
I adore Egypt. I love the place and, even more, I love the people. Every time I return I wonder why Americans aren't swarming the famous sites. These days, one of the world's most profound archaeological draws, Luxor and the Valley of the Kings, is terribly under-visited when it is still (as it's always been) a region cram-packed with experiences fundamental to understanding human civilization.
My best day in Egypt in 2018? The hot-air balloon trip at dawn over the Valley of the Kings that begins in darkness (with fires ablaze and shouting men in galabeyas holding down the gondolas), then swiftly becomes an utterly silent, hour-long journey over some of the most breathtaking landscapes of ancient man—truly, something to behold.
Check out Don's adventures here.
Padma Lakshmi — Host of Top Chef
Bhutan
I went to Bhutan this year and it was just spectacular. I was able to climb up to the tiger's nest, Paro Taktsang, and I had a beautiful spiritual moment up there which is hard to describe. I think Bhutan is this beautiful hidden jewel of a country, nestled in the Himalayas between these two giants, you know, India and China. And the nation has a negative carbon footprint — which is unbelievable, especially when you consider who they're wedged in the middle of.
Everybody was warm. Everyone was really friendly and had a great dignity and charisma to them. It's one of the best trips I've taken, if not the best of my life.
Check out Padma's adventures here.

Steve Bramucci — Uproxx Travel Editor
Australia's "Top End"
I've been to Australia's Top End — in the northern part of the Northern Territory — five times in my life and it literally never disappoints. This go 'round, I returned to Litchfield National Park to jump off of waterfalls, visited Gunlom falls in the massive Kakadu National Park, and spent plenty of time basking in the endless swimming holes of Katherine Gorge. I also attended an Aboriginal Food Festival and marveled at the unique flavors and techniques used in the region.
Australia's Top End is the sort of big, brawling, wild adventure you always dreamed of as a child. It's "Down Under" at its most wild — with crocs and roos and endless wilderness. If you like your adventures turned up to 11, you should make a point of visiting ASAP.
Miami
Maybe I'm being biased (because I'm literally writing this from the lobby of the Stanton South Beach) but I just love Miami. I visited twice this fall and I can't think of a place where you can get outdoors, see art, eat top-notch food, and party your freaking head off all in one day with so little stress. Sure, you can do that in LA, but the traffic between stops might literally kill you.
This latest trip, I marveled at art in Wynwood (yes, the much-hyped arts district lives up to its rep), partied in South Beach at Bodega (a hidden bar inside a taco shack!), and rode bikes along the boardwalk until my legs felt weak. I also swam, in trunks, in mid-December. Tell me where else you can do that in a 24-hour stretch!
https://www.instagram.com/p/BrjKMi1htRe/
Check out more of Steve's adventures here.
Alivia Latimer — Photographer and Influencer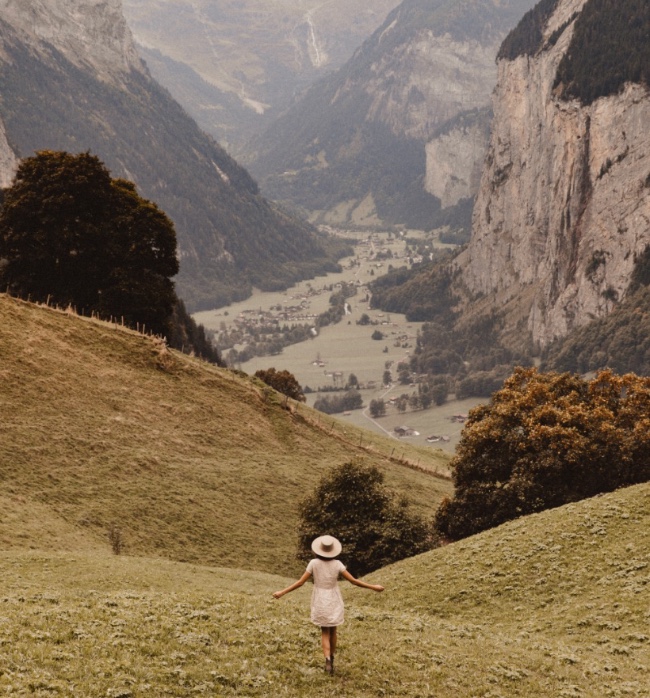 Sierra Leone
I would have to say that the most meaningful adventure I had this year was a 10 day trip to Sierra Leone, West Africa. I had the privilege of returning to this beautiful country for the second time this past May, to document the work of two non-profits — Sierra Leone International Mission School and Education Cures. Both non-profits strive to help change the cycle of poverty in the community through education. It was such a humbling experience, being immersed in a culture so different from my own. While Sierra Leone is one of the hottest, most humid places I have ever been, it is such a special little country. Home to the happiest, most joyful humans I have ever encountered. Such a great reminder that travel, and life itself, isn't always glitz and glam — but rather unforgettable and impactful experiences.
Switzerland
A place that really surprised me in 2018 was the entire country of Switzerland. I went into it with very little knowledge of the country, the culture, and really had no idea what it even looked like! However, I was SO surprised by Switzerland's beauty. Maybe it's just my own perspective, but I think that Switzerland is highly underrated! It was by far the most gorgeous country I have ever laid my eyes on. There is an abundance of green rolling hills, vast mountains, and Gatorade blue lakes around every turn. Each and every town I visited was full of the cutest old wooden buildings, local children playing outside, and also had some really spectacular pizza and pasta. Overall, I really can't get over Switzerland.
Check out Alivia's adventures here.
David Duran — Travel Writer and Influencer
Mount Kilimanjaro
Summiting the top of Mount Kilimanjaro this past July was without a doubt, life changing. I pushed myself hard and accomplished something I never dreamed I could do. Standing at the top, watching the sunrise, only to see a white blanket of clouds below me was surreal. That was the first time in my life that I instantly cried from seeing something so naturally magnificent. That moment was part of a 30-day, 5-country trip across the African continent, and although cage diving with great whites, walking with elephants and enjoying cocktails on a Zanzibar beach were once in a lifetime experiences, reaching that summit was my best moment of 2018.
Argentina
I recently had the pleasure of sitting down with legendary winemaker, Alejandro Daniel Pepa at Bodega El Esteco en Cafayate, Argentina. As we sat around a white linen tablecloth, at the winery's hotel on property, enjoying his wines (my favorite being the El Esteco Don David Malbec Reserve 2016) I couldn't help but fall in love with my surroundings. The glimmering turquoise pool directly in front of us was competing with the mini-corral filled with three gorgeous horses in the corner. I kept silently repeating to myself, "I could live right here, in this exact spot." Maybe it was my namesake wine that tipped the scales, but that place was magical.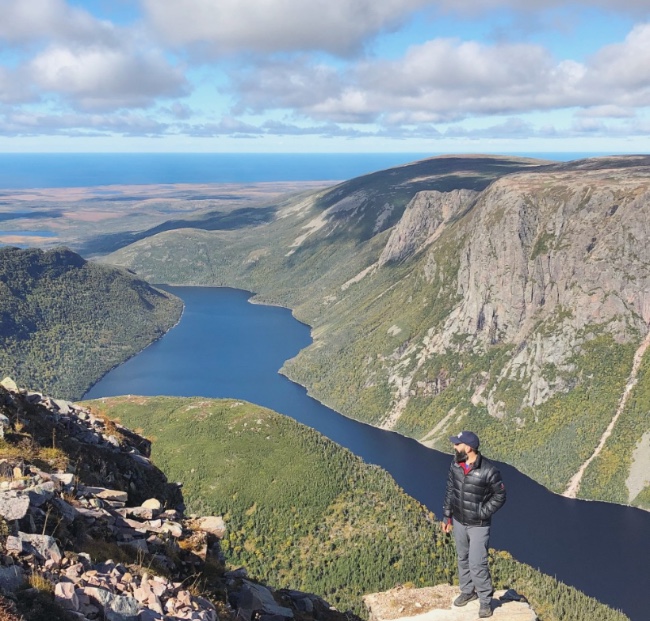 Check out David's adventures here.

Marie Fe and Jake Snow — Photographers and Influencers
Jordan
The Lost city of Petra in Jordan — the only word I can think of to describe the feeling of walking through the red stone gorge into the first opening revealing the Treasury is 'Breathtaking'. Walking around the city and climbing up the rocks, you're sure to find hidden caves that make you feel like a kid again on the set of Indiana Jones.
Turkey
Cappadocia, and actually Turkey in general, was a major standout for us. We are usually beachy, tropical kind of people and so most of our favorite places are near the beach. But Cappadocia was just absolutely incredible, maybe our favorite place we've ever been. The people are so friendly, the food is awesome and the landscape with all the hot air balloons is just magic. Like a real-life fairytale. We got engaged there, and the morning after we became engaged we took a hot air balloon over the ancient township. We were floating above one of the most insane landscapes we have ever witnessed with over 100 other balloons. The sunrise was absolutely perfect. We couldn't have asked for a more beautiful engagement present.
Check out Marie and Jake's adventures here.
Daniel James — Photographer and Writer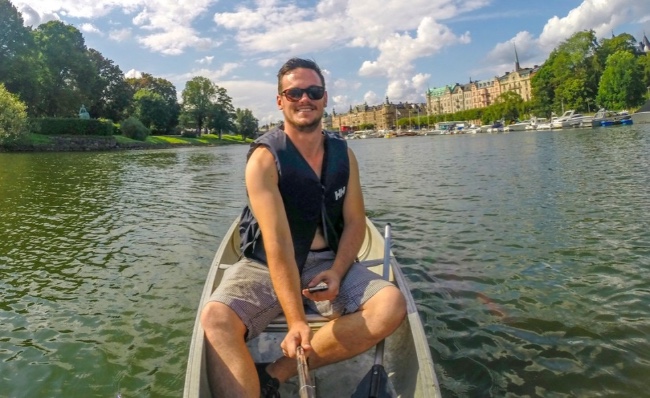 Italy
I traveled a lot in Italy this year, especially to the Trentino and Emilia Romagna regions, and tried to stick to less obvious spots than Rome or Venice. I love everything about the Italian way of life, and in Bologna, I found a city that I could easily call home. I can't quite say why, but from popping out for my morning coffee and chatting with the baristas, to my nightly Negroni at the bar across the street, it's a city that just felt like home as soon as I arrived. You don't only travel to Italy; you very much need to 'live it' – and I'm hoping to spend an extended amount of time in 2019 in the region.
Mauritius
Mauritius was a total surprise for me (having only previously viewed it as a beach destination). What I discovered though was a diverse landscape of epic hikes, hidden waterfalls, and local markets with fantastic cuisine. It obviously has fantastic beaches, but even with a category 3 hurricane passing through on a couple of days, the trip was excellent. I found so much to keep me entertained and exploring.
Check out Dan's adventures here.
Robert King — Photographer
Columbia
Earlier in the year, I had a chance to visit Colombia. I spent 2 days in Bogota, 5 days in Medellin, and a week in Cartagena. Medellin is probably one of the coolest cities I've been to in the world. The city has evolved so much over the past 20 years. Visiting commune 13 in San Javier was such an experience. It used to be one of the most violent and dangerous neighborhoods in Medellin, notorious for gang wars and the Medellin cartel, but it has transformed into an artistic escape where art is woven into the streets and buildings. Graffiti contests are held yearly drawing artists in from all over the world.
Fiji
I had the opportunity to visit Fiji for the first time and it blew me away. I stayed on Namotu Island and each day was jam-packed with adventure. The island is a 20-minute boat road from Cloudbreak, one of the world's best surf breaks. The reefs there are packed with wildlife and the people there are so happy it's impossible not to enjoy yourself. I think Fiji was the first place I've been to that I'm already excited to go back to. I'm also a big rugby fan and the Fijians love their rugby! We would stay up late to watch the Rugby sevens tournament and it was such a fun cultural experience.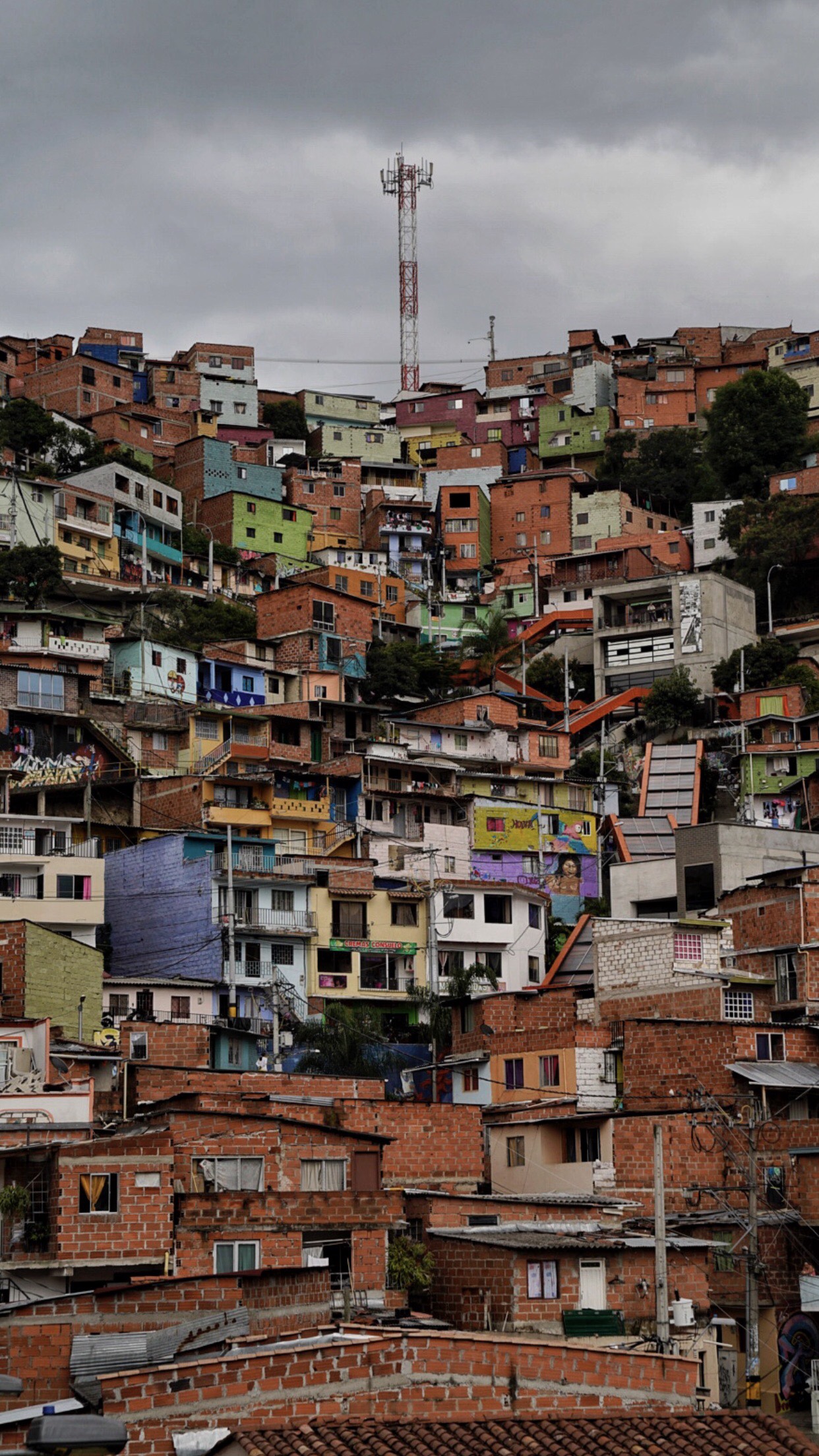 Check out Robert's adventures here.

Tiffany Nguyen — Photographer and Influencer
Vietnam
The most meaningful adventure I had this year was definitely my trip to my family's homeland of Vietnam. Exploring Vietnam was a passion project of mine for as long as I can remember. Being able to share my story of connection and discovery (as I traveled through the homeland of my native culture) meant so much to me. There was no shortage of inspiration across the country and this bridge in Da Nang was definitely one of my favorite locations I've photographed in a long time.
Manitoba, Canada
The place that surprised me the most in 2018 was Churchill, Manitoba. I had never heard of Churchill before my trip, but I was completely blown away by the unique and diverse landscapes there. Churchill is not only the polar bear capital of the world but it's also home to Beluga whales as they migrate across the ocean. These curious creatures swam right alongside us as we paddled on the Hudson Bay and it's an experience I'll be thinking about for years to come.
Check out Tiffany's adventures here.
Kellee Edwards — Host of Mysterious Islands on The Travel Channel
Sapelo Island
The most meaningful adventure I had this year was traveling to learn about the Gullah-Geechee culture and specifically the Geechee people on Sapelo Island off the coast of Georgia. As an African American woman, I found my time there to be enlightening, at times horrifying, and overall transformational. Learning about the history of the first West African enslaved people to arrive in this area and speak, spend time with, and participate in the cultural practices with 9th and 10th generation direct descendants was truly a connective moment in my travels. I visited a praise house, Chocolate Plantation, an eerie Reynolds Mansion, learned how to make traditional cast nets, and the technique of Seine fishing.
Sulawesi, Indonesia
On this remote island in the central highlands is a place called Toraja. The lines between the living and the dead are blurred. When a family member passes away (by Western standards) the Torajans keep them in their home for months, even years. They treat them as if they are still alive, bringing them food, cigarettes, money. Once they've saved enough money they prepare for an elaborate and expensive funeral, a week-long ceremony called Rambu Solo. Here they sacrifice animals, primarily water buffalo that cost up to $10k USD each, (there were 24 at the ceremony I attended) that they believe help shepherd the dead's soul into the afterlife. And it doesn't end there, once a year after the rice harvest in August or September, they remove the deceased from the caves they are buried in, clean the bodies, change their clothes and parade the family members around town in a ritual called Ma'nene.
Check out Kellee's adventures here.
Tim Jarvis — Explorer and Writer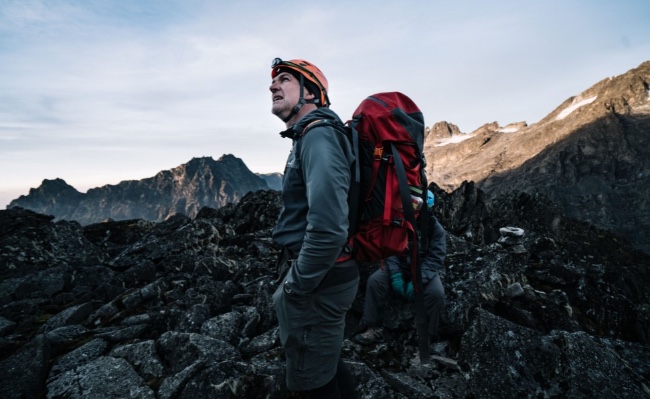 South Georgia, Antarctic
The polar explorer Sir Ernest Shackleton finally reached there in 1916 after a perilous journey in a tiny boat from Antarctica after his ship 'Endurance' sank. I traveled there with One Ocean Expeditions in November and retraced Shackleton's footsteps, filming the changes to the glaciers and comparing these with what he saw 100 years ago for my 25zero project. Unfortunately, most of the glaciers are retreating fast due to climate change, but it's still an incredible place with steep ice-covered mountains and incredible wildlife including penguins, seals, and whales.
Northumberland, England
Northumberland is the northernmost county in England that borders Scotland. I went there filming with National Geographic in October and was amazed at how rugged, yet beautiful and pristine its beaches and coastline are. Take a boat from the village of Seahouses to the Farne Islands and you'll see grey seals and puffin colonies and can almost imagine a Viking longboat crashing through the waves alongside you (they used to regularly raid the area). If you're into history Northumberland has some of the most spectacular castles in England too, including Alnwick, Bamburgh, Warkworth and on the holy island of Lindisfarne. Check out Alnwick castle's poison garden. Most of the plants in it can kill you so watch out….
Check out Tim's adventures here.

Kristin Addis — Photographer and Writer
Tonga
My coolest and most meaningful travel experience this year had to be swimming with humpback whales in Tonga. I've had other amazing animal encounters, but there was always a fence or a Safari vehicle separating me from the animal. To jump in the water with such massive gentle giants was both humbling and awe-inspiring. It made me realize how profoundly small I am and how kind this giant animal is even though it could easily crush me. They approached us with interest, curiosity, and sometimes indifference. Though it's not possible in most of the world due to regulations, you can swim with whales in Tonga every summer from July to October. Only a few boats get permits every year so the opportunity is limited but so worth it!
New Orleans, Louisiana
The place that surprised me the most this year was New Orleans! I went there by myself and it turned out to be a fantastic solo travel destination, even for someone who doesn't drink and is vegan. There were tons of vegan restaurants and everyone was so friendly. I never felt lonely, and from walking around the Bywater to exploring the French Quarter to understanding history at the plantations, I was never bored.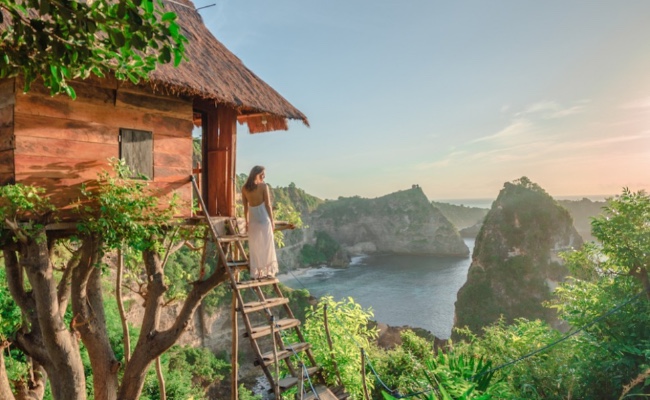 Check out Kristin's adventures here.
Cameron Lee — Photographer, Influencer, and Writer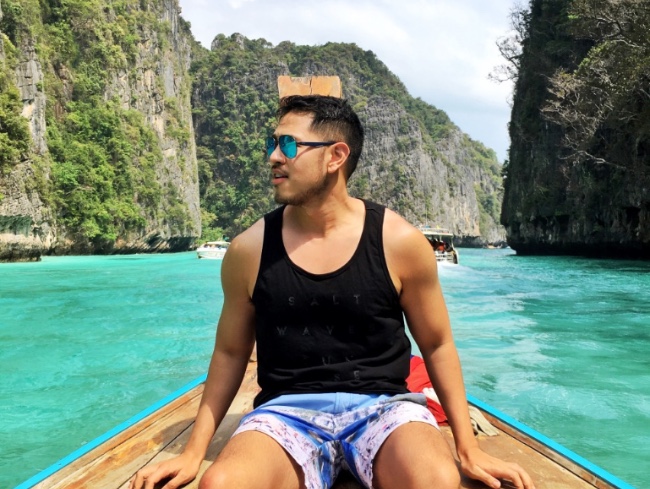 Everywhere
I left a miserable corporate job at the beginning of the year in January, and a week later, I took off to the Caribbean to "find myself". I have not looked back since and every day without an anchor has been an adventure. This year alone, I've been to London, Paris, Barcelona, Algarve, Grand Cayman, Tulum, Belize, Boston, New York, Miami, San Francisco, Barbados, and I just got back from the Bahamas. I got to swim with stingrays, dive in secret cenotes, watch the sunrise by the Eiffel Tower, spent the summer in London, and made so many friends from around the world that I still talk to today. I've always been a frequent traveler, but this year was different for me because I finally took the plunge to do this and it was through letting go of my anchor that I was able to "find myself".
The Algarve, Portugal
Everyone talks about Lisbon when visiting Portugal, but the Algarve has some of the most stunning beaches and dramatic cliffs I've ever seen. The coast of Algarve is as equally alluring as the Amalfi coast. Ponta Da Piedade is a sight to behold. I remember having seen a photo of Praia de Camilo on Instagram and I told myself, I want to be there. Then, there I was. It was as beautiful as I had imagined. Every beach is a photo begging to be taken. It is also a lot cheaper than most European summer destinations. It does get very crowded on the beach, so I would suggest going just slightly before or after the high season.
Check out Cameron's adventures here.
Cam and Kelsey Vaughne — Photographers and Content Creators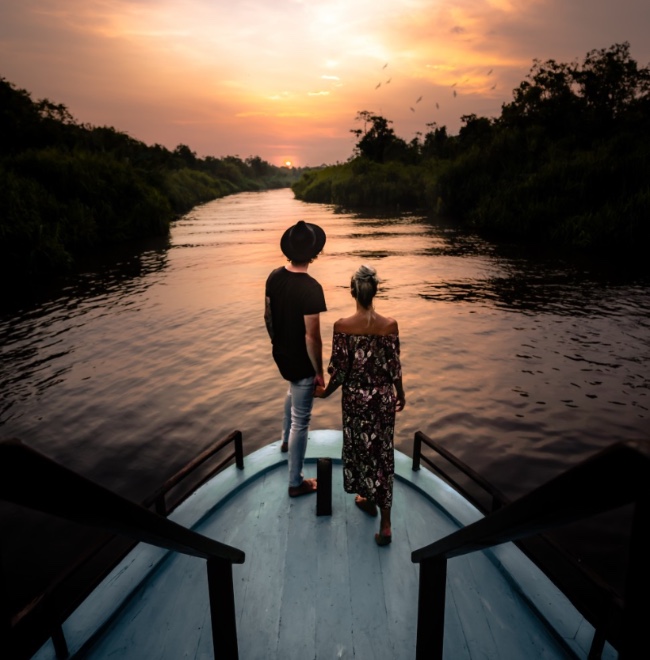 Borneo
This year, I think Borneo, Indonesia took the cake in the 'cool' category. We spent nearly a week living amongst wild orangutans on a riverboat in the Central Kalimantan Rainforest – one of only two places in the world where you can still find them in the wild! Our days were spent cruising down the river, searching for wildlife on a 4 bedroom, eco-friendly boat, loaded with a group of some of our closest friends. And we had probably the best Indonesia food we've ever had! We'd fall asleep every night to hundreds of thousands of fireflies illuminating the river, and be woken up each morning by the loud and eccentric voices of the jungle. One of our raddest and most unique experiences of 2018, for sure.
Flores, Indonesia
I don't think I've ever had a place fire up my imagination quite like the remote village of Waerebo, on the island of Flores, Indonesia! The village is made up of eight conical-shaped huts nestled in a valley — surrounded by a panoramic mountain-scape. Clouds slowly filter in through a giant key-hole in the mountains, lingering around the village as if it were floating in the sky. Waerebo was without a doubt the most magical place we've ever been. I'm serious! Walt Disney himself couldn't think this place up… We only spent one night living amongst the local villagers, but it just so happened to be on the night of their biggest ceremony of the year. Traditional music echoed through the mountains the entire night, followed by ceremonial sacrifice (chicken) in the morning, and an all-out Tekken-style battle royale the rest of the following day… And yeah, that was pretty much exactly how it sounds… Young male villagers dressed in traditional battle-wear would dance around, drinking Arak (rice wine) and beating the sh*t out of each other with ancestral weapons… An experience our imaginations we'll surely never forget!
Check out Cam and Kelsey's adventures here.

Karl Watson — Travel YouTuber
Finse, Norway
My coolest adventure was literally that. I went to Finse, Norway for a few days to do some snow survival skills — following in the footsteps of the great Antarctic explorer Ernest Shackleton who trained for his polar expeditions there. We had to cross-country ski across a frozen lake, then dig our own snow hole to sleep in at night. If you're trying to imagine what this place looks like, well, it was used as the location of the ice planet Hoth in Star Wars: The Empire Strikes Back. I even tweeted Mark Hamill (who played Luke Skywalker) for some survival tips, and he actually replied! Simply advised me to "Avoid any Wampas" (a reference for the hardcore geeks!)
Hiroshima, Japan
I could easily just answer "Japan" because I completely fell in love with the country on my first visit there this year. But I'll be more specific. If you say "Hiroshima" to someone, they may only think of one thing. We went there, thinking we'd only spend a couple of nights, see the Peace Memorial Museum and then move on. But actually, this town was so much fun we ended up staying there a few days. Like all cities in Japan, there's endless entertainment to be had going around the izakayas (small pubs), trying different food and drinks, and most importantly, chatting with the locals who are super friendly and welcoming. I even got to jam on the guitar in a rock bar one night. Plus, there are loads of day trips to do from Hiroshima, different islands to visit, temples, canyons, bike trips. Could've easily spent 2 weeks there!
Check out Karl's adventures here.
Wendy Hu — Photographer and Storyteller
Zanzibar
Zanzibar has the perfect ingredients for an epic adventure: beautiful nature, rich culture, a complex history, and a warm community. From the white sand beaches and turquoise seas to the rich blend of Swahili, British, Middle Eastern and Indian influences, there was never a dull moment. I stayed in a restored merchant's home in Stone Town called Emerson Spice that could've been Aladdin and Jasmine's palace, visited a local village where the women ran a local seaweed coop, and went diving in some of the most pristine waters on Pemba Island that also included daily monkey visits on my porch at Fundu Lagoon!
Israel
In a land that's surrounded by conflict and discontent, Israel is full of unexpected beauty. I went with the Israel Collective who arranged an itinerary that included visiting incredible experiences, but we also met with people that gave insight into the area's history and complexity. We discovered hidden alleys in the historic streets of Jerusalem, slept underneath the stars while camping in the desert, and witnessed golden sunrises almost every morning. We also met with a Palestinian journalist, visited Israel's security barrier, and had a security briefing from the Israel Defense Force. It was a refreshing trip that reminded me why traveling is so important.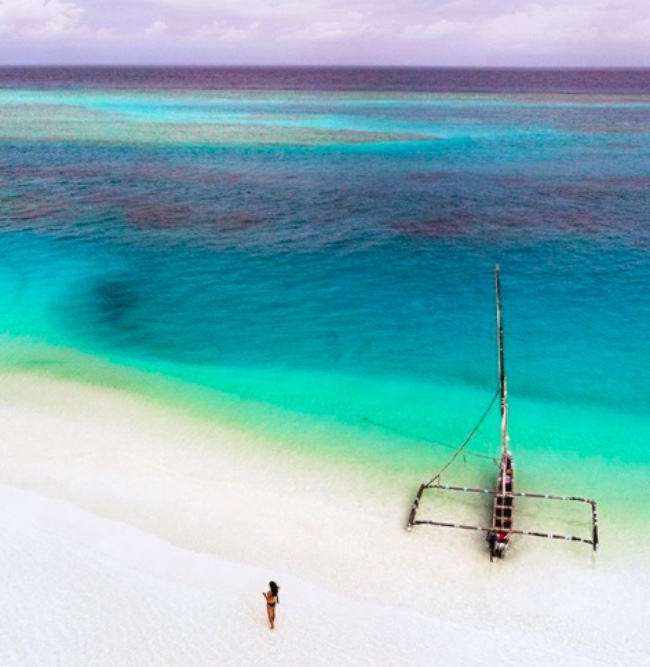 Check out Wendy's adventures here.
Pat Spain — Host of Legend Hunter on the Travel Channel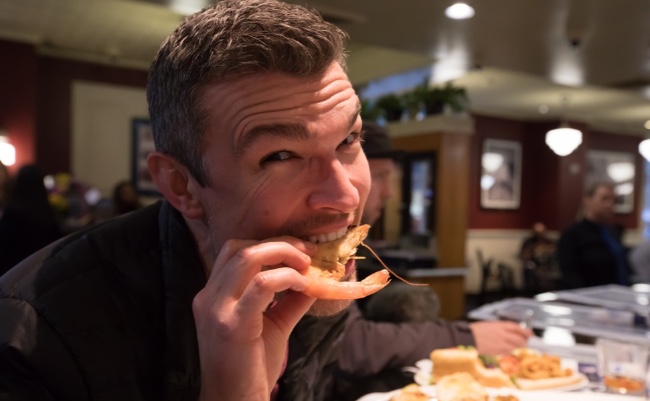 Boston, Massachusetts
The most meaningful adventure I've had this year was taking my 4-year-old daughter to the New England Aquarium. Boston is my adopted home, and the NEAq is one of my favorite places in the world. My parents tell the story of bringing me there when I was about four and how I was so mesmerized by the first tank, that after about 10 minutes, they had to pick me up like I was a statue – frozen with my hands framing my face and move me to the next one. I looked up at them, barely able to express the awe and wonderment I felt and said "I'm going to work here one day" – and I did – in the late 90s. I'm a marine biologist and seeing my daughter's reaction to the place I love so much brought tears to my eyes.
New Orleans, Louisiana
I love New Orleans. Every time I'm there I discover something new about it — something so unique, fascinating, and inspiring. Everyone who has ever been will rave about the food — but it's not like there is one dish that's signature New Orleans — it's ALL of the food. Everything you eat and drink is signature New Orleans. I'm slightly ashamed to admit that I had my first Muffuletta this year and it is a sandwich like no other. If you've never had one, remedy that situation right now. It's not just the food (but I really can't say enough about the food — po' boys, shrimp, oysters, crawfish, etc. etc… eat it, all), but it's just something in the air that makes New Orleans so special. It's unlike anywhere else in this country or the world for that matter.
I was there investigating vampire legends and found the largest community of practicing, blood drinking, vampires in the world. Because of course, New Orleans has that. Everything about the city screams creativity and unless you lock yourself away in a hotel conference room, you can't help but feel some sort of inspiration to try something that you never thought you'd try — or didn't know existed — while you are there. Maybe you start writing a novel, maybe eat an alligator steak, maybe have an absinthe, maybe you allow a psionic vampire to feed off of your energy in a scene that will never make it into the episode and they tell you it tastes like lavender and charcoal — maybe not, but hey – stranger things are happening there as I write this…
Check out Pat's adventures here.
Zach Johnston — Travel writer at Uproxx
Costa Rica
The one place that blew me away this year was Costa Rica. I know, I know. This isn't breaking any new ground. But, amazingly, I had never been to the Central American country before and, now, I'm sort of pissed it took me so long to get there. From the chill vibe of San Jose to the lush forests and volcanoes to the idyllic beaches, this place rocked. The food scene is blowing up right now with chefs like Jose Gonzalez at Al Mercat and Pablo Bonilla at Sikwa re-embracing Indigenous ingredients and foodways of Costa Rica long lost. There are killer farmer's markets and food halls opening up across the city. Some of them have a very old-school vibe, others are full of yoga-thin bodies, smoothies, and electronica DJs — all of them have something great to nosh on. It's a great time to be eating in Costa Rica.
Then there's the nature. It really is as beautiful as everyone's been going on about for the last 30 odd years. Costa Rica is what I love about travel most: It's a known commodity that I thought I knew that then completely blew me away once I arrived. I can't wait to get back … and eat.
Pine Ridge Indian Reservation, South Dakota
Traveling isn't always about going the easy way. Sometimes travel is hard. Hitting up parts of the world where life isn't easy is an essential part of being a well-rounded traveler. This year, I ended up spending time in the Black Hills of South Dakota, the Badlands, and the Pine Ridge Indian Reservation. First, I love this part of the country. The Black Hills is a great place to spend a little time connecting to nature in one of the most breathtaking corners of the country. Second, the area also gives you a chance to engage the most socio-economically depressed community in America — Pine Ridge.
A trip to the reservation offers you a chance to experience the horrific history of the Lakota and their fight with the United States and how the U.S.'s extermination policies resonate to this very day. It's harrowing and essential history for every citizen of this country. But, perhaps, most importantly, visiting a place like the Pine Ridge opens your eyes to the fact that this isn't history. This is right now. The Lakota of the Pine Ridge are still suffering. By traveling there, touring museums, buying art, eating food, and connecting with people, you're infusing much-needed tourist dollars into America's hardest-suffering community.
Check out Zach's writing here.

Megan Murphy — Food and Travel Writer
Kenya
My solo safari through Kenya in September was by far the most meaningful—and life-changing—travel experience I've ever had. An African safari has topped my travel bucket list for as long as I can remember, but embarking on it alone allowed me to truly soak up every wondrous moment without distraction. My nine-day private adventure (with Monograms Travel) started and ended in Nairobi with stops at three top wildlife destinations: Ol Pejeta Conservancy, Lake Nakuru, and Masai Mara. The incredible animals, the lovely locals, and the awe-inspiring beauty of Kenya intensely gripped my heart and soul, and I will be forever changed.
Paris, France
The cocktail scene in Paris completely blew me away. Clearly, Paris is one of the world's leading gastronomic powerhouses, but the city's modern cocktail culture is next level. With everything from innovative menu presentations and avant-garde techniques to unique garnishes and surprising ingredients, The City of Lights is serious about shaking and stirring up knockout drinks. Into world-class mixology? Belly up to Le Botaniste, Danico, Experimental Cocktail Club, Le Syndicat, Moonshiner, and The Hôtel Ritz Bar, to name a few. Salut!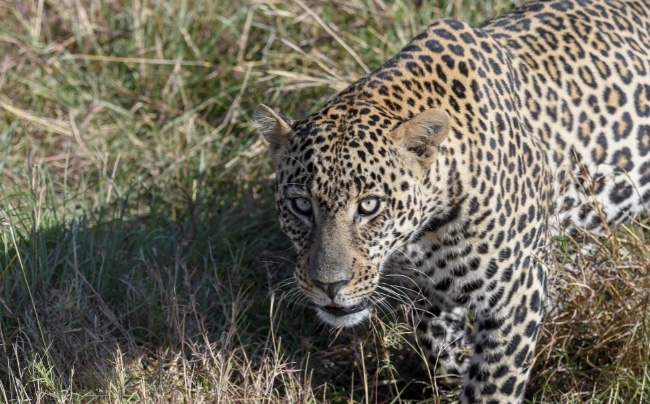 Check out Megan's adventures here.
Erin Greig — Chief Mate on ship Picton Castle
Pitcairn Island
Finally landing on Pitcairn Island and meeting direct descendants of the mutineers (having read so much about the Mutiny of the Bounty), you realize the pride and connection this small community has to their past. Their beautiful paradise is plagued with pitfalls but they are committed to living nowhere else and trying desperately to keep their lineage unbroken. It is surprising to find such a tight-knit family living with modern amenities so isolated from the rest of the world. The hospitality they showed to us was astonishing.
Manekula Island
Our stay in Bantam Bay, Manekula Island (within the country of Vanuatu) was by far one of the most memorable experiences of 2018. To spend a week with an incredibly isolated community of people who welcomed you into their homes, proudly showed you their custom dance, excitingly engaged in trade of your unused items (machetes, shampoo, sneakers) for beautiful hand-woven baskets and mats, and warmly greeted you with the biggest smiles is an experience so few people get to live.
Check Erin's adventures here.
Mark Stevens — Travel writer at Uproxx
Long serenaded by a call to visit Northern Spain, I finally succumbed to the temptation of Basque Country by attending a friend's wedding in Mundaka this summer. Unlike other destination love affairs that have been built up beyond the capacity to meet expectations, this tiny slice of rocky coast and hills delivered on every aspect. The food scene is trending among the finest in the world pound for pound (or kilo for kilo) in this case –or at least most polished. A generations-long commitment to simple, well-executed ingredients has paid dividends at restaurants like Azurmendi, Etxebarri, and Arzak. But you don't need three Michelin stars at your desired eatery to enjoy Basque cuisine. You can simply stumble into any bar in San Sebastian or Bilbao or Mundaka or Lekeitio and gorge on Pintxos. Add to that distinct cultural tradition, amazing Oregon-like rainforests, and txakoli – white wine with enough body to impress red wine advocates – and you have all of the components for an unforgettable trip.
Need a teaser? Pick up Alabama native Marti Buckley's book,Basque Country.
Check out Mark's writing here.
Lisa Dunn — Travel Writer at Uproxx
Botswana
Some places stick in your mind because they're beautiful, some because they're worlds removed from your daily existence, and some worm their way deep inside of you and change something deep in your core. Botswana, for me, is all of these things and more. I visited the small country to the north of South Africa in late August, only months after the famous floods of the Okavango receded, to report on conservationists working to preserve one of the last truly wild places on the continent. What I found was a true wilderness: a place full of slow-moving giants, lightning-fast predators, and everything in between. Everything about Botswana, from the luxurious, far-flung lodges dotting the most remote parts of the Okavango to the delicious food (kudu, a kind of antelope, pairs amazingly well with peppadew) down to the very smell of the bush (a lush mix of wild basil, sage, and dry grass that smells about as close to heaven as one could get) comes together to create a perfect storm of wilderness and wellness.
Check out Lisa's adventures here.