Last week on UPROXX Life's Expression Session, we took a break from all things whiskey and dove into the world of dark rum. I love dark rum. It's a great drink that suits sipping and cocktails with equal measure. Admittedly, I'm a bit biased since I moonlight at Berlin's oldest cocktail bar which happens to be called Rum Trader. Still, dark rum gets a bit overshadowed by whiskey and that's a shame.
To help rectify that, I was honored to welcome a legend onto last week's Expression Session, Appleton Estate's master blender, the legendary Joy Spence. Joy walked us through a three bottle tasting of their new core line: The Signature Blend, 8 Year, and 12 Year. I also tested the 21 Year, which is a powerhouse dark rum everyone should try. Parsing the historical Jamaican rum with Joy provided a lot of opportunities to talk about that Jamaican funk (hogo) you get in their dark rums and learn from a true master about what's in the bottle. It was a blast.
Of the three I tasted with Joy, for me, the 12 was a standout. But that doesn't mean the rest were also-rans. Let's dive into Appleton Estate!
Appleton Estate Signature Blend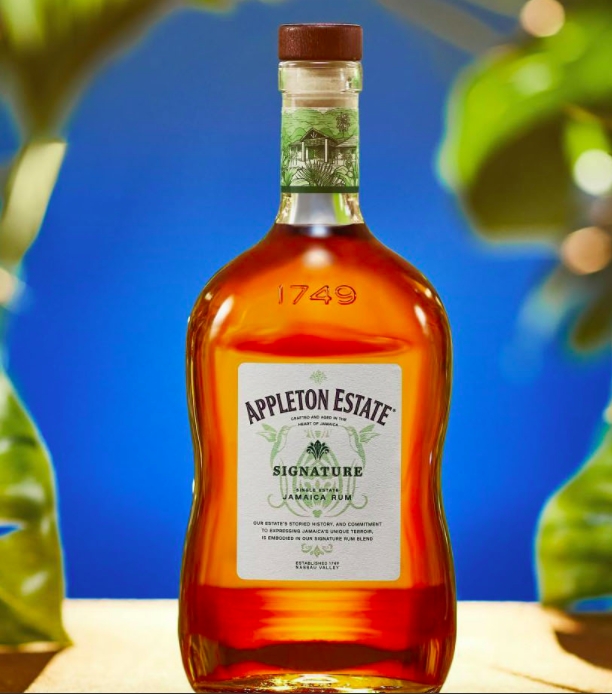 ABV: 40%
Average Price: $25
The Rum:
This rum is a signature entryway spirit to the Jamaican style Appleton Estate is known for. The juice is a blending of 15 rums that have aged at least four years. The rums are then blended into a single spirit and aged once more in oak until it hits exactly the right spot.
Tasting Notes:
Dried apricot and peach mingle on the nose. The sip carries on with that fruit, highlighted by the peach for me. There's a clear sense of the molasses in the sweetness of the sip with a warming, slightly funky end.
Bottom Line:
This is devised as a mixer. I really dig using it in a tiki or a rum old fashioned thanks to the dried fruit and natural rum sweet edges.
Appleton Estate 8
ABV: 43%
Average Price: $30
The Rum:
This expression was hand-crafted by Joy Spence to commemorate Appleton Estate's 250th anniversary. The juice is a blend of rums — some pot stilled — that has aged at least eight years. The idea was to create a new signature bottle for the brand that truly defined both Appleton Estate's long history in Jamaica and Spence's multi-decade carrier blending rum for them.
Tasting Notes:
I get oak and spice up top with a mild fruitiness. A touch of honey arrives on the palate next to a flourish of bourbon vanilla and a touch of orange rind. But it's really the Christmas cake spices and that oak that carry this sumptuous sip towards a long and warming end.
Bottom Line:
This works as a perfectly fine sipper, especially on the rocks (or just with a little water). It's also a wonderful cocktail base. Just make sure the cocktail is highlighting the rum like a Manhattan or El Presidente.
Appleton Estate 12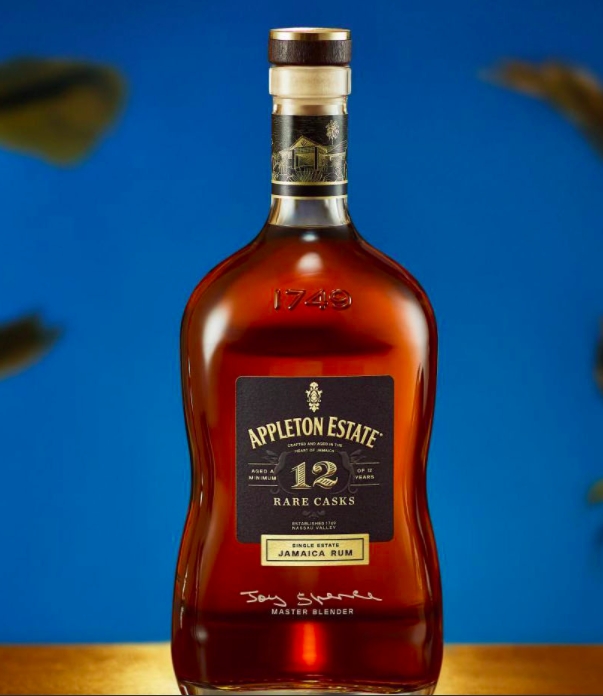 ABV: 43%
Average Price: $45
The Rum:
This expression is what happens when you let quality rum like the eight above rest an additional four years. Each rum in the blend has been aged at least 12 years (some many more) and are hand-selected by Spence for their exactness in texture and flavor.
Tasting Notes:
There's an immediate nuttiness next to the dried fruit, oak, and funk. Hazelnuts come to mind mixed with dark chocolate, creating a nougat creaminess. There's a touch of dark coffee bitterness spiked with orange and vanilla as the sip slowly fades away and leaves you needing more.
Bottom Line:
This is almost too easy to drink, especially with a single rock. It's also a great go-to for a post-Christmas dinner snifter while the pie is being served.
Appleton Estate 21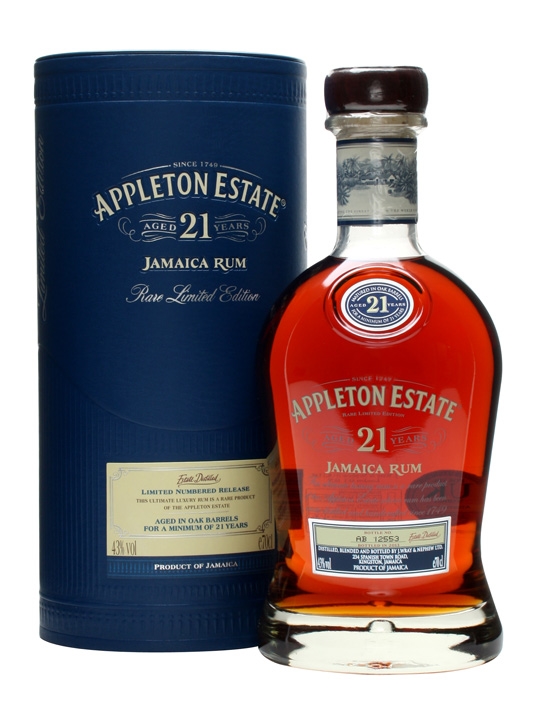 ABV: 43%
Average Price: $140
The Rum:
Add another nine years onto the above and here we are. This isn't even the oldest expression from Appleton Estate — they have a 30 and 50 year — but this is certainly the most attainable. The juice is a blend of rums that were aged in American oak for at least 21 years. The result is a bottle of rum that'll stand up to even the most snobbish whiskey drinkers.
Tasting Notes:
The oak dances with echoes of vanilla, mild molasses, orange zest, and funk. There's a real sense of old orange oils, mild worn leather, a spicy Christmas cake dripping in dark chocolate and served with a bitter espresso, and a counterpoint of citrus. The oak, funk, and spice taper off with a little burst of dark cherries and cacao nibs as a final billow of pipe tobacco smoke sneaks in.
Bottom Line:
This is a great bottle at a fairly affordable price. Maybe save it for a celebration though. It deserves to be savored slowly and with purpose. Then again, I paired a dram of this with a bison burger the other night and it was perfect. So, you do you.
Check out the whole tasting below!