White wine is one of the world's most consumed categories of wine and Americans certainly drink their fair share of it. Who could blame them? White wine is delicious. But the goodness of white wines extends far beyond just flavors. Sure, it can exude delicious citrus, stone fruit, and tropical fruit notes, but there's power in its texture, too.
Depending on the variety, white wine can feel refreshing, mineral-laden, and even crispy on the palate, making it a cool sipping option in the blazing heat. It can also display oily viscosity or a smooth, creamy texture, making your mouth feel warm and cozy like a cashmere sweater. And let's not forget how solid a pairing partner can be. Yes, you can drink it all on its own, but some styles of white wine can really amplify the flavors of certain foods.
While there are more white wine varieties and producers than most people can count, there's no denying that some styles and brands are incredibly popular, especially with American drinkers. The list of top-selling wines on Drizly proves that. I looked at the white wine best-sellers on the delivery app, and it turned up all Chardonnay, Sauvignon Blanc, and Pinot Grigio made by producers commonly spotted on retail and grocery store shelves. So which of them is the best?
I put my palate to the test to find out, and — voila — below, you'll find an official ranking of the top-selling white wines on Drizly. Let's dig into it.
10. Barefoot Pinot Grigio (#7 on Drizly)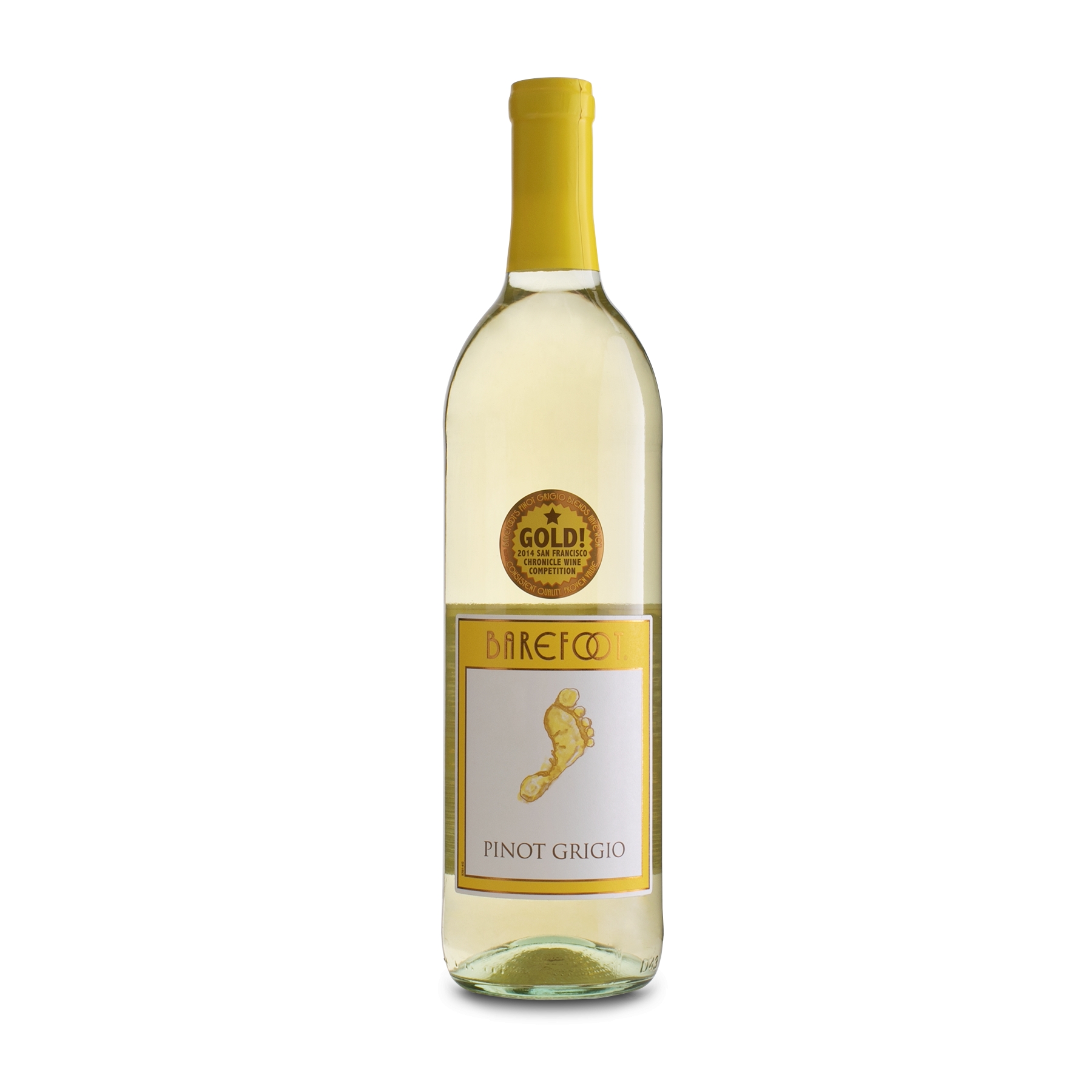 ABV: 12.5%
Average Price: $8
The Wine:
Even people who aren't fans of white wine will recognize this bottle. It's on shelves at grocery and liquor stores across the country. Barefoot has existed since the 1960s, though it didn't become a household name until the 1980s. The wine is made in California, and that's where the grapes come from too, but it's anyone's guess as to where in California.
Tasting Notes:
Nose: This wine smells like apples and peaches sprinkled in sugar.
Palate: This wine is light-bodied and easy to drink. There are hints of orchard and stone fruits and a taste of something that can only be described as artificial that arrives in the backend of the sip. But overall, this wine isn't knocking you over the head with flavor or nuance.
Finish: What finish?
Bottom Line:
Pinot Grigio is known and loved for its light, refreshing, bright, delicate profile. But it is also known and loved for its alluring aromatics and fruit flavors. This bottle doesn't come close to the depth Pinot Grigio can display. Nonetheless, if you're looking for a cheap, easy-drinking wine that you don't have to overthink, this will get the job done.
It's also a good one for novices and those who are just now joining the wine wave.
9. Bota Box Pinot Grigio (#9 on Drizly)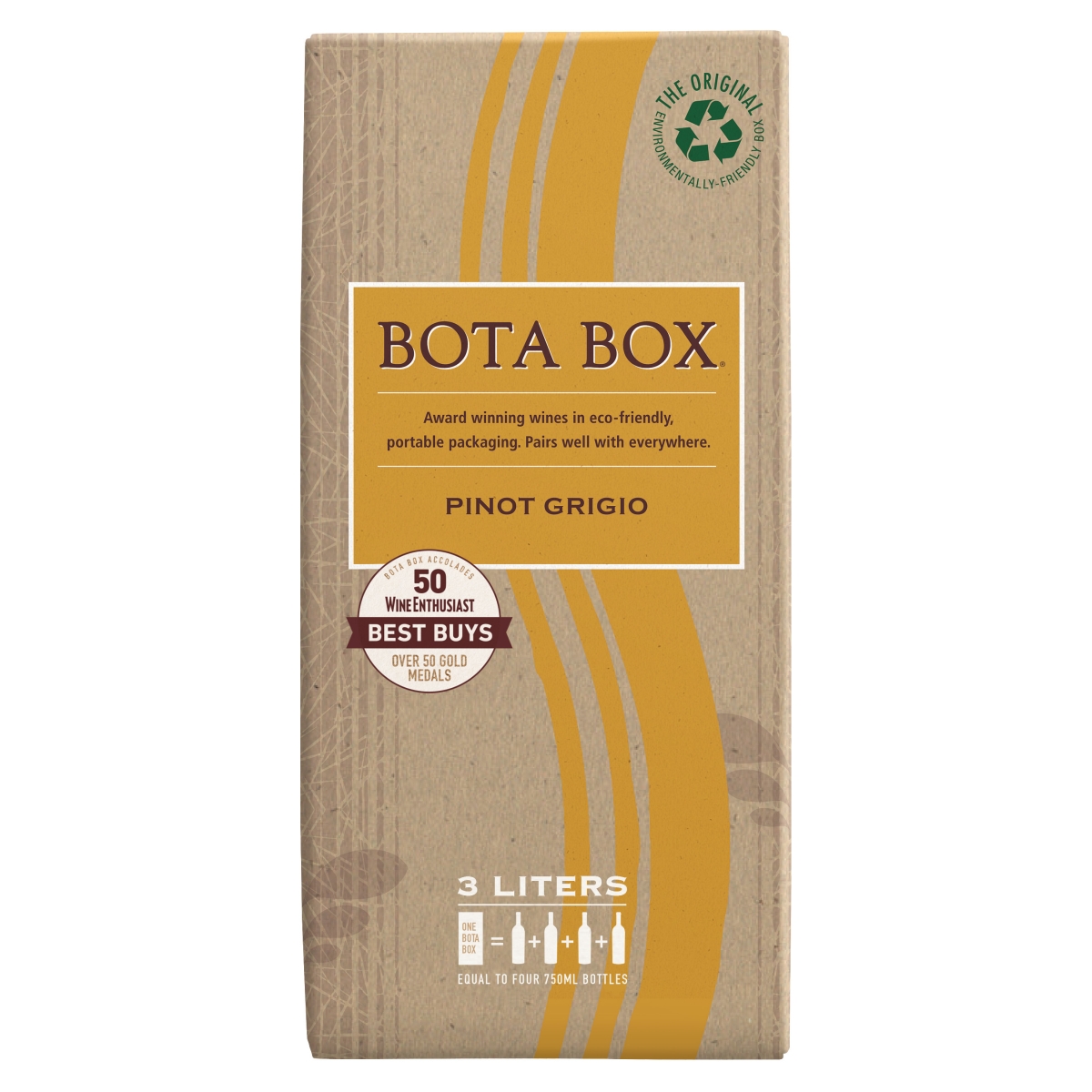 ABV: 12%
Average Price: $15
The Wine:
Here's another Pinot Grigio from California — though the packaging doesn't indicate precisely where the grapes come from in the golden state. At least, it's a sustainable choice with its recyclable box container holding four bottles of wine. Not to mention, there's no need to rush to finish this. Your Bota Box Pinot Grigio can last up to four weeks in the fridge.
Tasting Notes:
Nose: The aroma of this wine is like a crescendo of white peach, nectarine, and citrus, with soft notes of white flowers wafting from the glass.
Palate: This wine is bright and juicy, and while it's easy to drink, it skews a little more medium-bodied than the average Pinot Grigio. There are noticeable fresh, fruity flavors of peach, pineapple, nectarine, and grapefruit that really sink in on the palate. The wine is balanced with clean acidity that leaves a mouthwatering impression.
Finish: The finish is delicate but thoroughly refreshing. It wraps up seamlessly with a bouquet of flowers and a hint of tropical fruit.
Bottom Line:
This is an upgrade in Pinot Grigio from the last. The wine is not super complex, but it still displays enough aromas and flavors expected from a Pinot Grigio. Drink it at a large gathering when you need to fill many cups, like a picnic or a beach party, or use it for a white wine sangria.
8. Cavit Pinot Grigio (#4 on Drizly)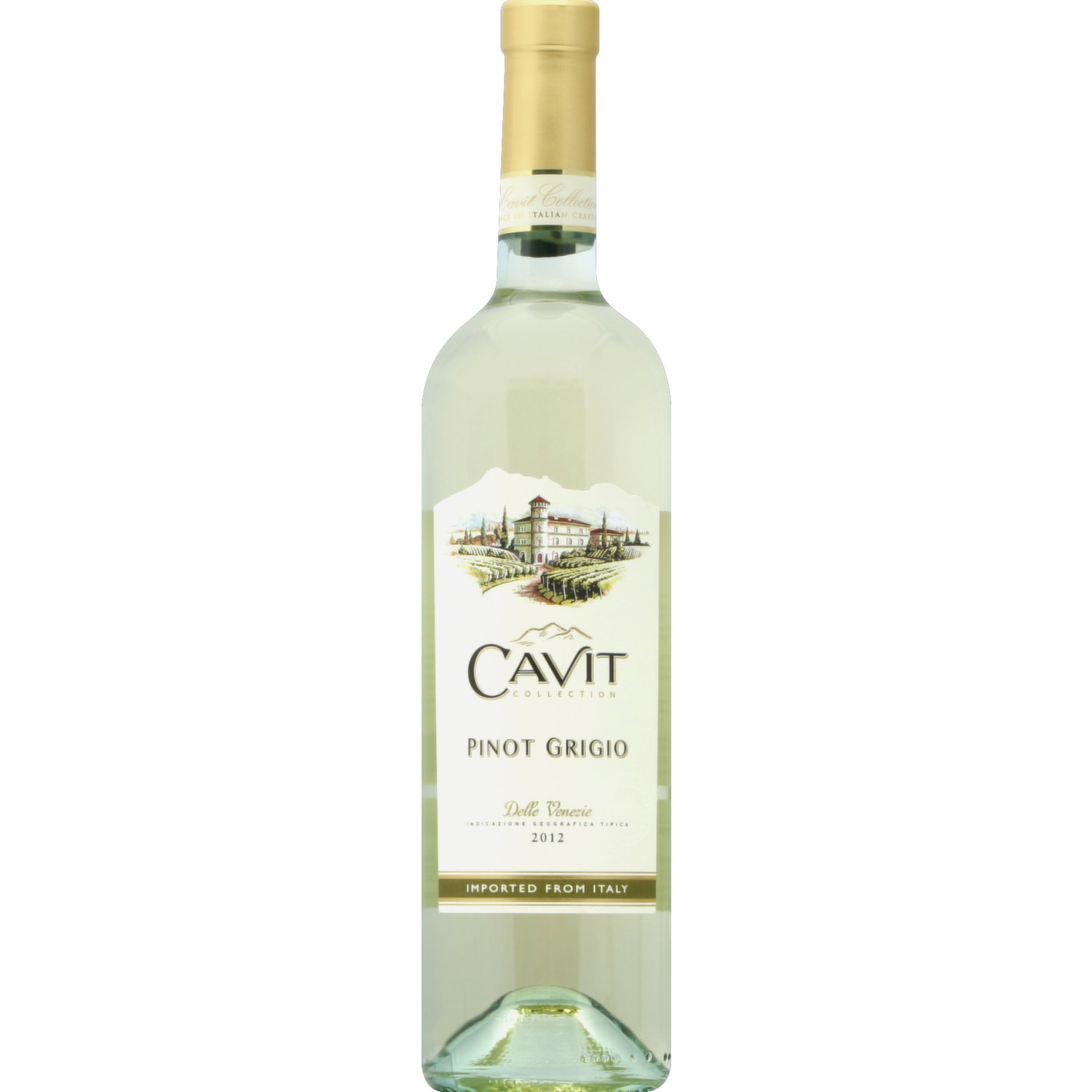 ABV: 12%
Average Price: $10
The Wine:
Cavit is among the Pinot Grigio pioneers that really helped put the grape and wine style on the map in the 1970s. Produced in the Delle Venezie DO wine region, Cavit's Pinot Grigio has remained consistent in style and taste since its origin. So it's no wonder the wine remains a fan-favorite with drinkers after all these years.
Tasting Notes:
Nose: This wine bursts with intense aromas and freshness. Scents of green apple. Scents of lime. Scents of grapefruit. It's almost as if you can smell the mountain air of Trentino and the many apple orchards and lakes surrounding the region.
Palate: The palate is just as intense as the aroma with green apple and citrus flavors, and it exudes a fresh crispness that feels light and cool on the palate. It's clean, easy-drinking, and, overall, quite a thirst-quenching wine.
Finish: The finish lingers with fruit flavors and freshness.
Bottom Line:
If you like light wines bursting with fruity flavors and mountain-air freshness, this is the wine for you.
7. Josh Cellars Chardonnay (#10 on Drizly)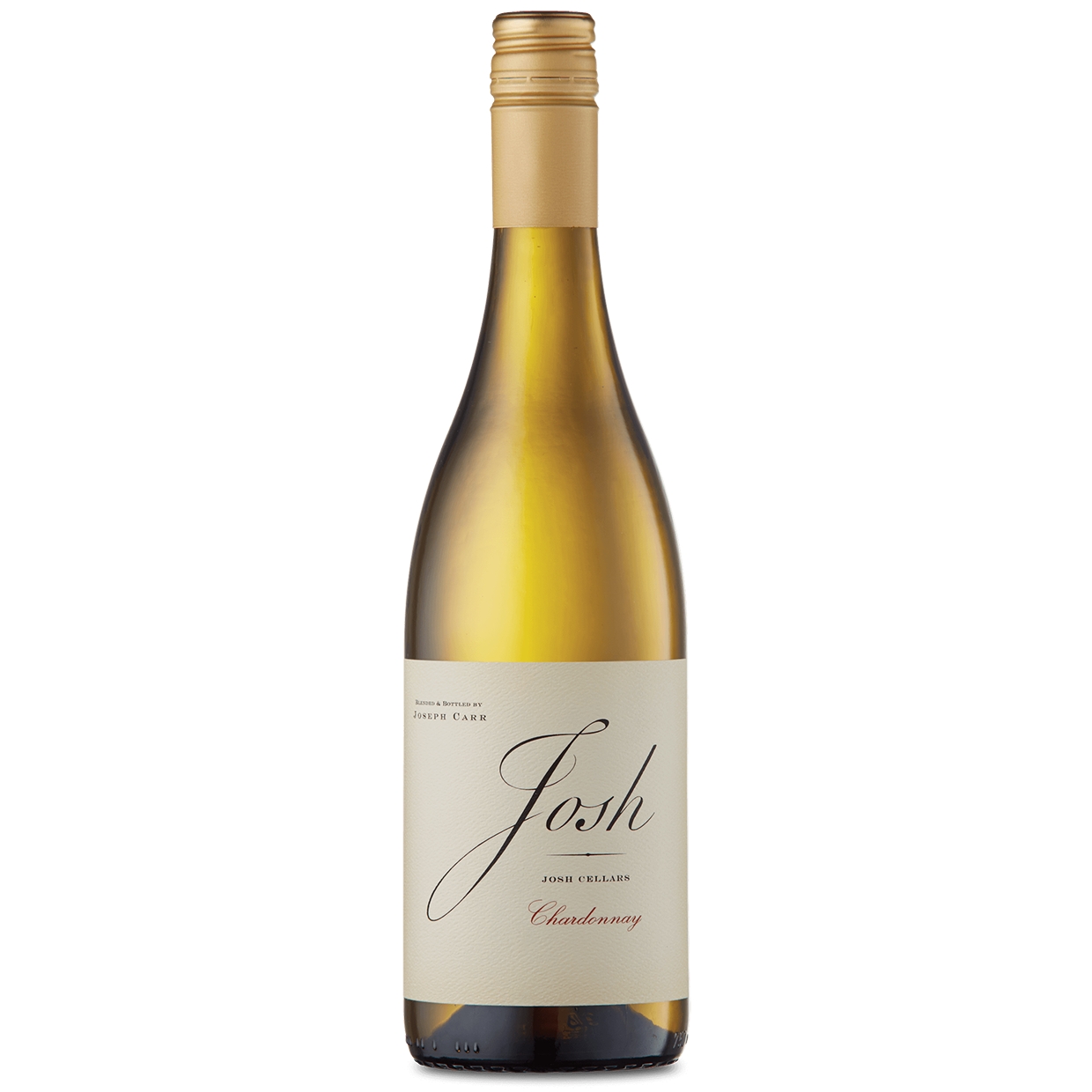 ABV: 12.5%
Average Price:
$15
The Wine:
Now, here's a true medium-bodied wine from California. It's produced by Josh Cellars, a Napa Valley winery that's produced a bounty of red and white wines in the heart of Napa Valley since the 1990s. This wine costs a bit more than the other California entries on this list, but that's fine. Tapping into that premium wine price point, this bottle has much more going on to justify the extra dollars spent.
Tasting Notes:
Nose: You can't miss the aromas of peaches and honey spilling out of a bottle of this wine. It smells rich with luscious fruit even though the wine is quite dry and easy drinking on the palate. After a few swirls, hints of toasted oak and vanilla bean appear.
Palate: This is a white wine with body, but not overwhelmingly so. Flavors of peach pit, apricot, and sweet honeycomb saturate the palate. Clean acidity brings the wine into focus while a touch of oak is present on the backend.
Finish: Pleasantly long with clean acidity and a lingering note of honeyed peaches.
Bottom Line: This is a good Chardonnay for the price. Drink it when you want a wine with a little more weight to wash down your creamy carbonara or roasted chicken.
6. Whitehaven Sauvignon Blanc (#6 on Drizly)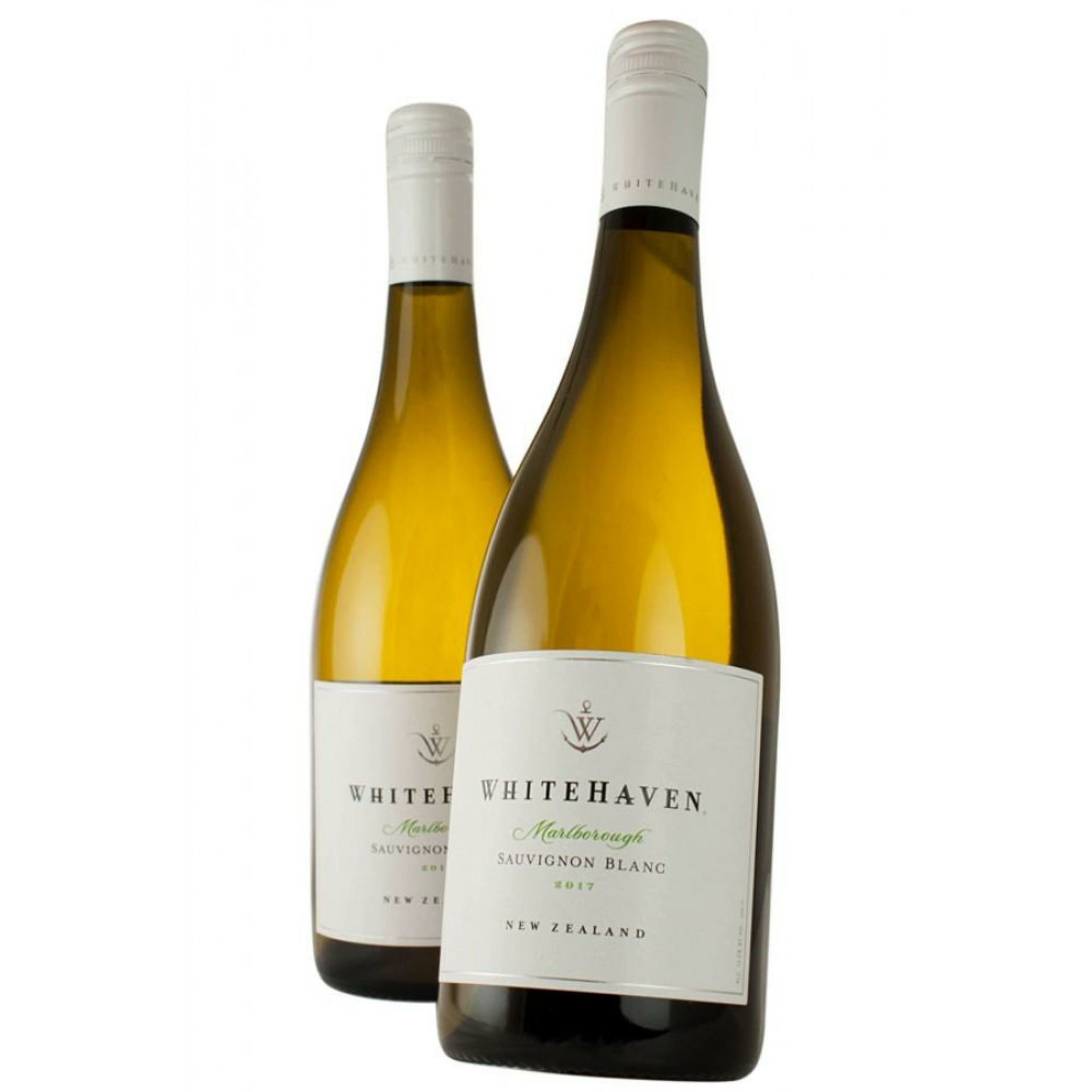 ABV: 13%
Average Price: $20
The Wine:
This wine hails for the land of Sauvignon Blanc, aka Marlborough, the New Zealand wine region where the white grape thrives. It's produced by Whitehaven, a winery launched by Sue White and her late husband Greg in 1994, and the property remains family-owned to this very day.
Tasting Notes:
Nose: There's great, zesty power behind the flavorful fragrances of papaya, passionfruit, and peach that shows up as green fruit skins, fresh-cut greens, and a lot of grapefruit.
Palate: The wine tastes exactly as it smells. It's vibrant with tropical fruit, citrus fruit, and lemon grass flavors while a zippy dose of acidity keeps the wine feeling bright and lively on the palate.
Finish: The finish is long, crisp, and clean.
Bottom Line:
It's a little pricey for what it is. Sure, it hits all the markers for good Sauvignon Blanc, but there are a lot of wines on the market made in a similar style with a similar taste that are just as flavorful for less. That said, if you've got the extra bucks to spend, this would be a great wine to drink with a platter full of oysters, clams, and chilled shellfish.
5. Matua Marlborough Sauvignon Blanc (#5 on Drizly)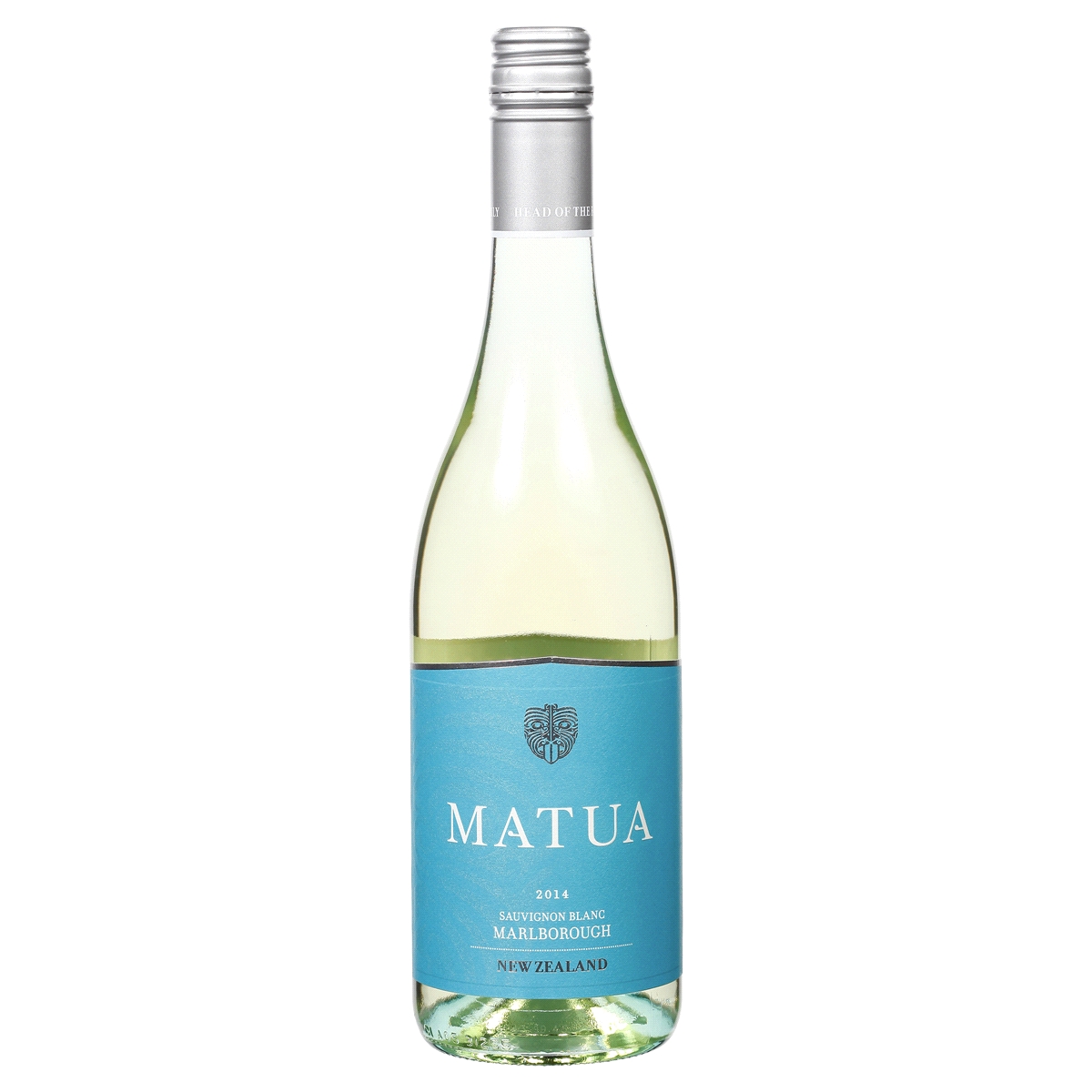 ABV: 13%
Average Price: $14
The Wine:
Here's another a solid Sauvignon Blanc from New Zealand. It's produced by Matua, a winery that helped put Sauvignon Blanc from the wine region on the map when it released its first bottling — the first of commercial Sauvignon Blanc from the country — in 1974.
Tasting Notes:
Nose: Aromas of crispy green apple, fresh cut grass, melon, lime, and grapefruit are present and quite tantalizing. One whiff of this wine, and you're going to want to take a sip.
Palate: Fresh, crisp, and tropical — exactly what a Sauvignon Blanc should be. The flavors picked up in the aroma are even more obvious on the palate while mouthwatering acidity pulls it all together.
Finish: The finish is long and zippy, full of juicy acidity and fresh green flavors.
Bottom Line:
A porch-pounder for $15 that is actually quite tasty and refreshing for the palate? Say less.
4. Santa Margherita Pinot Grigio DOC (#3 on Drizly)
ABV: 12.5%
Average Price: $26
The Wine:
Italy's Santa Margherita is one of the most famous producers of Pinot Grigio worldwide. Seriously, this wine has had the masses in a chokehold since Santa Margherita's winemaking team first started fermenting Pinot Grigio without skin contact in 1961. It was a very controversial move at the time because Pinot Grigio was predominately used to make Romato — Italian rosé — styles of wine back in those days. But the result was worth the risk.
This winery is why we drink Pinot Grigio the way we drink it today. The wine is made in Italy's Veneto region from Pinot Grigio grapes picked from the winery's Adige River Valley vineyard in the Italian Alps.
Tasting Notes:
Nose: The aroma is fresh, fruity, and bright.
Palate: This wine is awash with flavors of red, yellow, and pink apples, but it remains bright and easy-drinking. An abundance of freshness influences the lightweight feel of the wine on the palate. A sip of this kind of feels like standing in the middle of an apple orchard on a hilltop in Italy and breathing in the fresh, clean surrounding air.
Finish: This wine wraps with a delicate finish that leaves the mouth feeling as clean as a glass of ice-cold water.
Bottom Line:
People who genuinely enjoy Pinot Grigio love this wine, and it's no secret why. This wine hits all the markers for a quality Pinot Grigio regarding taste, texture, and drinkability. It's the most expensive Pinot Grigio on this list, but considering the site-specific grapes used to make a well-balanced wine and Santa Marghertia's history, we think it's worth the price.
3. Oyster Bay Sauvignon Blanc (#2 on Drizly)
ABV: 12.5%
Average Price: $15
The Wine:
Oyster Bay is one of the most recognized producers of New Zealand Sauvignon Blanc in the world, which is quite an achievement considering the winery only released its first vintage of the white wine in 1990. Since then, Oyster Bay has won dozens of international awards and plenty of critical acclaim for the wines it makes with grapes from Marlborough and Hawke's Bay.
Tasting Notes:
Nose: This wine is supremely aromatic with tropical fruit, citrus fruit, and clean, green flavors. Mineral undertones and aromas of crushed limestone and wet rocks really drives the intensity.
Palate: This wine is like a shock of energy to the palate. It starts with a bolt of electrifying acidity, followed by vibrant with apple, pineapple, mango, lemon grass, fresh green herbs, grapefruit, and lime zest flavors that appear mid-palate while mineral nuances help tone down all the acidity and bring everything together.
Finish: The finish of this wine goes on and on and on.
Bottom Line:
Nothing to argue here. This wine has all the signature characteristics of a Sauvignon Blanc and more. That alone makes it one of the top picks.
2. Kendall-Jackson Vintner's Reserve Chardonnay (#8 on Drizly)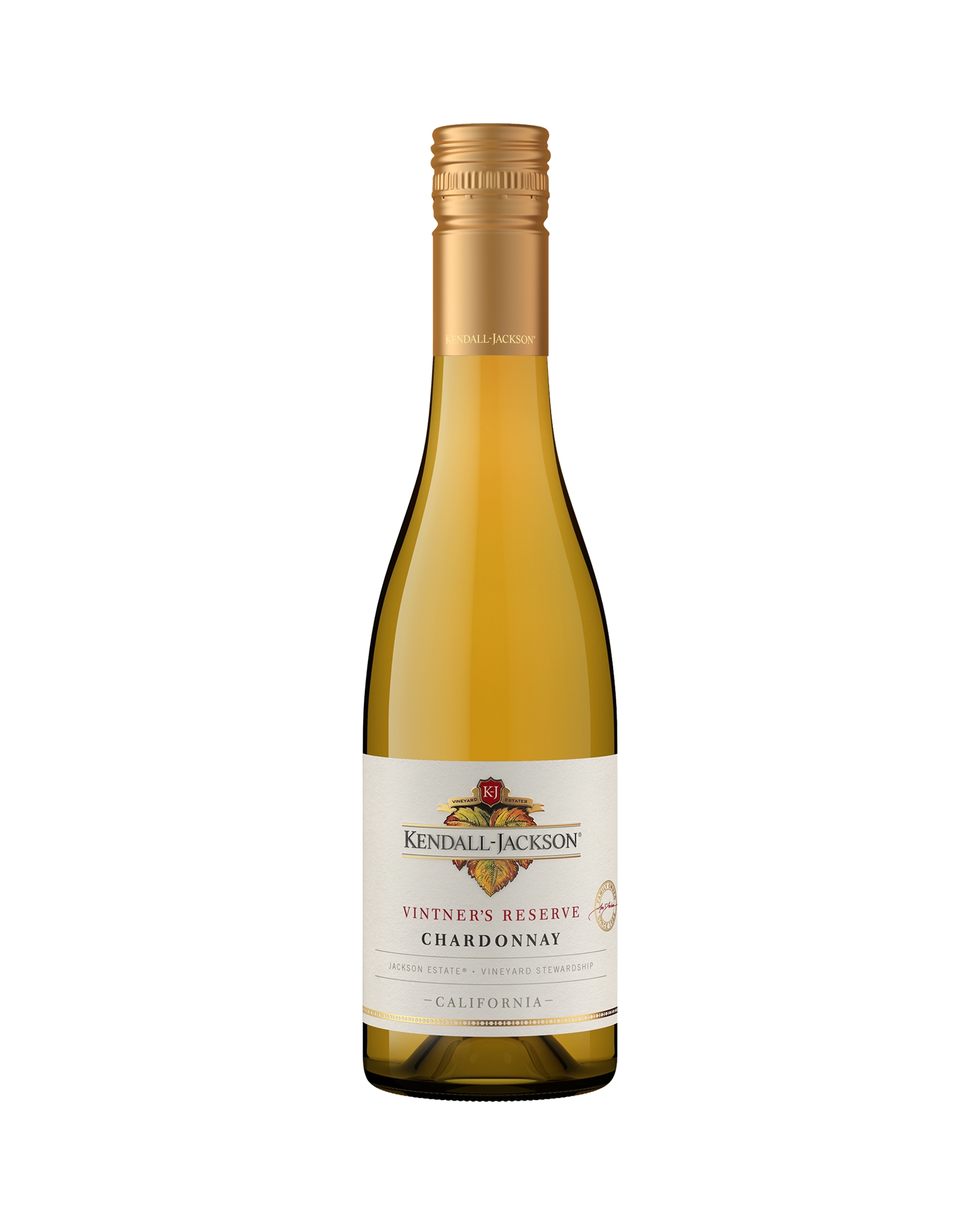 ABV: 13.5%
Average Price: $16
The Wine:
This is said to be the best-selling Chardonnay in America. Certainly, you've spotted it in the grocery store a few thousand times. The good news is that it's actually crafted with care from "California coastal grapes" (pretttty vague) and created in small batches (another vague buzz term). That said, this wine is very good — so there's that.
Tasting Notes:
Nose: This wine smells like a sunny day in the tropics. The aroma is full of tropical fruit flavors like cantaloupe, guava, pineapple, and even a little banana. But it also features the signature aromas of Chardonnay, too, like peach and citrus.
Palate: This medium-bodied white wine oozes with rich melon, honey, peachy, and pineapple flavors. Hints of baked peaches covered in honey intertwine with notes of oak and vanilla. You may think all the flavors make this wine a fruit bomb, but it's really more structured and complex than that. Everything is well-integrated and uplifted by crisp acidity, resulting in a completely balanced, enjoyable wine.
Finish: Long and steady.
Bottom Line:
This is a rich and velvety Chardonnay that tastes way more luxe than its price point. We love a more-quality-for-less-money moment, and that's precisely what this is.
1. Kim Crawford Sauvignon Blanc (#1 on Drizly)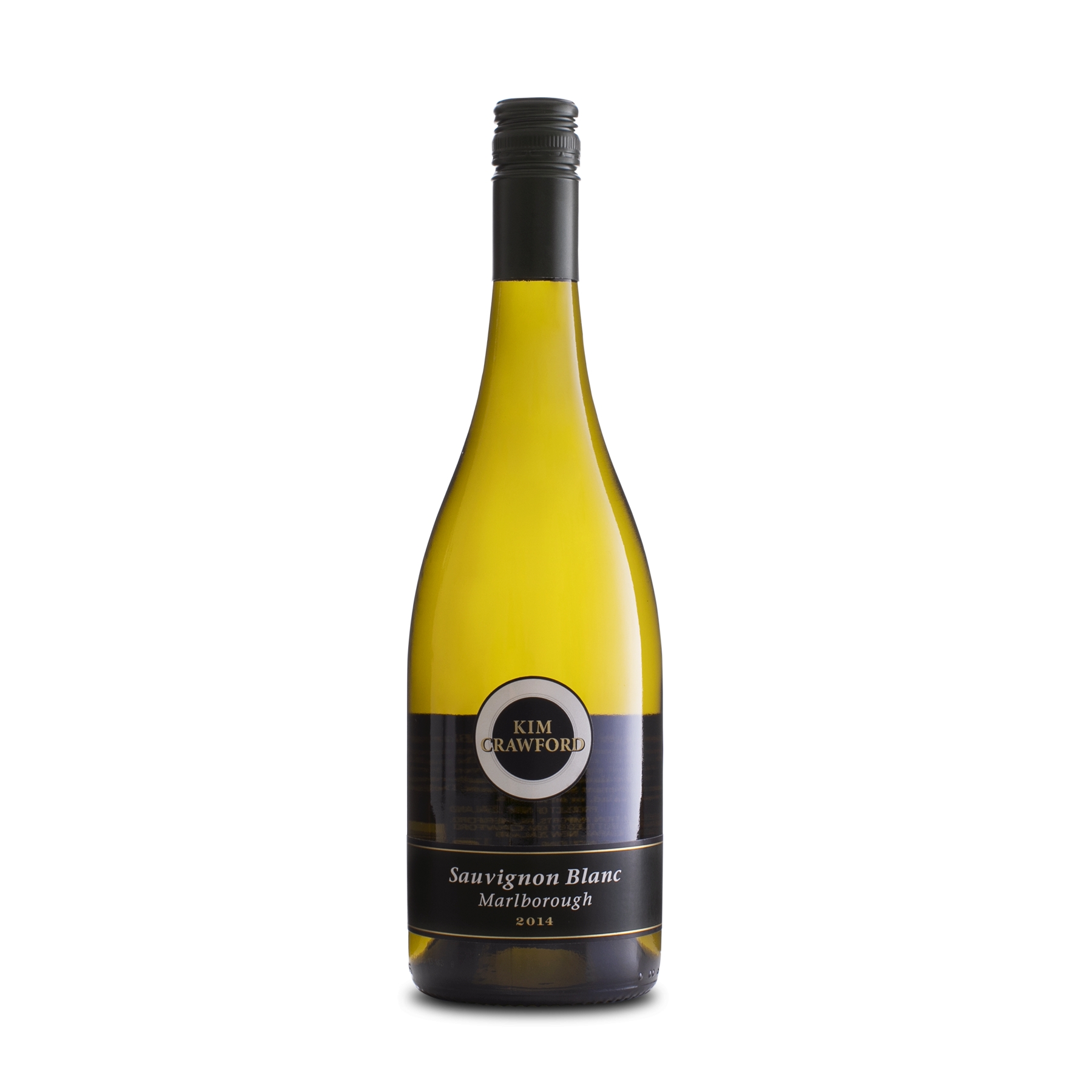 ABV: 12.5
Average Price: $18
The Wine:
Kim Crawford Wines launched in Marlborough within the northeastern corner of New Zealand's South Island in the early 2000s. Since then, the winery has become a household name, loved for its zesty, zippy, delicious Sauvignon Blanc.
Tasting Notes:
Nose: Take a whiff of this wine and be transported to the scenic rolling hills and dazzling waters surrounding New Zealand's iconic Marlborough wine region. The wine is fresh with citrus and tropical fruit nuances, while crushed green herbs give it a lift.
Palate: Upon first sip of this wine, the most noticeable aspect is its juicy acidity complemented by flavors of cool melons and grapefruit. By mid-palate, notes of lemongrass and crushed rocks come into focus and mellow into a mouthwatering finish.
Finish: The finish on this wine is so long that you'll still be licking your lips and tasting the flavors long after the bottle is done.
Bottom Line:
You simply can't beat the refreshing quality and jam-packed flavor this wine delivers at an approachable price point. Drink it at the pool. Sip on it at the park. Having a clam bake? Hell yea you are, and you're gonna want to suck this wine down with all that fresh seafood. Or maybe you're just having a relaxing evening at home and need something flavorful to wash off the day?
This is the wine for all of that.