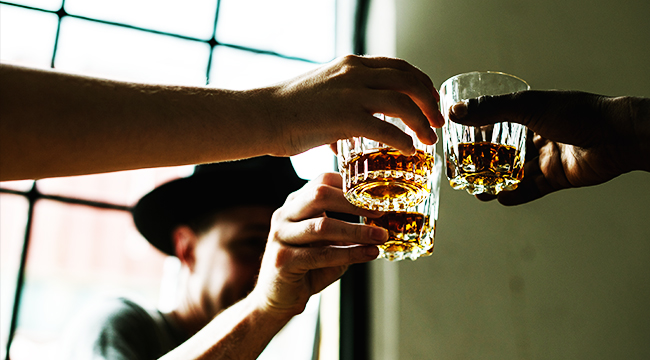 The world of whisk(e)y is huge. It might seem like Canada, the US, Ireland, Scotland, and Japan get all the acclaim when it comes to the aged spirit. But, there are many other countries slowly making a name for themselves in the whiskey industry. And getting to try delicious offerings from all around the world has become one of our favorite hobbies.
The first name that comes to mind when we think about non-traditional whisky powerhouses is Taiwan's Kavalan. Few outside of the whisky business even knew the island nation was producing whisky. Then, the distillery's Solist Vinho Barrique won the award for "Best Single Malt Whisky In The World" at the 2015 World Whiskies Awards. Now, they're one of the most important spots on the map.
And in the last decade, many other distilleries have started producing high-quality whiskeys in countries not normally associated with the spirit. In honor of World Whisky Day on Saturday, May 19th, we've decided to take a look at some of the best contributions we've found. From New Zealand to Tasmania, the whisky world has a lot to offer. Check out some of our favorites below.
Kavalan Classic Single Malt (Taiwan)
The Taiwanese aren't just making whisky. They are making really good (and heavily awarded) whisky. And, if you want to start drinking anything from Taiwan, you have to start at the beginning. Kavalan Classic Single Malt was the first single malt produced in the country. While Solist Vinho Barrique won the prestigious award, this offering is no slouch. It's smooth, rich and has hints of tropical fruit.
Slyrs 3 Year Old (Germany)
The Germans are well-known for their beer. One of the first images many people associate with the country is one of Oktoberfest, beer steins overflowing with frothy ales. But, Germany is also home to a handful of whisky distilleries. One of the best is Slyr and its single cask 3 year-old is aged in toasted virgin American oak barrels to give it a sweet, rich flavor with hints of toffee and vanilla.
Bain's Cape Mountain Whisky (South Africa)
https://www.instagram.com/p/BIU9VOLgGZW/?taken-by=bainswhisky
Similar to Kavalan, Bain's Cape Mountain Whisky is South Africa's first single grain whisky. First launched in 1999, this 100% yellow maize whisky is aged in first fill bourbon casks for 3 years before being moved to different first fill casks for another 2 years. The results are an award-winning whisky that's rich and smooth with an oaky sweetness.
Amrut Fusion (India)
When you look at the great whiskeys produced around the world, many seem to have one thing in common: they are the first single malt or single grain whiskeys produced in their country. When it launched in 2004, Amrut's Indian Single Malt Whisky was the first single malt every made there. It was a great offering, but in this case, some of their newer whiskies are our favorites. One of the brand's best is its Amrut Fusion. It got its name because it's produced from a fusion of 25 percent Scottish peated barley and 75 percent un-peated Indian barley.
Sullivan's Cove American Oak (Tasmania, Australia)
Sometimes we like to try a bottle of whisky from a far away country because it's kind of a gimmick. We didn't necessarily expect much from this Tasmanian offering. But Sullivan's Cove American Oak defies all expectations. Not only is this whisky good, but Jim Murray (of the famed Whisky Bible) gave it "Liquid Gold" status and a 95.5 rating. Aged in ex-bourbon casks, this malt-forward whisky is rounded out with flavors of vanilla, caramel, and charred oak. It's worth heading to the other side of the world to get a taste.
Brenne French Single Malt Whisky Estate Cask (France)
France is known primarily for its Champagne, Cognac, and vodka. The country is most definitely not known for its whisky. But that might soon change if they keep churning out offerings like Brenne French Single Malt Whisky Estate Cask. This unique whisky is the first to ever be aged in French Limousin oak and cognac casks. The process gives the whisky a creamy, sweet flavor with hints of fruit and caramel that shouldn't be missed.
Dunedin DoubleWood 16 Year Old (New Zealand)
This whisky takes a long rest before ending up in your bottle. A blend of 70 percent single malt and 30 percent grain whisky, DoubleWood's base is un-malted barley. It's first aged for 6 years in ex-bourbon barrels. That's a long time. But, instead of bottling it at this point, the folks at Willowbank Distillery mature it for another 10 years in French oak NZ wine barrels. The result is a whisky with a rich, smooth flavor that has hints of caramel and dried fruits with a subtle spice.
Box American Oak (Sweden)
If you like peated, smoky whiskeys, but you want to try something not from Scotland (Islay specifically) a good option is located in Sweden. It might seem surprising, but the home country of Bill Skarsgård is also the birthplace of Box American Oak. This peated whisky is matured for 4 or more years in ex-bourbon casks before spending another 8 months in virgin American oak barrels. It's smoky, spicy, smooth, and a treat to find in your glass.