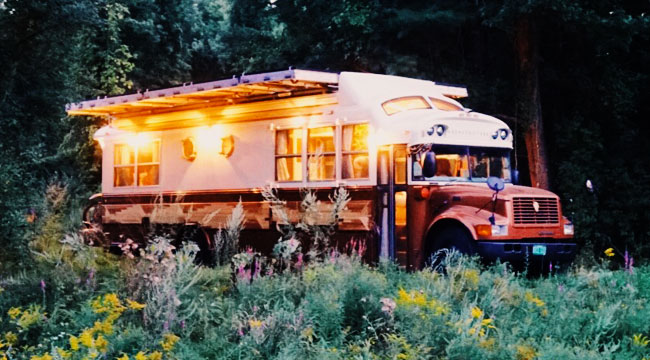 There's a definite appeal to small, meticulously designed spaces like tiny homes, treehouses, and vans. Freud would likely link it to a desire to return to the womb, and…. sure, maybe that's it. Or it could be that they look cool and feel freeing. Whatever the case, we get stoked when we find spaces that are both cozy and meticulously designed. And holy hell does the schoolie in this post ever fit the bill.
Jeffrey Osborne and partner Brit Castaños-Osborne have lived in a number of big cities — New York City and San Francisco among them — and consider themselves traveling spirits who are highly connected to nature. They wanted to be able to spend more time outdoors without sacrificing their businesses, and a school bus conversion was the perfect residence to meet all of their needs. But it did take a little coaxing from Jeffrey to get Brit fully on board.
The owner of a bohemian wedding dress company called Daughters of Simone, Brit was uncertain about living in a school bus, so Jeffrey had to be able to offer her a design that could serve as a living quarters and a business. After a few weeks of discussion and the development of a plan that included a fitting room for her clients, Brit warmed to the idea. Once Jeffrey got the green light, it was all systems go.
Their skoolie was completed this year, and we have literally never seen a more perfectly handled conversion. We can't stop cruising their Instagram and staring in wonder at the organic layout and intricate woodwork. So you can imagine that we had a lot of questions for Osborne when he sat down with us. Read on to learn about the design process and to check out beautiful pics.
You were married before you got on the bus?
We were engaged when I came up with the idea. It's been about three years from when I actually brought it to completion. It was two and a half years to build out from the day we started chopping it up and actually doing it. It's been quite a stretch of time.
Why did you go bus over van?
That's mainly for size. I imagined fully living in this vehicle in a way that's comfortable with a shower and bathroom and being able to have guests come to stay with us. Also, this fits in with my wife's business model. That was part of the plan. So, I set it up so that you could fit about ten people sitting in the living room area, and the backroom converts to a fitting room with a high clothes rack to hang dresses and a full-length mirror and all that.