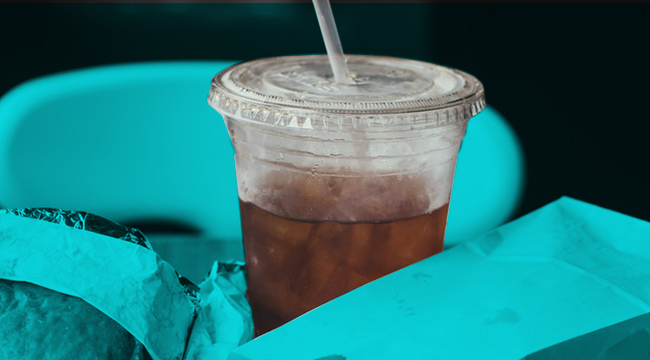 A great drink can elevate a meal. The right beverage acts as both an enhancer of flavors and a palate cleanser, preparing you for your next mouthful of food. There are few joys in this world that compare to taking a swig of Coca-Cola after biting into a greasy slice of pepperoni pizza, for example. They're just a perfect pairing. But sometimes — whether you've just ranked a bunch of colas, are trying to make healthier choices, or simply want to drink something new — the time is right to push a different button on the soda fountain.
So here we are, counting down to the best drinks fast food has to offer that aren't soda. A few ground rules: No commercial brands allowed. If you can find it at the market and it doesn't have the label of the fast food restaurant, it's exempt. We aren't going to rate every generic iced tea out there, either. That would be stupid, so only in-house brewed tea and lemonade apply. Lastly, the drink must be a practical replacement for soda. Sorry bacon and fudge milkshakes, there is a time, place, and drug that justify your existence but you're out of the running today.
8. McDonald's – Sweet Tea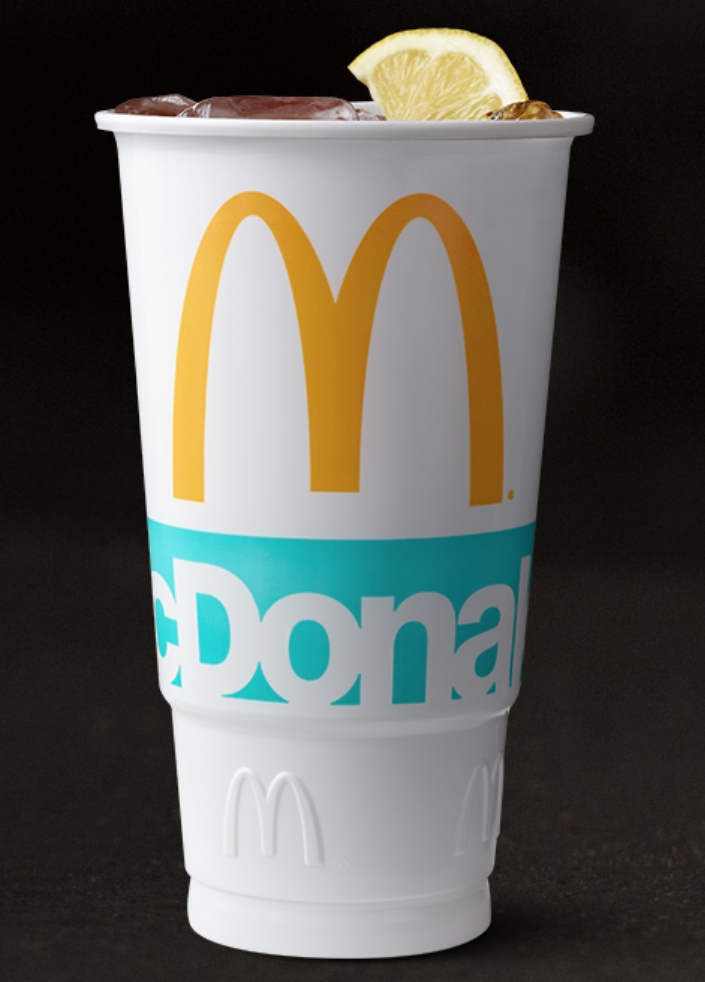 All it takes is one sip of McDonald's Sweet Tea to make you wonder why you even bothered with something other than soda. The drink is so packed with sugar that finishing a cup will surely leave you a toothless, dehydrated mess. Okay maybe it won't, we wouldn't know because it's impossible to get through an entire cup — it's too sweet! Don't even bother with their unsweetened tea because it's an absolute joke, it just tastes of dirty water and the tears of whatever they used to make McNuggets out of.
The Verdict: The worst of it. If you want something other than soda at McDonald's, we suggest you just bring something from home.

7. Popeyes – Cane Sweet Iced Tea, Popeyes Arnold Palmer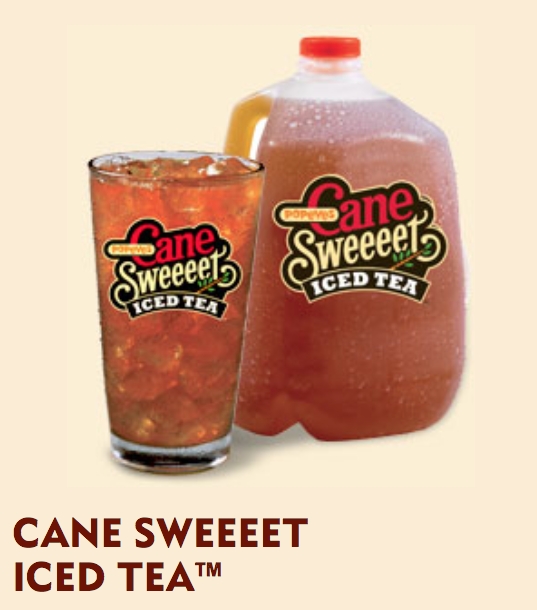 Popeyes Cane Sweet Iced Tea has a better flavor than McDonalds sweet tea. Yes, it's still very very sweet but not disgustingly so. The balance between the bitter black tea flavor and the cane sugar work synergistically — giving you a beverage that serves as a better palate cleanser than soda with its high carbonation and lingering flavors. Their lemonade pales in comparison, making the drinks not really a worthwhile mix (an Arnold Palmer from Popeyes is therefore not greater than the sum of its parts).
The Verdict: The Cane Sweet Iced Tea is great! A little sweeter than someone seeking a healthier beverage would want, but purely on flavor its a nice option if soda doesn't sound refreshing to you.
6. In n Out – Pink Lemonade, Arnold Palmer Pink
In n Out would be much higher on this list if soda wasn't exempt. An In n Out 'Secret Menu' favorite is the Lemon Up, a mix of equal parts In n Out's in-house Pink Lemonade and 7 up (already a rarity at soda fountains). Since we're playing by the rules, we'll note that the pink lemonade is… all right. It doesn't taste like what you'd expect from a pink lemonade — it seems to have its own tangy flavor that is reminiscent of raspberries or pink food coloring. It's hard to describe the taste but its undeniably In n Out. Mixing it with the unsweetened black tea doesn't really work either, as whatever makes the beverage 'pink' just doesn't pair well with the burnt and bitter taste of over-brewed black tea.
The Verdict: Sad to see In n Out at the bottom of a list, and as a California native I may have some people coming after me very soon. Get the Lemon-Up.
5. Raising Canes – Lemonade, Iced Tea and Arnold Palmer
We want this to be better than it is. Raising Cane's pride themselves on delivering high quality never frozen chicken tenders, and they make their lemonade and iced tea in-house, but unfortunately (or fortunately?) the lion's share of their attention goes into their chicken game. The lemonade has a great homemade flavor, but there is something watery and dissatisfying about it. The flavor is too weak to make it an effective pairing with the fried chicken and you'll often have to swish the liquid around in your cup as the ingredients start to separate. The iced tea is fairly decent for fast food iced tea (they also brew unsweetened tea as well) and together the two do make a pretty good Arnold Palmer so points to them for that!
The Verdict: Pretty fair, but we do expect more from an in-house lemonade made with real lemons. The Arnold Palmer here is a solid choice though that pairs well with the Texas toast and the crispy batter of the fried chicken tenders.

4. Wendys – Strawberry Lemonade, Lemonade, Limeade
Wendy's lemonade is made with cane sugar and it really strikes a balance between sour and sweet. There's a more pronounced flavor than the competition and the drink pairs nicely with a Wendy's chicken sandwich or a side of nuggets. Extra points to Wendy's for offering the option of getting strawberry lemonade or limeade — adding some variety to a section most fast food joints are lacking in. The use of cane sugar seems to be a defining factor in beverage quality, making us wonder when high-fructose sweetened beverages will be a thing of the past.
The Verdict: Solid. These are great drink options, its good to see Wendy's put the effort into something other than their burgers or premium sandwiches.
3. Chick Fil A – Iced Tea, Lemonade, Arnold Palmer, Frosted Lemonade
Chick-fil-A has hands down the best Arnold Palmer in fast food. With the option of choosing sweetened or unsweetened black tea, and regular or Splenda-sweetened lemonade, it's the only fast-food Arnold Palmer that gives you so many variables to control. Flavor-wise both elements are delicious and complex on their own, the black tea isn't so bitter as to just taste dirty, and the lemonade is balanced and tart, making the Arnold Palmer absolutely refill-worthy.
If you're really feeling daring you can order the Frosted Lemonade — a freshly-prepared hand-spun mix of Chick-fil-A's in-house lemonade and their soft serve vanilla ice cream, which is way better than it sounds and doesn't feel like it would be an impractical combination with any of the food on their menu.
The Verdict: Delicious! The in-store freshly squeezed lemonade is one of the best fast food has to offer. Less sweet than Wendy's, but not watery and bland like what's found at Raising Cane's. The black tea offers a bit more complexity than it's competition, leading us to believe care is put into the brewing process.
2. Blaze Pizza – Agua Frescas
FINALLY, some goddamn variety. We only had to go to one of those Kramer-esque make-it-yourself pizza chains to find it. Blaze Pizza — essentially chipotle but with pizza — offers several Agua Frescas: Prickly Pear and Key Lime Mint, both of which are delicious. They also have a lemonade and a blood orange lemonade, but let's just not even talk about those. If you're unfamiliar with Agua Frescas you're not totally missing out, because it's basically just juice. They're typically found in Mexican Taquerias, coming in flavors like guava, chia seed, and cucumber, or horchata.
It wouldn't surprise us if Blaze started introducing more traditional Mexican flavors and it would be a welcome addition to an already great drink selection that isn't limited to Coca-Cola-sponsored fountains.
The Verdict: We don't know why a fast-casual pizza eatery founded by the people who own Wetzel's Pretzels even serve aqua frescas, but thank god they do!

1. Panda Express – Tea Bar
Did anyone even know this existed? Panda Express' website states "Contemporary mixology meets the ancient art of tea at Panda Tea Bar," are they kidding us? Since when?! This is what every fast food eatery needs. Genuine time, craft, and thought behind the drinks they serve. 'Hand-crafted' is a just a buzzword, fast food places just LOVE to add it in front of their boring lemonades. Well not Panda Express, the ingredients are actually tossed in shakers. The only major fast-food chain to offer milk tea, fruit tea, ginger lemonade (eye roll), and Mango smoothies! They have boba!!! Aloe Vera, jelly, chia seeds, we must've died and gone to heaven. the water.
The Panda Tea Bar is modeled after Taiwanese tea bars that specialize in milk teas and other delicious tea-based beverages, often with chewy boba or lychee delivered via special wide-mouthed straws. I absolutely love boba, and the idea of being able to enjoy the subtleties of properly brewed tea and tapioca jelly while eating a meal is a pleasure everyone deserves to experience.
The Verdict: Paradise. Panda Express doesn't have the most authentic tasting milk and fruit teas, but their magnificent effort and imagination should make the competition take notice. They absolutely kill everyone on this list, our favorite is the Panda Milk Tea which is essentially just a standard Black Milk tea, but the Matcha is also very grassy and refreshing.