It's very rare (if at all) that I cover National *Fill In the Blank* Day. However, today is special — it's National Bourbon Day! As a writer covering the beloved brown spirit, this is the one day I cherish because it was bourbon (bourbon from Texas, specifically) that catapulted me into the world of booze.
I'm not the only one celebrating today. George Dickel has marked the holiday by launching their newest expression from Cascade Hollow Distillery, Dickel Bourbon, which has been quietly maturing in their rickhouses for eight long years. Cascade Hollow Distilling Co.'s General Manager and Master Distiller Nicole Austin broke down how the iconic Tennessee whiskey got into bourbon over Zoom last week.
"We had other whiskeys that didn't fit the [Tennessee whiskey] character at all," Austin told me. "Instead, they reminded me of what you'd expect from a lovely bourbon with vanilla, stone fruit, almond, toffee, an oak presence, and a little bit of spice. Rather than blending those notes away, behind the curtain of those really big and bold Tennessee whiskey barrels, it felt natural and appropriate to give them their own bottle to shine."
After Austin tried up to 4,000 samples across the span of several years, Dickel Bourbon was born.
Technically speaking, since all Tennessee whiskey starts off as bourbon and most of George Dickel's portfolio meets the qualifications to be called bourbon, it makes pretty natural sense that Dickel would shift into the market by labeling one of their expressions as such. Especially as bourbon growth continues to soar.
"It's my hope that Dickel Bourbon is the everyday pour for people who really appreciate nice whiskey," Austin said. "That's why it's at that price point — because I want people to feel they can reach for this."
I was one of the first to try Dickel Bourbon before it hits select markets today. Check out my notes below!
Dickel Bourbon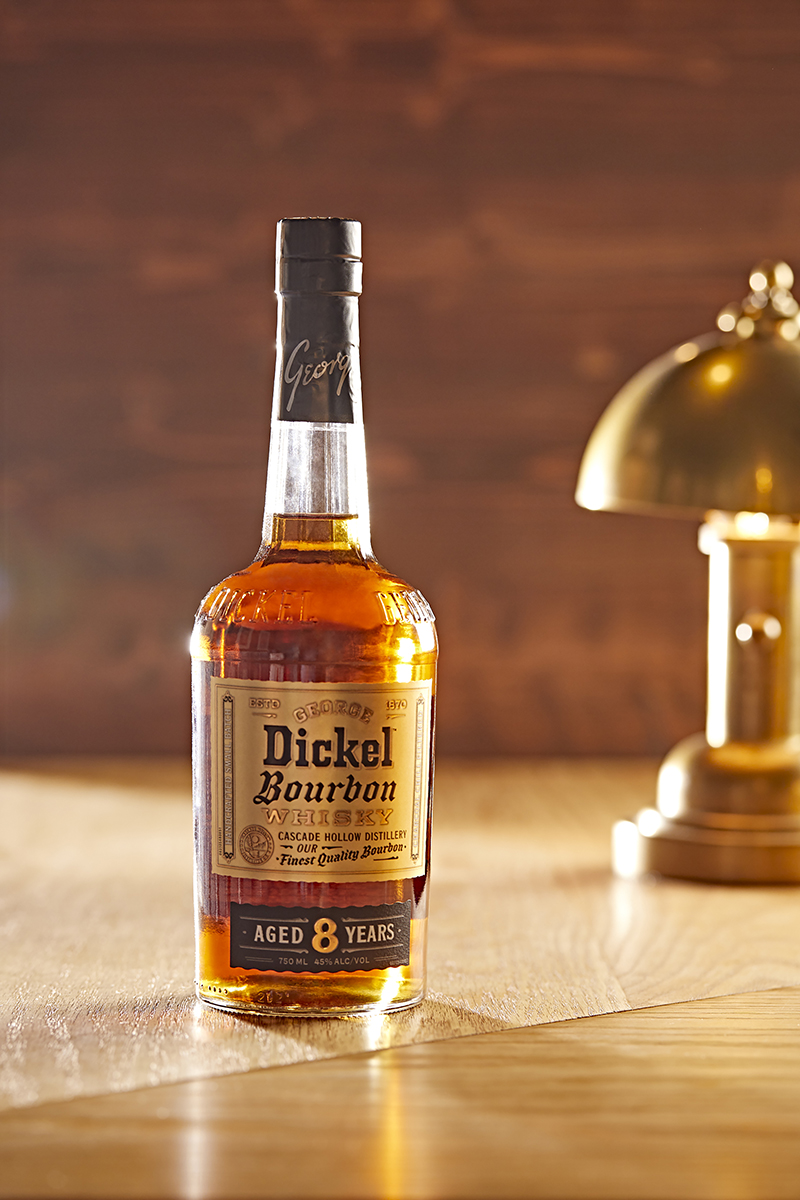 ABV: 45%
Average Price: $32 (MSRP)
The Whiskey:
The makers of George Dickel, Cascade Hollow Distilling Co., have been around for 150 years. Dickel Bourbon has a mash bill of 84 percent corn, eight percent rye, and eight percent malted barley, like other expressions in the George Dickel lineup. So, in truth, this is really a story about blending. Austin selected barrels that tasted like "classic bourbon" and rather than blending those qualities out of them to fit the Dickel "Tennesse Whiskey" tasting notes, she leaned in by designing this expression.
Same mash, same Lincoln County filtration process, same Dickel stills, same barrels, same rickhouses — but by blending toward a specific flavor profile, you get distinct notes.
Tasting Notes:
The nose consists of every bit of detail I love about traditional bourbon: sweet notes of vanilla and caramel share a beautiful moment with oak. Upon the first sip, my palate is greeted with ripened dark cherry, orange peel, and rich caramel. In fact, the taste reminds me of the Goetze's caramel chews I used to indulge in as a child, but without being overly sweet. The finish fades quickly with a "love bite" of spice at the back of the palate.
The Bottle:
The bottle is a classic Dickel bottle. The lined ridges on the body help with the grip and have a slightly old-school feel. The long neck has become one of Dickel's signatures. The color scheme of light cream and brown helps bring a more bourbon-y vibe to the bottle as well.
Bottom Line:
Austin's final words to me truly resonated with my overall tasting experience: "Your bar is not a museum. It's for enjoying. Grab a bottle and enjoy it." This is to say that this is a workhorse in a good way, I enjoyed my pour neat and in a classic Old Fashioned.
Rating:
82/100 — This bourbon serves as a great introduction to the spirit for newcomers and a solid workhorse for whiskey aficionados.