"Cocktails are about relaxing, having fun, bringing people together, and, of course, enjoying something delicious."
Those are the wise words of Ryan Chetiyawardana or Mr. Lyan, co-founder of the much-lauded Lyan bars and recent MasterClass bartending instructor. And while the "bringing people together" aspect of his statement doesn't fit with life in the pandemic, the thirst for relaxation, fun, and deliciousness all certainly holds up. In fact, those elements are more relevant now than ever.
While it goes without saying that 2020 has not been an easy year for anyone, that's especially true if you work (or worked) in the hospitality sector behind the bar or serving tables. Bars and restaurants were the first to close and have been the last to reopen as lockdowns sweep the globe. We're talking about millions of jobs, plus a massive supply chain linked to dozens of other industries from farming to distilling and brewing to soft drink manufacturers to ice companies — all shuttered or reeling from a loss of demand.
In the wake of this massive upheaval, innovative bars have attempted to diversify — with takeaway cocktails, liquor and beer sales, and outdoor-only seating — to varying degrees of success. Meanwhile, many bartenders have gone online to teach those stuck at home (and craving a stiff drink). And while the economic viability of demoing recipes on social media is dubious, there's certainly an eager audience.
You don't have to look any further than Google Trends to see that the demand for cocktail recipes skyrocketed in quarantine. That very phrase — "cocktail recipes" — began spiking in March 2020 and content creators immediately stepped up to answer the call. Drinks tutorials released on YouTube are booming, and TikTok, Instagram Live, and Zoom tastings have all been embraced by both the industry and consumers alike.
While the social aspect of bars and restaurants can't be recreated online, we're 100% supportive of people gaining new skills and learning the ins-and-outs of what it takes to actually make a good drink. (Hopefully, it leads to better tipping, too!) To do our part in finishing the year of at-home bartending strong, we thought we'd break down the best ways to indulge in a little amateur mixology while also offering a few "must know" recipes.
Part I: Home Bar Equipment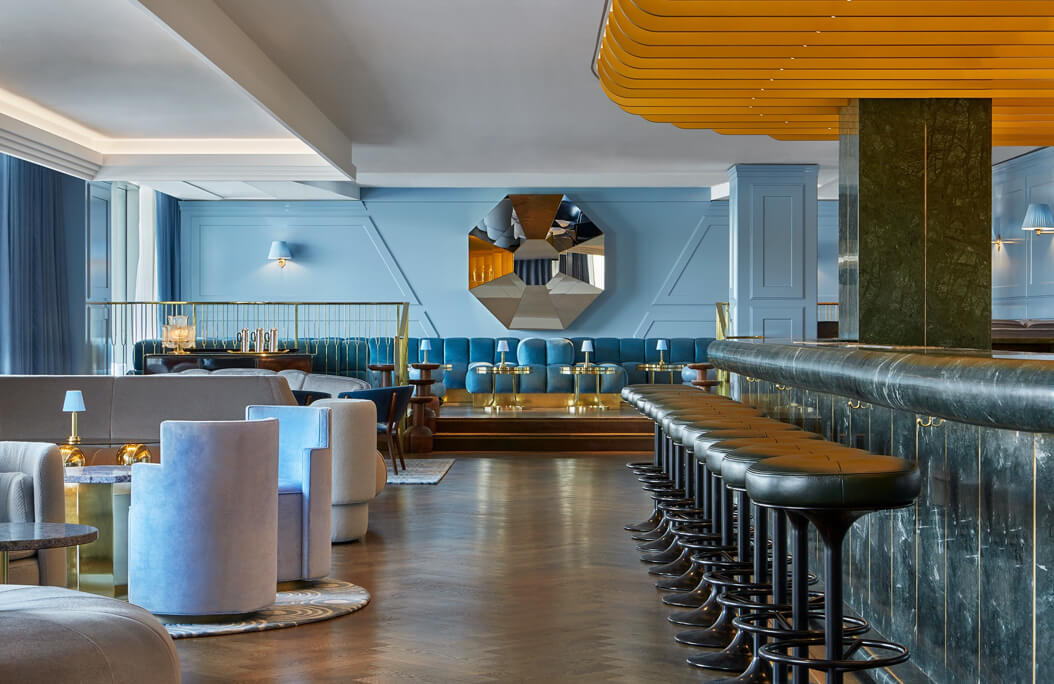 "When advising individuals on the best way to make beverages in their homes, I always turn to utilizing items that they already have in their pantry or their fridge," says Lauren Paylor, bartender at Silver Lyan in Washington, DC, and co-founder of Focus On Health.
The same goes for equipment. There's this idea that you need a crystal mixing jug, fancy copper shakers, long bar spoons, the exact right glasses, dehydrators, smokers, etc… The truth is, you really don't. These items are nice, but not a necessity.
"You could have a Mason jar or Tupperware container that you shake in and a shot glass you got for free to measure with yet still make a great drink," Iain Griffiths, co-founder of the Lyan Bar Group.
Chetiyawardana adds, "Ice cube trays, a decent knife, and a means to measure — jigger, scales, tablespoon — are probably going to make the biggest impact."
The other facet that seems to really pull people back from diving into home cocktail mixing is the actual booze. While you may have an old jar and spoon hanging around your kitchen, you probably don't have a bar's worth of liquor on your shelf. Our best advice when buying bottles is this: Don't break the bank with expensive expressions when you're learning.
A $20 bottle of whiskey goes a long way when you're practicing your old fashioned game or tinkering with your Manhattan. Paylor, Chetiyawardana, and Griffiths all agree: when mixing at home, balance is what makes a good drink, not spendy equipment or even the most pricey alcohol.
SEE ALSO: Build A Home Bar Without Breaking The Bank
Part II: Easy Cocktail Recipes To Try Right Now
When you're learning cocktails, it's key to stick to the classics. Develop a solid baseline before riffing and experimenting too much. Three of the five cocktail recipes below are pulled from our own cocktail recipe list from November 2020, "Easy Cocktail Recipes For The Blossoming Home Bartender." The other two are stone-cold classics that we wish had made the cut last month. We're adding one vodka and one rum cocktail since those are some of the most searched cocktails right now (also because we really dig both vodka and rum cocktails).
White Russian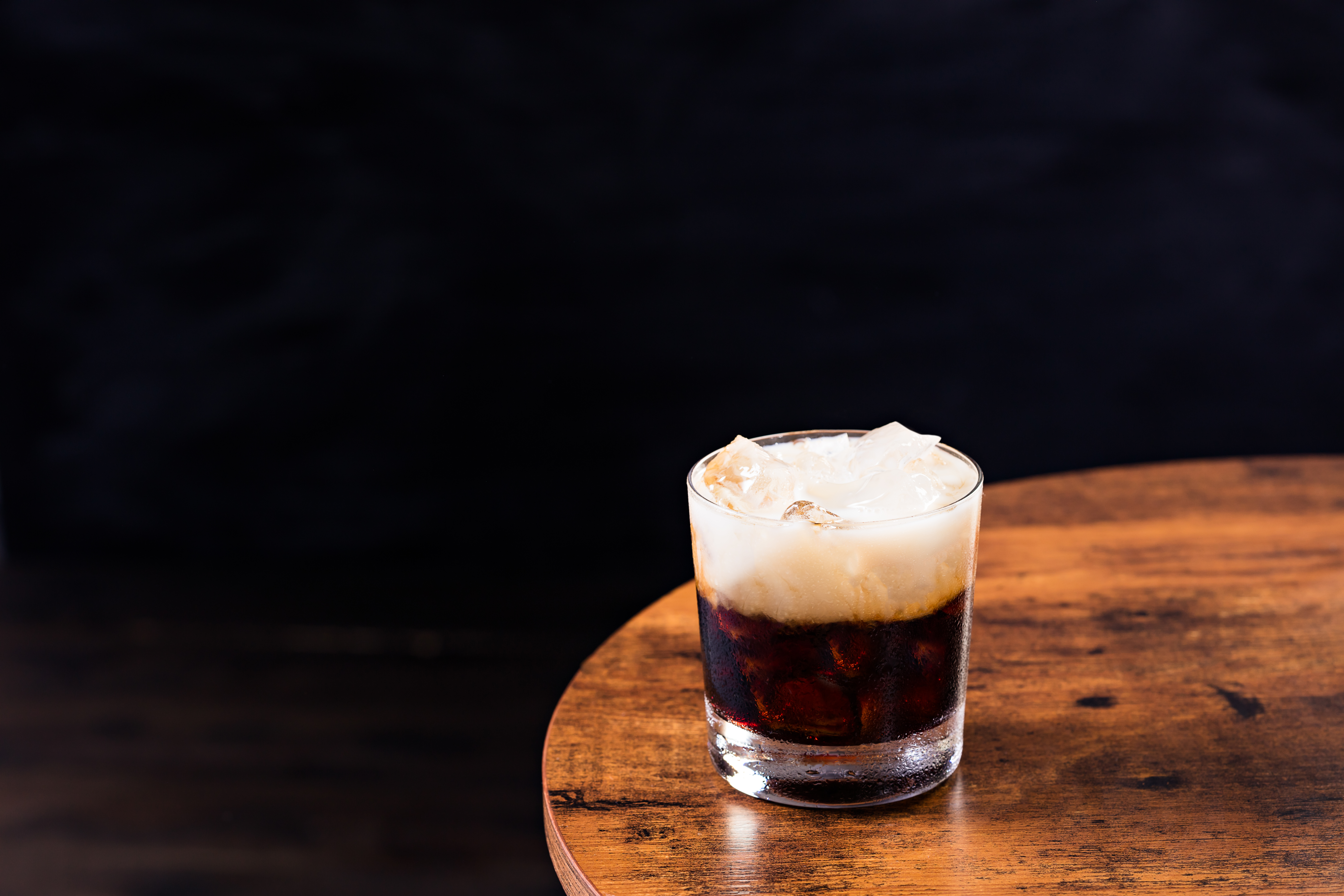 The Drink:
This is the ultimate dessert drink that's a bit of an eye-opener thanks to the coffee-liqueur base. It's also super easy to make. It's a three-ingredient drink that just takes a little finesse to nail.
Supplies:
Rocks glass
Jigger
Stirrer
Ingredients:
2-oz. vodka
1-oz. coffee liqueur
1-oz. heavy cream (36 percent milkfat)
Ice
Method:
Fill your rocks glass with ice.
Add the vodka and coffee liqueur and stir until well blended and the glass starts to get cold.
Pour the heavy cream in a slow and steady stream against the inner edge of the glass so that the cream floats.
Drop in the stirrer.
Serve.
Dry Gin Martini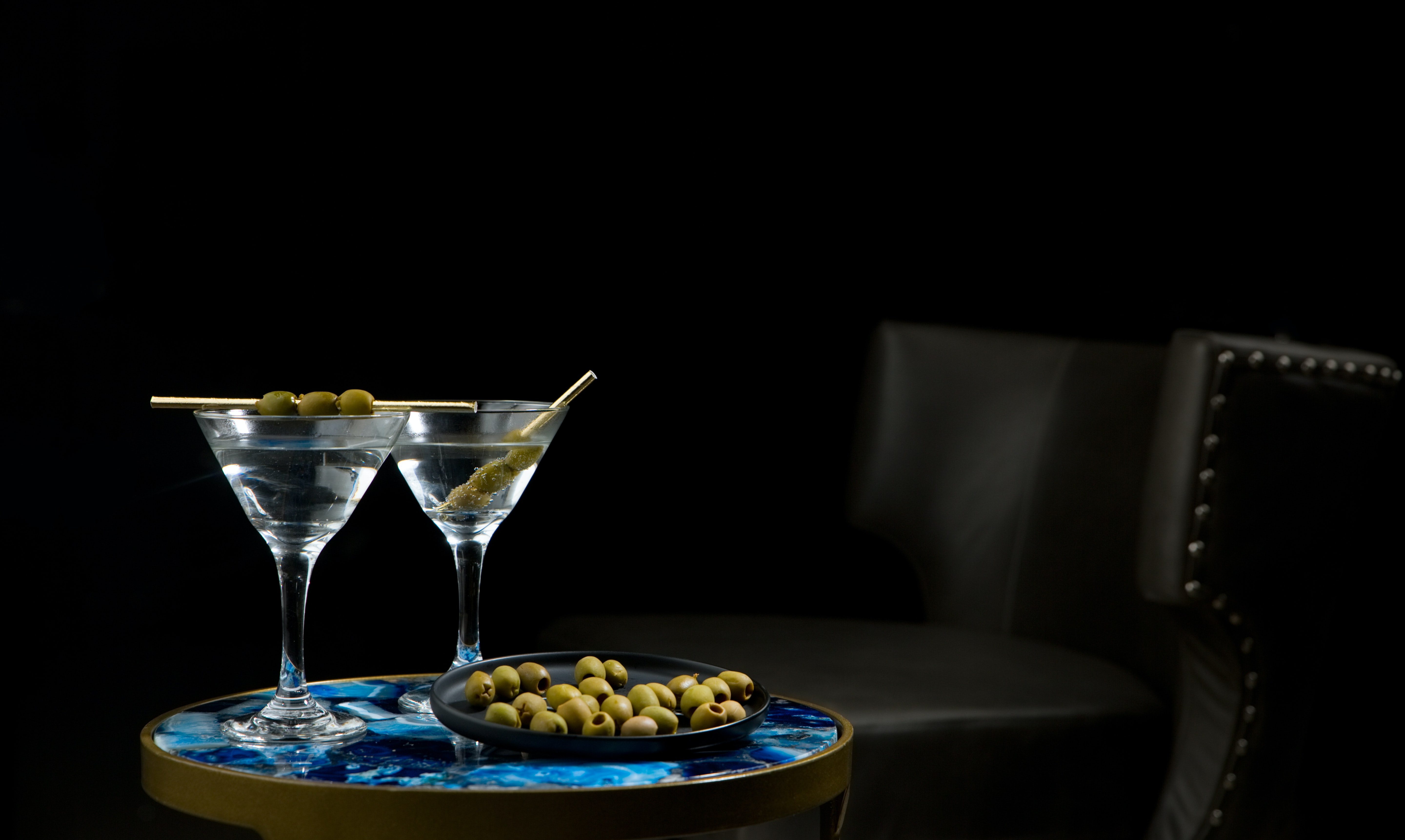 The Drink:
This is the one cocktail everyone should be able to make. A dry gin martini is simple yet overflowing with subtle nuance. This is the sort of drink that you need to stir up a couple of times to get exactly right.
Once you hit a stride, you'll be whipping these drinks up non-stop.
Supplies:
Cocktail glass or Nick And Nora glass
Fruit peeler or cocktail stick
Barspoon
Jigger
Mixing jug
Strainer
Ingredients:
2.5-oz. dry gin
0.5-oz. dry vermouth
Ice
Lemon peel or green olives
Method:
Add gin and vermouth to a mixing jug.
Top with ice.
Stir until the outside of the mixing jug is ice-cold to touch.
Strain the drink into a pre-chilled glass.
Garnish: Either spritz lemon oils over the drink and drop in the peel or spear a couple of olives and drop them in the glass.
Serve.
Manhattan
The Drink:
If you can make a dry martini, you can make this classic. It's the exact same concept only with whiskey in place of gin, sweet vermouth in place of dry vermouth, and a dash of bitters to give it a little more color.
Supplies:
Cocktail glass or Nick and Nora glass
Fruit peeler
Cocktail stick
Barspoon
Jigger
Mixing jug
Strainer
Ingredients:
2-oz. rye whiskey
1-oz. sweet vermouth
3 dashes Angostura Bitters
Ice
Orange peel
Luxardo cherry
Method:
Add the bitters, whiskey, and vermouth to a mixing jug.
Top with ice.
Stir until the outside of the mixing jug is ice-cold to touch.
Strain the drink into a pre-chilled glass.
Spritz the drink with the orange oils from the orange peel and discard.
Spear one cherry (two if you must but not more than that) and drop it into the glass.
Serve.
Champagne Cocktail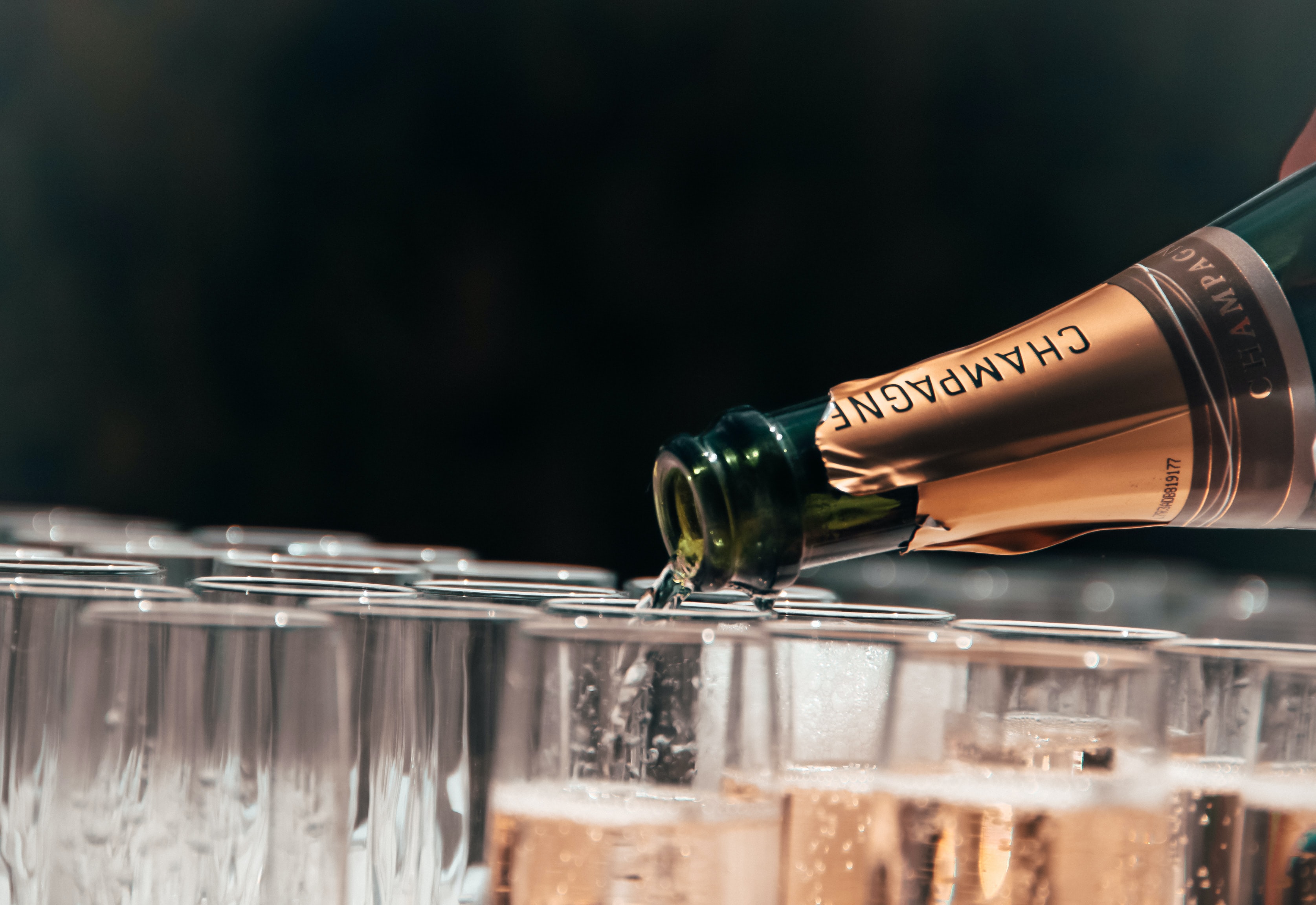 The Drink:
Okay, this is technically the easiest cocktail on this list. You really aren't "mixing" anything with this one. There's no stirring, no shaking, no measuring. Yet, if you have a nice and dry Champagne (think Bollinger or Roederer), this cocktail can really take it to the next level by basically amping it up with a touch of bitters and sugar.
Supplies:
Champagne flute
Barspoon
Fruit Peeler
Ingredients:
Champagne
1 white sugar cube
4 dashes Angostura Bitters
Lemon peel
Method:
Balance the sugar cube in the bowl of a barspoon and hit it with four dashes of bitters.
Let the cube soak in the bitters for about 20 to 30 seconds.
Drop the sugar cube into the bottom of a pre-chilled Champagne flute.
Top with ice-cold Champagne.
Spritz the oils from the lemon peel over the drink and drop in the peel.
Serve.
Rum Old Fashioned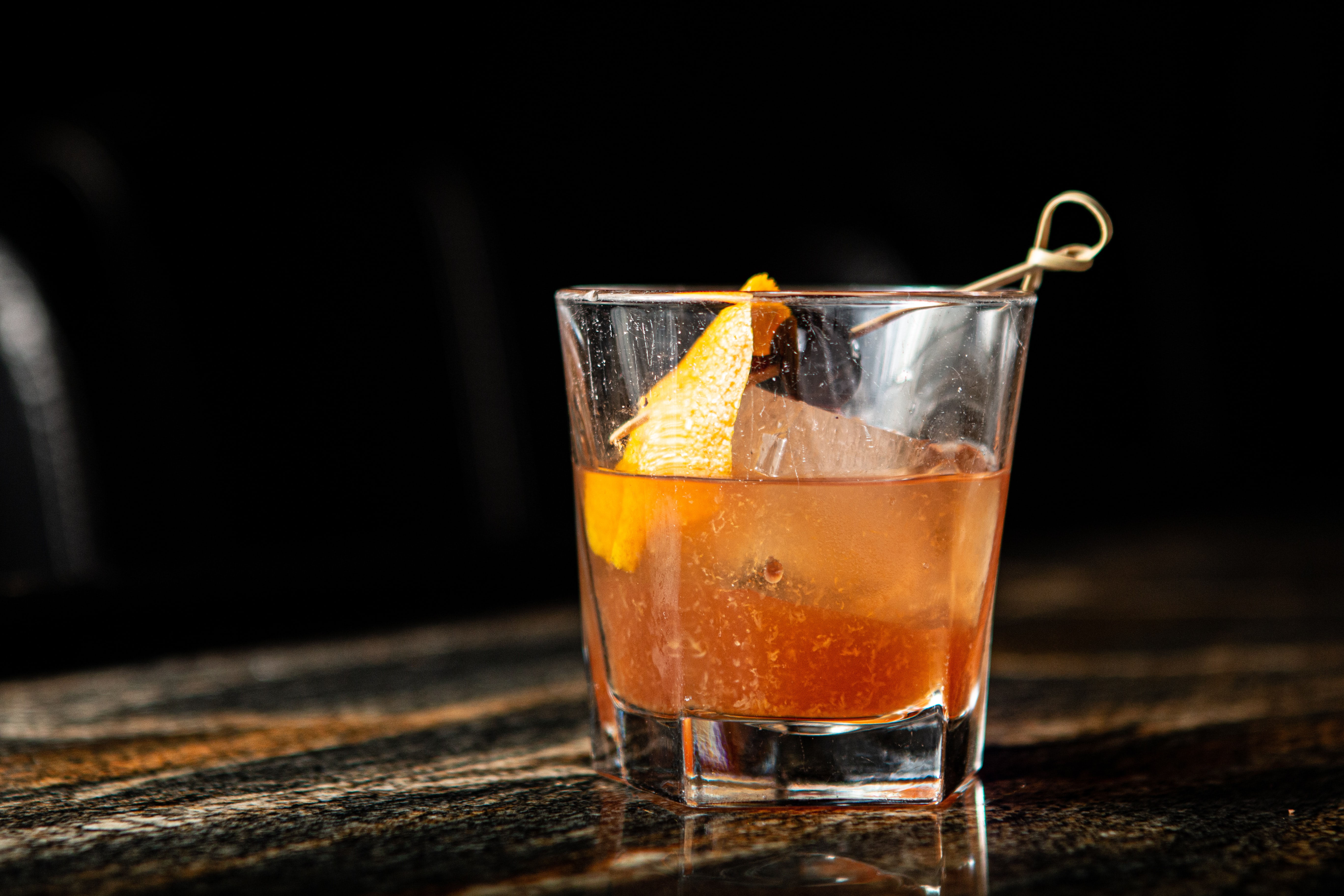 The Drink:
Do you know what's better than a regular old fashioned? A rum old fashioned!
Supplementing rum for bourbon or rye adds a funkier and fruitier dimension to the classic cocktail while still offering the oompf of a pure alcohol drink. It's the same easy cocktail just with a little more going on. The added benefit of this drink is that, like the first one of this list, you can make it in the glass.
Supplies:
Rocks glass
Knife or fruit peeler
Jigger
Barspoon
Ingredients:
3-oz. Caribbean dark rum
4 dashes Angostura Bitters
1 barspoon white sugar
1 barspoon water
Orange peel
Ice
Method:
Add the sugar, water, and bitters to the rocks glass and stir until sugar starts to dissolve.
Add in the rum and stir until sugar has completely dissolved.
Add in the ice and stir until the glass is ice-cold to touch and the volume of the liquid has doubled in size.
Top with ice.
Spritz the oils from the orange peel over the glass and run the peel around the rim and outside of the glass then drop it in the drink.
Serve.