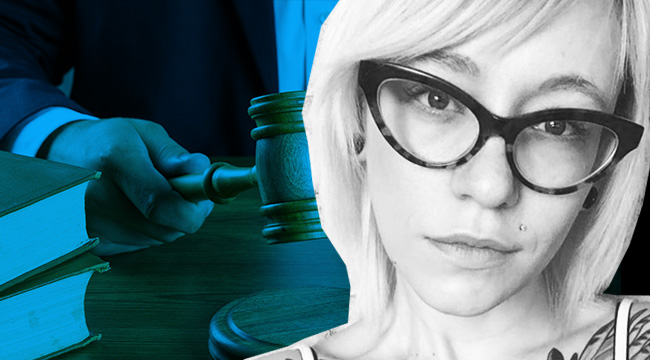 "I'm having trouble with words right now," Finley Fawn says, her voice breaking over the telephone. Almost a month ago, Fawn lost custody of her six-year-old son. She's managed a measured tone throughout most of our phone conversation, but the facade starts slipping as we finish up. There's pain in her voice and I long to offer her some reassurance that everything will be okay. But vague platitudes don't win custody hearings and reassurances can't cover the mounting legal bills. The fact is, I have no idea if Fawn will get her child back.
This isn't happening because Fawn is abusive. She brought eight character witnesses and a mountain of paperwork to her initial custody hearing to prove just the opposite. It's because, at the present, courts have sided with her ex-husband in the belief that Fawn has allowed her son too much awareness of her job — which is legal and taxed. For her part, Fawn insists her profession is unknown to her child. It's important to note here that Fawn is not a prostitute, but a cam model, someone who performs solo via webcam for paying customers from home. She tells Uproxx that when it comes to the court, she hasn't been able to shake the stigma that comes with any form of sex work.
To say Fawn was stunned by this recent turn of events would be an understatement. The emergency order to remove her son from her home — filed by her ex last month — hit her like a mack truck. She says that a man came to the door while her son was with his father, served her with papers, told her "it was no big deal," and then waited in his car for Fawn's husband to come home, to serve him, too. The "no big deal" part was untrue. The documents included a notice that her son wouldn't be coming back to her house at the end of his time with his father. Fawn's ex had filed for sole custody, arguing that Fawn was an unfit mother. He states that the six-year-old boy has shared details with him about his mom's job, and that she does not have proper boundaries when it comes to her work. Fawn insists that she's never shared anything about her work with her son. She provided the court with printouts of tweets she'd sent from her work account, which, she says, is where her ex got his knowledge of her professional life.
In court, Fawn says, the judge made a statement that will "stick with me forever." Before hearing any witnesses, and with only Fawn's Twitter introduced into evidence, the woman presiding over the case reportedly said that anything more than her ex's testimony was superfluous. Before Fawn even had a chance to speak, she says, the judge admitted she'd made up her mind. This despite the fact that Fawn had prepared the best case she could in the short amount of time she'd been given before the hearing. She had paychecks, pictures of her house, her son's school records, and other information at the ready. Fawn printed anything, she says, that would make it clear that she wasn't a "drug-addicted, alcoholic prostitute."
None of that evidence was seen. Instead, Fawn's lawyer sat her down and explained that a trial would be long and expensive. It would involve paying an attorney, hiring expert witnesses, paying court fees and appealing (something that Fawn might have to do more than once). In total, the attorney Fawn had retained on an emergency basis told her that getting her child back on the same terms as before — joint custody — would cost more than $100,000. Money that Fawn doesn't have.
Fawn isn't alone when it comes to this feeling of powerlessness in court. While cam work is a taxed business that brings Fawn a livable income, it's highly stigmatized. Take the case of Tanaha Koontz, whose children were taken away from her and given to her ex despite numerous instances of domestic violence, two arrests, and a kidnapping:
From Koontz's account, via Mommyish:
Six months after my abusive husband began trafficking me on the internet I began to resent him, and thought that if I had to be a hooker, there was no reason to put up with his abuse anymore. I could afford the child care and rent on my own and began to work toward becoming independent from him, and furthering my non-prostitution related ideas for websites. I began to study web development and created an adult network online though it has yet to show any profit.