II. Chicken Skin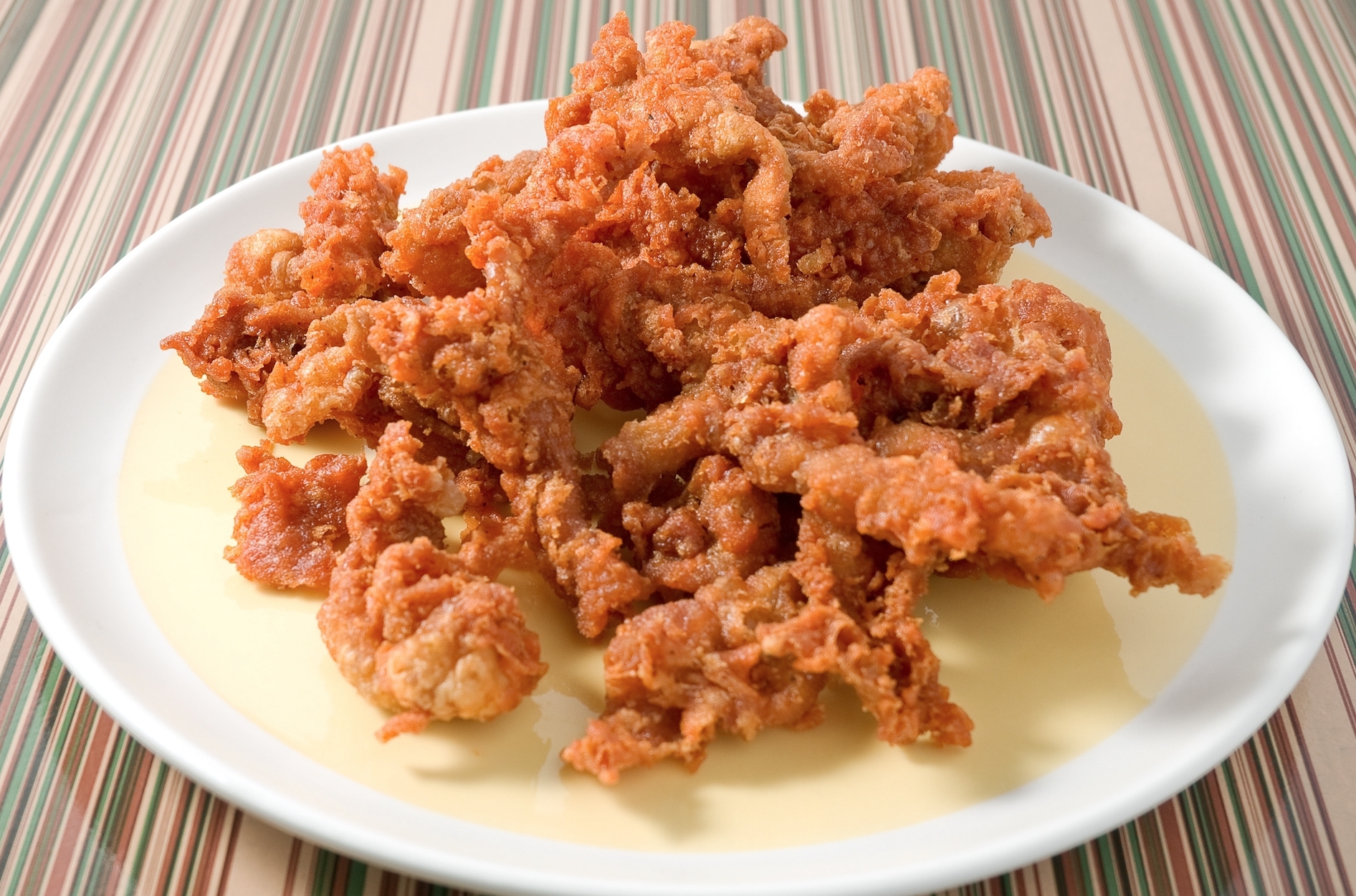 This is one I'm already starting to see on menus and on Top Chef: Dishes that include chicken skin as an ingredient. I love it! It's not that chicken skin has to be the star, I include this to mean dishes that utilize it on its own, in any way.
I think my generation, who grew up believing many now-debunked ideas about fat being bad, were raised largely in a boneless-skinless world. We're just now starting to feel the backlash, where crispy chicken skin is this decadent novelty, and I'm all for it. And actually, it's not decadent at all. As an animal lover who has dabbled in vegatarianism, one of the ways I justify my continued meat eating (which is demonstrably terrible for the environment even if you don't give a shit about animals, and chickens are especially unsympathetic to me) is that if I'm going to eat animals, the least I can do is do it less, and try to use meat more as a flavoring agent or ingredient than as the main focus. It also means using the whole thing and not letting parts go to waste. Chicken skin isn't offal, to be sure, but it's nice to see it pulled off and celebrated as its own thing, rather than wasted — literally or metaphorically. It seems more useful that way.
For instance, the other day I made chicken cacciatore, and rather than just leave the chicken (thighs, always thighs, baby) in one piece like I might have in the past, I pulled off the skins, cooked them up crisp, and then sprinkled them on top at the end as a garnish. This accomplished a few things: first, it allowed my seasoning to penetrate the whole chicken thigh rather than being blocked by the skin. Second, it gave the dish a textural contrast. You could taste (and chew) the crunchy skin separate from the rest, instead of just getting a whole chicken thigh with one basic texture (and flabby skin).
Anyway, chicken skin. It's delicious. -Vince

III. Tongue
Last year was the year of lesser-known cuts — flank steak, etc. I think this year will be the year of almost-untouched bits. Tongue fits the bill nicely. There are so many reasons this works, many of which Vince pointed out when talking about chicken skins. Here's another reason: it's tender and fatty, two qualities that led to the pork belly craze. Moreover, tongue takes flavor well, so it's easy to envision your local BBQ joint doing a tongue sandwich and your favorite taco shop doing a lengua taco (if the place is worth a damn, they probably already have one).
Do I think tongue will get huge? No. Just the idea of it is off-putting to some people (not me, I'd eat roasted cow anus if it tasted good). But I do see it being used by smart chefs like Steph Izard at The Girl & The Goat and I think that trend will grow. -Steve
IV. Sweetbreads
I second the tongue and add sweetbreads. After some reading, it appears that sweetbreads (the thymus gland) generally come from young animals like lamb and veal, when the thymus is more pronounced, and as far as I can tell each animal only has two (someone fact check me here, I couldn't find this info). Which would tend to crap on all the points I made about eating less animal parts.
That being said, it is considered offal and a lot of people are scared of it. Don't be! Sweetbreads aren't gamey or weird tasting at all, they're kind of like these creamy, delicate chicken nuggets. I tend to only see them on menus at fancy French places and I order them every time. More! –Vince