Like Big Foot, weed out of Northern California is the stuff of legend. We're currently living in an age where great weed comes from all over the country, but if you smoked something 15 years ago and it knocked you on your ass and sent you on a mind trip that forever made music, food, and the sun sound, taste, and feel different, well… it was probably from Humboldt, Mendocino, or Trinity counties, in California — also known as the Emerald Triangle. While this new era of growhouses and legal farming have leveled the playing field a fair bit, Nor-Cal still produces some truly great weed brands.
With A Golden State certainly being one of them. Both on the production side and in the effect it has when smoked.
A Golden State grows its weed in "the shadow of the Cascade Mountains," which sounds really romantic for a dope growing operation. They water their plants with snowmelt from Mount Shasta (like… you guys mean creeks, right?) and grow it out of natural soil "derived from coconut hulls" (seems cool, pass the joint already). But as easy as it is to roast the jargon, a cannabis brand putting sustainability front and center actually seems pretty vital. As legendary California is in the cannabis conversation, it's still a drought-stricken state.
"A Golden State is proud to say that we've pioneered most of the advancements in this space," Nishant Reddy, A Golden State's CEO wrote via email, "including being the first and only carbon neutral cultivation, relying only on hydro-electric power. We recycle all of our growing medium to help support local community gardens and we water our plants with snowmelt water captured from Mt. Shasta."
He added: "We believe quality in leads to quality out and this extends to our philosophy toward sustainability."
Naturally, these sustainable practices come with a pretty high price tag attached. An eighth of A Golden State weed will cost you $60 before taxes, likely pushing your total to around $80. That's a lot of money for 3 1/2 grams of herb.
Is it worth it? I sampled two of A Golden State's strains — Mountain Shadows and Night Sky — to find out.
Mountain Shadows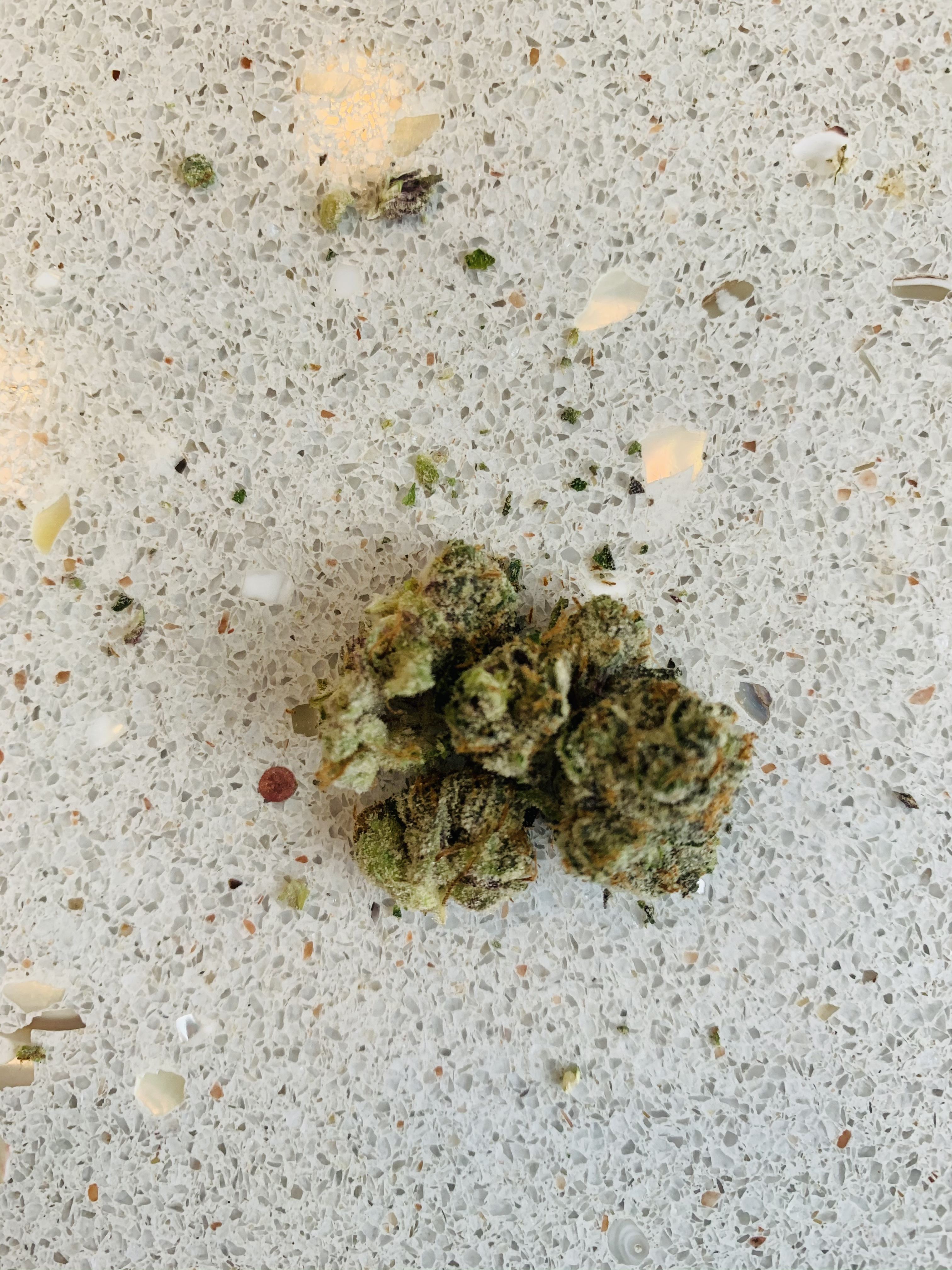 Retail Price: $60
Strain:Hybrid
THC: 21.9%
Dominant Terpenes: Limonene, Myrcene, Linalool, Pinene
The High:
As soon as you crack open the jar of Mountain Shadows you're presented with forest-y notes of pine and soothing lavender. I ground this herb up real fine and smoked it through a vaporizer to really help tune into the flavors. On the palate, I got a citrus-forward flavor — very zesty with an almost bitter rind quality — with more notes of lavender and a slight mint lift on the back end. This is a great strain to inhale and hold, the flavors are really soothing.
The high will kick in almost immediately, melting anxiety (courtesy of the Limonene), and drawing you into a calming wave of relaxation as your senses start to tingle. As relaxing as it is, the high is never so heavy that you'll end up couch-locked all day. It's a great cerebral strain that keeps the high mainly in your headspace.
The Bottom Line:
Mountain Shadows is the type of strain that will get you in-tune with your surroundings and appreciative of whatever you're experiencing, making it a great option for chilling out and listening to music or at the end of a hike with some friends.
Night Sky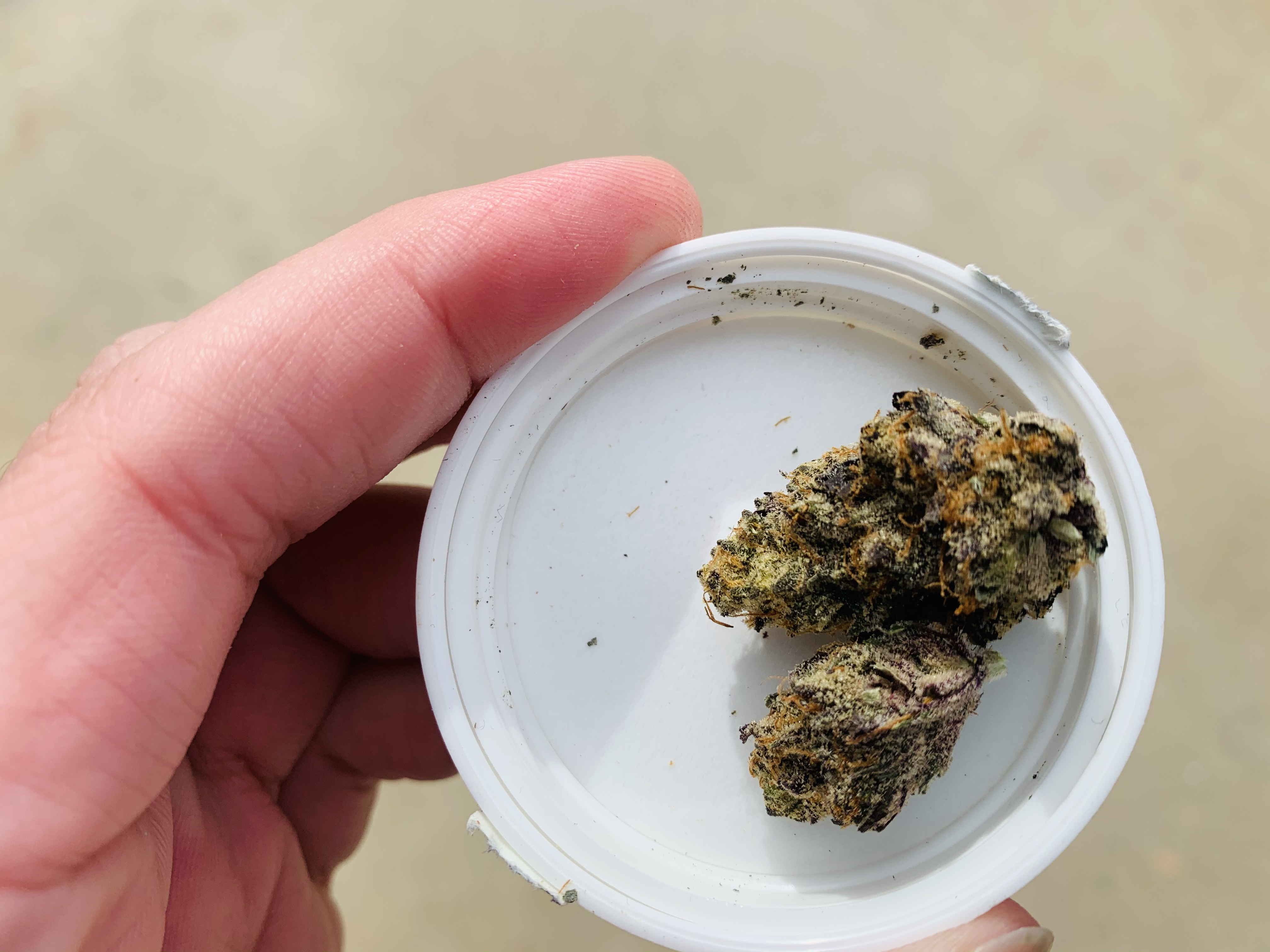 Retail Price: $60
Strain: Indica
THC: 26%
Dominant Terpenes: Limonene, Myrcenemm Caryophyllene, Linalool, Pinene, Humulene
The High:
Night Sky feels like the exact opposite of Mountain Shadow and I imagine it got its name for its heavily sedative qualities, which feel geared for bedtime. The nose and palate of this strain are dominated by deep notes of pine, with subtle floral hints. Visually, it's beautiful — featuring deep purple flowers intertwined with deep greens and orange hairs.
The high here is heavy. It won't make you feel sluggish but it'll make the idea of doing nothing feel too damn good to pass up. Like Mountain Shadows, the effects show up quickly after a single hit providing a sedating buzz throughout the body that'll keep any intense aches and pains at bay and make every sensation feel amazing. Smoke this after an intense workout session or a long day at work and take part in a little self-care.
The Bottom Line:
If you're looking for the ultimate relaxation strain, look no further than Night Sky. The high is powerful, sending relaxing vibrations through the body that melt away aches, pain, and stress.