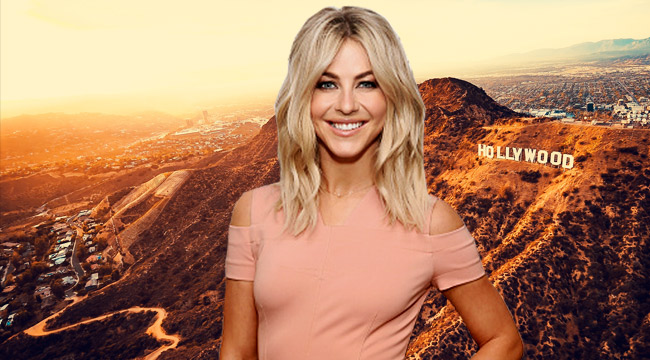 Welcome to MEET THIS CITY, your chance to explore our favorite cities in the world through the eyes of a celebrity, star chef, creative maverick, or pro athlete.
For the first Meet This City ever, we're off to the City of Angels. From the infamous Hollywood sign to Sunset Boulevard and the Walk of Fame, there are so many notable places to visit. But don't you want to know the best go-to places from someone who lives there and not just a Yelp review? Well, you're in luck because you're going to meet Los Angeles from the perspective of Julianne Hough.
For those who don't know, Hough is a two-time Dancing With the Stars champ turned judge, Primetime Emmy Award winner, singer and actress. She's got 4M followers on Instagram, starred in Paramount's Footloose remake, and sang and danced her way through Grease live. Through her career, LA has become Hough's home. From hosting CorePower Yoga classes in Hollywood to shopping at the best outdoor malls LA has to offer, her go-to spots won't disappoint.
Let's jump right in!
MOST LA THING TO DO
Get Outside
The most Los Angeles thing to do is go on a hike. You know there's so many hikes, there's Runyon Canyon, there's Lake Hollywood, there's Franklin, there's the Santa Monica Mountain. There's so many different amazing hikes, it's beautiful, the weather's always great. That's what I love about living in LA, it's a very active, outdoor lifestyle where people care about being healthy, which is great.
BEST PLACE FOR A SWEET TREAT
Salt & Straw, which is SO good. But if you want to be a little more health conscious, you go to Yogurtland. The way that I like to do my toppings is I start with the toppings on the bottom, then I put the yogurt in, then I put another layer, and then another layer of a different flavor of ice cream and then the toppings again. So… not that much healthier.
BEST DATE NIGHT SPOT
There are so many awesome date night spots. We just went to the Hollywood Bowl for a concert, sometimes we go to the Hollywood Forever Cemetery to watch a movie–these are all very LA things to do. Sometimes, to be honest, and as touristy as this sounds, we love the Grove and we'll go there and have dinner and see a movie.
There's so many freaking restaurants you can literally try a new restaurant everyday and not go somewhere twice.
BEST LATE NIGHT SNACK SPOT
Oh man, Tito's Tacos is off of Sunset and it's great if it's midnight or 2 o'clock in the morning. Diners are always good, like Mel's diner or Joe's pizza. If you're in New York often, you'll know that LA does not stay open late. Everything's pretty much done by midnight.
https://www.instagram.com/p/BB-7CxzOyy6/
BEST KEPT SECRET IN TOWN
The People
Oh man, it used to be Franklin — which was a great street to go on when you wanted to cut out all the traffic, but now it's like everybody uses Franklin so that's not a kept secret anymore. There's this really great dog park that not a lot of people go to, it's up by the Hollywood sign. The Silver Lake Reservoir is great, I don't see people there a lot.
You know what the best kept secret is? There's a preconceived notion that the people out here in LA are fake and like "Hollywood" and that it's hard to find good people. And the best kept secret I think is that LA rocks. People are amazing, they're big dreamers and they put out good energy. And there's so many good people here that make you want to be the best version of yourself.
BEST COFFEE AND TEA SHOP
Coffee Commissary on Fairfax. I like Commissary, I really like their coffee. And there's a really yummy avocado toast so I always get that there. I really like Alfred's Tea Room more so than their coffee shops.
BEST BRUNCH SPOT
Favorite brunch? My house (laughs). Jon and Vinny's– they have really good food. To be honest, I cook so come to my house for brunch. It's my favorite thing ever to have a really yummy, big American breakfast. With bacon and eggs and potatoes and pancakes and just bring friends over and hang by the pool and stuff.
BEST OUTDOOR ACTIVITY
Outdoor shopping
You can hike all year long and there's biking. There's actually little corn mazes and haunted houses, Hollywood Horror Nights, Universal Studios and Disneyland and stuff like that. There's outdoor shopping, there's the Americana in Glendale, the Grove, the Century City Mall, and Promenade.
BEST PLACE FOR STYLE
Nine Zero One Salon is the best. They are amazing and my best friends opened the salon and created it. Not only do they do incredible work, some of the best work you'll ever see. But if you really wanna meet people and feel welcome and cared about and not getting the typical you know 'get in and get out' experience. It is about the experience there and all the girls there are just beautiful inside and out. Like I just go and hang out sometimes and I'm not even getting any treatment or work done.